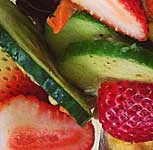 You mother always told you to eat your veggies, didn't she?  They all do, because they love us.  Everyone knows that vegetables are good for the body.  But, they often don't taste like heaven for those who grew up eating candy, Happy Meals, and other sugar-saturated stuffs as well.  So, it can be a challenge to prepare veggies in a way that everyone (including those little people you are now admonishing to "eat your vegetables!") will enjoy.  Go ahead and say, "hooray," for you've discovered this recipe!  The veggie strawberry salad outlined below will meld the excitement of fruit (strawberries!) with the bountiful healthfulness of vegetables in a way that you will love and your kids will consume.  They may even tell stories about how you made it the first time.  Ah, stories about vegetable salads…let's call them veggie tales!  Ok, that was bad.  My apologies.
Bad jokes aside, don't forget that this is just one of many extraordinary recipes available for your enjoyment on StrawberryPlants.org. There are many other fabulous salad recipes also! If you are looking for other culinary uses for your extra strawberries, be sure to see the complete Strawberry Recipes section.
Veggie Strawberry Salad Recipe
Like most green salads, the work is in converting the raw ingredients into bite-sized pieces.  So, grab a knife or wash your hands, collect the supplies you'll need, and get busy!
Veggie Strawberry Salad Ingredients
Salad Ingredients
1 pint of strawberries (strawberries can be substituted, conversions here. You can also freeze your own)
8 ounces of fresh spinich
8 ounces of lettuce
1 medium avocado
1/2 pint of cherry tomatoes
1/2 of a cantaloupe
1 cucumber
4 ounces of fresh mushrooms
Dressing Ingredients
1/2 cup of olive oil
1/4 cup of tarragon vinegar
1/4 cup of sugar
2 teaspoons of poppy seeds
1/2 teaspoon of sea salt
1/2 teaspoon of dry mustard
1/2 teaspoon of grated onion
1/4 teaspoon of onion salt
Veggie Strawberry Salad Recipe Directions

First prepare all the raw ingredients.  Wash and hull the strawberries; slice them in half or cut into slices if they are very big.  Tear or cut the lettuce and spinach into bite-sized pieces.  Peel the avocado and cut it into cubes or slices.  halve the cherry tomatoes.  Use a melon ball tool to scoop the cantaloupe into balls.  Peel and slice the cucumber.  Slice the mushrooms.
Next, combine the lettuce, strawberries, cantaloupe, mushrooms, cucumber, cherry tomatoes, and avocado into a large bowl and gently toss to mix. In a separate jar, add all the ingredients for the salad dressing, and shake them together vigorously.
Finally, pour the dressing over the salad, serve, and enjoy!  This recipe makes about 10 servings.
Additional Notes on this Veggie Strawberry Salad
This veggie strawberry salad recipe makes a great "anytime" salad.  It can be served alongside even the most elegant and sophisticated meal, or it can be eaten as a meal itself by those concerned about their waistlines.  Just like most of the other Strawberry Recipes, this one can be easily modified. For varied tastes, try adding blueberries, blackberries, or other exotic fruit  Different vegetables can be used as well (I recommend trying fresh-picked, uncooked okra for a non-slimy, fresh, crispness). Experiment and find what works well for you and your unique taste sensibilities! For those conscious about the amount of refined table sugar they consume, feel free to try organic evaporated cane juice crystals, turbinado, sucanat, honey crystals, brown sugar, or even stevia to give unique and varied accents to this quick strawberry recipe.
Be sure to post a comment about your experience below, and others will benefit from your experiences!
Enjoy!