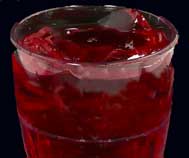 When you are in a rush to find fun for the family, it is good to have a go-to recipe that will help the kiddos feel like they are included while keeping them (and the law) happy.  This virgin strawberry blonde recipe will be a treat for the youngsters and the teetotalers alike.  Imbibing this by the gallon won't trip any breathalyzers, so you needn't worry about posting bail anytime soon.  So, make a quick trip to snag any ingredients you don't already have, and enjoy this fantastic family-friendly concoction.
And, of course, don't forget that this is just one of many extraordinary recipes available for your enjoyment on StrawberryPlants.org. There are even other virgin drink recipes! If you are looking for other culinary uses for your extra strawberries, be sure to see the complete Strawberry Recipes section.
Virgin Strawberry Blonde Recipe
With a sizzle and a fizzle, this beverage will go down smoothly!  So, you might want to double, triple, or quintuple this recipe to ensure that the hungry masses get their fill of this delightful (and safe) drink.
Virgin Strawberry Blonde Ingredients
2 whole strawberries (strawberries can be substituted, conversions here. You can also freeze your own)
4 ounces of strawberry syrup
Ginger ale (to fill your selected glasses)
Small frozen blocks of water (a.k.a. "ice")
2 teaspoons of sugar (optional)
Virgin Strawberry Blonde Recipe Directions

Select two glasses; cocktail glasses are normally selected, but you can use any.  Chill them in the refrigerator for best effect.  Place ice cubes or crushed ice into the glasses.  Pour the strawberry syrup over the ice, and add ginger ale until the glasses are full.  If desired, sprinkle sugar around the rim of the glasses either before or after adding the other ingredients.  Slice a washed strawberry halfway through, starting at the tip end.  Slide the strawberry over the edge of the glass for garnishment.
This recipe makes 2 slurpable servings!
Additional Notes on this Strawberry Recipe
This virgin strawberry blonde recipe is a sure winner.  For delicate taste accents, just like most of the other Strawberry Recipes. For those conscious about the amount of refined table sugar they consume, feel free to try organic evaporated cane juice crystals, turbinado, sucanat, honey crystals, brown sugar, or even stevia to give unique and varied accents to this quick strawberry recipe.
Be sure to post a comment about your experience below, and others will benefit from your experiences!
Enjoy!