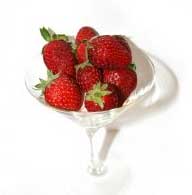 Looking for the tantalizing taste of a strawberry daiquiri without the mind-numbing alcoholic effects?  You've hit the bulls-eye!  This virgin strawberry daiquiri recipe will provide a delicious treat that goes great with hot weather, clear water, white sand, and a few waves.
But, if you can't enjoy one at the beach, you can still kick back at home and sip away.  Since this virgin strawberry daiquiri recipe won't impair your driving skills, you can feel free to enjoy one any time!  And, you can even share one with your kids.
Be sure to enjoy some of the other fantastic Strawberry Recipes that are available to you at Strawberry Plants .org as well!
Virgin Strawberry Daiquiri Recipe
Be sure to post a comment below about your experience with this recipe!
Virgin Strawberry Daiquiri Recipe: Ingredients
3 ounces of strawberries (conversions here)
1 ounce of lime juice
1 teaspoon of sugar
cracked ice
Virgin Strawberry Daiquiri Directions
Place the strawberries, lime juice, and sugar into a blender and blend until smooth.  Add the cracked ice and blend again.  Pour into a cocktail glass or other appropriate serving glass.  The daiquiri can then be garnished with a mint leaf or sliced strawberry.  To garnish with the strawberry, simply cut it half way through beginning at the point and cutting toward the stem/hull.  After cutting, slide the strawberry over the rim of the glass.
Virgin Strawberry Daiquiri Recipe: Notes
Unquestionable, fresh strawberries and freshly-squeezed lime juice will make a better-tasting drink.  However, processed lime juice and frozen strawberries can be substituted in a pinch.  Stevia or honey can be used in place of the sugar for varying sweetness and taste profiles.
Enjoy this non-alcoholic strawberry daiquiri recipe!