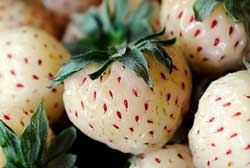 For green thumbs and garden aficionados, Christmas is nice, but it isn't the most wonderful time of the year.  That honor is reserved for the week after the holiday through the first of January.  Why?  Because that is garden planning season!  The anticipation of the holidays yields to the post-holiday bleakness for some, but the anticipation of warmer weather, green shoots, and delicious harvests causes many more to rush to their mailboxes each day to thumb through the full-color catalogs of seed and plant offerings by the nurseries around the country.
Each year, new offerings and better plants become available.  Along with the standard improvements in size, shape, and yield, new varieties are developed and released, and new exotics become popular.  This year, I suggest you consider "voting" for something different: pineberries.  Pineberries burst onto the scene a few years ago in the UK, and their popularity trajectory has increased constantly since then.
Pineberries are a great addition to any garden.  What are they, you ask?  Where can you get your own, you ask?  Well, this site exists for answers!
Go here for pineberry information and history, where you can buy pineberries, and linked information about pineberry seeds: PINEBERRY & PINEBERRIES
Vote for Pineberries 2013 by planting some yourself!  Then, spread the word by sharing with your friends using the share buttons at the top of the page!