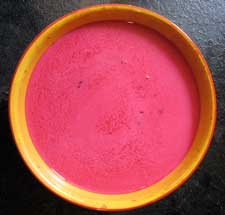 There are a lot of Strawberry Recipes that you can make use of when creating tasty delights with the fruit from your strawberry plants.  Since strawberry soup is most often served chilled and usually considered a warm weather delight, many folks may not know that it can (and is) also be a cool weather taste extravaganza.  While most strawberry soups can be heated, this one is intended to be a warm strawberry soup recipe.  So, try it out on a chilly fall or winter day!
Warm Strawberry Soup
Beware! Trying this strawberry soup recipe may make you rush out, buy your own strawberry plants, and begin growing strawberries to feed your newly developed need for fantastic strawberry flavors.  Be sure to share your experience by commenting below!
Warm Strawberry Soup Recipe: Ingredients
1 pint of strawberries (conversions here)
1 pint of water (see notes below)
1/4 cup of sugar
2 teaspoons of lemon juice
2 tablespoons of cornstarch blended with 2 tablespoons of cold water
2 tablespoons of sour cream (see notes below)
Warm Strawberry Soup Directions
Hull the strawberries.  Put the water and strawberries in a covered saucepan, then simmer for ten minutes until mushy.  When the strawberries are mushy, put them through a food mill or puree in a blender at low speed.  After the strawberries are pureed, press them through a fine sieve.  Return the pure to the saucepan.  Add the rest of the ingredients to the saucepan and heat to a boil.  Stir continuously while heating.  Taste for sweetness and add more if desired.  Serve topped with whipped cream, if desired.  For a thicker soup, remove the excess water prior to blending the strawberries.
Warm Strawberry Soup Recipe: Notes
Strawberry soup, if you try it warm, may become a family favorite.  If the soup is too thick or thin for your liking, more cornstarch can be added to thicken it, and more water can be added to thin it.  One common modification that I recommend is using a 1/2 pint of dry white wine and a 1/2 pint of water mixture instead of 1 pint of straight water.  Sour cream can also be replaced by buttermilk or heavy cream.  For those conscious about the amount of refined table sugar they consume, feel free to try organic evaporated cane juice crystals, turbinado, sucanat, honey crystals, brown sugar, or even stevia to give unique and varied accents to this quick strawberry recipe.
Once the soup is prepared, it should be consumed within two days.  The uses of this dish are only limited by your imagination.  Try it as a dip, or think up a new use for it. Be sure to post a comment about your experience below, and others will benefit from your experiences!
Enjoy!