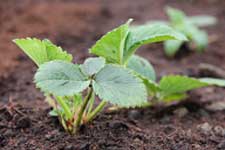 This is a question submitted to Strawberry Plants .org by a reader. The information provided in response to the question may benefit others with the same or similar inquiries. Therefore, it has been added to the archive page of submitted questions. See the Strawberry FAQ for more questions, or use the search box at the top right of this page to search this site for information.
Q: What Are Strawberry Plants?
On October 14, 2010, Nousheen asked:
I have a simple question. Is strawberry a bush, creeper or what category. Please advise and if possible to send me a tag for the information from the source.  Thanks
Answer to: What Are Strawberry Plants?
Nousheen,
The strawberry (Fragaria species) is classified as a forb or herb. Forb/herb plants are ones that don't have significant amounts of woody tissue above ground, but are still vascular. Their lack of woody tissue causes them to be relatively short (their stems will not thicken and stiffen to support tall growth like non-forb/herb plants will). Additionally, the presence of perennating buds on strawberry plants further causes them to fall within this category of plants. These perennating buds allow the strawberry plants to survive the winter and produce strawberry flowers again in the spring. Feel free to link to this page/comment as your reference point, or link to this page: What Type of Plants Are Strawberry Plants?
[ what are strawberry plants ]
Strawberry Plants .org exists to help spread the passion for growing and eating strawberries. However, manpower is limited. If you have a question related to strawberries, feel free to submit it or post it as a comment. Please be patient, though, as it may take some time before your question is addressed.