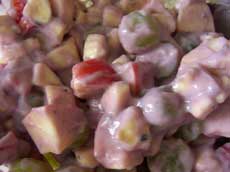 This yogurt strawberry fruit salad recipe can be a meal unto itself.  The delicious zing of yogurt adds the complement to the naturally sweet fruit that makes this dish a winner.  Try it for breakfast, try it for lunch.  Have it all day as a snack to much!  Call me insane for having this hunch, but odds are good you'll like it a bunch.  All joking aside, this really is a delicious component of any meal spread.  The kids will even be asking for seconds (or thirds).
Of course, if yogurt happens to be low on your list of delicacies, Strawberry Plants .org has an ever-growing library of sensational Strawberry Recipes that are magnificently delicious.  Feel free to look around the recipe directory until you find the exact recipe that will help you use your extra strawberries in an exciting concoction.  Even if you don't know quite what you are looking for, chances are that you will find something exciting to try!
Without further ado, here is the yogurt strawberry fruit salad recipe…
Yogurt Strawberry Fruit Salad Recipe
Most people love yogurt.  But, most people have only eaten their favorite name brand and favorite flavors.  If an adventurous person wants to experience a heightened sense of the culinary properties of yogurt, try "raw" yogurt.  Similar in function to sour cream, unsweetened yogurt goes well with strawberries and other naturally sweet foods.  The contrasting flavors work together to create amazing taste sensations!
Yogurt Strawberry Fruit Salad: Ingredients
1/2 pint of fresh strawberries (conversions here)
2 cups of yogurt (unflavored recommended)
3 tablespoons of honey
2 bananas
1/2 pint of blueberries
2 peaches
1/2 cantaloupe
1 teaspoon of cinnamon
Yogurt Strawberry Fruit Salad Recipe Directions
Wash, drain, and hull the strawberries.  Slice the hulled strawberries into halves.  Cut the bananas, cantaloupe, and peaches into 1/2 inch pieces.  Into a large mixing bowl, place the yogurt and honey and mix it together well.  Add the strawberries and cut fruit into the mixture.  Chill the entire yogurt strawberry fruit salad until desirably cool or cold.  separate into 6 equal servings.  Sprinkle the cinnamon on the top of each serving and garnish each with a strawberry half prior to serving.  Then, serve and enjoy!
Yogurt Strawberry Fruit Salad: Notes
Just like most of the other Strawberry Recipes, this yogurt strawberry fruit salad recipe is easily modified.  Frozen strawberries can replace fresh ones if no fresh strawberries can be found.  Raspberries, grapes, or other fruits can be substituted or added according to your whim.  Nuts can be added for extra heartiness.  Additionally, while it is recommended to use unflavored yogurt for the unique final result, any flavor or sweetened yogurt can be used to provide dessert-like qualities to an already tasty recipe. For those conscious about the amount of refined table sugar they consume, feel free to try organic evaporated cane juice crystals, turbinado, sucanat, honey crystals, brown sugar, or even stevia to give unique and varied accents to this quick strawberry recipe (if using pure stevia extract, however, be very cautious with the amount used as it is tremendously sweet and can give an aftertaste if too much is used).
Be sure to post a comment about your experience below, and others will benefit from your experiences!
Enjoy!