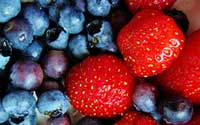 There are two things that everyone needs more of in life: love and strawberries.  Yes, it is a proven fact; no, don't ask me for my studies backing it up.  I mean, really, everyone loves strawberries, right?!  So, there must be a mystical connection between the two.  In the metaphysical realm, strawberries equal love.  And, while I can't claim to be traipsing through the supernatural as we speak, so to speak, my speaking of strawberries and love must affect the metaphysical, for strawberries taste out of this world.
And, as you are tempted to go back and re-read that last paragraph, let me quell your sense of confusion.  For, what was just written truly makes virtually no sense.
So, why introduce a recipe with a bunch of gobbledegook?  Why, to demonstrate to even the slowest wit how ultimately practical and uber-sensical this recipe is, of course!  This strawberry blueberry crisp recipe takes just minutes to prepare.  And, since it will likely disappear in just seconds down the maws of minors and gullets of grownups in giant gulps, there is no need to spend hours in the kitchen for this one.  If you have just a bit over one fifteenth of an hour at your disposal, you can have this one finished.