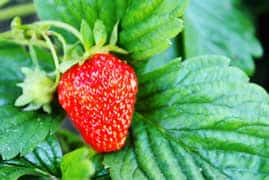 This page is a directory of suppliers who offer strawberry plants for sale online. If you are looking to buy strawberry plants online, this listing should give you plenty of options. If you know of a supplier or are a supplier and would like to be added to this list, feel free to use the submission form on the Submit to Us page. Once verified, we will add you to this directory listing.
Strawberry Plants .org does not sell strawberry plants directly to the public and offers no guarantee or warranty on behalf of any of the sellers in this directory. While every effort has been made to include only reputable retailers and wholesalers, all transactions with any of the suppliers are between the buyer and seller alone. If you aren't sure what type of strawberry you should buy, or if you want recommendations for specific cultivars that will grow well in your area, visit the Strawberry Varieties reference page. If you already know what variety you want and would rather compare prices between nurseries for the variety you want, go here.
How to Quickly Find a Variety of Strawberry Plants for Sale Online Using This Page
The online strawberry suppliers are listed alphabetically below. Each strawberry variety offered by the online strawberry supplier will be listed under their name. The quickest way to find the specific variety of strawberry plants for sale online that you are looking for is go directly to the Buy Strawberry Plants page where every strawberry variety available for sale online is listed alphabetically. A longer, more tedious way to find a specific variety is to do this:
1. Press and hold the Ctrl key on your keyboard while viewing this page in your internet browser.
2. While holding the Ctrl key, press the F key. This will open your browser's search function.
3. Type in the specific strawberry variety you are seeking, then press the Enter key. The browser will take you directly to the first supplier who has your chosen variety of strawberry plants for sale online. To compare prices, simply continue the search (usually by clicking "next") and move to the next suppler who offers your desired strawberry cultivar.
Directory of Suppliers of Strawberry Plants for Sale Online
Disclosure: This article includes affiliate links, meaning I get a commission if you make a purchase through my links, at no extra cost to you. As an Amazon Associate I earn from qualifying purchases.
Best place to start your search for plants is Amazon.com. They have many varieties for sale. If you don't find what you're looking for from Amazon.com, then take a look at the list below.
Aaron's Creek Farms, Inc.
Varieties of Strawberry Plants for Sale Online: Chandler, Sweet Charlie
A.D.R. Bulbs, Inc.
Varieties of Strawberry Plants for Sale Online: All Star, Chandler, Eclair, Eversweet, Fort Laramie, Honeoye, Ozark Beauty, Quinault, Tristar
Amazon.com
Varieties of Strawberry Plants for Sale Online: Albion, Alexandria, Earliglow, Evie, Golden Alexandria, Honeoye,Lipstick Ornamental, Mara des Bois, Pineberry, Seascape, Sweet Charlie, Tribute, Yellow Wonder
American Meadows
Varieties of Strawberry Plants for Sale Online: Earliglow, Ozark Beauty, Quinault, Surecrop, Toscana, Tristan
Ashridge Trees [UK]
Varieties of Strawberry Plants for Sale Online: Amelia, Cambridge Favourite, Christine, Florence, Flamenco, Rosie, Royal Sovereign, Totem
Asparagus Gardener
Varieties of Strawberry Plants for Sale Online: Albion
Backyard Berry Plants
Varieties of Strawberry Plants for Sale Online: Alexandria, Annapolis, Cardinal, Cavendish, Eversweet, Fort Laramie, Fragola Quattro Stagioni, Guardian, Honeoye, Mesabi, Mignonette, Monterey, Northeaster, Record, Reine des Vallees, Red Chief, Seascape, Sequoia, Sonata, Sparkle, Tennessee Beauty, Valley Sunset, Vanilla, Wendy, Yellow Wonder
Berries Unlimited
Varieties of Strawberry Plants for Sale Online: Ac Wendy, Albion, Allstar, Early Glow, Echo, Jewel, Surecrop, Seascape, Tribute, Tristar
Blackmoor Nurseries [UK]
Varieties of Strawberry Plants for Sale Online: Albion, Aromel, Calypso, Cambridge Favourite, Elsanta, Florence, Honeoye, Mount Everest, Sonata, Symphony
Bob Wells Nursery
Varieties of Strawberry Plants for Sale Online: Allstar, Blakemore, Camarosa, Camino Royal, Cardinal, Chandler, Honeoye, Ogallala, Ozark Beauty, Pocahontas, Quinault, San Andreas, Sequoia, Sunrise, Sweet Charlie
Brookside Nursery [UK]
Varieties of Strawberry Plants for Sale Online: Loran
Burgess Seed & Plant Co.
Varieties of Strawberry Plants for Sale Online: Allstar, Eversweet, Festival, Ft. Laramie, Honeoye, Ozark Beauty, Pineberry, Quinault, Sequoia, Sparkle, Surecrop, Tristan
Burnt Ridge Nursery & Orchards
Varieties of Strawberry Plants for Sale Online: Hood, Puget Summer, Ranier, Shuksan, Totem, Tristar
Burpee
Varieties of Strawberry Plants for Sale Online: Albion, Alpine, Earliglow, Elan F1, Fragola di Bosco (Alpine), Jewel, Mara des Bois, Northeaster, Pineberry White Pine, Purple Wonder, Record, Roman F1, Seascape, Strawberry Mignonette (Alpine), Tribute, Tristan F1, White Soul, Yellow Wonder
Carther Plants [Canada]
Varieties of Strawberry Plants for Sale Online: Albion plugs, San Andreas plugs
De Groot, Inc
Varieties of Strawberry Plants for Sale Online: All Star, Chandler, Eclair, Eversweet, Fort Laramie, Honeoye, Ozark Beauty, Quinault, Tri-Star
Dobies of Devon [UK]
Varieties of Strawberry Plants for Sale Online: Cambridge Favourite, Flamenco, Malling Centenary, Malling Opal, Malwina, Mara des Bois, Snow White, Sweetheart, Vibrant
D.T. Brown [UK]
Varieties of Strawberry Plants for Sale Online: Albion, Cambridge Favourite, Combaille, Elegance, Fenella, Finesse, Flamenco, Florence, Fresca, Gariguette, Golden Alexandria, Mae, Mara des Bois, Mount Everest, Reine des Vallees, Royal Sovereign, Tarpan F1
Exciting Gardens
Varieties of Strawberry Plants for Sale Online: Festival, Fort Laramie, Ozark Beauty, Quinalt, Tristan
Farmer Seed and Nursery
Varieties of Strawberry Plants for Sale Online: Allstar, Bargain, Cardinal, Fort Laramie, Honeoye, Ogallala, Ozark Beauty, Quinault, Robinson (Giant Robinson), Sequoia, Sparkle, Surecrop, Strazzberry
Four Seasons Nursery
Varieties of Strawberry Plants for Sale Online: Festival, Fort Laramie, Ozark Beauty, Quinalt, Sequoia
Gardeners' Collection
Varieties of Strawberry Plants for Sale Online: Earliglow, Tri Star
Gardener's Supply Company
Varieties of Strawberry Plants for Sale Online: Seascape
GardenHarvestSupply.com
Varieties of Strawberry Plants for Sale Online: Cavendish, Earliglow, Honeoye, Jewel, Sparkle, Surecrop
Gardening Express [UK]
Varieties of Strawberry Plants for Sale Online: Cambridge Favourite, Elsanta, Hapil
Greenwood Nursery
Varieties of Strawberry Plants for Sale Online: All Star, Chandler, Cardinal, Ozark Beauty, Sweet Charlie, Tennessee Beauty
Gurney's Seed & Nursery Co.
Varieties of Strawberry Plants for Sale Online: Earliglow, Eversweet, Fort Laramie, Gurney's Whopper, Honeoye, Jewel, Ozark Beauty, Sparkle Supreme
Harris Seeds
Varieties of Strawberry Plants for Sale Online: All Star, Chandler, Earliglow, Eclair, Eversweet, Fort Laramie, Honeoye, Ozark Beauty, Quinault, Surecrop, Tribute, Tristar
Hartman's Plant Company
Varieties of Strawberry Plants for Sale Online: Albion, All Star, Earliglow, Fraises des Boise Strawberry, Monterey, Pineberry, Seascape
Henry Field's Seed & Nursery Co.
Varieties of Strawberry Plants for Sale Online: Eversweet, Fort Laramie, Honeoye, Jewel, Ozark Beauty, Sparkle Supreme, Wendy
Holland Bulb Farms
Varieties of Strawberry Plants for Sale Online: All Star, Alpine, Ozark Beauty
Indiana Berry
Varieties of Strawberry Plants for Sale Online: Ac Valley Sunset, Albion, Allstar, Annapolis, Cabot, Cavendish, Chandler, Earliglow, Flavorfest, Honeoye, Itasca, Jewel, Monterey, Red Chief, San Andreas, Seascape, Sparkle, Surecrop, Tribute, Tristar
Ison's Nursery & Vineyard
Varieties of Strawberry Plants for Sale Online: Cardinal, Chandler, Ogallala, Ozark Beauty, Sweet Charlie
J Lynn Nursery
Varieties of Strawberry Plants for Sale Online: Roman
Jekka's Herb Farm
Varieties of Strawberry Plants for Sale Online: Fragaria vesca Wild Strawberry, Fragaria vesca White Delight
Johnny's Selected Seeds
Varieties of Strawberry Plants for Sale Online: Cabot, Earliglow, Honeoye, Jewel, Seascape, Sparkle
Jung Seeds & Plants
Varieties of Strawberry Plants for Sale Online: Ac Valley Sunset, Ac Wendy, Albion, Annapolis, Cabot, Cavendish, Earliglow, Ft. Laramie, Honeoye, Jewel, Mara des Bois, Ozark Beauty, Seascape, Sparkle, Tristar
Just Fruits & Exotics
Varieties of Strawberry Plants for Sale Online: Camarosa, Sweet Charlie
Krohne Plant Farms
Varieties of Fall Strawberry Plants for Sale: AC Valley Sunset, AC Wendy, Albion, Allstar, Annapolis, Cabot, Cavendish, Clancy, Earliglow, Honeoye, Jewel, L'Amour, Monterey, Noreaster, Rubicon, San Andreas, Seascape, Sparkle, Surecrop, Winona
Kube Pak
Varieties of Fall Strawberry Plants for Sale: Alexandria, Berri Basket, Fragoo, Fresca
Lassen Canyon Nursery Inc.
Varieties of Strawberry Plants for Sale Online: Albion, Benicia, Camarosa, Camino, Chandler, Diamante, Florida Strawberry Festival, Gaviota, Jewel, Keoki, Mojave, Monterey, Portola, San Andreas, Seascape, Sweet Charlie, Valley Red, Ventana
Marshalls Vegetable & Fruit Company [UK]
Varieties of Strawberry Plants for Sale Online: Albion, Amelia, Buddy, Cambridge Favourite, Christine, Elsanta, Fenella, Flamenco, Malwina, Malling Centenary, Mammoth, Mara des Bois, Marshmello, Red Gauntlet, Royal Sovereign, Snow White, Vibrant
Morgan County Seeds
Varieties of Strawberry Plants for Sale Online: Allstar, Chandler, Earliglow, Honeoye, Northeastern, Surecrop, Tribute, Tristar
Mountain Valley Growers
Varieties of Strawberry Plants for Sale Online: Organic Chandler Strawberry Plants and Crowns
Natural Gardening Company
Varieties of Strawberry Plants for Sale Online: Organic Alpine Mignonette, Elan
Nourse Farms
Varieties of Strawberry Plants for Sale Online: Ac Valley Sunset, Ac Wendy, Allstar, Annapolis, Brunswick, Cabot, Cavendish, Chandler, Clancy, Daroyal, Darselect, Earliglow, Eros, Evie 2, Galletta, Honeoye, Idea, Jewel, L'Amour, Mara Des Bois, Mesabi, Northeaster, Ovation, Record, Seascape, Seneca, Sparkle, Winona
One Green World
Varieties of Strawberry Plants for Sale Online: Alexandria, Gerald Straley, Gold Leaf Alpine Strawberry, Hood, Italian Alpine, Rugen Improved, Seascape, Shuksan, Tristar
Park Seed
Varieties of Strawberry Plants for Sale Online: Allstar, Earliglow, Eversweet, Honeoye, Jewel, Pineberry, Quinault, Tarpan, Tribute, Tristan, Tristar, Whopper
Peaceful Valley Farm & Garden Supply (Grow Organic)
Varieties of Strawberry Plants for Sale Online: Allstar, Chandler Strawberry Plants, Eclair, Eversweet, Fort Laramie, Honeoye, Ozark Beauty, Quinault, Seascape, Sequoia
Pinetree Garden Seeds
Varieties of Strawberry Plants for Sale Online: Allstar, Earliglow, Jewel, Mara des Bois, Ruegen, Sarian, Temptation, White Soul, Yellow Wonder
Raintree Nursery
Varieties of Strawberry Plants for Sale Online: Albicarpa, Alpine White, Alpine Yellow, Benton, Capron Musk Strawberry, Earliglow, Eversweet, Firecracker, Jewel, Lipstick, Mignonette Alpine, Profumata di Tortona Musk Strawberry, Puget Summer, Ruegen Improved, Russian Male Musk Strawberry, Seascape, Shuksan, Tri Star, Wild Strawberry, Yellow Alpine
R.H. Shumway's
Varieties of Strawberry Plants for Sale Online: Cavendish, Earliglow, Everbearing, Ft. Laramie, Honeoye, Jewel, Ozark Beauty, Sparkle, Tristar
Richters Herb & Vegetable
Varieties of Strawberry Plants for Sale Online: Alpine Strawberry (Fragaria vesca 'Ruegen'), Hecker (climbing strawberry), Wild Strawberry (Fragaria vesca), White Soul
Simmons Plant Farm
Varieties of Strawberry Plants for Sale Online: Allstar, Blakemore, Cardinal, Chandler, Earliglow, Eversweet, Fort Laramie, Guardian, Honeoye, Ogallala, Ozark Beauty, Quinalt, Sequoia, Sparkle, Surecrop, Sunrise, Tennessee Beauty
Spring Hill Nursery
Varieties of Strawberry Plants for Sale Online: Ozark Beauty, Sweet Giant
Stargazer Perennials
Varieties of Strawberry Plants for Sale Online: Allstar, Alpine Strawberry Mignonette, Alpine Strawberry Vesca, Aromas, Fort Laramie, Honeoye, Hood, Ozark Beauty, Shuksan
Stark Bro's
Varieties of Strawberry Plants for Sale Online: Allstar, EarliGlo, Eversweet, Jewel, Ozark Beauty, Stark Crimson King, Stark Red Giant, Surecrop, Sweet Charlie, Tribute, Tristar
Strawberry Tyme [Canada]
Varieties of Strawberry Plants for Sale Online: Albion, Annapolis, Cavendish, Governer Simcoe, Jewel, Kent, Mira, Mohawk, Sable, Sapphire, Seascape, Serenity, St. Pierre, Tribute, V151, Wendy
Superb Strawberry Plants [UK]
Varieties of Strawberry Plants for Sale Online: Albion, Aromel, Bogota, Cambridge Prizewinner, Cambridge Vigour, Charlotte, Christine, Darselect, Delia, Elsanta, Elvira, Emily, Eros, Flamenco, Florence, Gariguette, Gento, Gorella, Grandee, Hapil, Honeyoye, Korona, Mae, Mara des Bois, Marmolado, Ostara, Rabunda, Red Gauntlet, Rhapsody, Rosie, Royal Sovereign, Talisman, Totem
The Strawberry Store, LLC
Varieties of Strawberry Plants for Sale Online: Fragaria moschata, Mignonette, Reine des Vallees, Ruegen, White Soul, Yellow Wonder
TN Nursery, Wholesale Nursery Co.
Varieties of Strawberry Plants for Sale Online: Chandler
Tripple Brook Farms, Inc.
Varieties of Strawberry Plants for Sale Online: White-fruited Woodland Strawberry (Fragaria vesca albicarpa), Wild Strawberry (Fragaria virginiana), Rugen Improved (Fragaria vesca)
USA Seed Store
Varieties of Strawberry Plants for Sale Online: All-Star, Annapolis, Cavendish, Earliglow, Gem Everbearing, Guardin, Honeoye, Jewel, Mira, Noreaster, Ozark Beauty, Primetime, Sparkle, Surecrop, Tennessee Beauty
Vermont Bean Seed Company
Varieties of Strawberry Plants for Sale Online: Cabot, Earliglow, Fort Laramie, Honeoye, Jewel, Ozark Beauty, Sparkle
Victoriana Nursery Gardens [UK]
Varieties of Strawberry Plants for Sale Online: Royal Sovereign
Welsh Fruit Stocks [UK]
Varieties of Strawberry Plants for Sale Online: Alice (organic), Cambridge Favourite (organic), Christine (organic), Elegance (organic), Fenella (organic), Florence (organic), Hapil (organic), Honeoye (organic), Judibell (organic), Malling Pearl (organic), Pegasus (organic), Sophie (organic), Symphony (organic)
Willis Orchard Company
Varieties of Strawberry Plants for Sale Online: Chandler, Seascape, Sequoia, Sweet Charlie