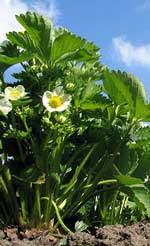 There are countless thousands of online merchants these days, and they sell every imaginable product, item, thingamajig, and plant.  Of course, you can buy strawberry plants online these days too.  In fact, there are a host of sellers of strawberry plants just waiting for you to hit their homepage.  Well, do you want to know where to buy strawberry plants?  Look no further.  You can use this page to purchase strawberry plants according to the specific variety or varieties you want at the best possible price.  The work has been done for you!  Just click the name of the strawberry variety in the table below for which you are looking, and you will jump to a table listing all the known merchants who offer that variety of strawberry plants for sale.
How to Use the Buy Strawberry Plants Page
To make the most of this directory, you need to know which type of strawberry you need and which cultivar you want.  To understand the differences, and to get an idea of varieties that will work for you and your circumstances, first visit the Strawberry Varieties page.  If you don't care much about learning the specifics, you can go with one or two of the Recommended Strawberry Varieties for Your Location.  Once you know what you are looking for, come back here and find the best price for strawberry plants by comparing prices for each and every variety you want.  Once you find a nursery, farm, or supplier with whom you are comfortable doing business, you can find all the varieties they offer by looking them up in the Strawberry Plants for Sale directory (they are in alphabetical order).