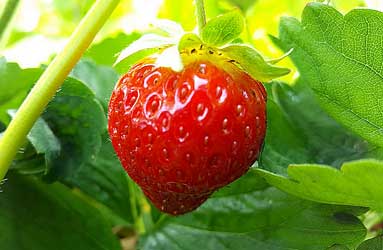 Strawberry plants can be a little finicky when it comes to their real estate.  It is extremely important for any new strawberry grower to identify the best location for strawberry plants among the potential sites.  If the location is poorly suited for growing strawberries, you won't reap a big harvest of plump, juicy fruit.  But, fear not!  This guide will help you locate and identify the best location for strawberry plants among the sites you are considering.
Best Location for Strawberry Plants: Checklist
Site Topography
Strawberry plants need drainage.  If planted in a naturally-formed bowl or low spot in the ground, both air and water will have difficulty draining away from your strawberry planting.  The absolute best location for strawberry plants will have a slight slope to the land.  The ideal grade for a strawberry planting is 5% to 7%.  However, anything up to 12% is permissible.  Plantings that have a slope less than 5% will result in stagnant air and water.  Such plants will suffer a higher rate of failure due to the pooling of water and stagnant air.  Both encourage the formation of fungal infections that can permanently damage or outright kill your strawberry plants.