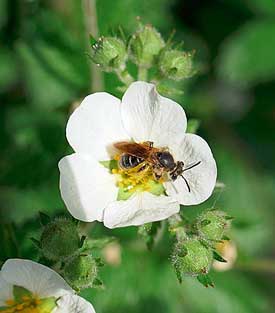 Pollinating strawberry plants is not all that complicated.  However, if you want to have a heaping helping of delicious strawberries, it must be done.  The good news is that your friendly neighborhood bugs and bees are usually pretty good at pollinating strawberry plants for you.  If your strawberry plants are grown indoors or away from insect access areas, there are a few basics you should know.
Pollinating Strawberry Plants: Anatomical Understanding
The male pollinating structure of a flower is called the "stamen."  Stamens usually consist of a filament and the pollen-containing anther.  There are typically between twenty and thirty-five stamens of varying lengths in a strawberry flower.  These stamens (collectively called the androecium) are arranged in a circle and are usually surrounded by five (or more) petals.  Initially, the anthers are a yellow color while they hold the pollen, but they quickly pale after the pollen is released.  The flower stem (pedicel) extends up into the flower and forms the cone-shaped area in the middle of the stamens.  This stem extension is called the "receptacle" and will eventually turn into the strawberry after the pollinating strawberry plants has been completed.  The receptacle is covered with the female part of the flower called "pistils."  Up to 500 pistils cover the receptacle in a spiral pattern.  Each pistil has an ovary at its base, and an ovule is present within.