Chandler Strawberry Plants: Introduction
This page is a profile summary of the strawberry cultivar 'Chandler' (Fragaria x ananassa).  It will provide details on Chandler strawberry plants and Chandler strawberries so that an informed decision can be made regarding its suitability for varying uses and growing locations.  Chandler strawberry suppliers are also listed below if you are looking to buy chandler strawberry plants.
Where to Grow Chandler Strawberries
Chandler strawberry plants were originally developed in California and have proven to produce exceptional yields in the coastal states as well.  The variety is a favorite of commercial strawberry growers in southern California, especially for winter production.  Additionally, Chandler strawberries grow well in zone 5 through zone 8 and are well-adapted to the southern states.  Overall, however, California strawberry farmers will see the highest yields on the west coast, and strawberry growers in the Carolinas usually see the highest yields on the east coast.  The Chandler strawberry variety also does well in home gardens.  For more specifics on the cultivation of Chandler strawberry plants, see the Growing Strawberries page.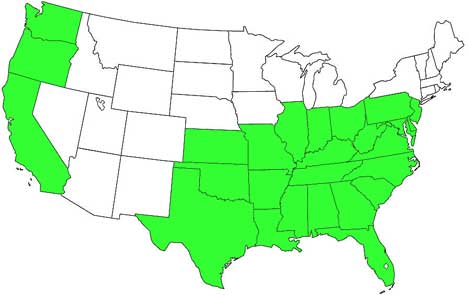 Growing Chandler Strawberry Plants: Conditions
Full sun is greatly beneficial to Chandler strawberry plants, just like all other strawberries.  Chandler strawberries, however, are susceptible to root rot and absolutely must have well-drained soil and be planted properly.  The preferred soil pH is about 6, and additional watering is needed when rainfall is not sufficient.
Chandler strawberry plants are June-bearers and can be grown well in matted rows (although they will likely perform better with commercial plasticulture systems).  When they are healthy, the mature plants will grow to be about 8 inches tall and spread 1 foot across, but their roots are shallow.
In warmer climates like southern California or Florida, Chandler strawberry plants will be ready for harvest beginning, oftentimes, in March with a harvest that can last up to 3-4 weeks.  Under optimal growing conditions, each Chandler strawberry plant can produce a basket of strawberries.
Disease Resistance of Chandler Strawberry Plants
Chandler plants are not known to have strong resistance to any of the common strawberry plant pathogens.  They are, however, tolerant of gray mold.
Disease Susceptibility of Chandler Strawberry Plants
Chandler strawberry plants are not known for their resistance to common strawberry diseases.  They are susceptible to leaf spot, leaf scorch, and red stele.  Chandler strawberries also will succumb to anthracnose.
Chandler Strawberries
The vigorous, high-yielding, June-bearing Chandler strawberry plants produce very desirable strawberries.  Chandler strawberries are very large, firm, and produce early-season to mid-season (see the Strawberry Varieties page for more information).  The strawberries vary from being long and wedge-shaped to large and conical.  They are a brilliant red color, glossy, and have an exceptional flavor profile.
Chandler strawberries are good for eating fresh or shipping and very good for freezing.  They are, however, only a fair choice for processing.
Notable Features of Chandler Strawberry Plant & Strawberries
1.  Very Good Commercial Variety, Particularly with Plasticulture
2.  Good for Growing in the Coastal States and Southern States
3.  Excellent Choice for Pick-Your-Own Strawberry Operations or U-Pick Farms
4.  Very Large Strawberries Are Produced
5.  High Yield of Strawberries
6.  Excellent Flavor Profile
Additional Information about the Strawberry Chandler
Chandler strawberry plants are protected by the United States government under plant patent #5262.  To be an authorized seller of Chandler strawberry plants, a license is required from the University of California Strawberry Licensing Program.  The program can be reached at (530) 754-8462.
Chandler strawberry plants (as well as some other Strawberry Varieties) are sold in different ways by different suppliers.  The majority of suppliers sell the plants by quantity (either 10, 25, 50 or more plants).  Some Chandler strawberry plant sellers offer their plants by weight.  Be aware that one pound of strawberry plants can vary in quantity.  The average number of plants comprising a pound should generally be about 30.  However, there can be as many as 40 or as few as 20.
Purchase Plants from These Chandler Strawberry Suppliers
If you are wondering where to buy Chandler strawberry plants, the following tables contain reputable suppliers of Chandler strawberry plants.
.
LASSEN CANYON NURSERY
1300 Salmon Creek Road
Redding, CA 96003
Tel: 530-223-1075
Fax: 530-223-6754
SIERRA-CASCADE NURSERY, INC.
472-715 Johnson Road
Susanville, CA 96130
Tel: 530-254-6867
Fax: 530-254-6166
KOPPES PLANTS
P.O. Box 441
Watsonville, CA 95077
Tel: 831-724-6009
LEWIS NURSERY AND FARMS, INC.
3500 NC Hwy 133
Rocky Point, North Carolina 28457
Tel: (910) 675-2394
Fax: (910) 602-3106
NORTON CREEK FARMS
370 Evitt Cenetery Road
Cashiers, NC 28717
Tel: (828) 743-3674
Fax: (828) 743-0174
OSAGE FARMS, INC.
1604 Hale Ridge Road
Scaly Mountain, NC 28775
Tel: (828) 526-3989
Fax: (828) 526-4408
SCOTT FARMS, INC.
P.O. Box 97
Unicoi, TN 37692
Tel: (423) 743-7511
Fax: (423) 743-3773
SHINGLETON FARMS
7013 Highway 58
Stantonsburg, NC 27883
Tel: (252) 238-2155
CROWN NURSERY
P.O. Box 340,
11555 Paskenta Road
Red Bluff, CA 96080-0340
Tel: 530-529-6485
Fax: 530-529-6488
E-mail: steve@crownnurseryllc.com
G.W. ALLEN NURSERY, LTD
7307 Hwy 221, Billtown
Centreville, Kings County
Nova Scotia, B0P 1J0
CANADA
Tel: (902) 678-7519
Fax: (902) 678-5924
GHESQUIERE PLANT FARMS LTD.
36 Evergreen Hill Road
Simcoe, Ontario, N3Y 1B8
CANADA
Tel: (519) 428-1087
Fax: (519) 428-6357
C.O. KEDDY NURSERY, INC.
982 North Bishop Rd
Kentville, Nova Scotia, B4N 3V7
CANADA
Tel: (902) 678-4497
Fax: (902) 678-0677
PEPINIERE LUC LAREAULT, INC.
90 Rue Lareault
C.P. 96
Lavaltrie, Quebec J0K 1H0
CANADA
Tel: (450) 586-1850
Fax: (450) 586-1051
PEPINIERE A. MASSE, INC.
256 Haut Riviere Nord
St-Cesaire,Quebec J0L 1T0
CANADA
Tel: (450) 469-3380
Fax: (450) 469-0320
MILLEN FARMS
80 Little Dyke Road
Glenholm, Nova Scotia B0M 1L0
CANADA
Tel: (902) 662-3820
Fax: (902) 662-2891
STRAWBERRY TYME FARMS
RR #2, Simcoe
Ontario, N3Y 4K1
CANADA
Tel: (519) 426-3099
Fax: (519) 426-2573
WESTECH AGRICULTURE LTD
R.R. #1, Alberton
Prince Edward Island, C0B 1B0
CANADA
Tel: (902) 853-4184
Eurosemillas, S.A.
Paseo de la Victoria 31-1 º-A
14004 Cordoba, Spain
Tel: 34-9-57-42-17-32
Fax: 34-9-57-42-20-92
Web Site: www.eurosemillas.com
E-mail: javier@eurosemillas.com
Territory: Spain, The United Kingdom, Chile, Argentina, Mexico, Poland, Morocco, Tunisia, Czech Republic, Slovak Republic, Romania, India, France, Turkey, Brazil, Germany, Italy, Netherlands, and Portugal
Southern Resource Services (Pty) Limited
PO Box 138, Mt Macedon, Victoria, Australia, 3441.
Tel: 61-3-5426-4909
Territory: South Africa
New Zealand Berryfruit Propagators, Ltd.
11 Grenville St.
Waiwhetu, Lower Hutt
New Zealand
Tele: 64-4-569-82-63
Fax: 64-4-569-82-63
Territory: New Zealand
Toolangi Certified Strawberry Runner Growers' Cooperative Limited
469 Kinglake Rd, Toolangi
Victoria 3777
Australia
Tele: 61-3-59-62-9220
Fax: 61-3-59-62-9416
Territory: Australia
Zanzi Fruitgrowing Equipment, s.r.l.
Via Modena, 19
44100 Ferrara, Italy
Tel: 39-053-27-72-288
Fax: 39-053-27-72-241
Web Site: www.zanzifruit.it/
E-mail: zanzifruit@zanzifruit.it
Zanzi-Sublicensee List
Territory: Italy, Belgium, Germany, the Netherlands, Greece, Luxembourg, Israel, Switzerland, Egypt, Bulgaria, and Hungary.
.