Yellow Wonder will be sure to awe growers with more than just the sight of its stunning creamy yellow fruit. It grows strong and quick, a top producer among alpine varieties.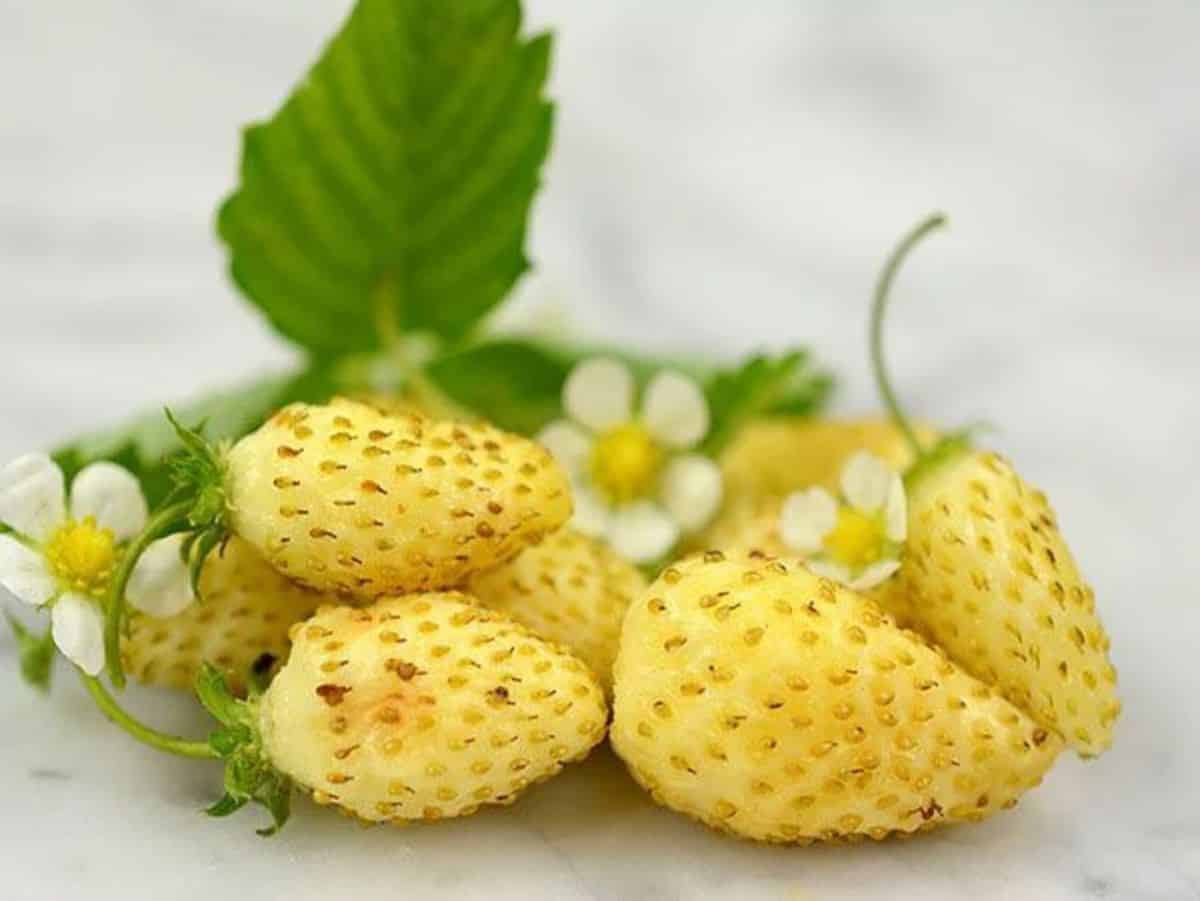 Fruiting slows down in the heat of the summer but is in abundance from mid-spring to late in the fall.
Yellow wonder flowers prolifically when night time temperatures fall below 50 degrees and will continue to set berries until the frost. Plants turn into clumps and tend not to send out any runners.
Jump to:
Introduction
| | |
| --- | --- |
| Hardiness Zone | Zones 3-9 |
| Exposure | Full Sun |
| Harvest | Early Spring – Late Fall |
| Soil | 6.5 – 6.8 |
| Water | Regular watering |
| Maintenance | Cover or shade in high heat |
| Plant Type | Everbearing, Alpine |
| Berry Flavor | Wild strawberry, pineapple |
| Berry Size | Small |
History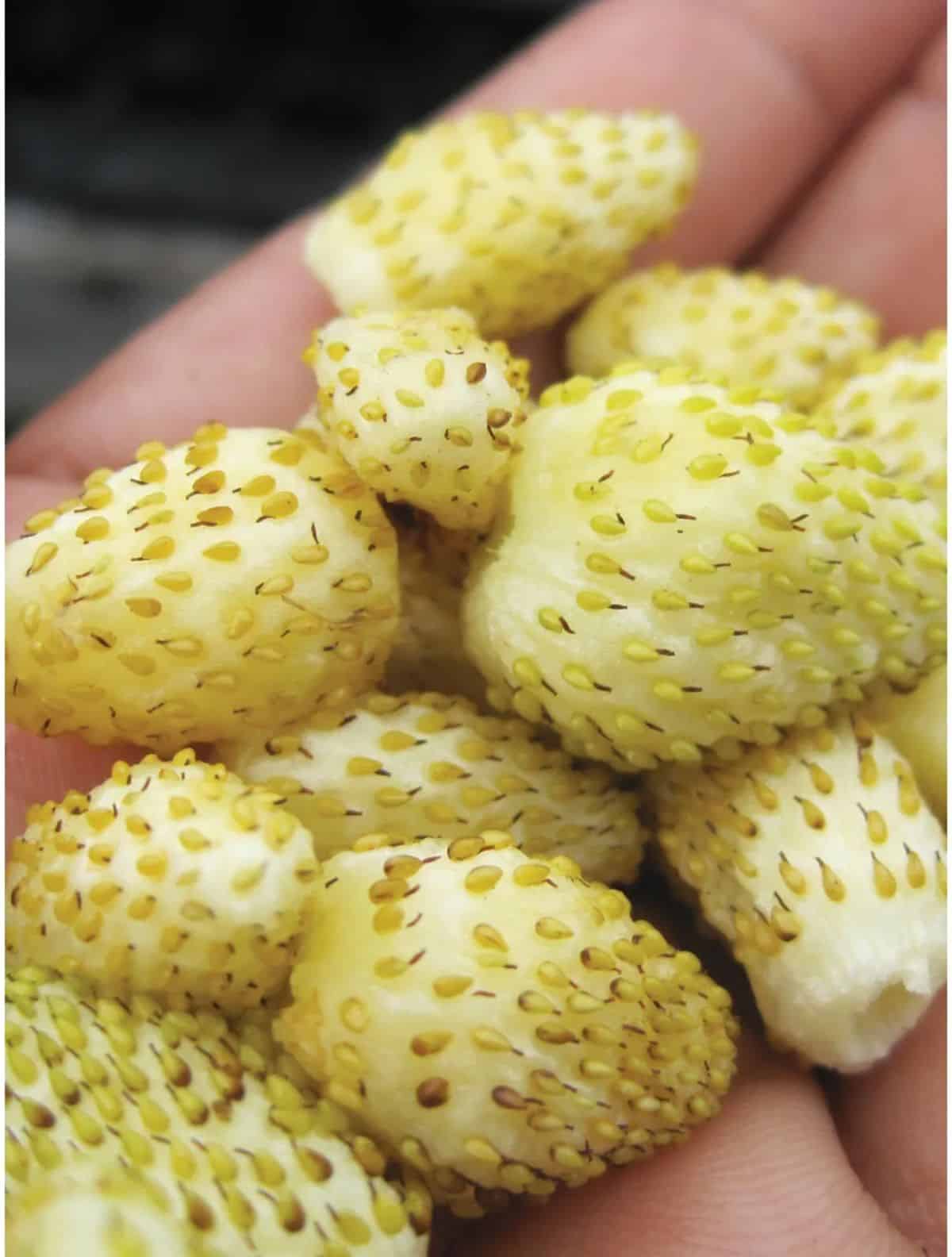 Alpine Yellow Wonder is a wild strawberry native to Europe.
Where to Grow
Yellow Wonder can be grown in just about any climate. They are extremely hardy in cold winters, but can be planted in warmer areas, up to zone 9.
Growing Conditions
Alpine yellow wonder should receive full sun most of the year. Some afternoon shade or cover during the summer will help protect the plant. Grow plants together as a permanent berry patch, along walkways or in containers. Average, well-drained soil will work well for Yellow Wonder.
Disease Resistance
Yellow Wonder has a high disease resistance.
Notable Features
Recognized as one of the best gourmet strawberries. Excellent aroma and flavor. Alpine yellow wonder plants do not produce runners, making them a great fit for borders, edgings, tight rows in the garden and containers. Yellow fruit that won't attract birds. Easy to pick fruit with an amazing flavor. Can be grown ornamentally. Yellow wonder is very cold tolerant. Berries are 1 inch (3 cm) long and ½ inch (1.5 cm) wide.
Growing Tips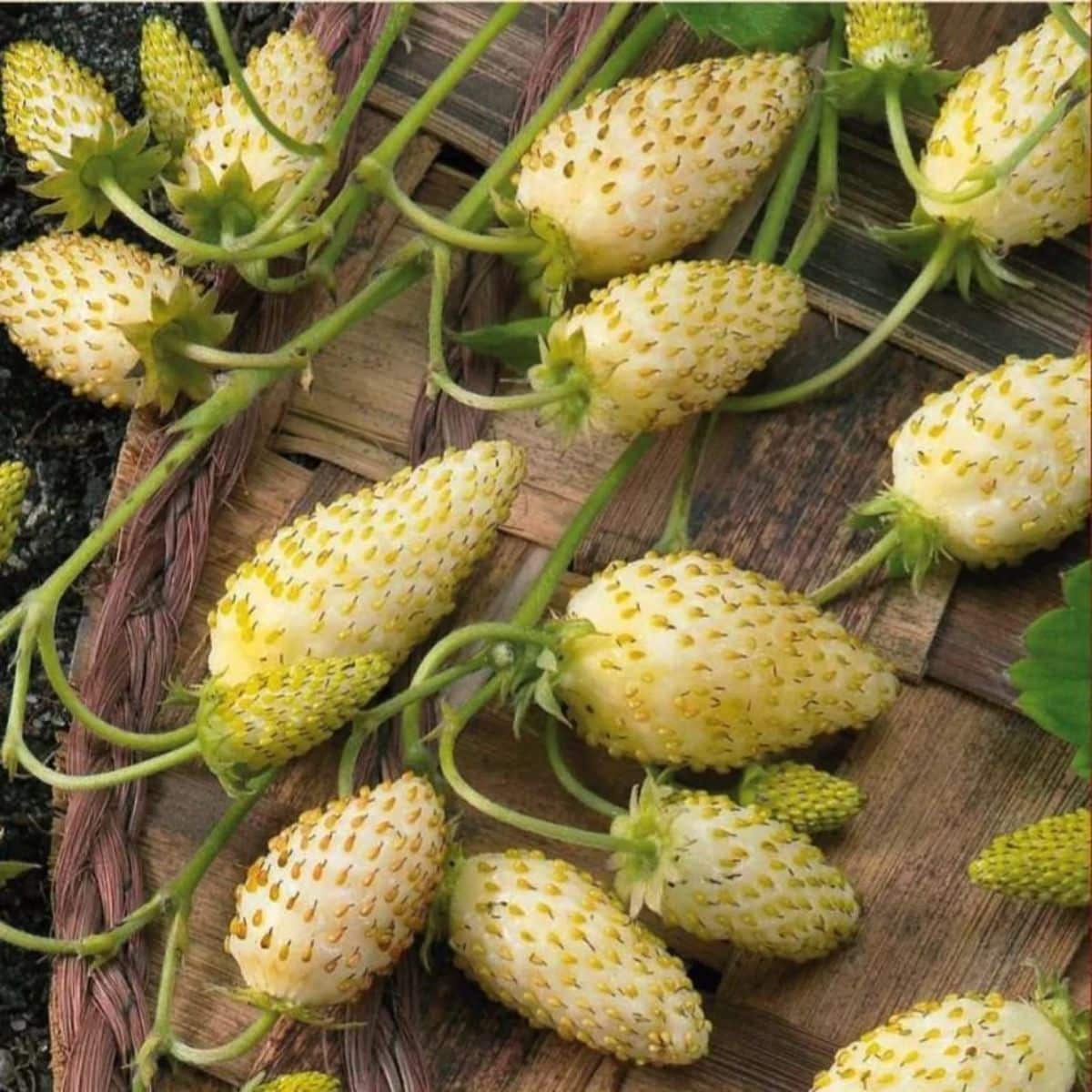 Plants will grow to be 8-10 inches (20-25 cm) tall and will spread 14-18 inches (35-45 cm) wide. Yellow wonder will stop flowering if temperatures go over 86 degrees. Provide shade or cover in summer months. Small berries grow prolifically all throughout the year. Try growing in pots or hanging baskets. Plants will live a long time and crowns can be divided into separate plants after a few years.
Where to Buy
Plants:
Seeds:
Best Uses
Because of its unmatched flavor, Yellow wonder strawberries are used in a variety of ways in the kitchen. Perfect for foraging and eating handfuls of fresh berries.