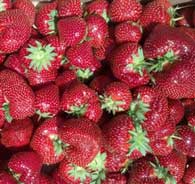 For those strawberry enthusiasts who have an interest in the latest and greatest developments in the world of horticulture, I am pleased to spread the word about the latest strawberry cultivar released by the breeding program at the United States Department of Agriculture's Agriculture Research Service at Beltsville, Maryland.  'Flavorfest' is the latest improved variety selected and subsequently released by the program at the end of 2012.  It takes quite a bit of work and research and testing for a new variety to be developed, and Flavorfest shows considerable potential.
Flavorfest is well-suited for growing in the mid-Atlantic and northeastern regions of the United States, as well as bordering regions.  It should perform well for growers using annual plasticulture methods or the more traditional matted row system, and trials have produced excellent results at various locations ranging from North Carolina into Canada.
The History of Flavorfest Strawberry Plants
Not just any strawberry plant variety makes it to final selection and release to the public.  Most don't.  It takes careful planning and years of work to prove that a new variety significantly improves upon the present varieties available and is worthy to enter the market.  Flavorfest is no exception.  It's development was initially planned by Dr. Gene Galletta in 1995 and executed the following year by Mr. John Enns.  After surviving the screening regimen for red stele resistance, it was selected in 1998 and has undergone further evaluation since then by the team at the Beltsville Agricultural Research Center until its recent release.  It was initially trialed as B1033, and was derived from the cross pollination of B759 and B786.  Genetic material from this release now has been registered with the National Plant Germplasm System and is available for research purposes.
Benefits of the Flavorfest Strawberry Variety
Each new released variety from the USDA research programs will improve on some aspect of strawberry cultivation.  Either disease resistance, fruit quality, or climactic adaptation and tolerance are typically shown to be better in the newly-released variety.  Flavorfest looks to be ready to compete with the long-time stalwart Chandler variety.  The notable features of Flavorfest are:
1.  High Yield – Flavorfest has consistently produced as a top-yielder in trials.
2.  Aesthetics & Taste – The strawberries produced by Flavorfest strawberry plants are striking.  They are notably large (the strawberries are larger than those produced by Chandler), bright red, and distinctively plump.  They also have an excellent flavor profile.
3.  Disease Resistance – After showing initial resistance to red stele, Flavorfest showed resistance or tolerance to most of the stem and leaf diseases during trials.  Additionally, no susceptibility to anthracnose crown or fruit rot has been found.  The percentage of fruits showing Botrytis fruit rot has been similar to or lower than other currently-available mid-season varieties when harvested from untreated fields.
4.  Growing Considerations – Flavorfest has a prolonged growing season when compared to most other commercial varieties.  It is similar to Chandler when grown in plasticulture, but its yield is higher and berries larger.  The plants are also vigorous, require less nitrogen than Chandler, and propagate well.
Flavorfest Strawberry Variety: Conclusion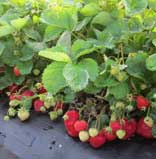 Flavorfest strawberry plants are available through Burpee.  You can also visit the USDA's Flavorfest product page.