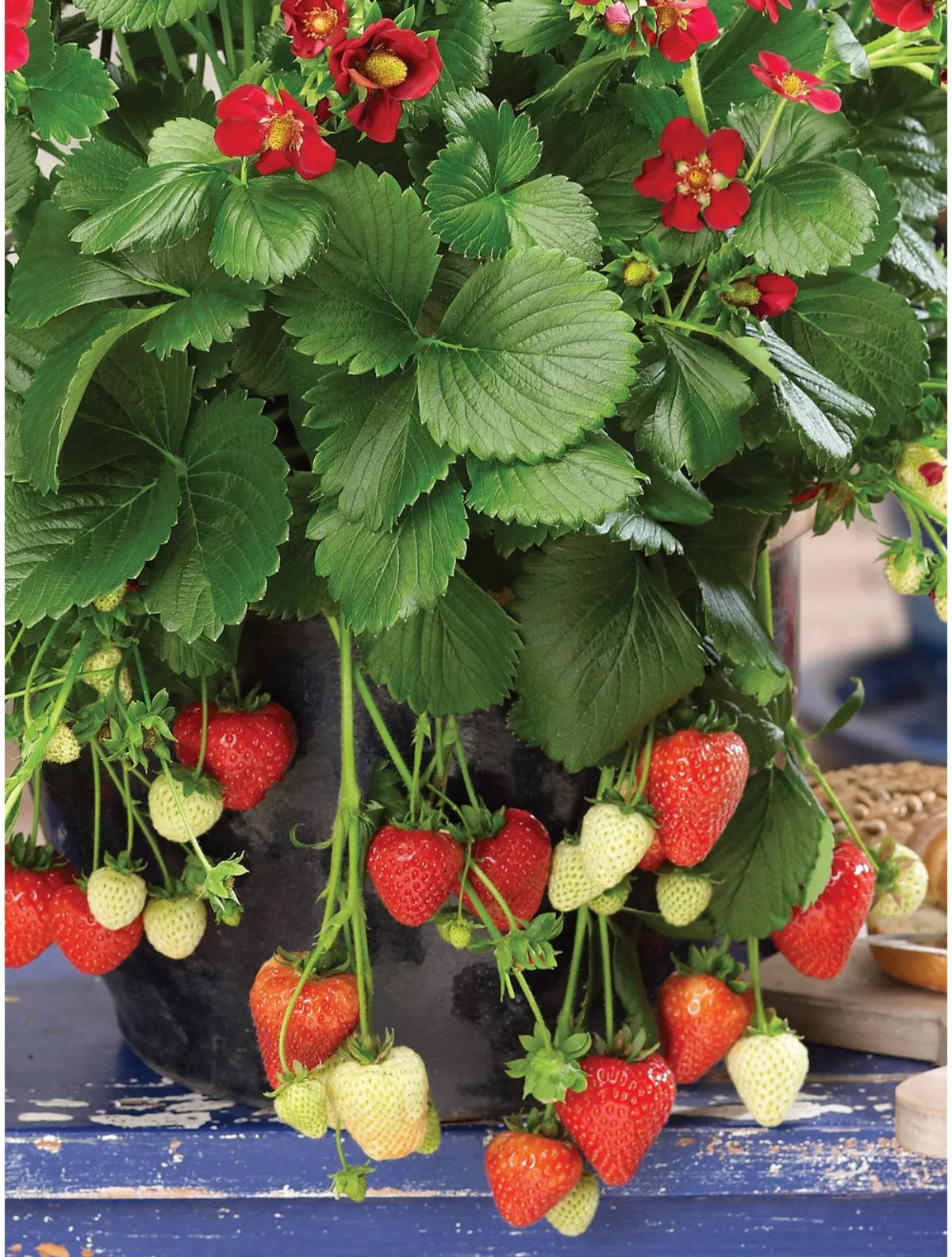 Ruby Ann is an aesthetically pleasing plant in every sense. Vigorous growers produce perfectly symmetrical, medium size cone shaped berries. It is visually pleasing, often grown ornamentally for its stunning bright red flowers, hence the name Ruby Ann. Berries will be in abundance all summer long.
Jump to:
Introduction
| | |
| --- | --- |
| Hardiness Zone | Zones 4-8 |
| Exposure | Full Sun |
| Harvest | Heavy summer harvest, June – September |
| Soil | Ideal pH 6.8 – 7, neutral, sandy-loam |
| Water | 1-2 in. (3-5 cm) water per week |
| Maintenance | Provide well drained soil, plant in containers |
| Plant Type | Everbearing |
| Berry Flavor | Juicy and sweet |
| Berry Size | Medium |
Where to Grow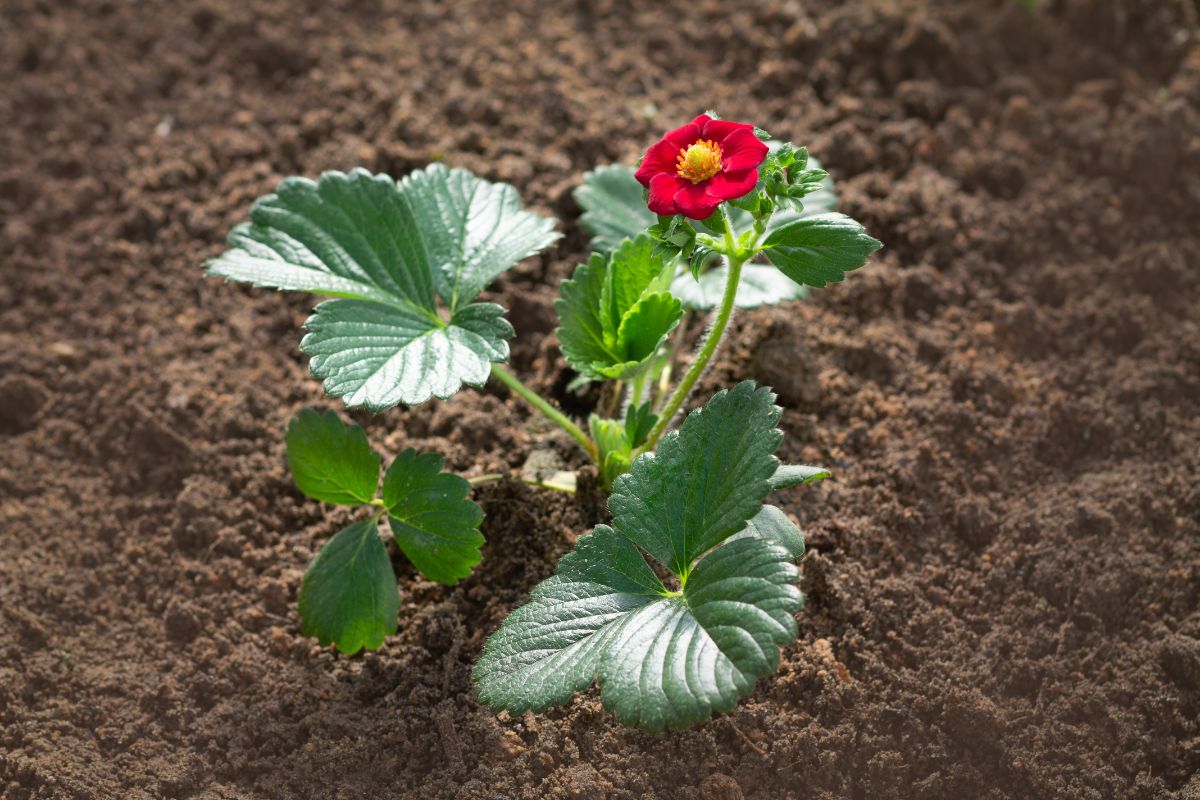 Ruby Ann grows well in most zones. Will be a semi-evergreen in regions with mild winter, addin to its value as an ornamental. Avoid extremely hot and humid areas, as Ruby Ann is susceptible to fungal root and fruit diseases.
Growing Conditions
Give Ruby Ann strawberries full sun and plant in well-drained soil that stays moist. Will grow the best in organically rich soil. East to care for if given sufficient water and fertilizer.
Disease Susceptibility
Susceptible to root rot, anthracnose, leather rot, verticillium wilt and gray mold. Keep plants well spaced with good ventilation and in full sun to discourage diseases from getting established and spreading.
Notable Features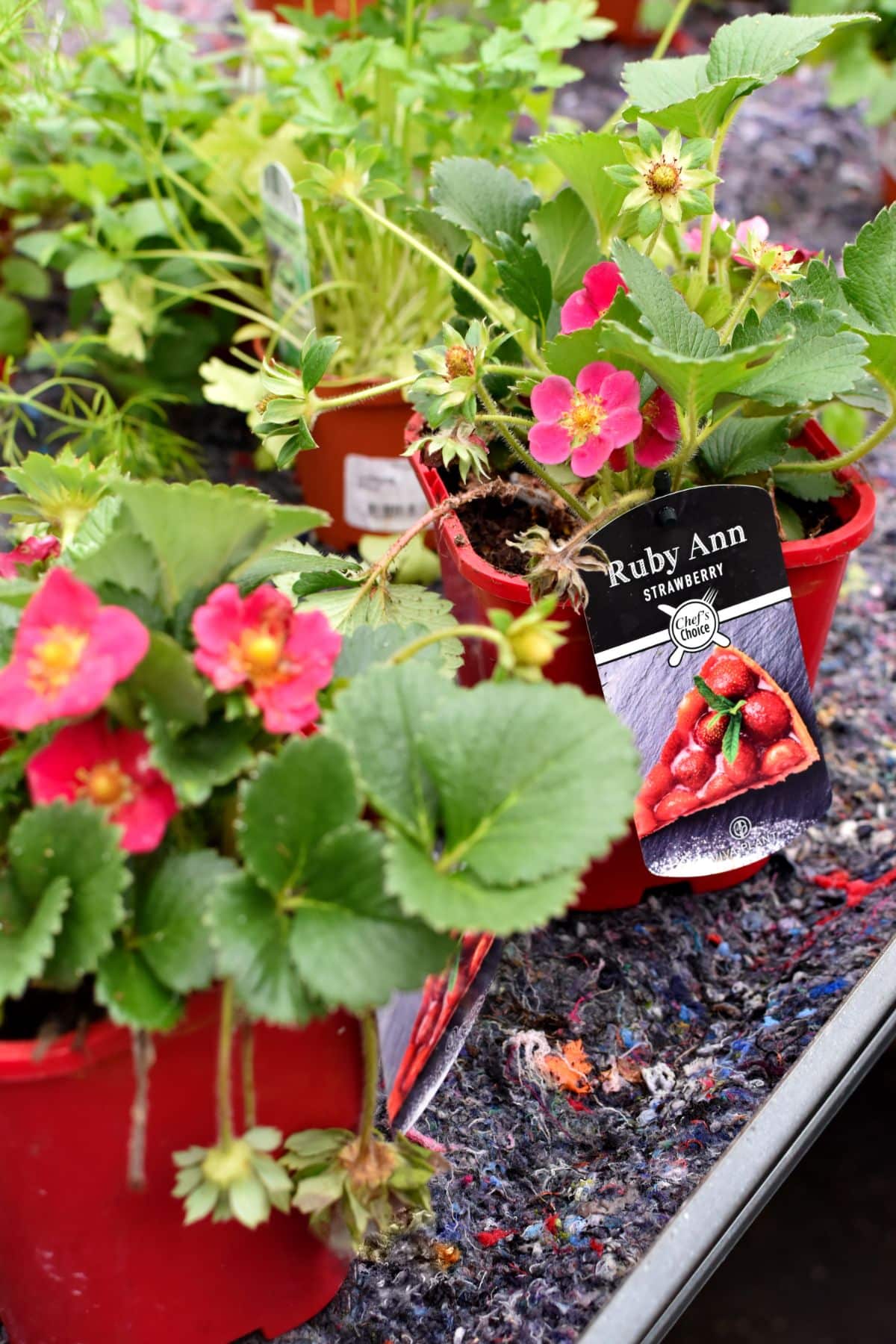 A profuse amount of ruby red flowers start appearing early in the season. Grows very well in hanging baskets, containers as a border and in garden beds. Tolerant to deer but will attract birds.
Growing Tips
Fruit gracefully droops out of containers, grows especially well in hanging baskets. In the garden space plants 24-36 inches apart (60-90cm). Shrubby plants will grow upto 1 foot (30cm) in height.
Where to Buy
Plants:
Seeds:
Best Uses
Medium-sized, sweet ruby berries taste great eaten fresh. With a large summer output consider using them in jams, salads, smoothies and baked goods. The whole plant is often utilized as ornamentals around the house and landscape.