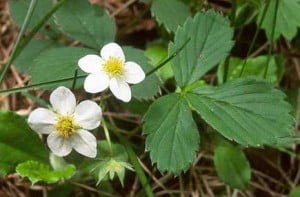 Mountain Strawberry Names & Scientific Classification
The mountain strawberry is a member of Fragaria glauca (for broader strawberry plant nomenclature, see the scientific classification common to all strawberry plants on the Strawberry Plant page).  However, Fragaria glauca is synonymous with Fragaria virginiana subsp. glauca, and the two names can be used interchangeably.  Common names used for this strawberry plant species are: Mountain Strawberry, Virginia Strawberry, Wild Strawberry, Scarlet Strawberry, and Glaucous Blue Strawberry.
Where to Find Mountain Strawberries in the Wild
Mountain strawberries are native to North America.  They are most commonly found sunny places like open meadows or forest clearings at elevations between 3,940 feet and 10,830 feet (1,200 to 3,300 meters).  Mountain strawberry plants can be found occurring naturally in the Klamath Mountains of Washington and Oregon, the High Cascades, the Modoc Plateau, and the Sierra Nevada range.  They are not confined to this region, however, and their natural range extends both north into Canada and throughout the eastern United States.  In fact, the actual plant specimen collected and used for taxonomic determination was obtained in Alaska.
Historical Uses of Mountain Strawberry Plants
Naturally, the delightful strawberries the mountain strawberry plants produce has long been a favorite of native peoples.  Indigenous Canadians picked and ate mountain strawberries as did the Midwestern prairie and Great Lakes tribes in America.  They were eaten raw, dried, or cooked by the Blackfoot, Cheyenne, Dakota, Hidatsa, Mandan, Omaha, Pawnee, and Winnebago tribes.  Furthermore, young leaves from mountain strawberry plants were used by the Blackfoot and Winnebago to make a tea.
Appearance of the Mountain Strawberry
The plants have toothed leaves consisting of three leaflets which are smooth on top.  The flowers of the mountain strawberry plant have five white petals that are 4 to 9 mm.  Each flower has many pistils and 20 to 35 stamens.  The fruits produced are small, red, and covered with seeds.  Each mature mountain strawberry plant is usually around 6 inches in height.
Mountain Strawberry Propagation
Mountain strawberry plants are propagated three ways: by seed, by runner, by rhizome.  The mountain strawberry plant's rhizome is a very short, horizontal stem that sends out roots and shoots.  If this rhizome is broken into pieces, it is possible for each piece to grow a new mountain strawberry plant.  It is easier to propagate via mountain strawberry seeds or runners.  The runners (stolons) are similar to a rhizome, but they sprout from an existing stem and are longer.  Each node along a runner can form a separate plant.  Each of the mountain strawberry seeds also has the potential to germinate and form a new, separate mountain strawberry plant (technically, strawberry "seeds" are achenes – see the Strawberry Seeds page for details).
How to Grow Mountain Strawberries
For the basic, general information regarding growing strawberries, be sure to read the Growing Strawberries page.  Mountain strawberries are best established at higher elevations (a minimum of 2,000 feet or 600 meters) where a significant frost occurs.
When found, dig up the strawberry plants or runners.  Re-plant them in the fall in individual containers or pots.  Make sure the stems and the roots are covered with soil, and place the pots in a sheltered location so that the mountain strawberry plants can develop healthy, strong roots.  Water the plants or runners sufficiently to keep them moist (but not soaked as they may rot).  When late winter or early spring arrives, plant your potted mountain strawberry plants in the ground outdoors about 8 to 10 inches apart in a light, loose soil where they will receive full sun.
Additional Mountain Strawberry Information
Mountain strawberry plants are considered invasive by some, and they will create a complete ground cover in a relatively short time.  To slow the process, keep removing the runners as they are sent out.  It is worth noting that mountain strawberry plants with larger flowers typically have less fruit while the smaller-flowered plants usually produce more berries.  The younger plants are also more vigorous and produce more strawberries.
To get a harvest, you will have to protect your mountain strawberries from deer, gophers, raccoons, squirrels, and other animals.  The valley quail and the Portola woodrat will make a meal of both the strawberries and leaves of a mountain strawberry plant.
To maintain the vigor of a strawberry bed planted with mountain strawberries, the planting should be divided and re-planted in a new location every three or four years.  The plants usually bloom from mid-spring to early summer.
Where to Get Mountain Strawberry Plants
Mountain strawberry plants can often be obtained through native plant nurseries located within its natural distribution.  Some nurseries that offer mountain strawberry plants for sale are:
Bosky Dell Natives
23321 SW Bosky Dell Lane
West Linn, OR 97068
Phone: 503-638-5945
Fax: 503-638-8047
Visit Their Website HERE
Fourth Corner Nurseries
5652 Sand Rd.
Bellingham, WA 98226
Phone: (360) 592-2250 or 1-800-416-8640
Fax: 888 506-1236
Visit Their Website HERE
Prairie Moon Nursery
32115 Prairie Lane
Winona, MN  55987
Phone: (866) 417-8156 or (507) 452-1362
Fax: (507) 454-5238
Visit Their Website HERE or HERE
Sevenoaks Native Nursery
29730 Harvest Drive SW
Albany, OR 97321
Phone: 541-757-6520
Fax: 541-738-2607
Visit Their Website HERE
Wallace W. Hansen's Northwest Native Plants
2158 Bower Ct S.E.
Salem, OR 97317-9216
Phone: 503-581-2638
Fax: 503-549-8739
Visit Their Website HERE
Woodbrook Native Plant Nursery
5919 78th Ave. NW
Gig Harbor, WA 98335
Phone: 253-265-6271 or 253-225-1900
Fax: 253-265-6471
Visit Their Website HERE
Photo courtesy Reny Parker