Growing strawberries in containers can be tricky but using the right container will help. These are the 5 best containers to grow the healthiest, most productive potted strawberry plants.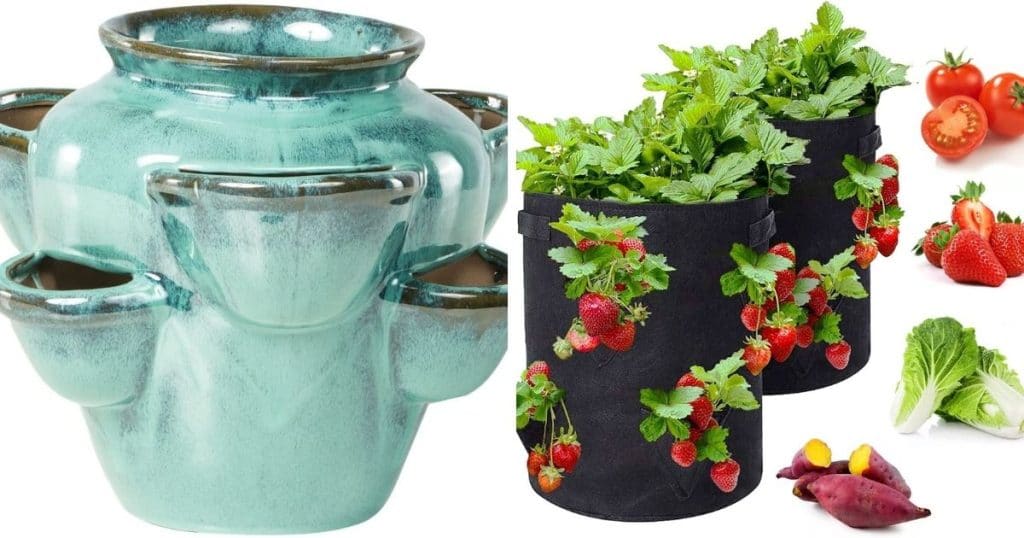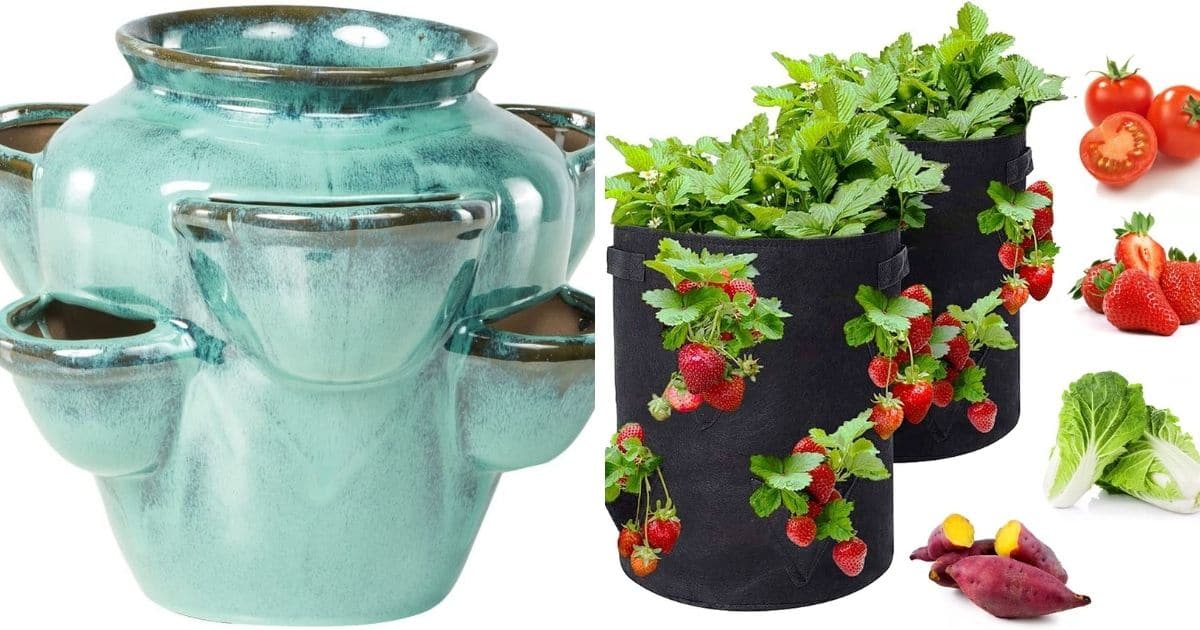 Jump to:
Daily Updated Bestsellers on Amazon
Check out the 6 most bought planters updated daily here.
Ceramic Strawberry Planter
In a strawberry planter trial, strawberry plants are grown in this shape and material pot tested as the most productive. It has six side pockets to hold up to 8 strawberry plants in a small area, making the most of whatever growing space you have. As a bonus, this ceramic planter is beautiful!
Hanging Strawberry/Tomato Felt Planter Bags
2 Pack Black and Green Upside Down Tomato & Herb Planter, Hanging Durable Aeration Fabric Strawberry Planter Bags
Packgae includes: It comes with 2 pcs of fabric hanging planter bags in black and green, each bag measures 8.8 * 15 inches. 2 mental hooks are included for easy hanging. One nice feature is that they can easily be turned for more or less sunlight for both sun and shade loving plants.
Heavy-duty: Made of Nonwoven Fabric, material is heavy-duty felt, good permeability let roots breathe freely and make the plants grows well and increase yield. Keeps plant warmer in winter and cooler in the summer, decreased risk of transplant shock, creates improved overall root structure.
Upside down design: These tomato planters haning are great solution if you have deer or other that come and munch on your plants when you're not looking, and most importantly no more sore back and knees. The upside down design will save space and utilize gravity to maximize water and nutrient supply to roots.
Openings on side: the upgraded design planter bags will allow you to grow so many plants in one bucket. Grow the juicy tomatoes or cucumber on the bottom and the side openings (12 holes in total) are great for herbs, strawberries, peppers, etc.
Easy to use: The grow bag is suitable for patios, lawn, gardens, any outdoor and indoor space. Load the plant root side first pushing them through the openings, and then fill the bag with dirt, pick a suitable height and sunny area to hang the bag. These bags can easily be used for several seasons and not take up much space when storing.
These heavy-duty felt planter bags are sold in pairs. The felt material allows the soil to stay cool in summer, warm in winter, and well-aerated all year round.
Each bag has a total of 12 planting holes spread across the bottom and sides and comes with metal hooks for hanging. They are easy to turn for optimum sun exposure.
Hermard Strawberry Planter Bags
These 10-gallon planter bags, which are also sold in pairs, are designed to rest on the ground. They have 6 side pockets, an ideal placement for growing strawberries. The heavy-duty bags have sturdy handles to make them easier to move as needed.
Woven Fabric Strawberry Grow Bag by Vinyl Etchings
Vinyl Etchings Plant Grow Bag, 2 Pack Large Non-Woven Fabric Bag Suit for Strawberry/Plants/Flowers/Vegetables Heavy Duty Non Woven Fabric Pots with Handles Used Indoor or Outdoor (10 Gallon, Camel)
1,Breathable and useful- This Plant growing bags is made of Non-woven fabric. It allows roots to breathe and grow healthier, boosts plant growth and yields. Decreased risk of transplant shock, creates improved overall root structure.
2,Saving water and more harvest- Our plant growing bags provide an ideal growth environment for plants' moisture, nutrition and temperature.Keeps plant warmer in winter and cooler in the summer.Reduce unnecessary watering and irrigation.
3,Plant grow in anywhere-The plants planted in the bag can be transported anywhere and anytime, Built-in study handles for easy movement, indoor or outdoor use and easy to fold for storage.No matter in office or garden,you can see your plant growing well.
4,Widely used :Plant growing bags are able to use to plant Tomatoes, Strawberries, Flowers, Green dill and various fruits and vegetables.Plant it and gain in your insight.
5,Easy to use:Just as you plant in normal,no need to study more.If you have any question,contact us in time.We are online 7*24hours.
These grow bags are very similar to those by Hermard listed above. These are designed to rest on the ground and are made from heavy duty felt with sturdy handles. They have 8 side pockets that are box-shaped, as opposed to wedge-shaped like the Hermard bags.
Mr. Stacky 5-Tier Strawberry Planter Pot, 5 Pots
Nullify
Imported
Soil Volume: 24 Quarts - Free standing or easily create grow towers off the ground using 3/4" Pipe.
Indoor and outdoor - weather & UV resistant
L:16.5" x W:16.5" x H: 9.8" total stack dimensions
This 5 tier strawberry planter is made of heavy-duty, food-safe plastic. Each tier holds 4 plants for a total of 20! The tiers are easy to stack and unstack so you can use a shorter tower or 2 towers if you prefer.
The stackable pots come with a drainage tray. The drip-through watering system delivers the right amount of water to all 20 plants and only requires you to water the top layer.
As you can see, it is easy to find a pot to fit your budget and space. Once you have chosen, follow these 6 tips for growing strawberries in containers to make your potted strawberry garden a success!