There are two important things to know about washing strawberries: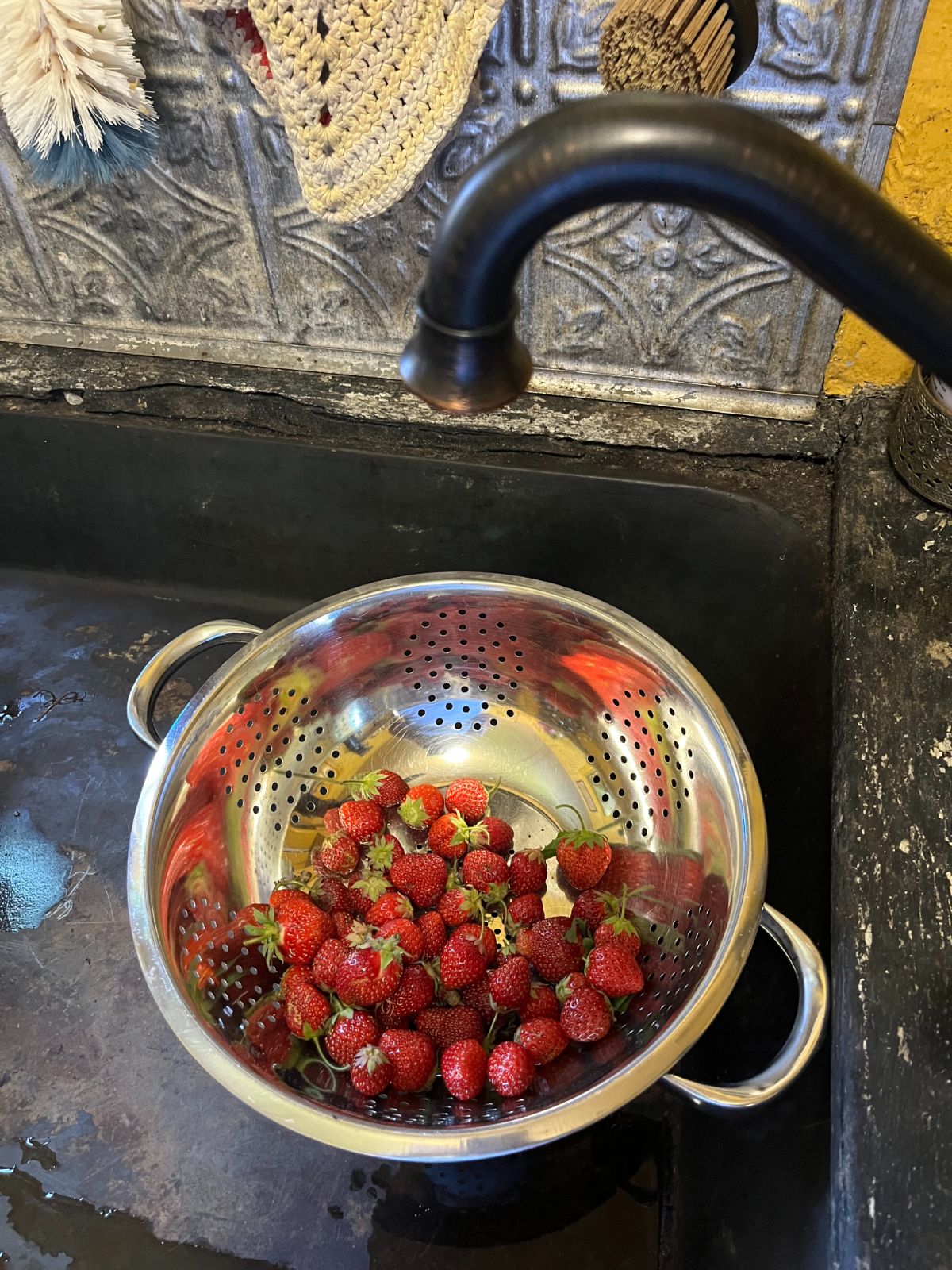 When to wash your strawberries
How to wash your strawberries
We've got the answers to both those questions, plus simple how-to instructions and some extra information about why and which method to choose.
Jump to:
Is Washing Strawberries Really that Hard?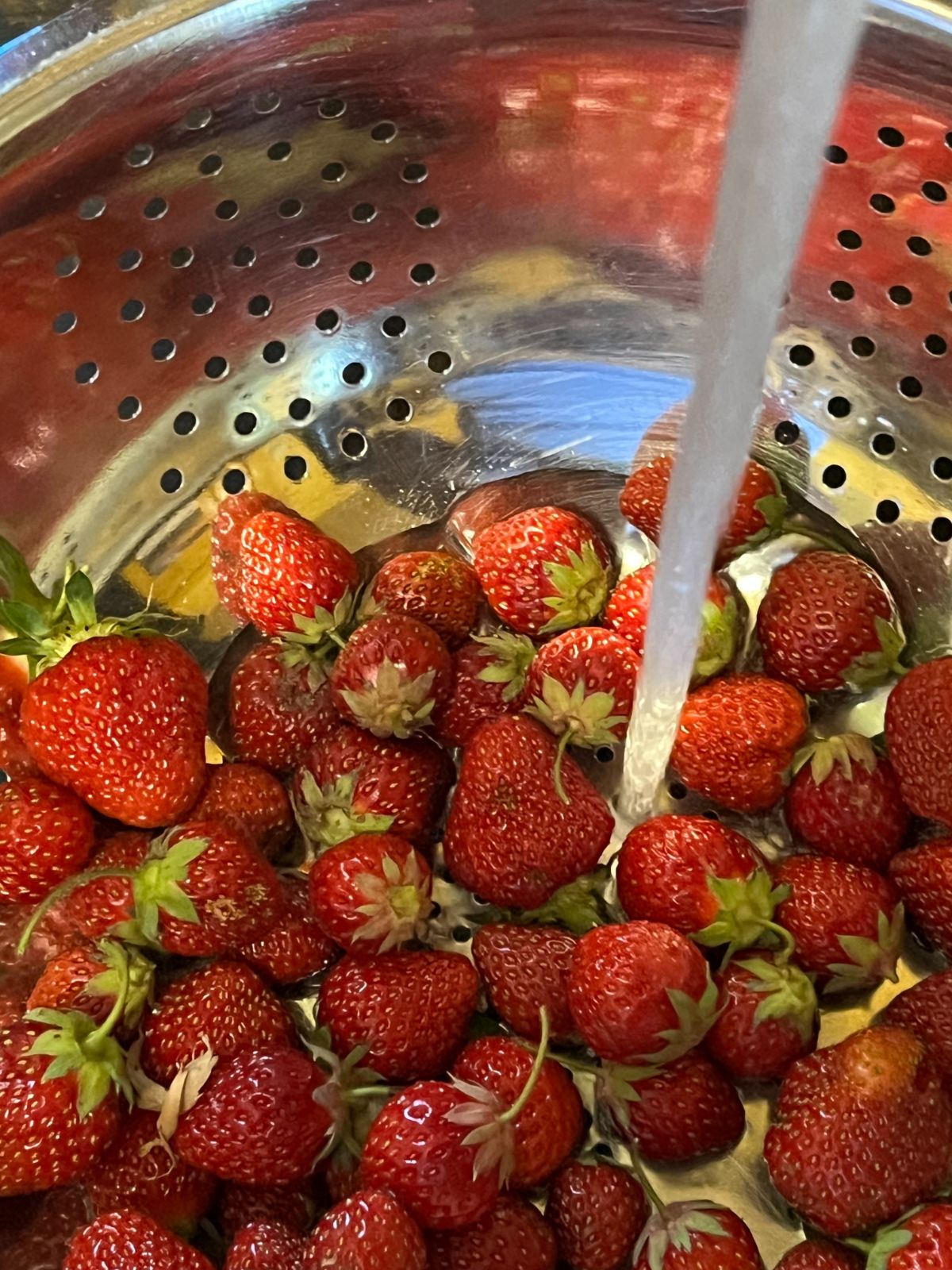 Is it hard? No.
Does it matter? Yes. Quite a bit.
Of course, the actual act of washing strawberries isn't hard, but it is something people get wrong. It is also something for which there are many opinions and pieces of advice floating around.
When and how you wash your strawberries matters a lot because it directly impacts the shelf life of your freshly picked strawberries. How you wash your berries also impacts their flavor—a lot.
Knowing when to wash strawberries will determine how well they keep as fresh berries and how well they preserve if you are freezing or drying them.
First, let's look at when to wash them.
What is the best time to wash your strawberries after harvesting?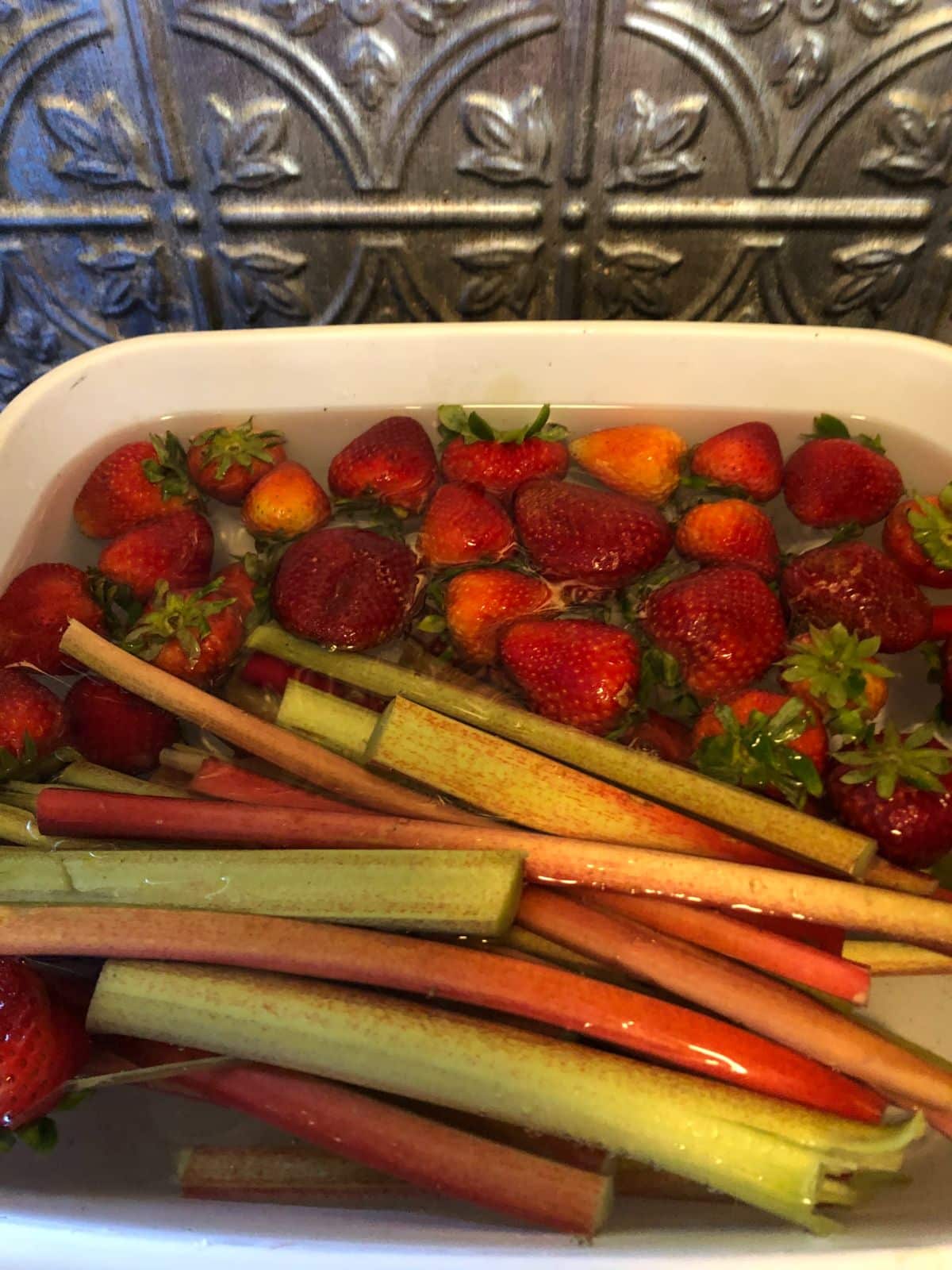 This is an easy one. Don't wash your strawberries until you are ready to use them. It doesn't matter if you're eating them fresh, canning them, preserving them, dehydrating them, or slicing them for a fruit salad. You should never wash your strawberries until you are prepping them for eating, using, or preserving. It's that simple.
Of course, sometimes prepping means you are getting something ready for a meal, snack, platter, or party that won't take place for a little while, and that's fine. A couple of hours ahead won't hurt much, though once your strawberries are hulled, de-stemmed, or cut, they should go into the refrigerator in an airtight container until shortly before you are ready to serve. The closer you can wait to serving time to wash and prep your strawberries, the better their quality will always be.
Note: For all of the following methods, wash whole strawberries with the tops on; wash before you do anything to process them. Wait to hull or destem until after you have washed your berries.
How should you wash your fresh-picked strawberries?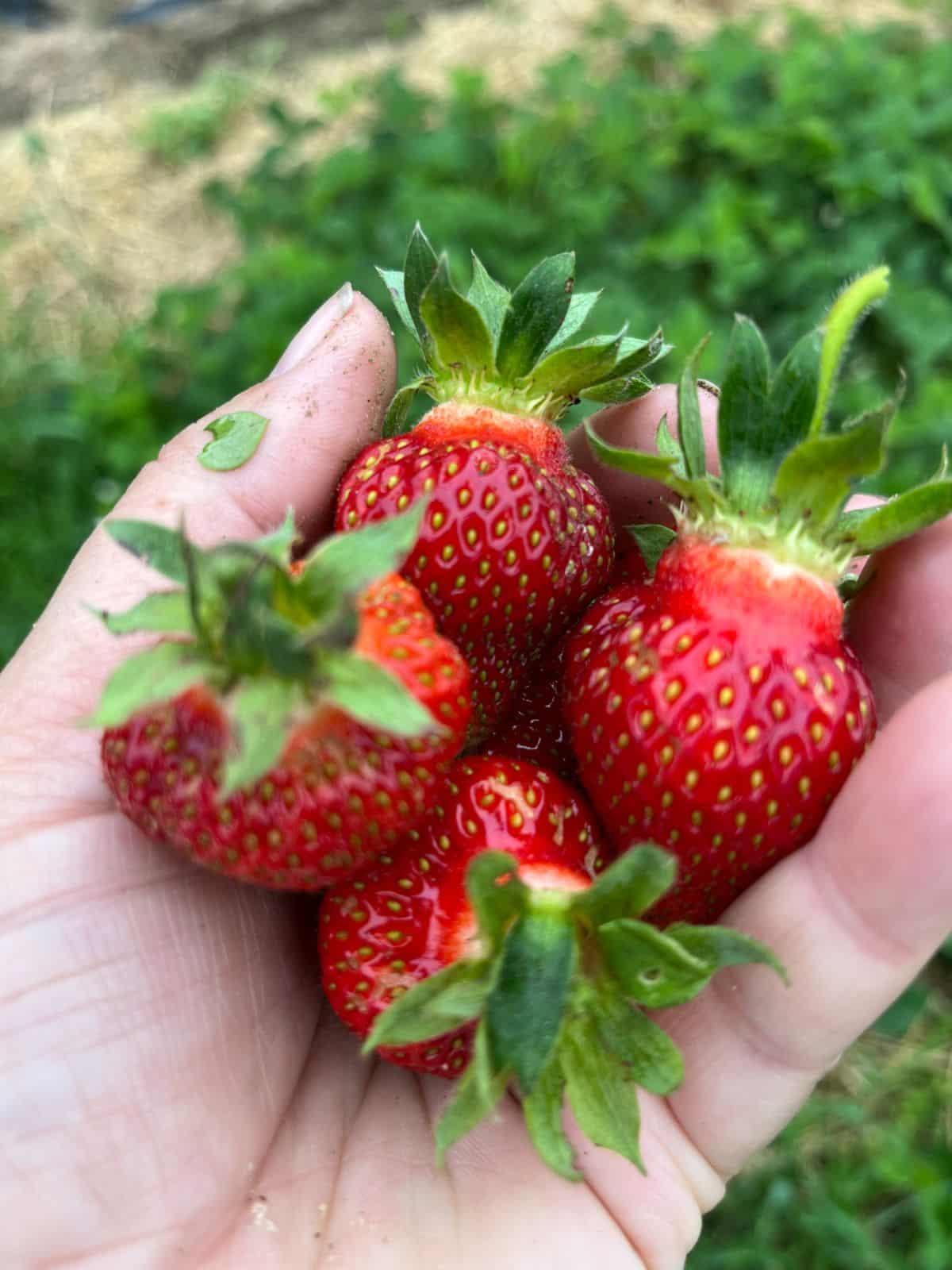 Of course, the internet (and the rest of the world) is full of "good" advice, but the truth is there are only about three worthwhile methods of washing strawberries that you need to know about, and of those, only one that really rises above as the way to wash strawberries.
Note: Discard any strawberries that show signs of rot, mold, or softening as you go through them. If berries are juicy, weeping, or soft to the touch, discard them. Only clean and consume strawberries that are in good, firm condition.
Method One: Running Water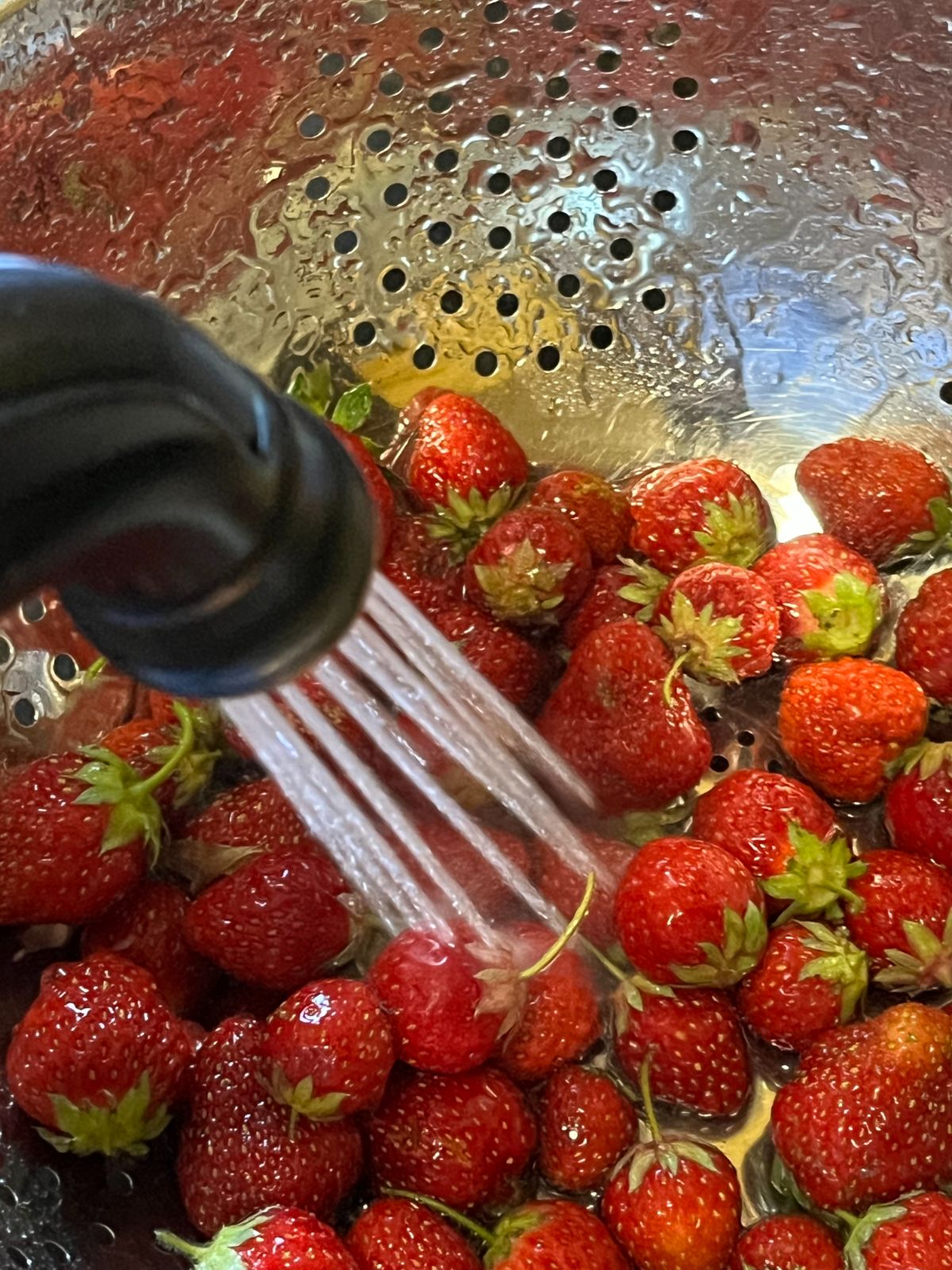 This is the method that almost every expert and University and extension service recommends. This is the method that experienced growers and pick your own strawberry farms recommend, too.
This method is also the easiest. There's not much to it. You don't need anything more than a sink with good, clean running water and a colander or sieve.
Place strawberries in a colander or mesh sieve (a colander is a little better so it can let larger pieces of insects or debris through
Work in small batches so that all the berries can be evenly and thoroughly washed—single layers are best
Wash under cool, running water, rolling and moving the berries so all the berries are washed on all sides
Rinse for between 30 seconds and one minute, making sure to keep the berries moving and making sure you evenly rinse all the berries
Drain and dry (see instructions below for drying)
That's it! Nothing to it.
One reason people are unsure about this simple method for washing strawberries is that they worry that simply rinsing won't be enough to remove harmful pesticides and pathogens. But a simple rinse with good tap water (which, again, is the method that leading universities say to use), will remove up to 80% of pesticides, and up to 98% of bacteria. Commercial produce washes don't do any better, according to researchers. Also, keep in mind that pesticide residue is less of a concern for organically grown berries, whether grown on a farm or at home.
Why choose the running water method over the other two?
Simple. It's a simple process. It's recommended by experts. It gives you the best taste and quality, takes the least effort, and has been proven to be just as effective—or more effective—than any other method.
Method Two: Vinegar and Water Bath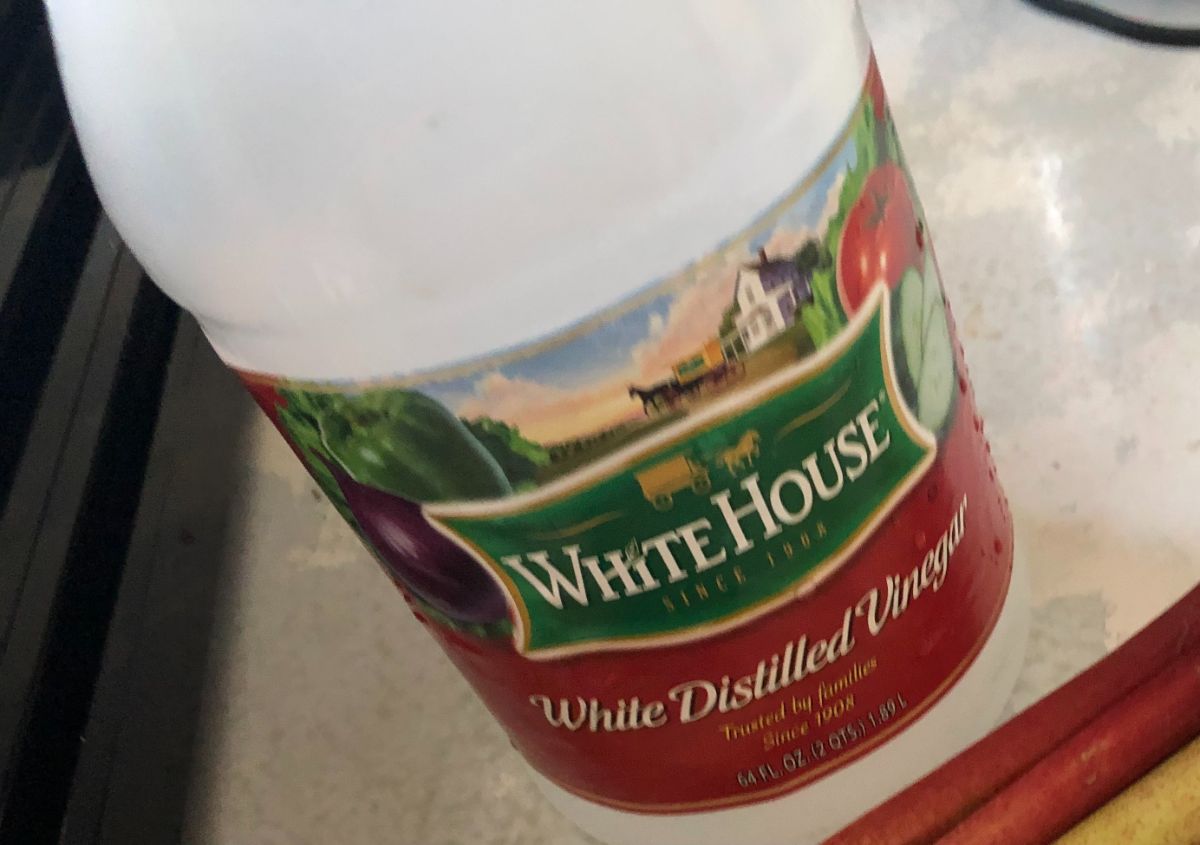 The vinegar method has become popular in recent years. One of the reasons it has become so popular is that it is purported to reduce mold and spoilage—which it can, to an extent, but for best results, it is still best (despite what the internet says) to wait to wash strawberries until you're ready to use the berries.
To wash strawberries with vinegar without effecting flavor,
Make a basin of water and vinegar solution. Use a 3:1 ratio of three parts cold water and one part vinegar. For example, for about a gallon of wash, use 12 cups of cold water and 4 cups of vinegar.
Working in batches, place whole strawberries with the stems into the solution. Move and gently swish the berries for about 30 seconds, up to a minute, letting dirt, bugs, and debris fall to the bottom.
Lift the berries out of the wash rather than dumping the wash out over them so that any dislodged dirt does not get dumped back over your clean berries.
You can also place your berries into a colander and lower the colander into the water and vinegar bath, gently moving the berries and lifting and lowering the colander several times so the water washes through and between the berries.
Rinse the strawberries with cold running water after removing them from the solution to wash away the vinegar and reduce acidic or vinegary flavors.
Drain and dry (see below for drying instructions).
One drawback of this method is that berries may become overly wet, especially if left to soak for too long, and that sometimes vinegar tastes may linger.
Why choose the vinegar wash method over the other two?
The best reason to choose this method is if you are concerned about pathogens like bacteria and viruses. University studies have found that a 10 percent vinegar solution can kill between 90 and 95% of bacteria and viruses. Vinegar is also able to break down and remove external pesticides (but not those absorbed systemically into the fruit), which is something to consider if the strawberries were not organically grown.
Method Three: Salt and Water Bath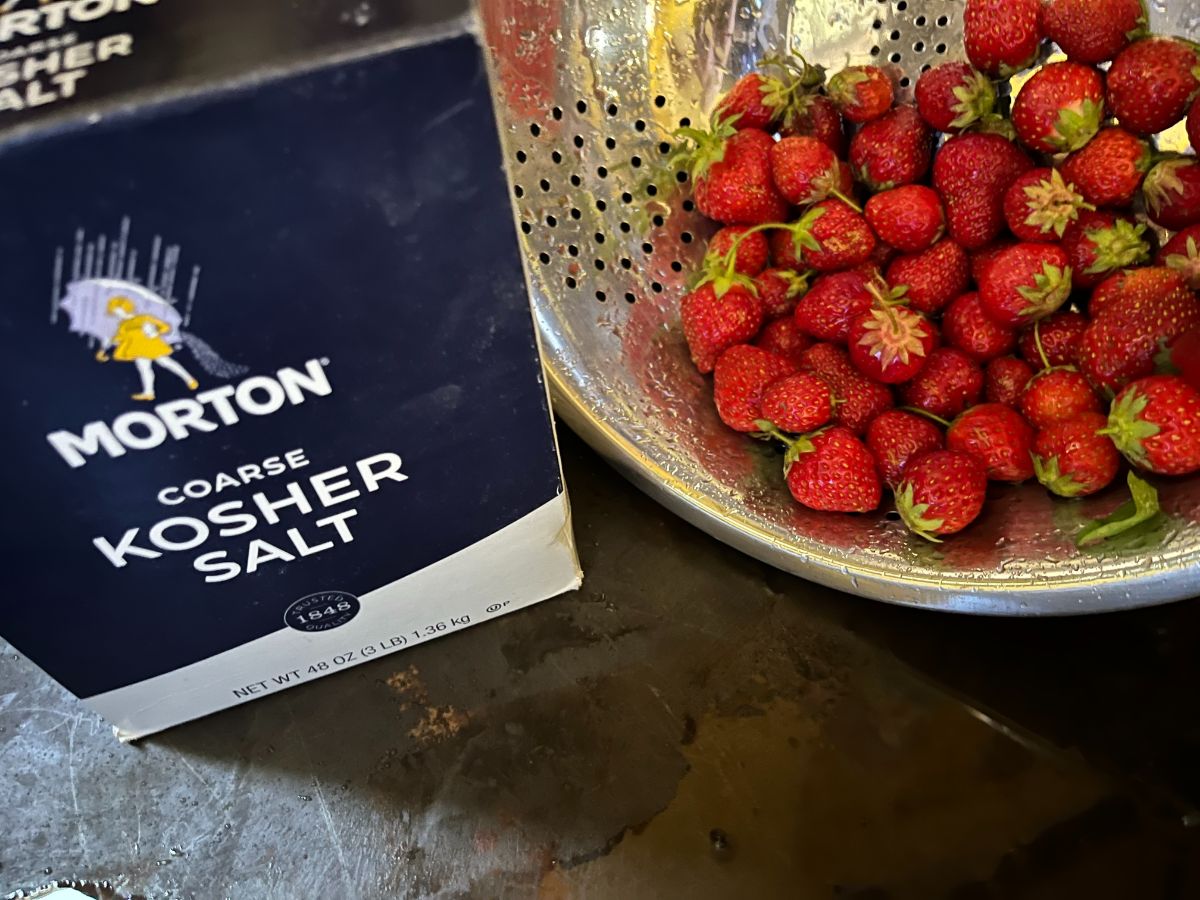 The process for the salt and water bath is similar to the process for the vinegar wash above, except that instead of vinegar and water, you will be making a solution of salt and water.
Make a wash solution of salt and water in a clean basin or tub. Draw a tub of warm water, then sprinkle the salt evenly into it. Stir to dissolve the salt. Use four teaspoons of salt per gallon of water.
Add ice to cool the water (Note that some experts, like food scientist Harry McGee, say that strawberries can tolerate temperatures up to 125 degrees Fahrenheit [51 degrees Celsius] and that this scalding temperature will kill mold spores. The theory is that strawberries withstand temperatures of 100 or more degrees in hot, sunny fields. Still, we do know that cooling your strawberries down slows deterioration, so cooling the water makes sense.)
Working in batches, place the strawberries into the saltwater solution. Move the berries around to dislodge insects and dirt, and debris. Wash for 30 seconds to about one minute.
You may also wash in a colander by moving the berry-filled colander up and down in the solution of water for a minute or more (see note below).
Remove the berries from the solution (again, take the strawberries out and do not pour the wash out over the strawberries).
Rinse in a colander, rolling the berries around to make sure all parts of all berries are rinsed clean. Rinse thoroughly to remove all the salt!
Drain and then dry completely before using (see below).
As with the vinegar wash, a drawback of this method is that the solution can cause salty tastes in the strawberries, especially if they are not thoroughly rinsed after washing. In fact, this is more of an issue than it is with vinegar washes, because vinegar will evaporate from the surface of the berries to some degree, whereas when the saltwater solution evaporates, the water evaporates off, but the salt, if still present, is left behind.
*Some sources recommend soaking your strawberries in salt water for up to five minutes, but at that point, you are risking making your strawberries salty and watery. The reason for such a long soak is that insects are more likely to drown, be driven out, and dislodge if they are left soaking in the salt and water for several minutes. For the best flavor and for a good cleaning, one to three minutes (the shorter, the better) would be more appropriate. And keep them moving—don't let them sit still for too long.
Why choose the saltwater wash method over the other two?
The biggest reason to choose the saltwater wash method would be to dislodge insects and slugs from your strawberries. Insects are more visible on strawberries than on other types of berries, but there's always a chance some are hiding there. Salt and water solutions are the "go-to" solutions for driving unwanted visitors out of fresh produce.
Wash–Don't Soak–Your Strawberries
Strawberries can easily absorb water if they are left sitting in it for too long. They're like little sponges that way. Believe it or not, this can seriously dilute the flavor. It also reduces the aroma, which is essential to our sense of taste—so water-logged, wet strawberries really will not taste as good as nice, dry, room-temperature warm berries.
Keep in mind that berries that are left sitting in water that has something added to it—like soap, detergent (neither of which is recommended), salt, or vinegar—can also soak up the additives if they're left sitting in it for too long. This can make your strawberries take on a vinegary or salty flavor.
Soaking also allows molds and pathogens to spread more easily amongst the strawberries, while moving, running water takes it away from them.
No matter which washing method you choose for your strawberries, take pains to make sure you are washing the berries, not soaking them. An easy way to tell the difference is to keep in mind that washing, in this case, means movement and no prolonged contact between the water and the berries. Even if you opt for vinegar and water or saltwater soak, gently swish your hand in the tub to keep the berries moving. The movement will also help dislodge debris and insects. Only leave the berries in the solution for about one minute (no longer than three), then drain well and rinse them to remove the salt and vinegar on the surface.
Dry After Washing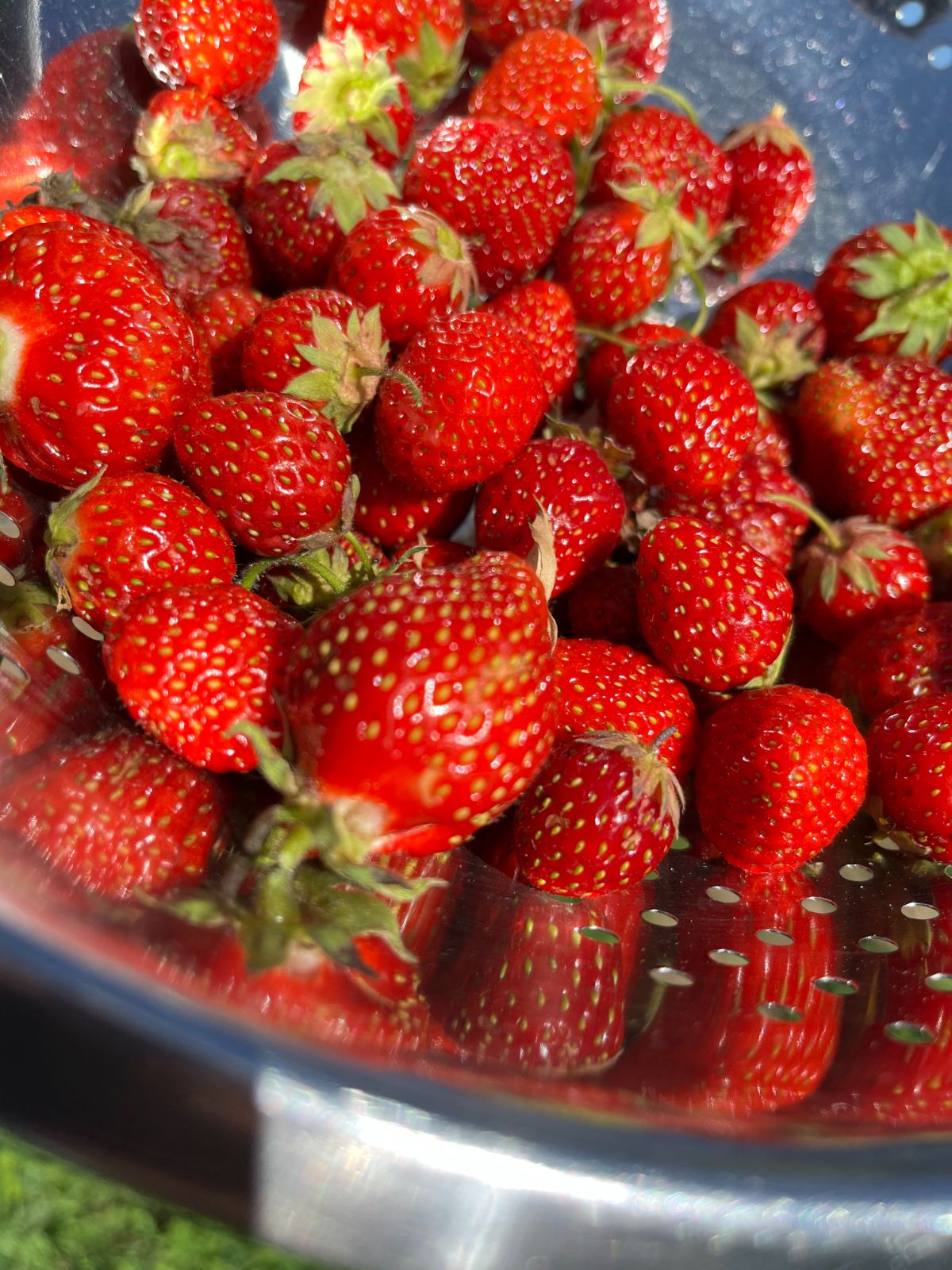 Any remaining water will make your strawberries more watery. For the best flavor (and to reduce spoilage), let your strawberries dry after you wash them. The process is the same, no matter what method you use to wash your berries. And it's simple.
To dry washed whole strawberries:
Line some serving trays or baking trays with absorbent material.
Absorbent kitchen towels work well (but be aware the juices may stain them). Fresh, clean newspapers can be up-cycled and will soak up a lot of extra water. Paper towels, of course, are a good option, too. If you are uncomfortable or unsure about using newspapers, line the tray with newspaper first and then lay down a single layer of paper towel over the newspaper, which will keep the berries from coming in contact with the newspaper.
Drain the washed strawberries in a colander.
Lay the strawberries out in a single layer on the absorbent towels.
Blot the tops of the berries to soak up excess standing water.
Let the berries air dry in a single layer until dry (about 30 minutes).
Plan to give your strawberries time to dry, even if you are getting ready to use them in cooking, jam making, or baking. As mentioned, excess water will absorb into the berries and into your recipe and dilute the flavor. It's a little less of an issue for things like jam, but you'll get the maximum flavor from well-washed and dried berries.