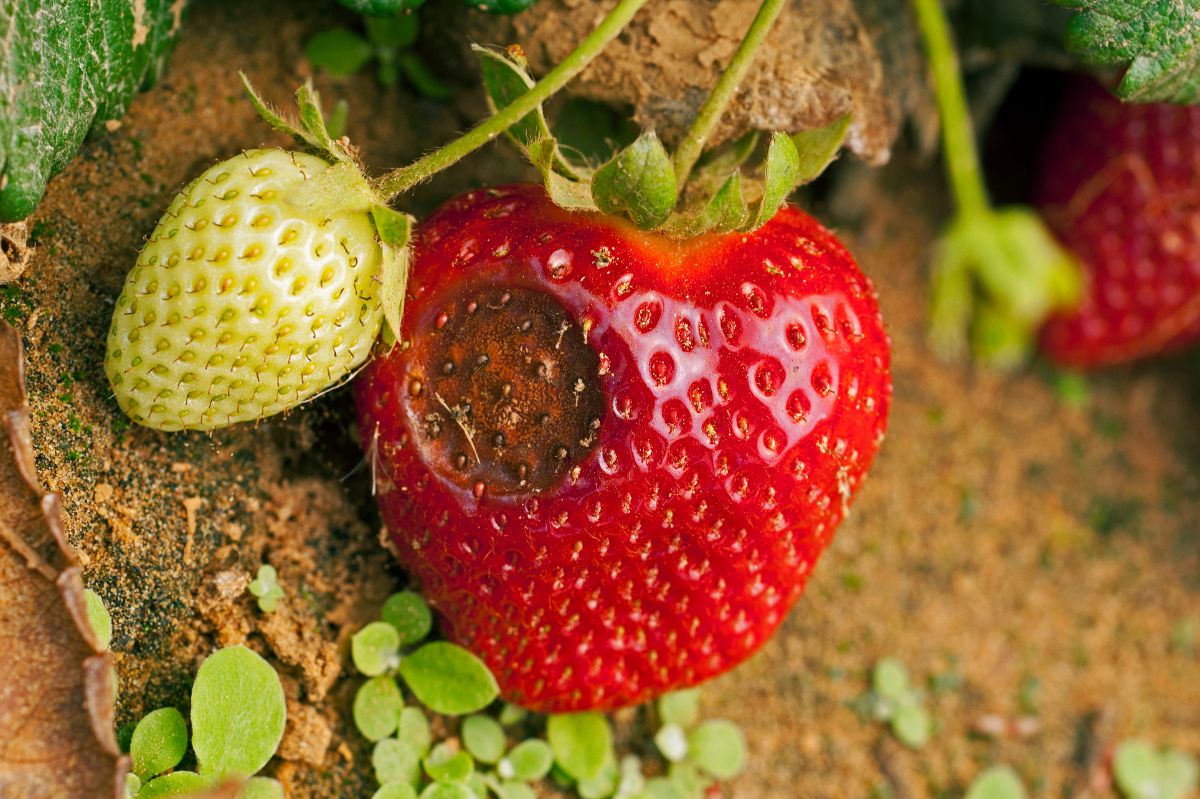 Jump to:
The Cause of Brown Spots on Strawberries
The most likely cause of brown spots on your strawberries is wet, hot, and humid conditions. If your strawberry plants are in soggy soil for an extended period of time, or the fruit is constantly getting wet, fungal infections can quickly become a problem.
Leather Rot – A fungal infection that can affect a strawberry plant at any stage of growth. Brown spots form on berries when conditions are wet and hot. The fruit will become tough and inedible.
Anthracnose Fruit Rot – Brown circular spots that decompose berries are a sure sign of anthracnose fruit rot. The fungal disease that infects the crown, stems, leaves and fruit, develops in humid conditions and is difficult to combat.
How to Fix the Problem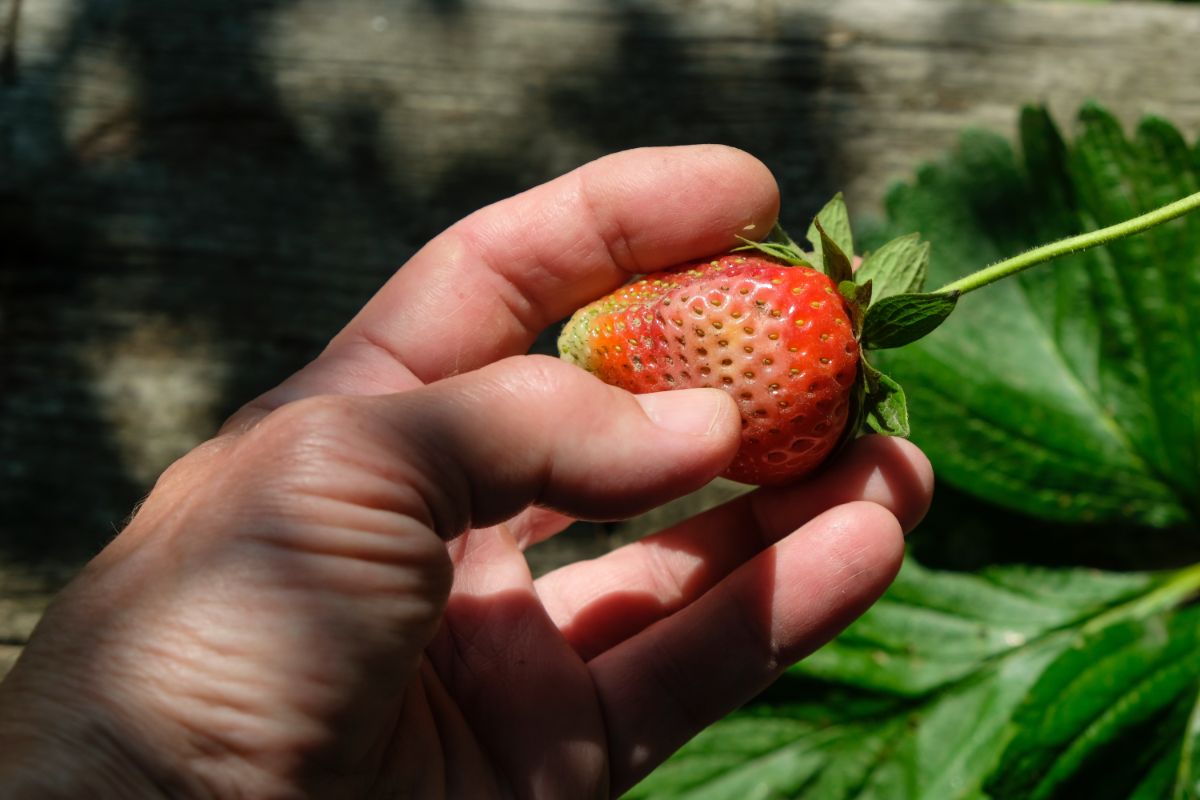 An ounce of prevention is worth a pound of cure when it comes to strawberries. This is to say, understanding the root causes and enacting preventative methods will be the most effective approach. It may be difficult to fix the problem once it sets in.
The location and positioning of your strawberry patch is critical. Individual plants should have plenty of space in between them to allow proper airflow, letting foliage and fruit dry out in between waterings and rain showers. Water overhead with care to avoid getting any water on leaves or berries. The bed in which you plant should always have good drainage. Water should not be allowed to pool, collect, or stand under or around your berry plants. This will invite fungal diseases.
Plant strawberries in full sun. The sun is a great sanitizer, warding off pests and fungus. It will keep the space dry and provide the plants with the required energy to produce healthy berries.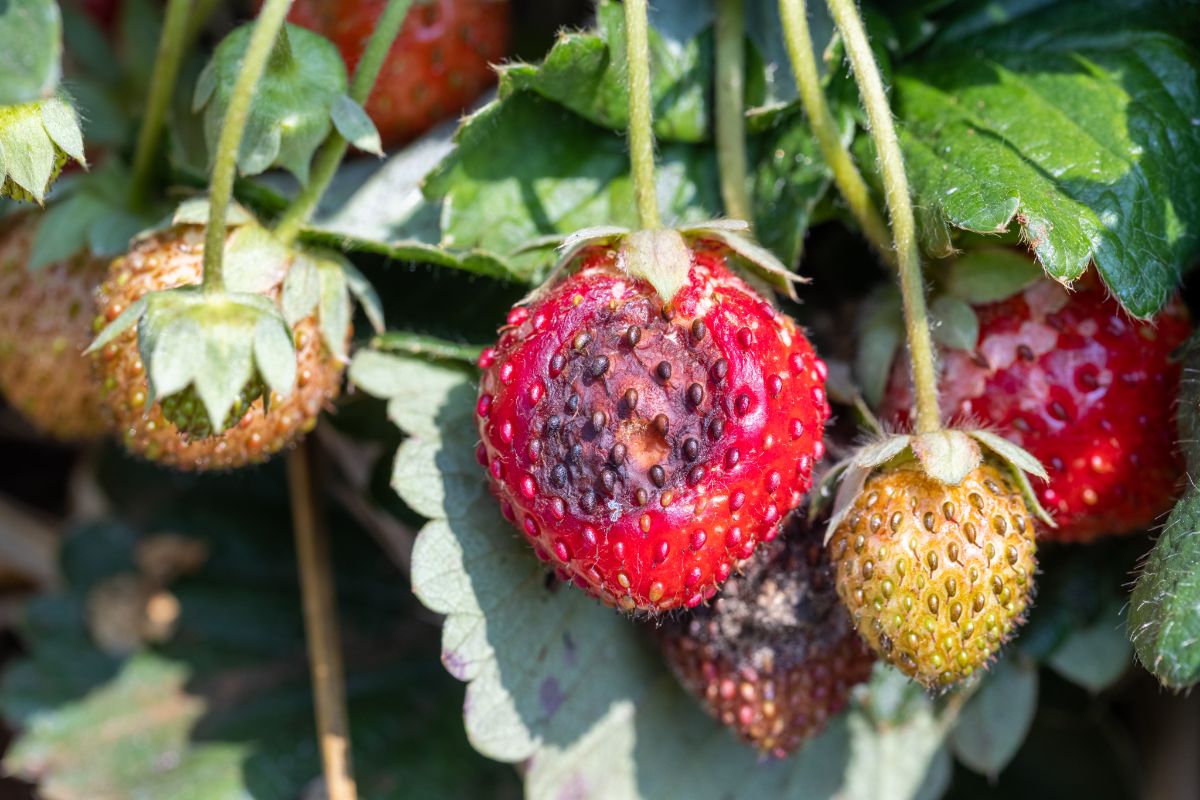 Make sure to weed regularly. Mulching your strawberry plot may also be effective in keeping berries dry. It will prevent water from splashing up onto the fruit and can act as a barrier to diseases residing in the soil.
Pick fruit early and often. As soon as plants dry off for the day, harvest any ripe berries.
Garden crops that don't show signs of anthracnose, but can spread it are: Peppers, tomatoes, celery, zinnias, delphinium, and vetch. Almond and pine trees are also incompatible neighbors. Keep a distance between your strawberry patch and any of these plants.
If berries are already rotting, remove all of the affected fruit and discard. Don't leave them in the garden or put them in your compost pile, this could lead to the spread of the fungus. At this point, treatment with a fungicide may be necessary. There are natural options that are preferable to harsh chemicals. Baking soda, hydrogen peroxide, horticultural soap and pyrethrin are all natural ingredients that may not destroy the fungus spores completely but will help keep the problem in check.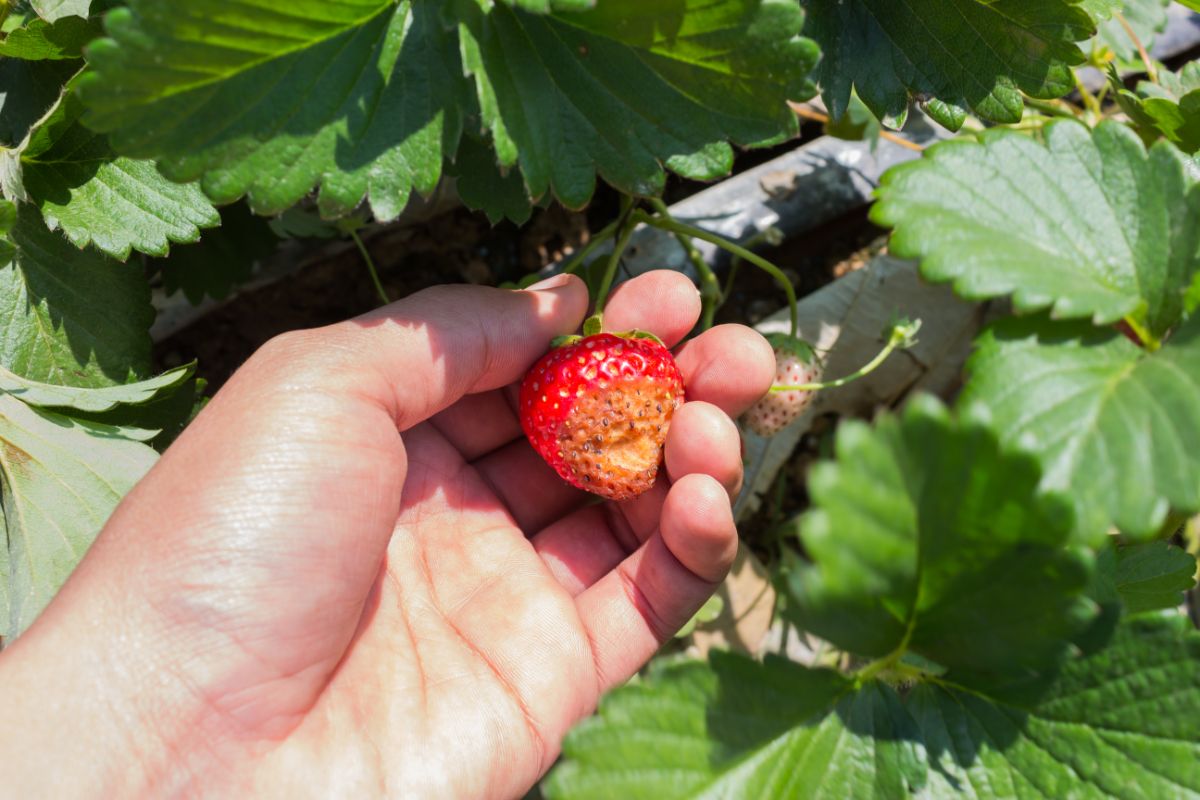 If the fungus issue persists, it may be prudent to clear out the bed completely in the offseason. While you have an empty patch, solarizing the soil may be the best option to permanently kill off harmful pathogens. This is done by stretching a sheet of clear plastic and tightly securing it over a portion of the garden. It's effective for killing off weeds and ridding the soil of resident fungal diseases.