Growing strawberry plants can be an income-producing alternative to traditional crop farming. There are an abundance of pick-your-own strawberry farms scattered across the USA. Unfortunately, however, numerous farmers each year decide to take the plunge into commercial strawberry growing… and go bust.
If you are interested in growing strawberries commercially, I really recommend that you start by reading this guide.
That resource is an overview of the major aspects involved in starting a commercial strawberry farm. It focuses specifically on starting a strawberry farm in Idaho, but the principles and guidelines are applicable for most regions. The publication is CIS 931, which is one of the publications in a series titled Alternative Agricultural Enterprises: Production, Management & Marketing. It was written by D. L. Barney, B. B. Davis, and J. K. Fellman, and was published through the University of Idaho College of Agriculture's Cooperative Extension Service and Agricultural Experiment Station.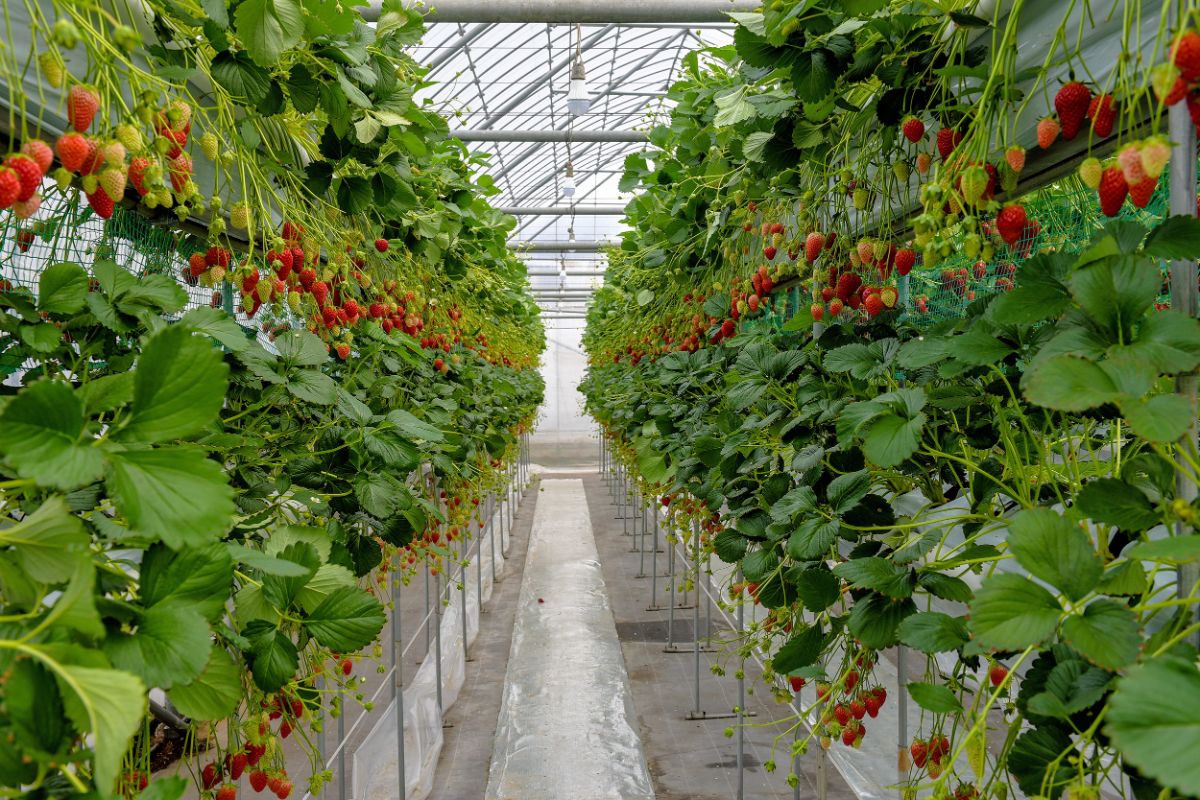 The basic overview touches upon most of the considerations one should consider prior to venturing into the world of strawberry farming. It discusses:
The traits of strawberry plants that dictate farming requirements, the basic variables of strawberry cultivars, and the replacement schedule of commercial strawberry fields.
The environmental requirements necessary for successful commercial strawberry production, the necessity of selecting a region-appropriate strawberry variety, and the harvesting requirements.
Successful management of a strawberry operation, cash flow considerations, costs and profit expectations, and the various methods of selling strawberries and marketing strawberries.
The risks of starting a strawberry farm are also discussed as well as the first steps one should take if serious about venturing into the strawberry farming world. A recommended reading list is also provided.
Overall, that resource is a good starting point for anyone thinking about growing strawberries on a large scale or commercially.
Then, with that information as background, continue reading this post to get an idea of the sequential steps involved in growing strawberry plants commercially.
This sequence is followed by most commercial strawberry farmers. Of course, there is some variation between farms, but this overview will give a general idea of what is involved.
Jump to:
Prepare the Land for the Strawberry Plants
In late August most commercial strawberry producers begin preparing their land the new planting of strawberries. Even though strawberry plants are perennial, most strawberry farmers treat them as annuals. After all the strawberries have been harvested, the land is fertilized and plowed. After fertilization and plowing, the soil is mounded into plateau rows and covered with black plastic. Usually, when the plastic is laid, drip tape irrigation is simultaneously placed in the ground. These tasks are accomplished with a specialized tractor-machine. The drip tape will be used to water and fertilize the strawberry plants as they grow and produce. This video shows the plastic and drip tape being laid:
Two other variants can be viewed here and here.
Planting the Strawberry Plants
After the ground is prepared, the plants must be planted. This is still done by hand, usually about two weeks after the plastic mulch has been laid. At this time, a tractor is used to mechanically punch holes in the plastic at exact intervals. Workers usually either ride or follow behind the tractor and place plugs into the punched holes as can be seen in the next video:
Between 15,000 and 20,000 strawberry plants are planted per acre (17,500 average). For a large commercial strawberry farm, hundreds of thousands or even millions of strawberry plants will be planted each year.
Care for Strawberry Plants During Winter Months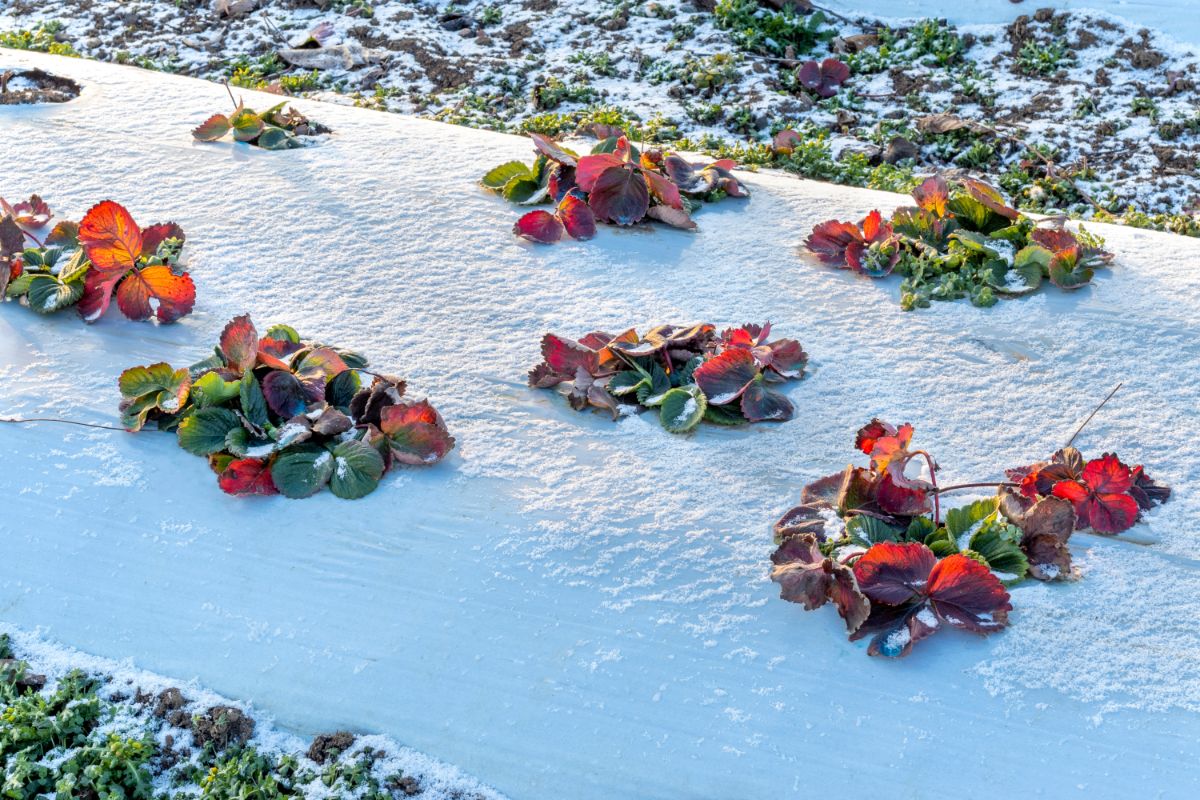 The commercial operation will sustain their strawberry plants throughout the winter by fertilizing and watering them appropriately. Row covers will be used to protect them from freezing temperatures at night and damaging winds. Around the middle or end ofMarch the plants will begin blooming (depending on climate).
Strawberry Pollination on the Farm
While strawberry plants are generally propagated by runners or division since the modern cultivars do not grow true from seed, the flowers still must be pollinated well in order to ensure plump and full strawberries. With a near-universal market for honey, many commercial strawberry growers have a small side business selling honey. The hives they maintain house the honey bees needed to ensure maximum crop yield, and the honey byproduct generates additional revenue for the entrepreneurial farmer.
Commercial Strawberry Harvesting
Strawberries grow and ripen rather quickly and must be picked daily on a large commercial strawberry farm. The number of workers required to pick varies, but a general estimate is that 65 to 70 workers are needed to keep each 1,000,000 strawberry plants picked. See this link for Strawberry Picking Jobs. The first strawberries will ripen at different times as climate and weather dictate, but late April through mid-June is a typical season.
Additional Commercial Strawberry Farming Requirements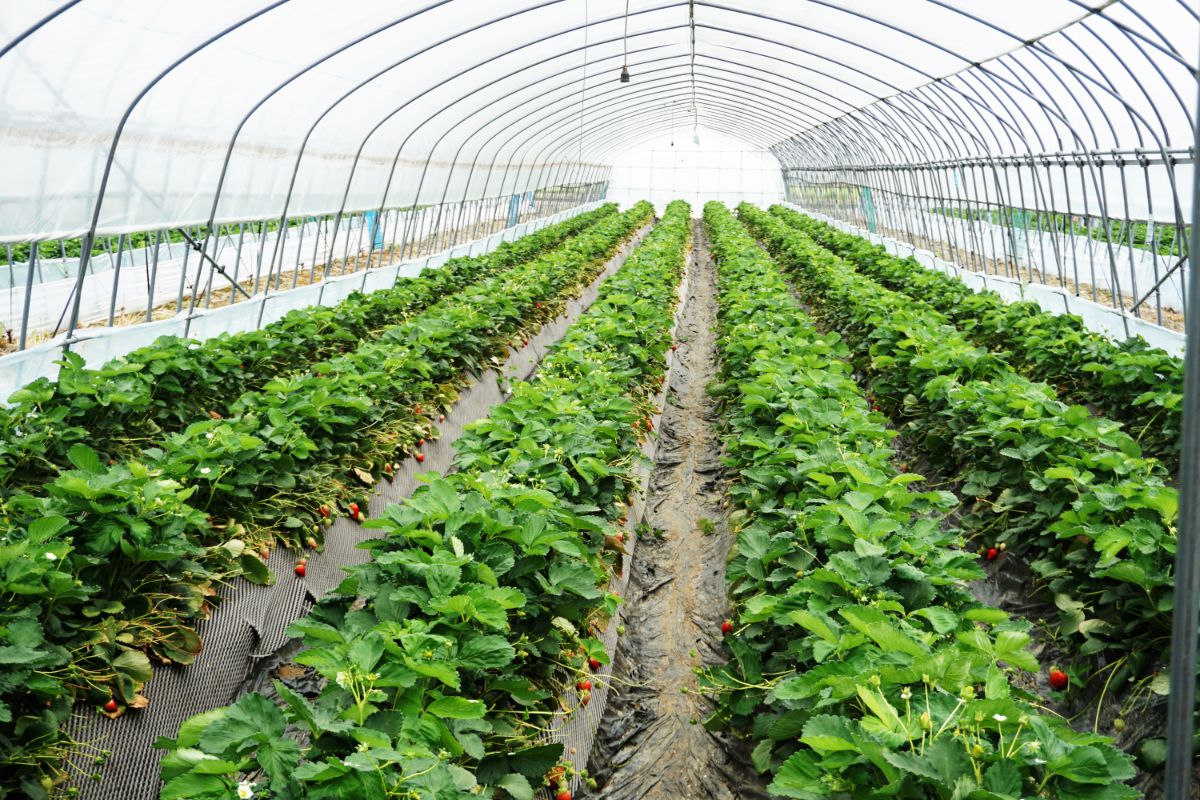 To maximize yield, many commercial strawberry farms test their plants throughout the growing season to ensure they are getting the nutrients they need to produce the best quality strawberries possible. Leaf samples are often collected weekly or bi-weekly and sent away for testing. Usually, states that have a significant number of strawberry farms will offer the testing at state university laboratories. Testing is important as too much or too little fertilizer will alter the taste and ripening of the berries.
A pump station is also used by most commercial growers. The station provides the water and nutrients the strawberry plants need through the drip irrigation lines laid when the plastic mulch was laid. This also provides an extra measure of liability protection as the water is filtered and tested to make certain all USDA specifications are met.
Growing Strawberry Plants Commercially: Conclusion
Growing strawberry plants commercially can be quite profitable. However, the time and equipment expenses involved in starting and maintaining a successful operation are not negligible. Understanding the costs involved and the cash flow of an operating strawberry farm is as crucial (if not more crucial) as understanding the strawberry plants themselves. But, we can all use more strawberries, so if you are ready to take the plunge into strawberry farming, go for it!