Proper maintenance is essential and part of this is making sure that your strawberries have enough hydration so they don't become water-deprived. Strawberries require a delicate balance when it comes to keeping the proper moisture levels. You do not want to overwater them. This article will explain some of the things you need to do to ensure that you are getting the maximum yield of fruit that you can out of your crops.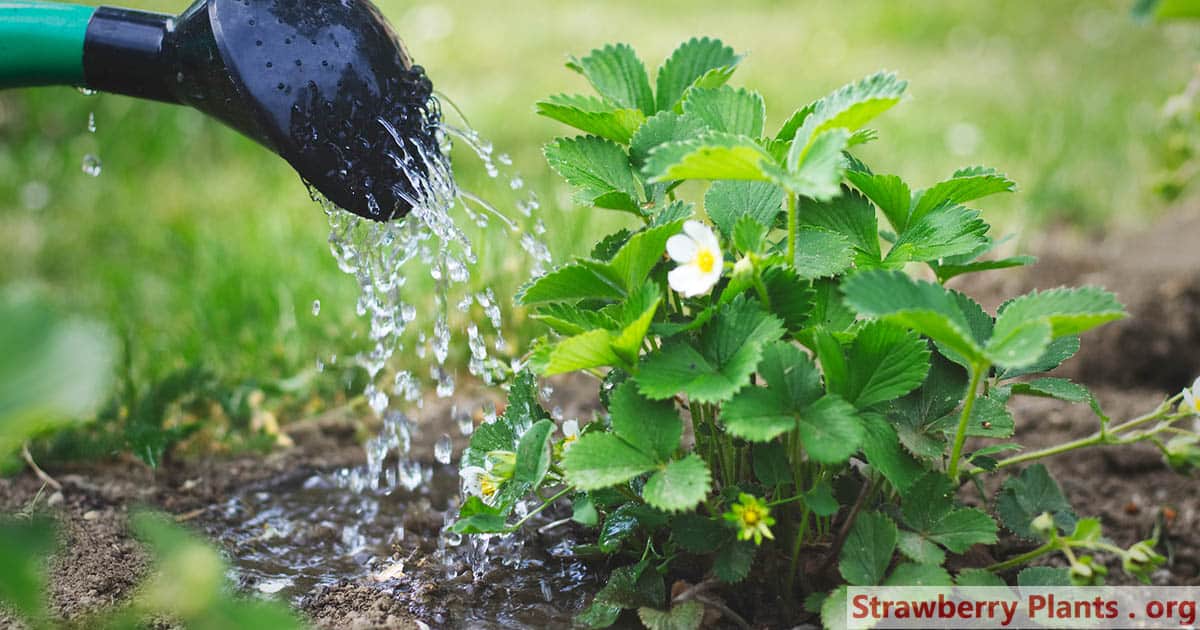 Jump to:
Water at the Correct Times
Proper timing of when you water strawberries are vitally important for delicious berries. There is a difference between how often you want to water established berries that you have already had at least one season with, and ones that are freshly planted for the first time.
Another important variable to consider is how often you water them also depends on whether they are grown naturally in the ground or in containers. Timing will vary greatly with each type of growing method that you choose to do. If they are indoors and getting enough heat and sunlight, then watering them at any time won't be as much of an issue. Outdoor crops, however, need to be watered during the day.
The Importance of Recognizing That Strawberry Roots are Shallow
Plants have a variety of different types of roots. Each root system is slightly different from the next. One thing you should recognize about strawberries is that they have root systems that are quite shallow. This affects how much water you supply them with and how deep to go. With a root system that does not extend deep into the ground, they can become withered and dry out faster because the plants get too hot and aren't able to hold in moisture.
One way to fix this issue is by planting some mulch around during hotter parts of the season. This can assist with making sure that they retain the proper amount of hydration necessary to ensure proper conditions. Having shallow roots, however, does provide some benefits. You can test your water needs easier because of this. There are a few ways to test how much H20 they need. This is the easiest way, simply feel around your plants. Touch the soil and see if it is dry or not with one of your fingers.
Various Types of the Strawberry Plant
There are short-day strawberries and daytime neutral berries. It is important to know what kind you are dealing with. The requirements in terms of how often to water them may vary with each unique breed. When the daylight hours are shorter, short-day strawberries are producing their harvests in the later fall and spring time. The other type, day-neutral berries, are producing multiple harvests each year unless it is very hot outside.
These need more H2O from the April to October season. When they are close to harvest, they require more water. When the hours of the day are not as long, short-day strawberries are beginning to get to the stage when they will be ready to harvest. This in general happens from late Autumn until the early stages of springtime. The peak fruit-bearing season for day-neutral varieties is from late spring through early fall. The berries generally need more water when they're in the fruiting stages of the last stages of growth.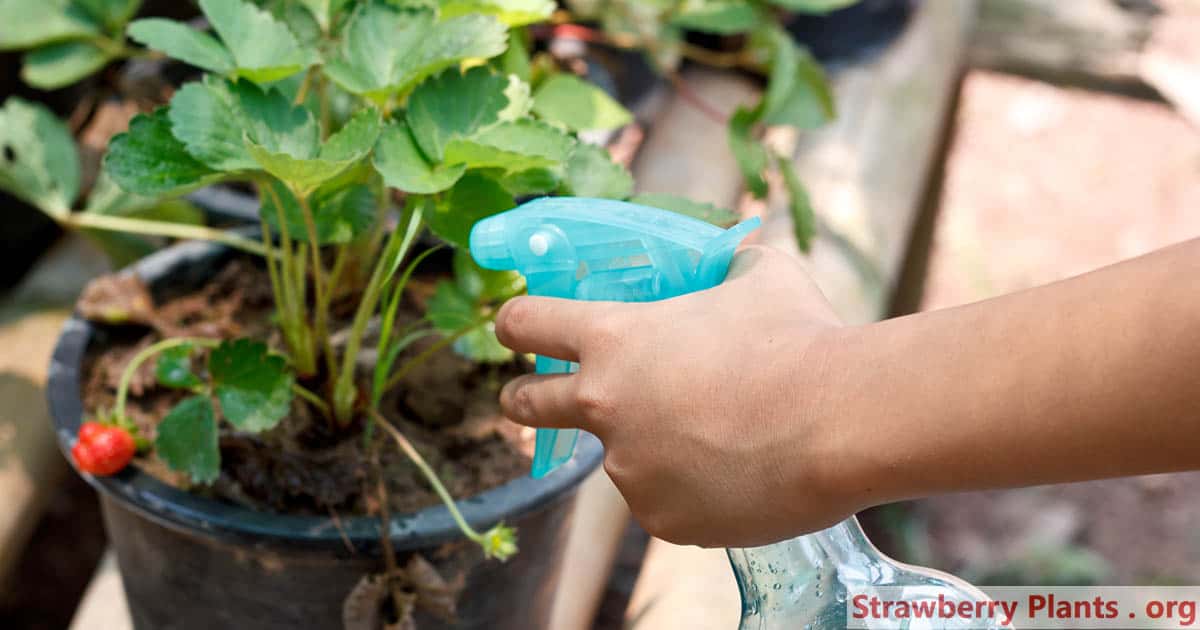 Watering Strawberries
Strawberry plants do not enjoy erratic watering. Getting on a schedule is vital for them to succeed. During the time your berries are beginning to grow and starting to bear fruit, they will need an approximate amount of one to two inches of H2O every seven days. Newer plants may be hydrated at a rate of an inch of water four times a month to jump-start their growth. When dealing with newer and fresher plants, they can be watered from above.
It is however recommended to moisturize your plants is best to water your crops with a system utilizing a drip irrigation method or a soaker type hose. This is an essential way to keep the berries from becoming rot-ridden from getting too wet. When placing the tube from the drip irrigation system or hose, give yourself a distance of two in from the growing fruits.
During the non-peak growing season, you should be able to water twice a week to keep the soil moist. It is best to water earlier in the day rather than in the evening so the plants are not sitting in water too long. You can use less water approximately half the amount using a drip irrigation system, rather than overhead watering.
Use the Proper Methods While Watering
To get a good estimation of whether your strawberry plants are getting enough water, there are a few methods you can utilize. The easiest will be discussed first. Do a quick check of the soil moisture with one of your fingers. If the soil around the plants is moist to around two inches deep in the ground, then they are getting a good dosage of water.
Remember, over-hydrating is terrible for your plants. You don't want to get "water happy." Soil that is soggy is a definitive sign that your plants have accumulated too much water. Strawberry plants are prone to root rotting fungal infections. In the case of more clay-like soil, watering must be done carefully to allow it to dry out a bit more before watering again. Nutrient deficiency can occur when plants are overwatered as well.
Soil Amending Improves Drainage
Using an amending soil method greatly improves drainage. If soil is in a pot it can get dehydrated out more quickly than soil that is naturally or placed into the ground period when you are growing strawberry plants in a container, they need to be checked for proper water levels more often.
How Water Deficiency Affects the Leaves of the Strawberry Plant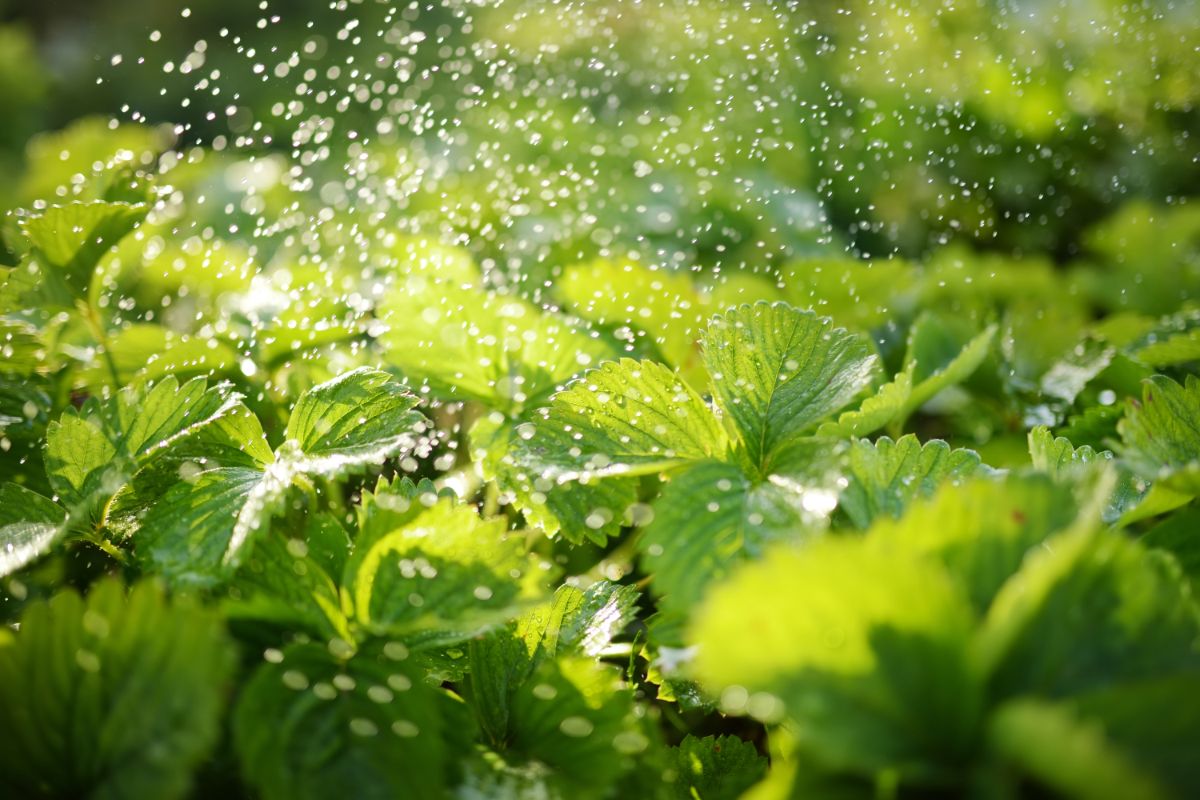 If you do not water a strawberry plant enough, the root system can become affected. You can have many fewer runners, crowns, and leaves in your strawberry plants. If there is a long drought, it is important to check the plants more often than normal. Photosynthetic activity is greatly affected by water stress. Water stress is basically having not enough water to grow strawberry plants properly. Leaves grow the fastest during a 5-hour period of time that starts approximately an hour before the sun sets.
When a strawberry plant is lacking in water, the leaves don't grow at a rate that is sufficient to plump and delicious strawberries. Plants that are watered properly have much bigger leaves than water-stressed strawberry plants. An important fact to remember is that older strawberry plants and their leaves are more prone to stress. Plants that are younger in age, are able to hold in water easier than plants that are over four years old.
The Situation of Fruiting and Water Deficits
When a strawberry plant has not been watered enough, there can be a huge reduction in the number of flowers that are produced, how many fruits are produced, and the size of the strawberries. There can be a loss of 80% in the amount of fruit produced if your strawberry plants are severely dehydrated. They also tend to ripen sooner and are smaller when they are under-watered. Different types of strawberries are more tolerant to droughts than other strawberries, for example, the Surecrop berry has a more expansive root system than the Raritan. This makes it less susceptible to water-stressed fruits.
An Easy way to Test if your Berries need Watering
This is a simple test to see if your strawberries are getting enough water. Place a bucket over the plant in the evening and check it in the morning. If water beads have been created overnight on the edges of the leaves, then the plants are getting enough water. This process is called guttation. This is when xylem sap comes through the leaves because of the pressure of the roots. You can always also use a moisture meter.
Signs of Too Much Water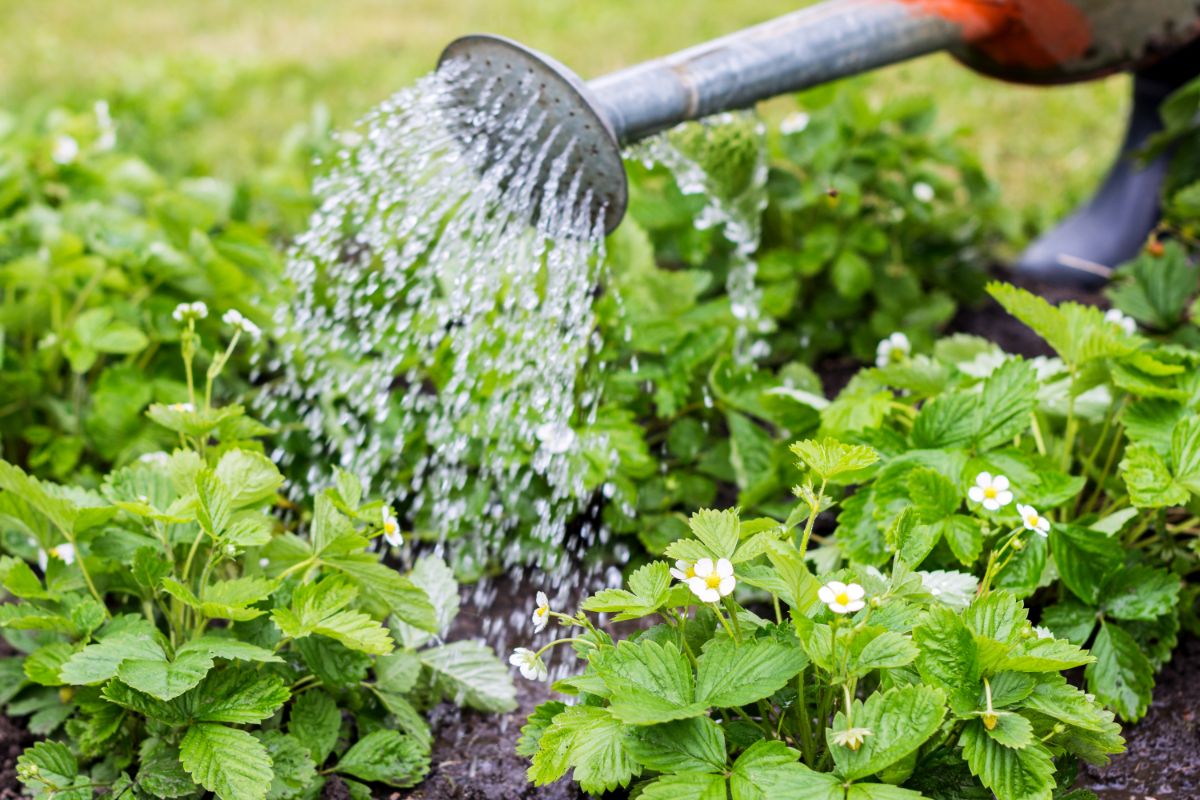 When a plant looks like it is wilting, it can be a sign that you have put too much water on it. Plants do need oxygen and water to survive. However, there is an area between the soil particles in the ground. This is where oxygen comes in and feels this area. The plants can actually suffocate because of the lack of enough air pockets. It may look like wilting is the effect of not having enough water, but it can be a sign of too much water.
Leaves can also turn brown or yellow when there is too much water in the group system. If you look at the tips of the leaves and they have a brown tinge to them, they may be over-saturated. When there is too little of an amount of water, the leaves are dry and can feel crispy to the touch. When they are yellow, that can also show plants that are way too saturated as well. If they are growing slower than normal, this is also another sign that they may be drowning.
When Leaves Fall Off
Leaves can fall off with both too much water and too little water. If leaves start to fall off before they are ready to, along with strawberries that are not opening, then you have applied too much water to your strawberry plants.
Tricky Situation if You Neglect to do Research
This article was meant to explain what happens to your plants when watering is not done properly. There are consequences to having a lack of water, as well as too much water. It can be tricky to tell as the symptoms sometimes look alike but using the bucket method, water meter testing and simple finger testing can guide you in knowing if your plants have the proper amount of saturation.