Everbearing strawberries are planted in a different formation than June-bearing strawberries. The reason for this is owing to the growth habit of each type of plant.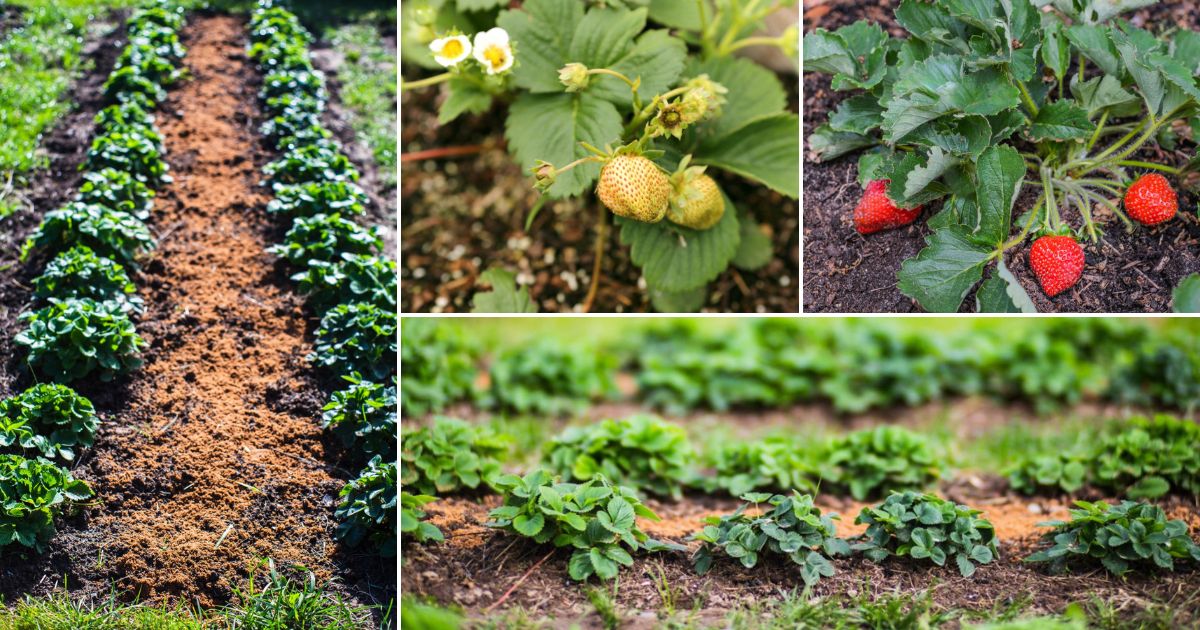 Jump to:
Different Growing Habits Mean Different Spacing and Arrangement for Everbearing Strawberries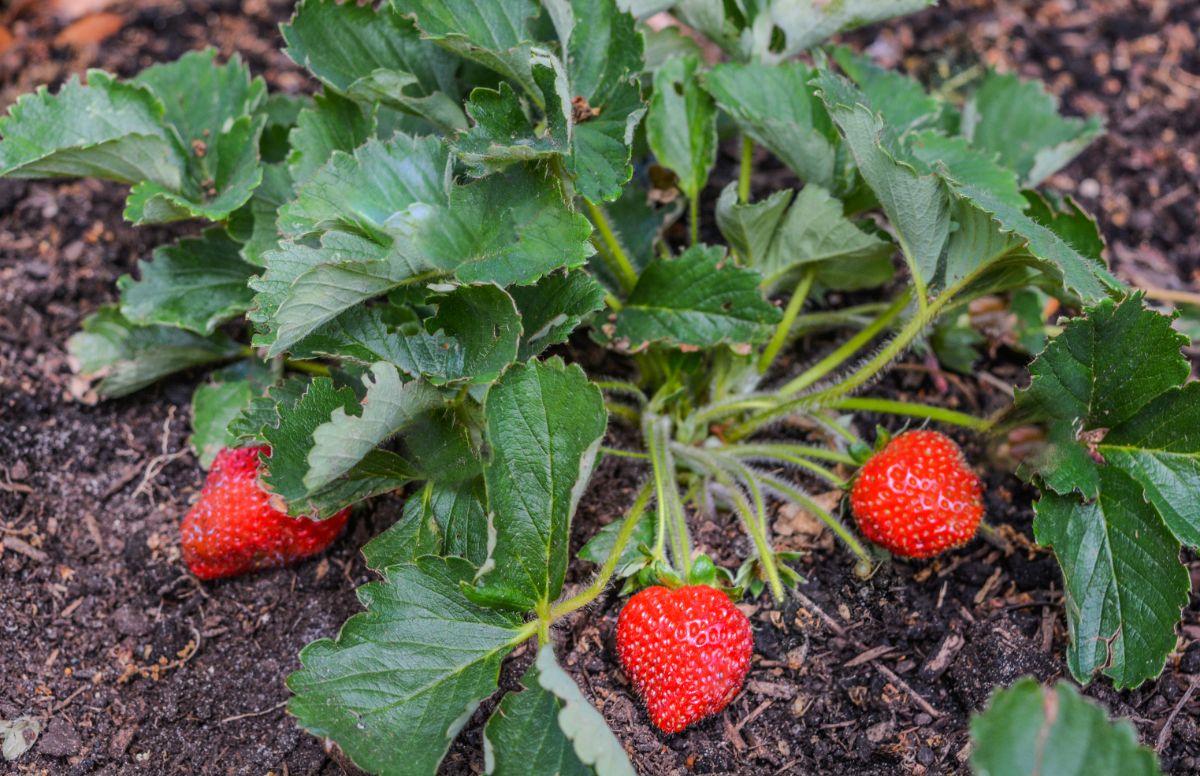 June-bearing strawberries send out a lot of runners and spread to create a denser sort of ground-covering mat. They are usually grown as a two-foot-wide matted row. When they are first planted, the plants are spaced to allow for this spreading and matting.
Everbearing strawberry plants do not spread by runners, to speak of. For them, you need to plan for the parent plant to grow larger, meaning that you need to leave more space for it in its immediate area so that it has the resources to grow large without getting overcrowded by its large neighbors. Overcrowding would also be an invitation for disease.
How to Space Everbearing Strawberries
Space between individual plants (aka crowns): 12 inches (or 1 foot) apart
Space between rows: minimum 12 inches (or 1 foot)
Bed size: 1, 2, or 3 rows per bed
Space between beds (aisle or pathway): 18 to 24 inches (or 1 ½ to 2 feet)
Plant spacing: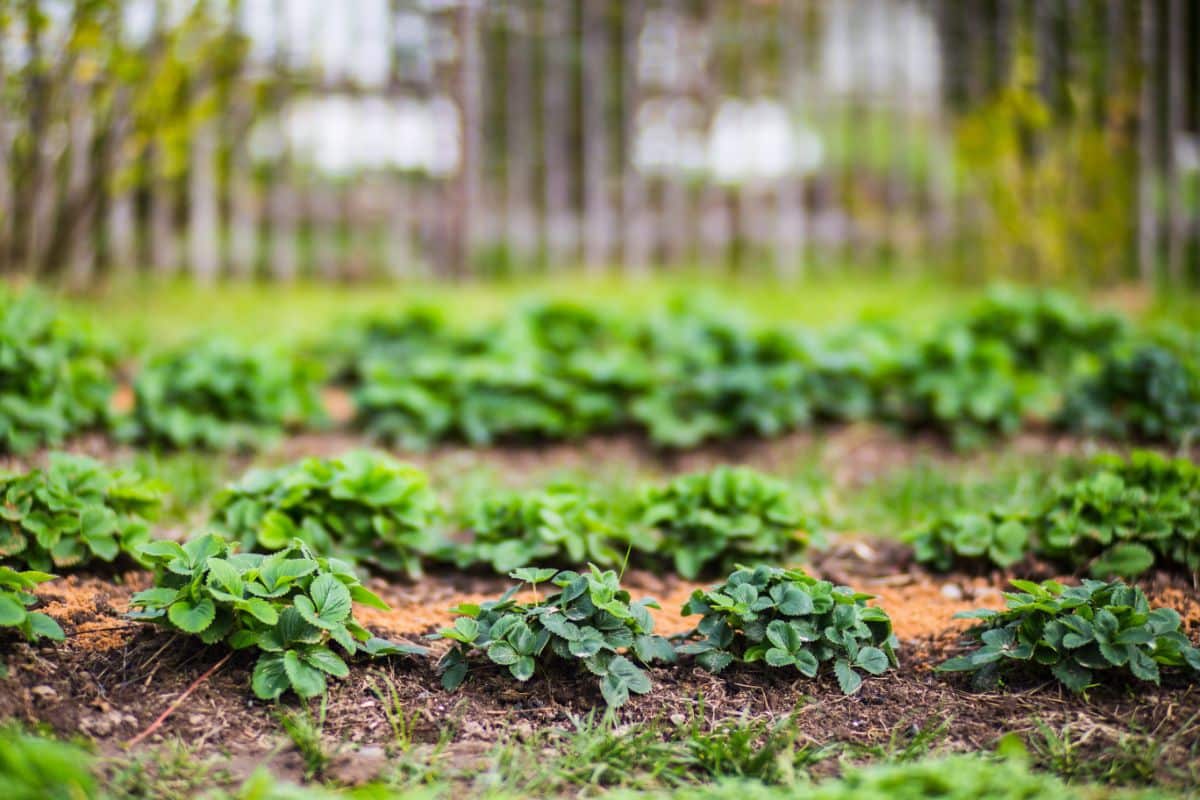 You should have about 12 inches of space between each new plant and its neighboring plants. This means that the plant to the side of one plant should be no closer than one foot, and the next plant down the row should not be closer than one foot. You do not need to plant plants further away than 12 inches, as that only wastes space and may even reduce pollination.
Rows spacing:
Everbearing strawberries can be grown in single, double, or triple rows. Single rows work perfectly fine, but double rows make more efficient use of planting space, especially if you plan to grow two or more rows of everbearing strawberries. Triple rows will get the most numbers of plants and hence the highest yield per square footage of the area, but it can be difficult to reach the plants in the center row for harvesting and weeding.
Bed size: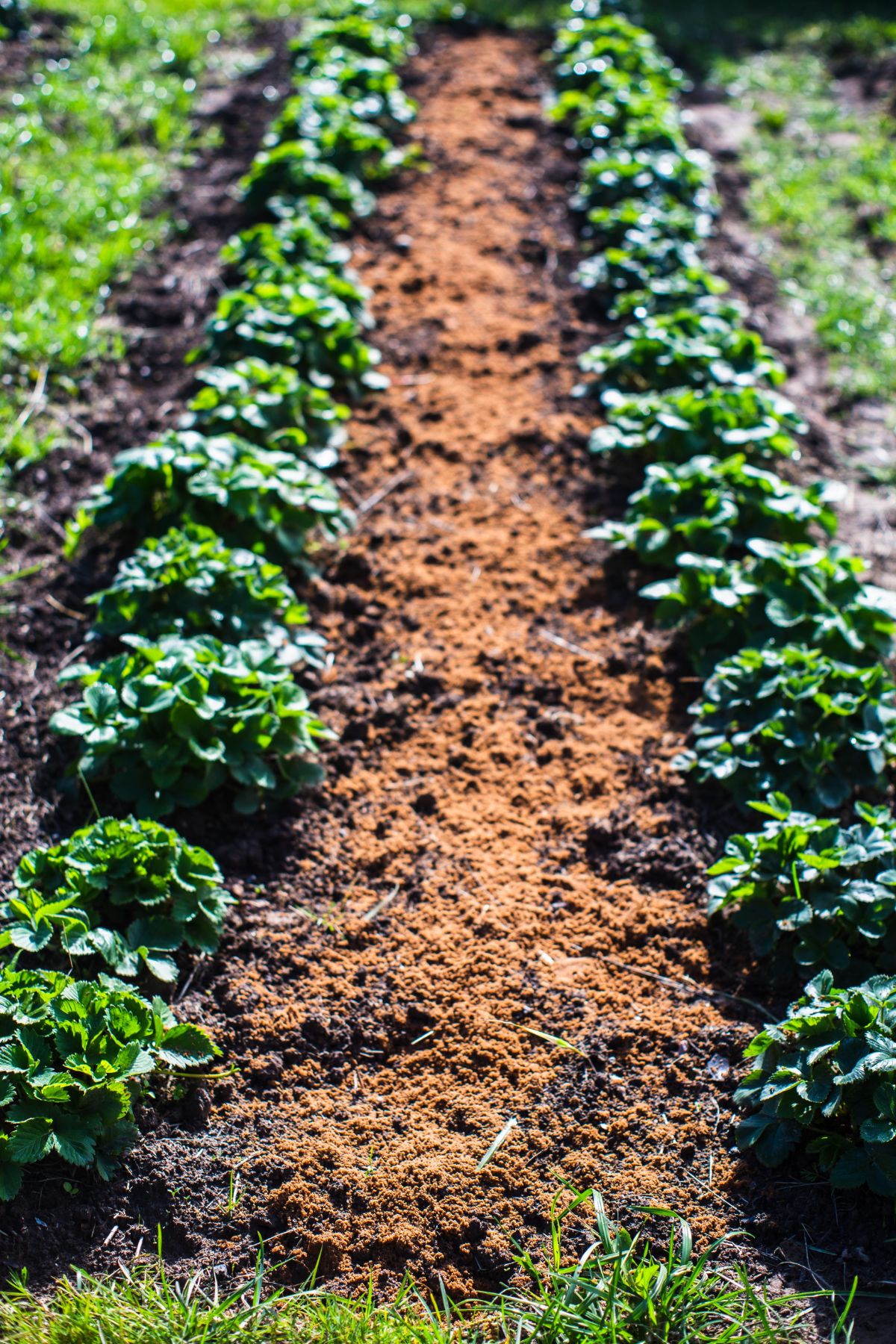 A bed is a continuous planting of berries not broken up by a walkway or aisle space. A doubled or tripled set of rows would make up one bed. This means that a "bed" would consist of a space about 2 ½ to 3 feet wide for a double row. You would need 3 to 4 feet to accommodate a triple row. A little extra space will allow for an area around the plant for weeding, mulching, and maintaining. It will also leave enough space for the plant to grow and bush out as it grows without interfering with the next plant or aisle space.
Aisle or pathway space:
Leave enough aisle space to walk, bend, and kneel in so that you can pick, weed, and maintain the bed without trampling your strawberry plants. Eighteen inches (1 ½ feet) is a good distance without having to deal with too large a space for weeding, etc., but if you like a little more working space, leave a two-foot aisle.
Aisles can be mulched for weed control, tilled, or cultivated regularly, or you can plant a mowable cover crop in the aisles, such as clover. You will want to make sure the clover doesn't overgrow into the strawberry bed, though.
Managing Runners and Daughter Plants on Everbearing Strawberries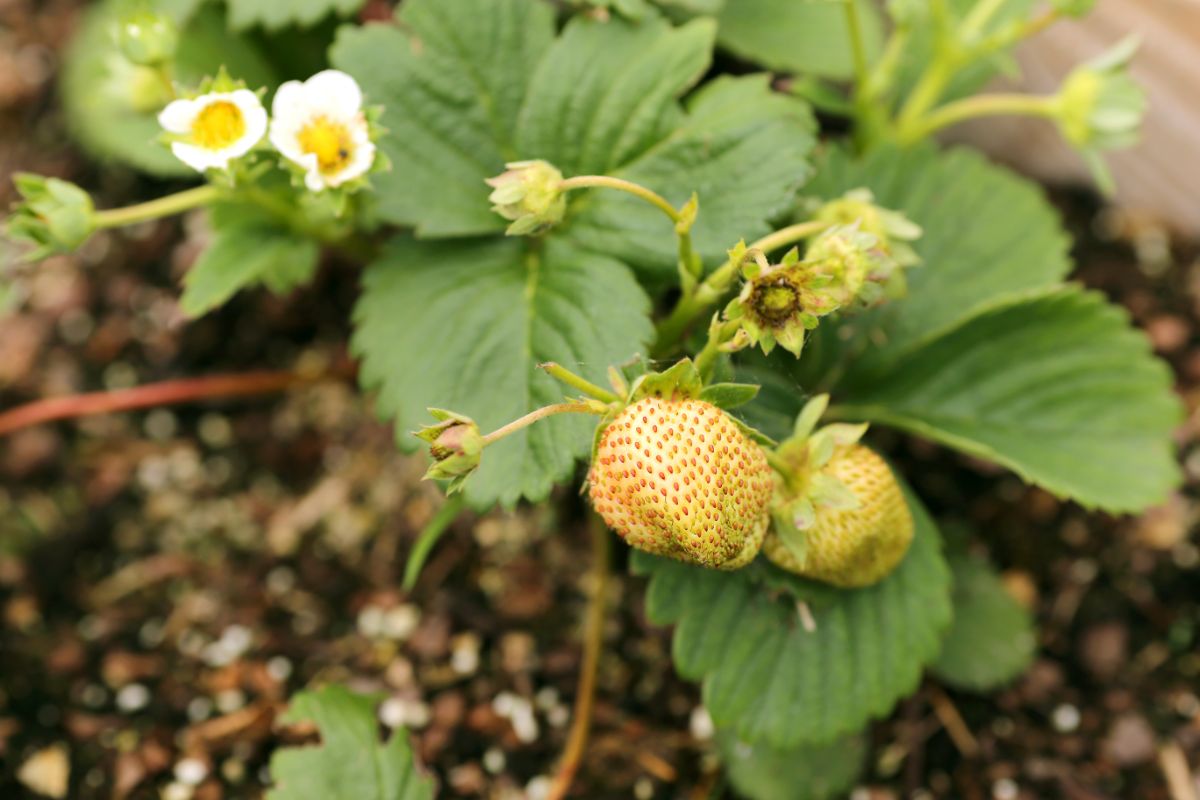 Everbearing strawberries send out very few runners. Runners that grow from the parent plant on everbearing strawberries should be removed. They can be replanted elsewhere. If you leave the runners on an everbearing strawberry plant, they are bound to sap energy from the mother plant and reduce your yield and berry size.
What About Spacing for Day-Neutral Strawberries?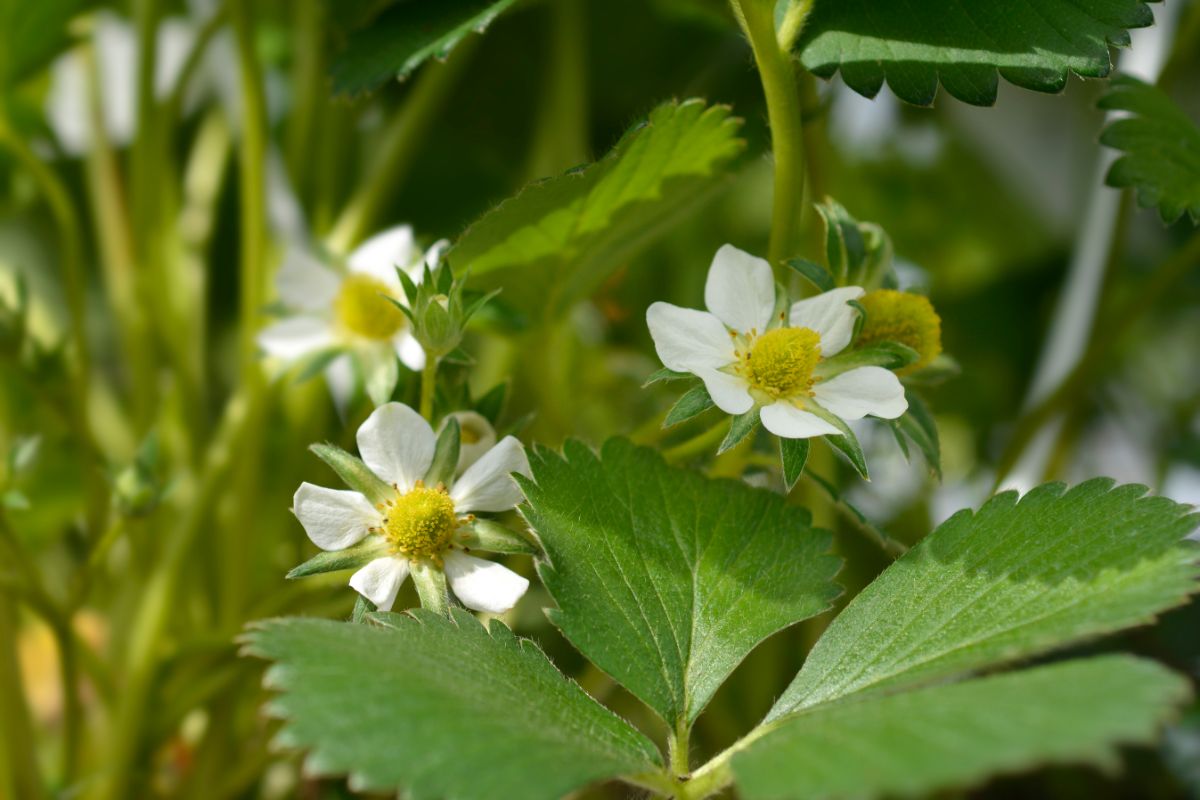 Day-neutral strawberries are not exactly the same as everbearing strawberries, but they are very close. Everbearing strawberries still respond to daylight and the length of the day. Day-neutral strawberries do not; they respond to warmth and the right growing conditions.
Day-neutral and everbearing strawberries produce berries on a very similar but slightly different schedule. That schedule is so close, though, that for practical purposes, they are both usually considered everbearing strawberries and will produce, for the most part, all season long — from May or June through October (possibly longer, depending on location). Many of the strawberry varieties that are listed as everbearing are, in fact, day neutral.
When it comes to spacing and management for day-neutral strawberries, there is no difference. Treat them exactly the same as everbearing varieties.
Not sure if you should grow everbearing or June-bearing strawberries? You might like to check out these 25 Pros and Cons of Growing Everbearing Strawberries or these 17 Pros and Cons of Growing June-Bearing Strawberries.