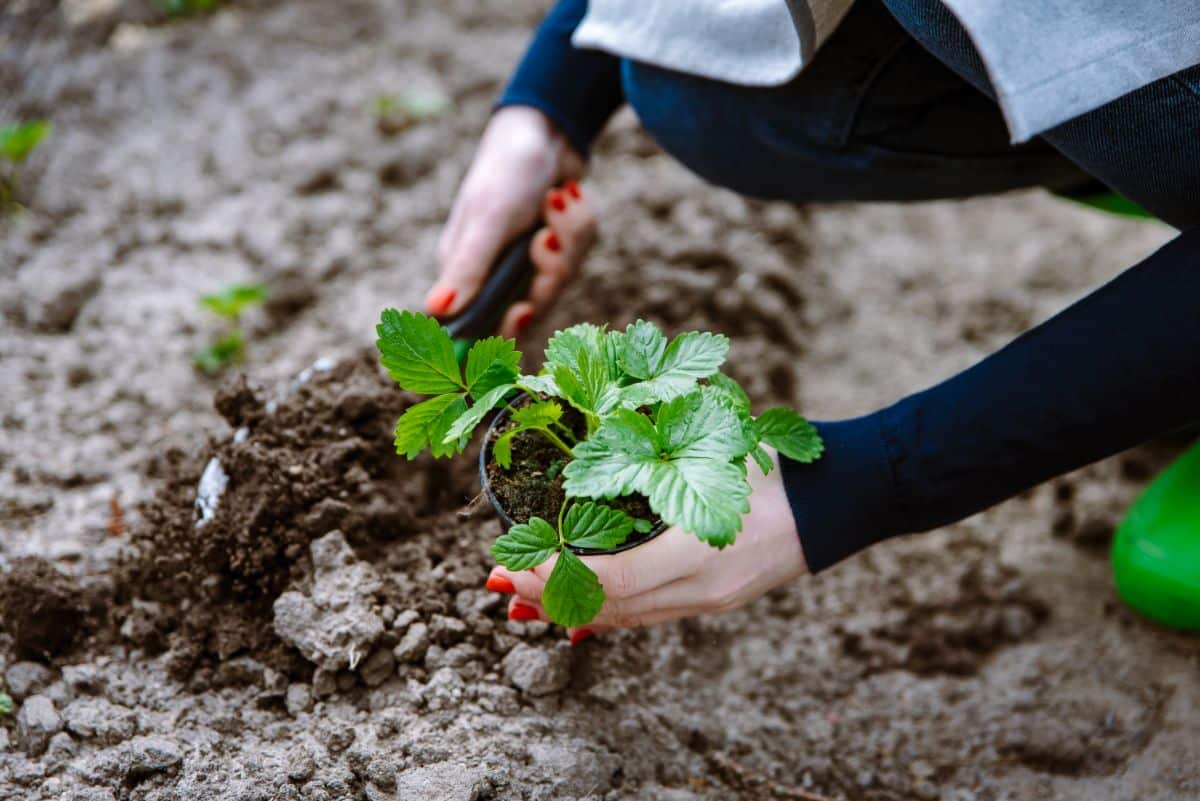 June-bearing strawberry plants are grown differently than everbearing types. They each have a slightly different growth habit. June-bearing plants should be planted to accommodate their more sprawling, ground-covering nature.
Jump to:
Growing Habits Determine Spacing and Arrangement for June-bearing Strawberries
June-bearing strawberries are initially planted in a spaced, planned format. As they grow and develop, the plants will send out prolific runners and daughter plants. These look like attached stemmy straws with a miniature strawberry plant on the end. Where that mini plant touches down on the soil, it will send out roots, and (unless you dig it up and remove it) that is where the daughter plant will grow.
Because of this, June-bearing strawberries can grow into matted, ground-covering beds, and they can fill in a new bed quite nicely within their first year or two of growing. When you start a new strawberry planting, it is your job to give them the space they need to do this.
How to Space June Bearing Strawberries
Space between individual plants (aka crowns): 12 to 18 inches (or 1 foot to 1 ½ feet) apart
Placement of plants in the row: plant in a single row
Bed size: 2 feet wide x desired length
Space between beds (aisle or pathway): 18 to 24 inches (or 1 ½ to 2 feet)
Plant spacing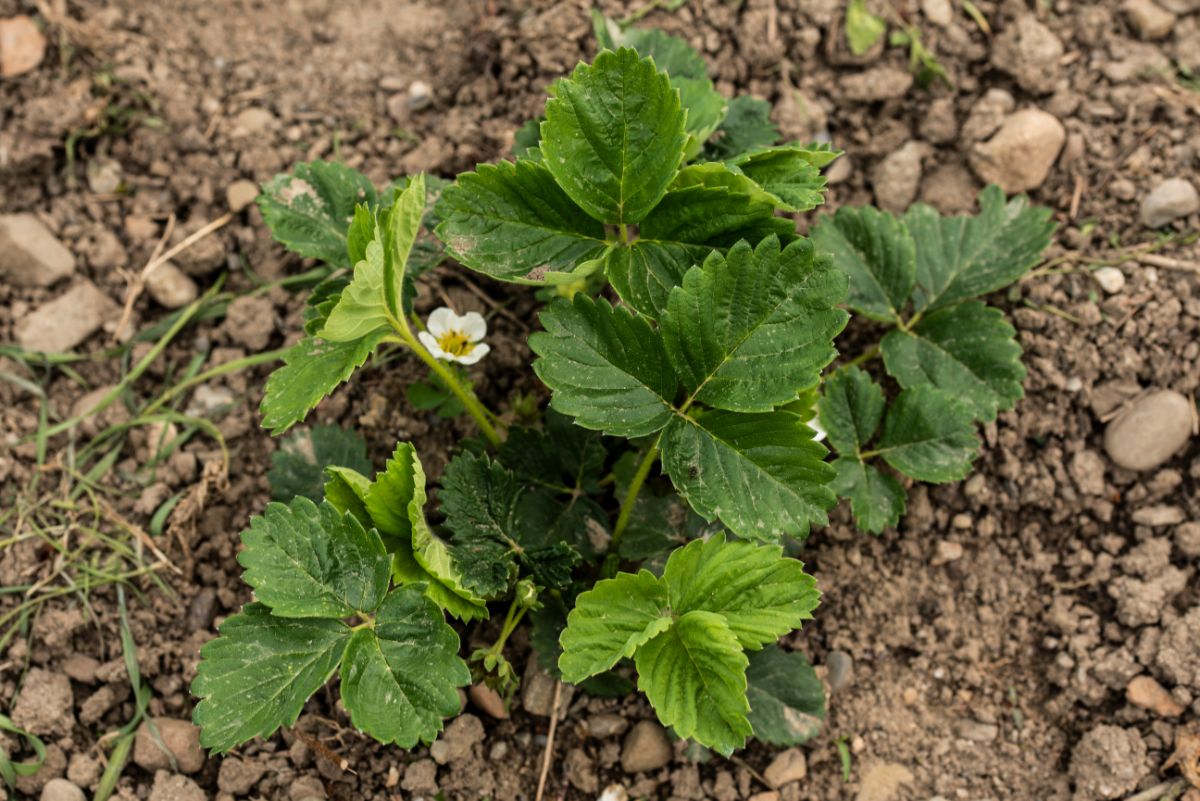 Plant June-bearing strawberry plants no closer than 12 inches apart and no farther apart than 18 inches. While this seems like a lot of space between plants when you plant them, the plants will spread quickly in the first year to fill the whole space. If you plant your strawberries closer together (12 inches), the mat will fill in more quickly, though in the long term, this can potentially cause overcrowding, and you will need to thin out the bed sooner.
Placement of plants in the row
Plants should be planted in a single row down the center of your two-foot bed. As the plants spread, they should be allowed to spread out between the parent plants and to the sides to eventually fill in and form the matted row.
Bed size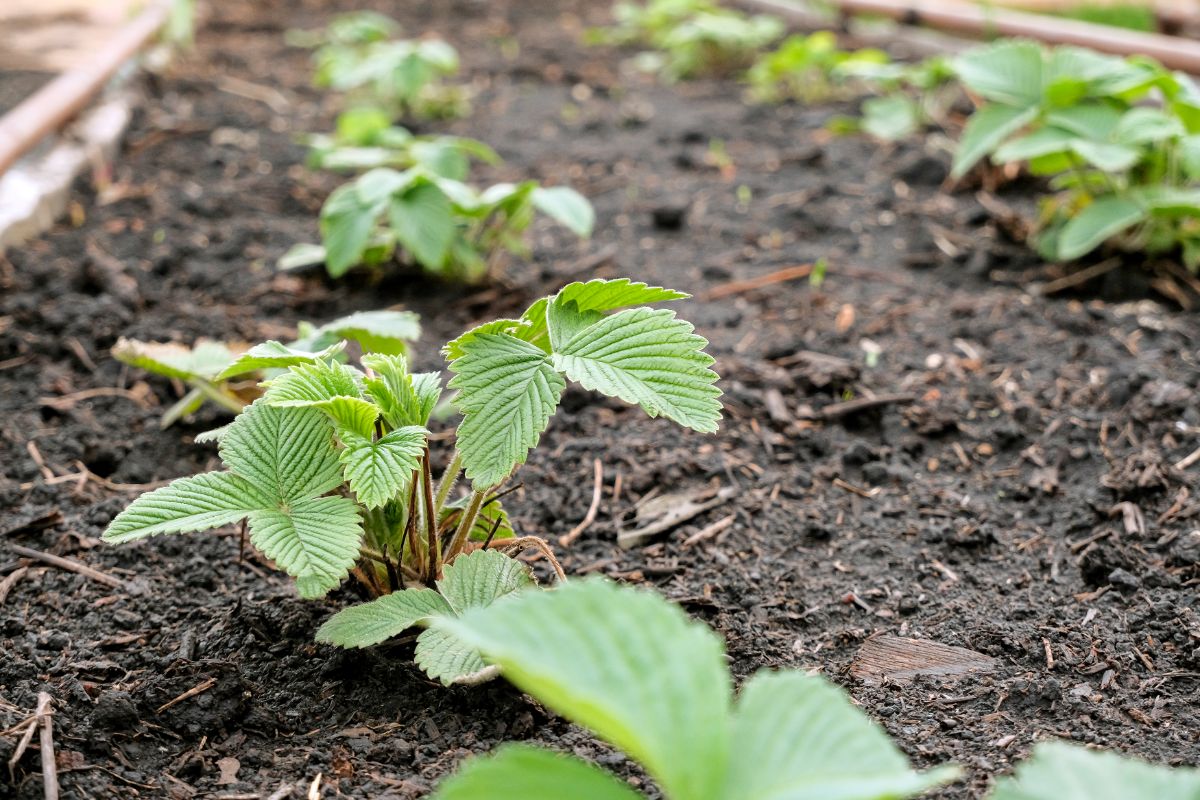 June-bearing strawberries are usually grown in two-foot matted rows. So even though you will not be planting to the edges of the bed when you set the plants, you do want to prepare a space wide enough for plants to spread and fill in with offshoots (two feet wide by however long you want your row to be). When you till and prepare your bed, make it this large from the beginning. It is not advisable to make the rows wider than two feet because that makes it hard to reach the center of the aisles for harvesting.
You may (in fact, it is good practice) mulch the open area until the plants spread and fill in. Straw is the most common material for mulching new strawberry beds. It keeps the plants clean, and blocks weeds yet is light enough for rooting runners to root through (though they will do better if you nudge the straw aside a little, so the roots have better direct contact with the soil). Other mulch materials that you can use include shavings or sawdust or pine needles.
Aisle or pathway space
Your aisles should leave you enough space to maneuver, squat, and pick without wasting space on empty ground. Eighteen inches is a good aisle width, but if you like a little more room to maneuver, you can make them as wide as two-feet wide.
Managing Runners and Daughter Plants on June-Bearing Strawberries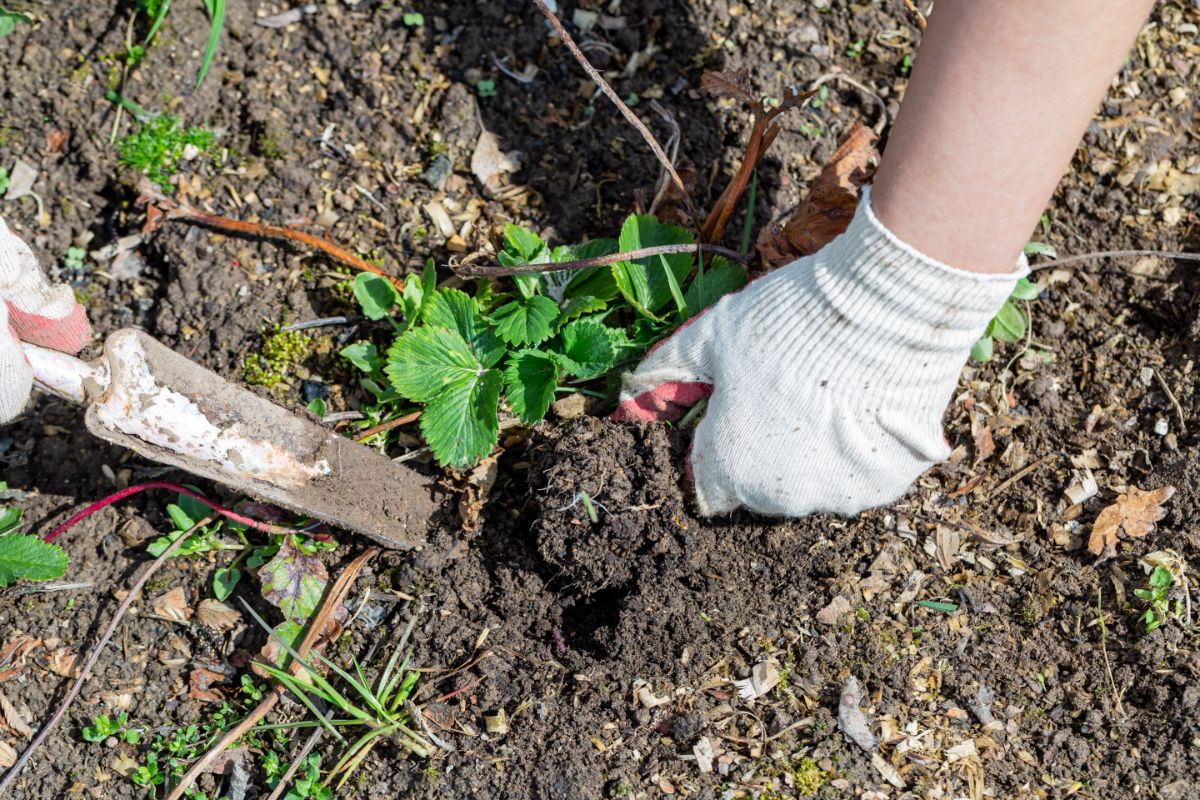 For the first year, allow the runners to spread and the daughter plants to set and root. If the runners and daughters all seem to land in the same space or they are too close together, you can move them. This is easy to do when the daughter first touches down—simply move the runner a little farther away from the next plant.
Allow four or five runners and daughters to spread from each parent plant. Spread them out in all directions evenly around the parents. Each offshoot plant should be at least six inches from the plants around it. Try to maintain the bed at four to six inches between individual plants. If runners shoot outside of the two-foot bed, dig them or till them under so that you maintain a well-ventilated, defined, and confined bed.
If your bed gets overcrowded, which it may do after two or three seasons, you can dig out and remove excess plants (preferably older, unproductive ones). Aim to recover a spacing of about six inches between plants. It is best to renovate June-bearing strawberry beds after harvest each year. Doing so reduces the need to thin plants, but over time you may find the bed is crowded, and it may need thinning.
Unsure if you should grow everbearing or June-bearing strawberries? Learn more about the advantages of each type here: