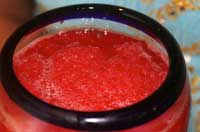 Not all strawberry daiquiri recipes are created equal.  There are many different versions of strawberry daiquiris to choose from and sample.  To get the most flavor out of any of them, however, use fruits just picked from the strawberry plants.  This easy strawberry daiquiri recipe is a winner.  Enjoy!
Strawberry Daiquiri Recipe: Ingredients
5 fresh strawberries (frozen strawberries can be substituted)
1 cup of ice
1 oz lime juice
1/2 teaspoon powdered sugar
2 oz white rum
1/2 oz triple sec
Strawberry Daiquiri Directions:
Pour all the ingredients into the blender.  Blend on high for 30 seconds.  Strain or pour into a martini glass or cocktail glass.  Serve with one or two straws.  Beginning at the tip, slice a strawberry 2/3 of the way to the tip and decorate the rim of the glass with the strawberry.
Strawberry Daiquiri Recipe: Notes
This strawberry daiquiri recipe makes two servings.  Any time alcohol is consumed, remember to drink responsibility.  If you don't want to mix your own, you can buy ready-made Strawberry Daiquiri Mix.
All strawberry daiquiris are made with white rum.  However, there is tremendous variation with different strawberry daiquiri recipes.  The original strawberry daiquiris recipes all called for triple sec.  Triple sec is an orange-flavored liqueur (a variety of Curaçao) and means "triple dry."
If more servings are needed, doubling the strawberry daiquiri recipe will serve 4 people, and halving it will serve 1.
Enjoy responsibly!