It's the height of the strawberry season and your strawberry plants are producing more than you can eat or share. Maybe you chose to grow one of these high-yielding varieties. What a smart strawberry gardener you are!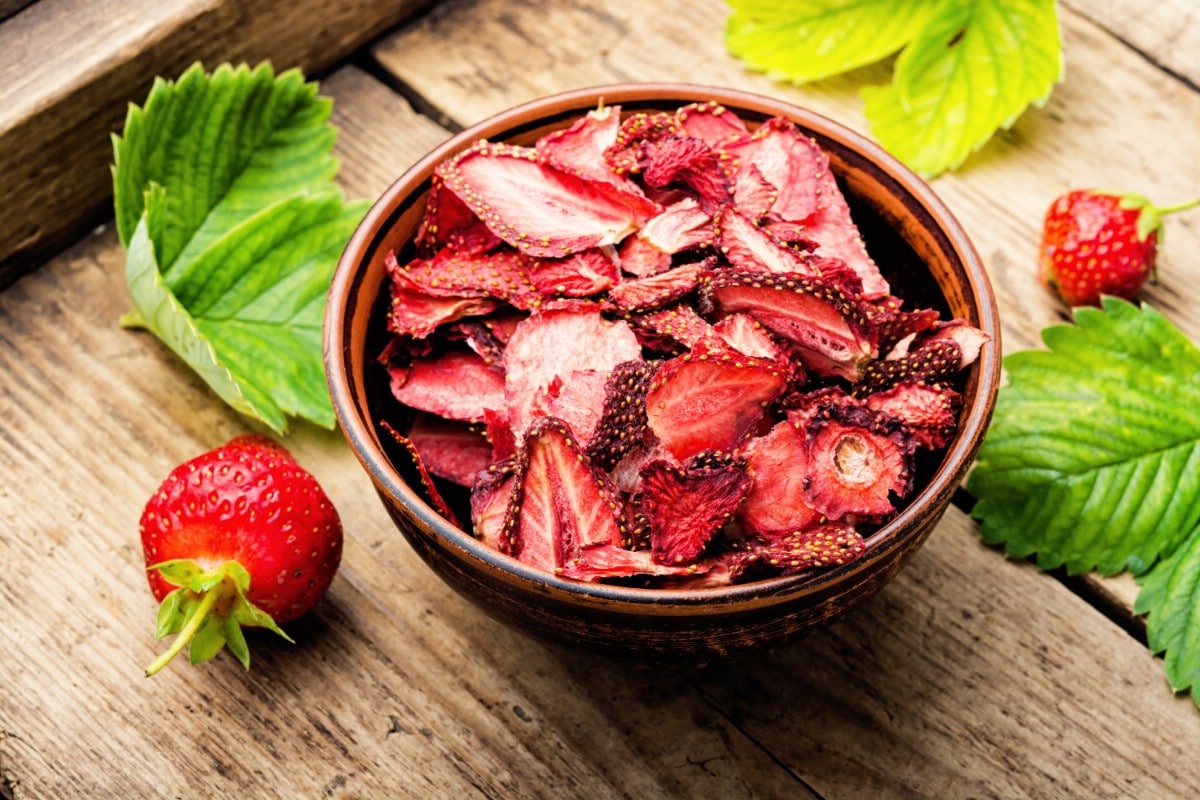 Now you need to preserve your enviable crop. You could try jams, jellies, or freezing, but have you considered drying your strawberries? How can you dry your extra strawberries? What can you use them for?
Jump to:
Strawberry Drying Methods
Sun-Dried
Sun drying is probably the simplest way to preserve your strawberries. To start, simply clean and quarter each strawberry. You can leave them whole with the top removed if you prefer. Lay them skin-side down on a baking sheet and cover it with a screen to keep bugs away.
Place the berries in direct sunlight for at least 24 hours. Depending on your climate, humidity, and the size of your strawberries, they may take longer.
If you use whole berries, it may take up to a week to dry in the sun. Do not use whole berries in a humid environment because you risk growing mold inside or underneath the fruit.
If it begins to rain during the sun-drying process, move the strawberries under cover or inside your house. Place a fan in front of the baking sheet to pull moisture away from the fruit.
See a video from YouTube creator Live Free.
Oven-Dried
Oven drying is a quicker method than sun drying and is very simple to use. Use the oven to make strawberry chips or chewy candies.
Oven-Dried Strawberry Chips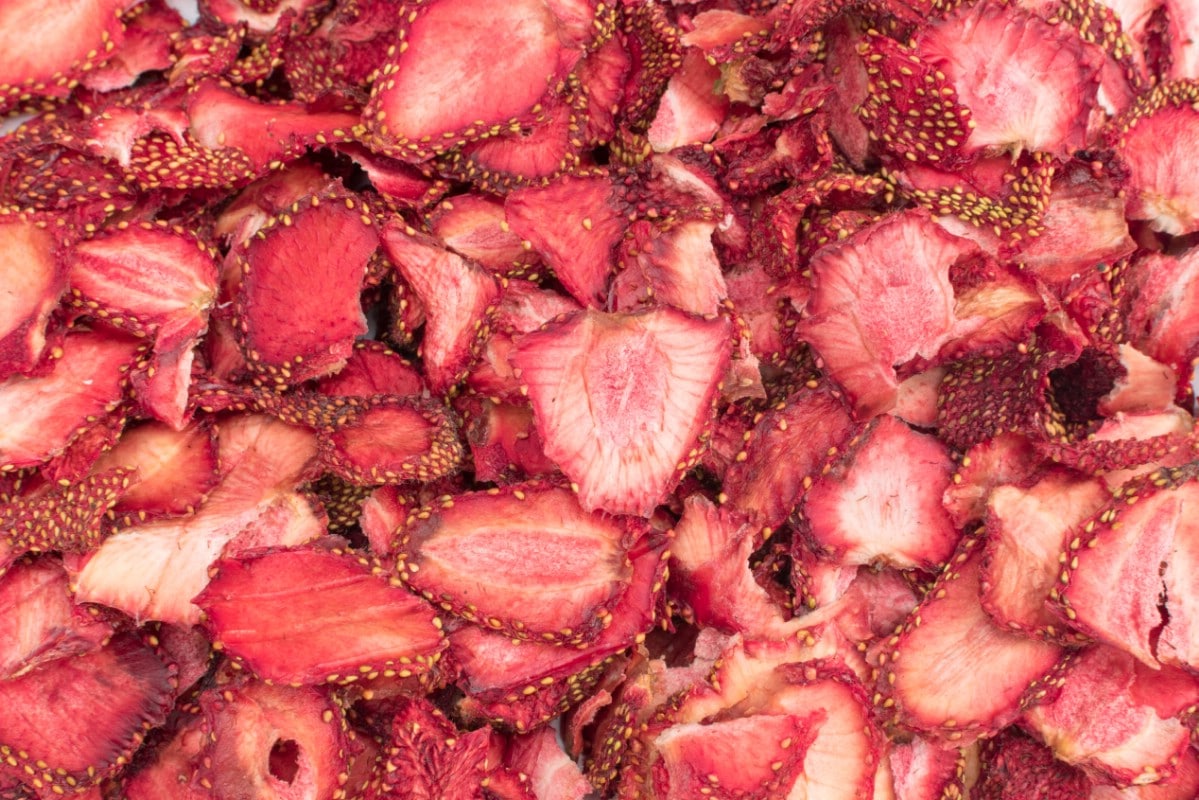 Preheat your oven to 350 while you slice your strawberries to ⅛ inch thickness or thinner. Lay the slices out on a parchment paper-lined baking sheet spaced so they don't touch each other.
Turn the oven temperature down to 200 and place the strawberries inside for 1-2 hours, depending on the thickness of the slices. When the tops are dry, flip the fruit slices over and continue baking for up to 1 hour longer.
When they reach the desired level of crispiness, remove them from the oven and allow them to cool.
More details and nutritional information are available here from Maria of She Loves Biscotti, the originator of this recipe.
Dehydrator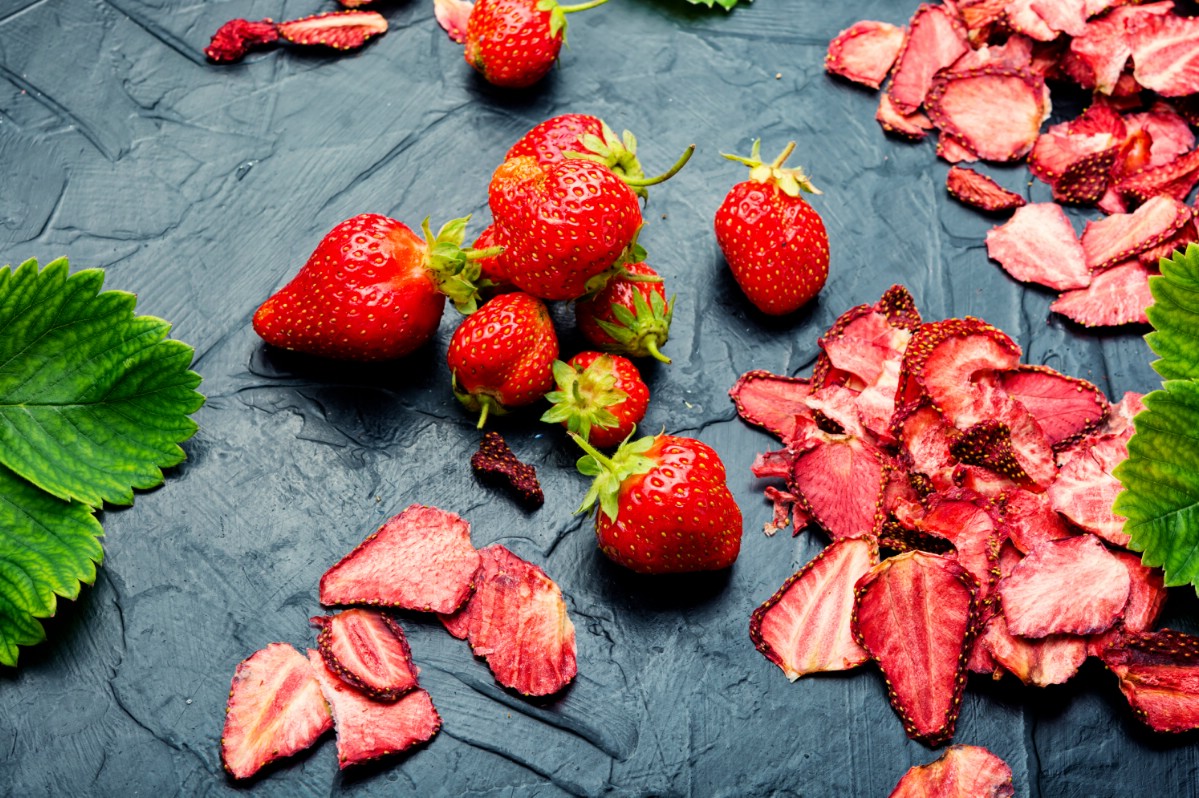 To dry your strawberries in a dehydrator, slice them into thin even slices and lay them out on the dehydrator tray with at least ½ an inch between slices. Some people like to soak the sliced fruit in lemon water for 15 minutes before dehydrating to preserve the color.
Run the dehydrator for 8-10 hours to get chewy dried strawberries or up to 14 hours for crispier pieces.
Freeze-Dried
High-quality freeze-dried strawberries require a freeze-drying machine, but you can test the theory and get usable freeze-dried fruit without buying fancy equipment. Cari of Homesteading In Ohio says the process can be as simple as keeping uncovered sliced berries on a tray in your freezer for 3 weeks.
How to Use Dried Strawberries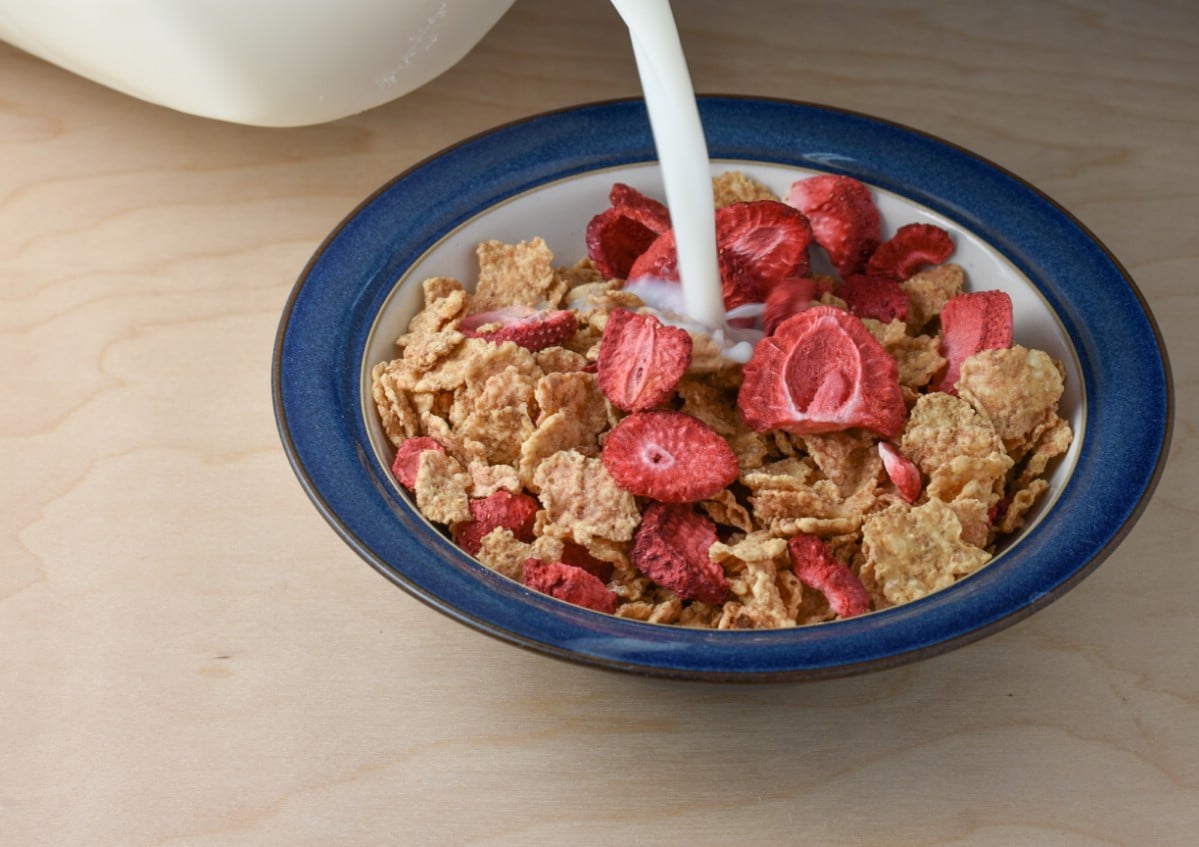 Of course, you can use your dried strawberries as snacks or as cereal or ice cream toppings, but here are a few other ideas.
For a sweet treat, try these cookies made with real dried strawberries at any time of year. Because the berries are dry, they won't make the cookies soggy and fall apart.
Flavored Water
To add a hint of flavor and some nutrients to your boring water, stir in a handful of dried strawberries. The flavor of fresh fruit will infuse into the water over time.
Keep a pitcher in the fridge so you can drink it at full flavor on demand. Try it in iced tea too.
Rehydrated Strawberries
Rehydrate your strawberries and use them in place of fresh fruit in pies and smoothies. Follow these steps and proceed with any recipe as usual.
Measure the amount needed for the recipe loosely. Do not pack the dried berries down. Leave just enough space to cover them completely with liquid.
Cover the strawberries with water or liqueur of your choice and leave to soak for 6-10 hours.
Proceed with your recipe.
Faster Method:
After measuring as above, boil enough water to cover the berries completely.
Pour the boiling water over the strawberries and leave to soak for 15-30 minutes.
Proceed with your recipe.
Here are 2 excellent recipes to use your rehydrated strawberries.
Dried strawberries are healthy and concentrate the wonderful flavor of summer into bite-sized morsels. Will you try drying your extra strawberries this year?