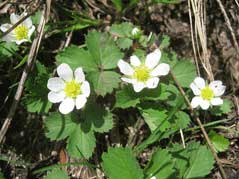 Fragaria iinumae is a species of strawberry plants that have garnered some curiosity recently.  I'm not quite sure why the sudden interest, but it may be helpful for some to have a summary profile of this species of strawberry plants.  So, for the curious among us, here goes!
Fragaria iinumae Strawberry Plants: Summary
Unlike the modern Garden Strawberry (Fragaria x ananassa) which, if propagated by seed, do not produce second generation plants whose traits are true to the parents, Fragaria iinumae is a strawberry plant species whose offspring will remain true to the parent plants' characteristics.  The bigger problem is that those characteristics are not very desirable.