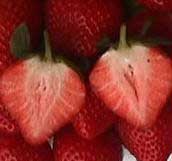 This page is a profile summary of the strawberry cultivar 'Sweet Charlie' (Fragaria x ananassa).  It will provide details on Sweet Charlie strawberry plants and Sweet Charlie strawberries so that an informed decision can be made regarding its suitability for varying growing locations and uses.  Sweet Charlie strawberry suppliers are also listed.
Where to Grow Sweet Charlie Strawberries
Sweet Charlie strawberry plants are the most popular commercial strawberry variety grown in Florida.  They are uniquely suited for use as a short-day cultivar.  They are also often grown commercially in North Carolina and California.  Sweet Charlie isn't limited to these famous strawberry states, however.  They will generally do well in most of the southern states.  USDA hardiness zones 5, 6, 7, and 8 generally provide adequate conditions for productive growth.  See the map below for states where Sweet Charlie strawberry plants should thrive.  Also, for more details on growing Sweet Charlie plants, see the Growing Strawberries page.