Cardinal Strawberry Plants: Introduction
This page is a profile summary of the strawberry cultivar 'Cardinal' (Fragaria x ananassa).  It will provide details on Cardinal strawberry plants and Cardinal strawberries so that an informed decision can be made regarding its suitability for varying growing locations and uses.  Cardinal strawberry suppliers are also listed.
Where to Grow Cardinal Strawberries
Cardinal strawberry plants were developed specifically for the south and will usually perform quite nicely in USDA hardiness zones 5, 6, 7, and 8.  Optimal conditions for growth are found in Alabama, Arkansas, Delaware, Florida, Georgia, Kansas, Kentucky, Louisiana, Maryland, Mississippi, Missouri, North Carolina, Oklahoma, South Carolina, Tennessee, Texas, Virginia, and West Virginia.  They will also survive and produce in Zone 4, though not as optimally.  For more specifics on the cultivation of Cardinal strawberry plants, see the Growing Strawberries page.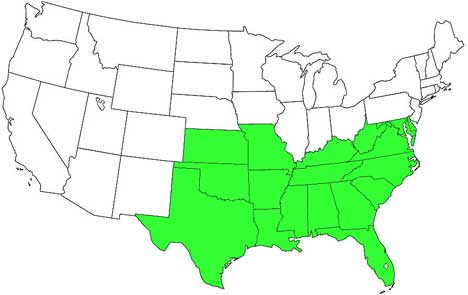 Growing Cardinal Strawberry Plants: Conditions
Like most strawberry varieties, Cardinal strawberry plants prefer full sun and require moist, well-drained soil.  Cardinal strawberries do best growing in soil within a pH in the range of 5.6 to 6.5.  If rainfall is not sufficient, regular watering will be required.
Disease Resistance of Cardinal Strawberry Plants
Cardinal strawberry plants have good resistance to several common strawberry diseases.  They are resistant to leaf spot, leaf scorch, and powdery mildew.
Disease Susceptibility of Cardinal Strawberry Plants
The Cardinal strawberry cultivar is susceptible to several common diseases.  They are susceptible to gray mold, red stele, verticillium wilt, and anthracnose.
Cardinal Strawberries
Cardinal strawberry plants produce very large fruits.  Additionally, Cardinal strawberries are very sweet, making them a favorite item on any table.  Cardinal strawberry plants are June-bearing, and they produce their harvest over the span of 2 to 3 weeks during Midseason (see the Strawberry Varieties page for more information).  The best time to pick Cardinal strawberries is after the very tip of the fruit has turned red.  At this point, the strawberry will be red throughout with full flavor.
At maturity, Cardinal strawberries are red and firm with a glossy appearance.  They are excellent for processing, very good for freezing, good for fresh eating, and fair as a shipping berry in a commercial operation.  Cardinal strawberry plants produce a high yield.  This characteristic along with its taste and firmness make Cardinal strawberries one of the ideal choices for pick-your-own or U-pick farms.
Notable Features of Cardinal Strawberry Plant & Strawberries
1.  High Yield of Strawberries
2.  Very Large Strawberries Are Produced
3.  Developed for the South
4.  Good Choice for Pick-Your-Own Operations
Additional Information about the Strawberry Cardinal
Cardinal strawberry plants are usually vigorous and hardy once established.  A mature plant will often be over a foot tall, occasionally reaching heights of 18 inches.  The plants attract bees, butterflies, and birds.  The first two are relatively benign, but birds will help themselves to the strawberries, so protective netting may be desired.
The Cardinal strawberry cultivar was developed by H.L. Bowden, J.N. Moore, and W.A. Sistrunk and was released by the AAES (Arkansas Agricultural Experiment Station).  Its characteristics have helped increase its popularity since the cultivar was released, and Cardinal strawberries are now the most common commercial strawberries grown in Oklahoma.
Purchase Plants from These Cardinal Strawberry Suppliers
If you are wondering where to buy Cardinal strawberry plants, the following list contains reputable suppliers of Cardinal strawberry plants.
Greenwood Nursery and Gardens
636 Myers Cove Road
McMinnville, TN 37110
Phone: 1-800-426-0958
Farmer Seed and Nursery
818 NW 4th St.
Faribault, MN 55021
Phone: 507-334-1623
Simmons Plant Farm
11542 N Hwy 71
Mountainburg, AR 72946
Phone: 479-369-2345
Fax: 479-369-2345
Bob Wells Nursery
17160 CR 4100
Lindale, TX 75771
Phone: 903-882-3550
Fax: 903-882-8030
bobwellsnursery@gmail.com
For many other varieties of strawberry plants, you can visit our directory of Strawberry Plants for Sale Online. If you are a supplier of Cardinal strawberry plants and would like to be added to this page, feel free to contact us.