Are you tired of rodents and bugs getting to your strawberries before you do? Are you short on garden space or are you gardening on your porch? Are you just a free spirit looking to spice up your strawberry garden design a bit?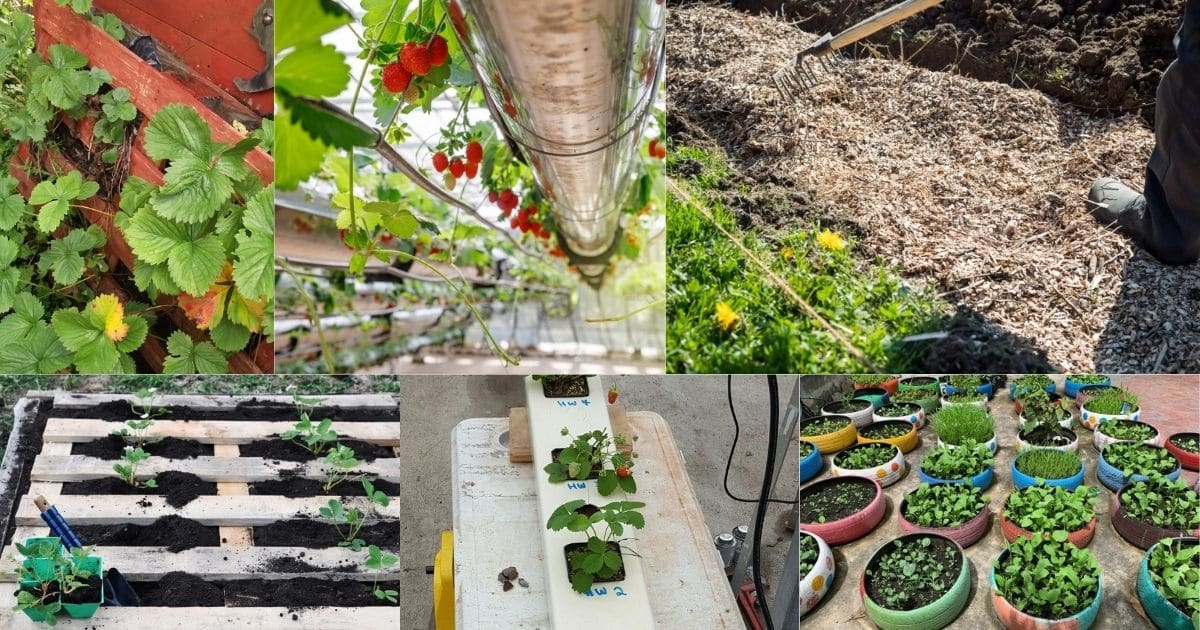 Jump to:
If you said yes to any of these questions, you are sure to benefit from one of these alternative methods of growing strawberries.
Tire tower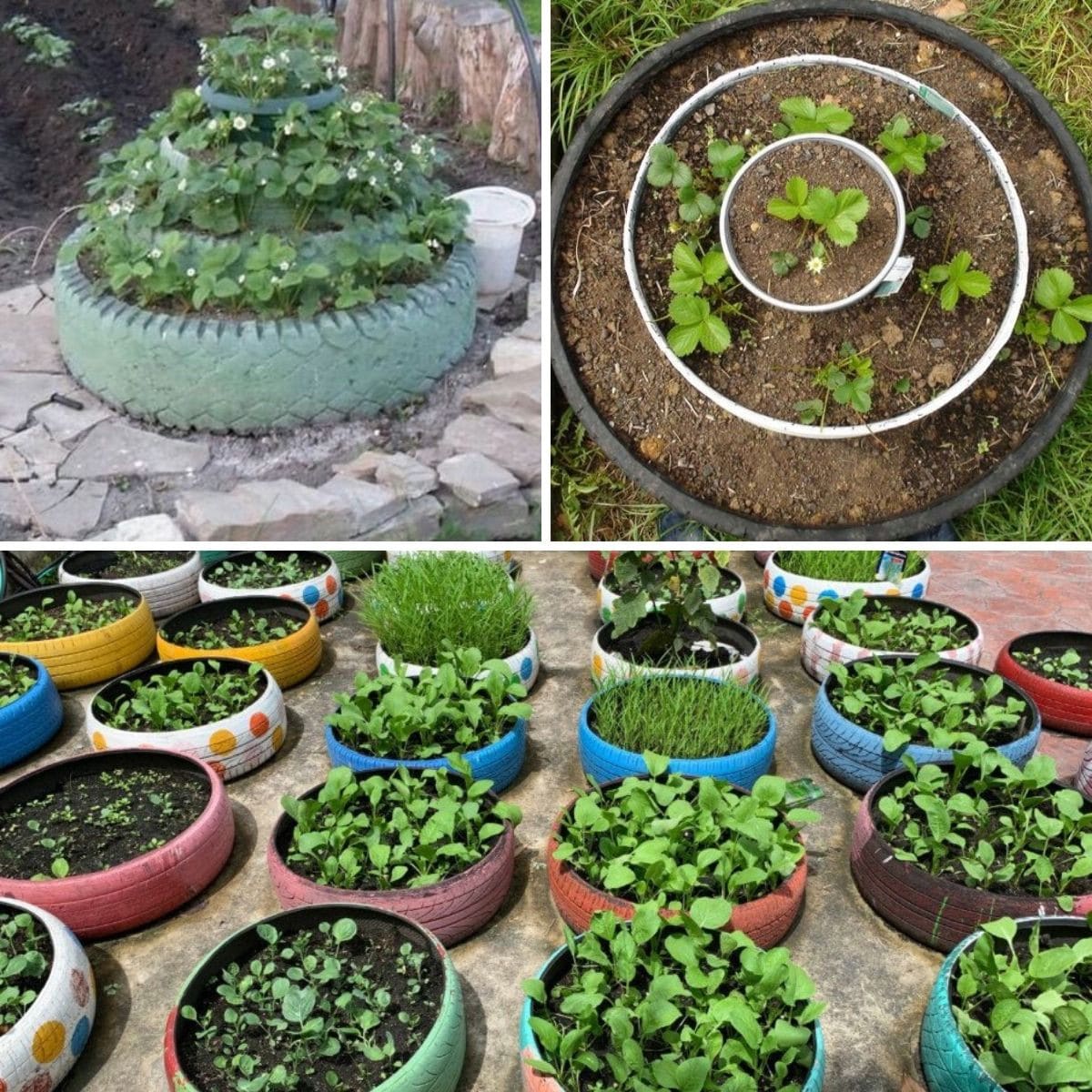 A strawberry tower is not a new idea. Strawberry plants adapt well to growing at a steep angle because they love the extra drainage. Berries are easier to harvest when they're off the ground and it keeps them clean and safer from pests.
Why not try a strawberry tower made from old tires? Used tires of any size you prefer are easy to come by and often free for the asking. Make sure to clean them off with warm soapy water and a stiff brush to remove anything you wouldn't want to leach into your plants and away you go!
Once your tires are clean, you may choose to paint them or leave them plain. Lay the prepared tires down and use a hole saw to cut 2-3 inch holes in their sides (the surfaces that touch the road) at even intervals. Put in some soil, place your strawberry plants in the holes, then finish filling with compost and soil.
Fill and stack one tire at a time. Use stakes as a guide for your tire tower stack to prevent it from tipping over. You may choose to leave the center of the stack open, fill it with soil, or use the center as a compost bin.
To use the center of the strawberry tire tower for compost or leave it open, line the inside perimeter with landscape fabric to prevent soil from falling out of the body of the individual tires in your stack. Place old logs, branches, and grass inside then continue to compost as you would normally.
If you decide to fill the center of your tire stack with soil, consider including a 6-inch PVC pipe slightly taller than your stack with ¼ inch holes cut in the sides for easy watering. Put a cap on the bottom of the pipe so the water will slowly seep out of the holes into the tower soil. Finish off your strawberry tire tower by planting strawberry plants or companion plants in the soil at the top.
Tire raised bed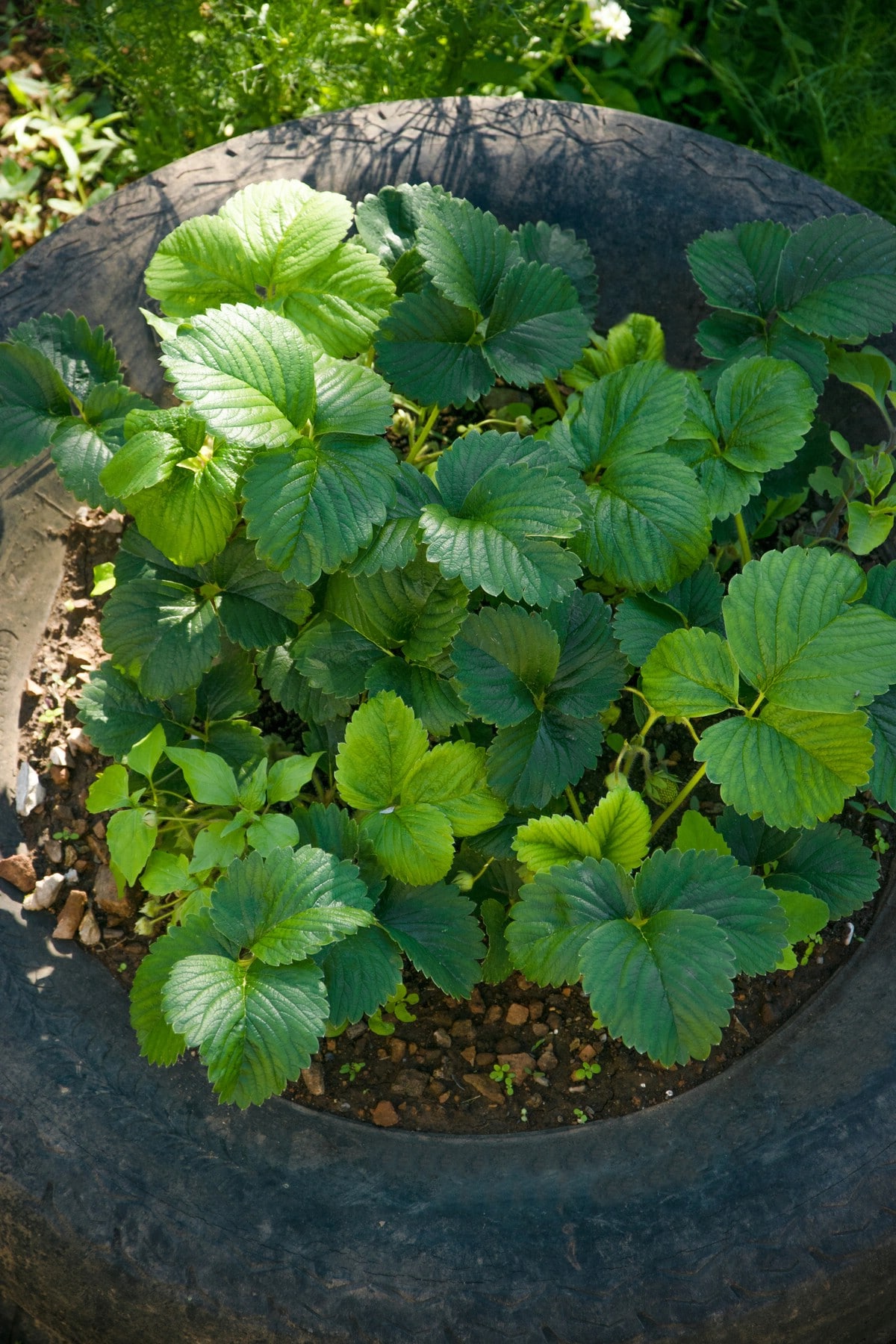 To make a raised bed from a tire, first clean and, if desired, paint a used tire of your preferred size as you would for a strawberry tire tower. Lay the tire on its side in the place you want to grow your strawberries. You can cut holes in the sidewalls for extra planting space if your tire is large but it isn't necessary.
Lay landscape fabric or several layers of newspaper on the ground inside the opening. This barrier will prevent grass and weeds from growing through and ruining your strawberry bed. Finally, fill your tire with a mixture of compost and soil and plant your strawberries!
Laundry basket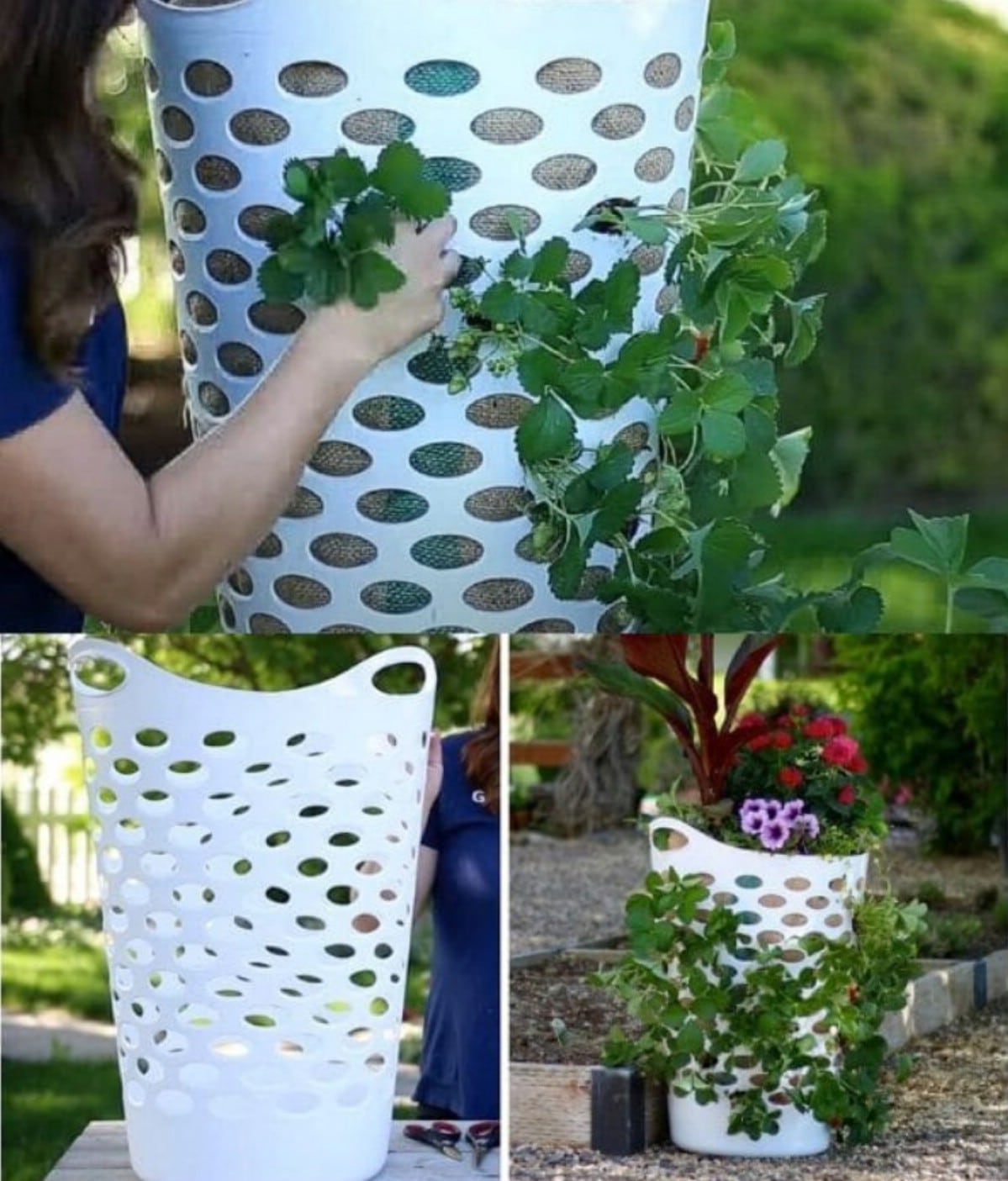 DIY Laundry basket planter tutorial here.
Have you seen those tall laundry baskets with the oval holes in the sides? They seem to be the perfect shape and size for growing all sorts of things, especially strawberries!
Line the sides of the laundry basket with landscape fabric and fill it (or line it with newspaper layer by layer as you fill it) with compost and soil. Add a 6-inch PVC pipe with ¼ inch holes in the sides and a cap on the bottom for easy watering if you wish.
Plant your strawberries in every other hole in every other row from the second row of holes upward. Use the open soil at the top to grow more strawberry plants or companion plants and enjoy your easy, compact strawberry tower!
Gutters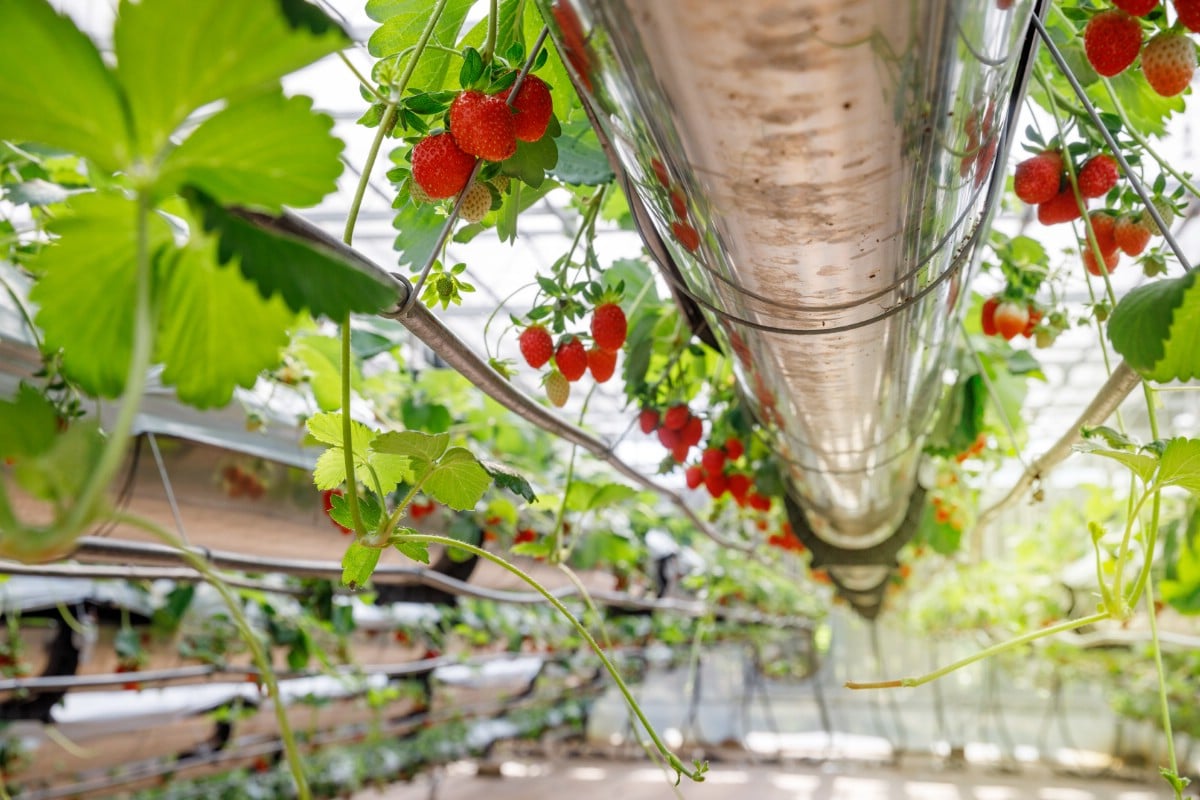 Gutters make a popular choice for unusual strawberry planters. Strawberry roots typically grow 6-12 inches down so make sure that if you try this method, you use gutters that are at least 6 inches deep. If you don't leave room for a healthy root system, you won't get as many strawberries from your plants.
You can use gutters as an attractive vertical strawberry planter to save space or simply to add interest to your garden. Try hanging your gutters on a fence or build a free-standing holder to hang them on your porch.
Try out these strawberry gutter garden instructions from Dannii at Hungry Healthy Happy.
PVC pipe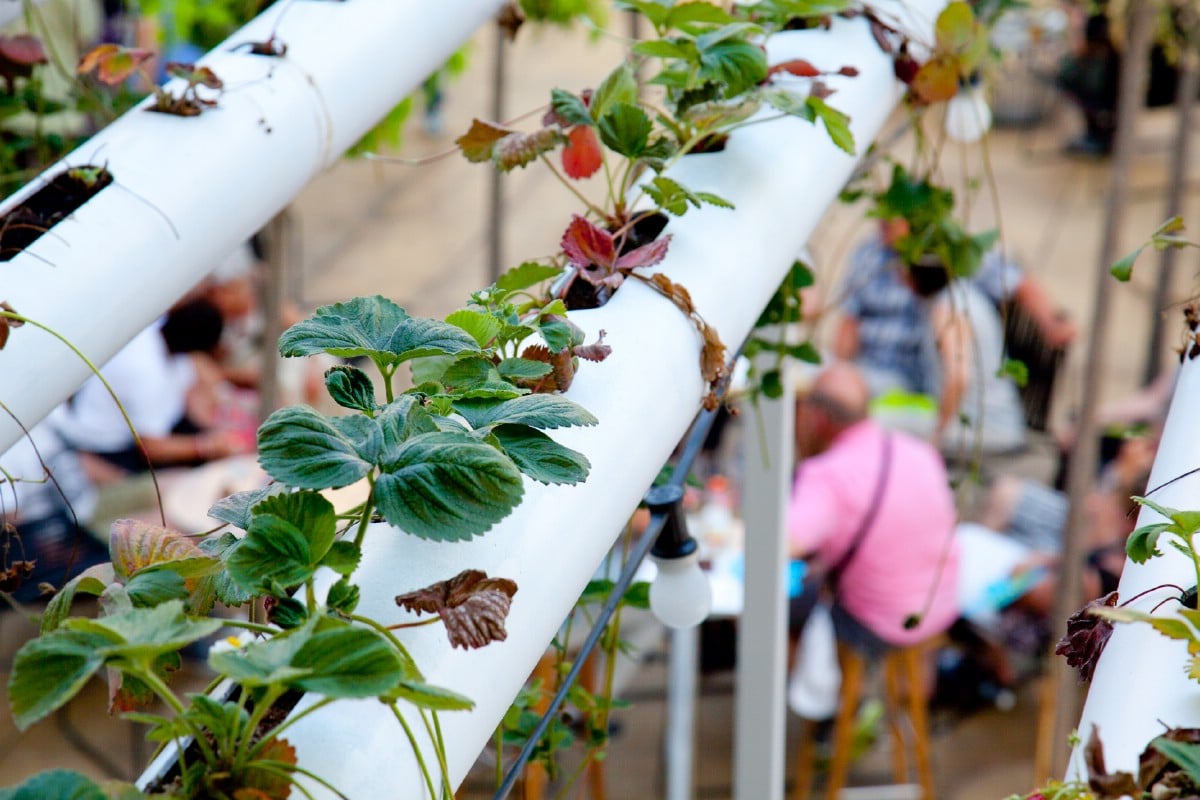 PVC pipe can be used similarly to gutters or you can go truly vertical with your strawberry garden by drilling holes along the length on all sides. Gardener Scot has a wonderful instructional video If you'd like to try this method.
Gardener Scot uses his strawberry towers in his garden, but you can also use them indoors with supplemental lights and a drain pan or on your porch.
Pallet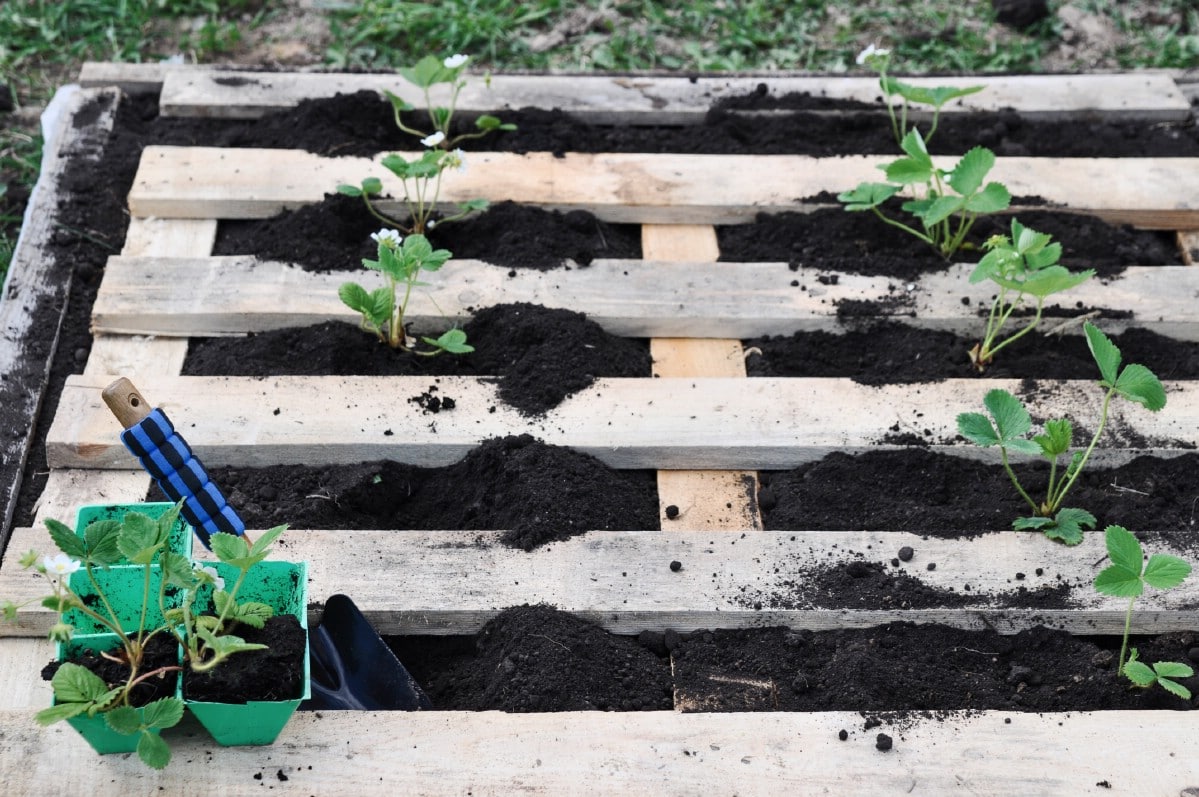 Pallet gardens are very popular for gardeners who want an easy-to-build raised bed and less weeding. Simply lay your pallet on the ground in place, fill it with compost and soil, and plant your strawberries between the slats.
Some have expressed concerns about the safety of using pallets for food gardening, but in the US, unmarked pallets are used for non-hazardous purposes and are generally safe. Avoid those marked with MB which indicates it has been treated with a toxic pest-control chemical.
If you have heavy soil, a raised bed is a great choice because they typically drain better than planting directly in the ground. Using a pallet for a raised strawberry bed offers additional benefits because the wood between the rows serves as a weed barrier. It also keeps your fruit out of the dirt which keeps it cleaner and less likely to be affected by diseases and pests.
Vertical pallet garden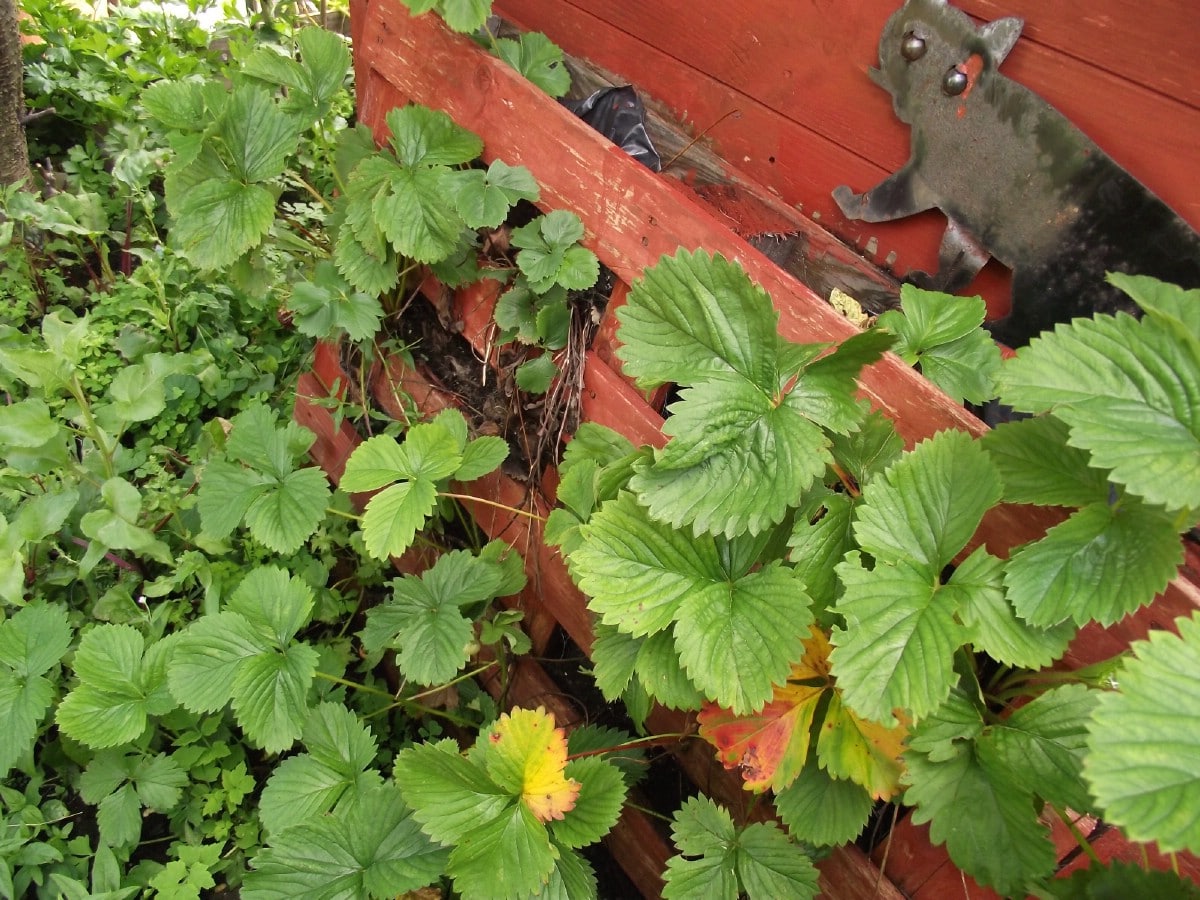 How would you like to take the convenience of a pallet garden and make it vertical? With just a tiny more effort than a pallet raised bed, you can have an attractive vertical strawberry garden.
Start by stapling landscaping fabric inside your pallet. Some gardeners only cover the open bottom and slatted back side with fabric and leave the filled pallet flat on the ground for several weeks, but you can fast track the project by covering the bottom and both sides.
Fill your pallet garden with compost and soil from the top. If you've decided to cover all sides with landscape fabric, fill the pallet up to the first slat, cut into the fabric every 6 inches or so, and insert your strawberry plants. Repeat the process for each opening between the wood slats.
Once you've finished filling the pallet, use the top opening to grow more strawberry plants or companion plants, like borage, to draw in pollinators.
Upside-down planter
Upside-down strawberry planters are a popular choice for strawberry growers with very little space. These hanging bags are ideal for growing lots of healthy strawberries and are very attractive, especially once the strawberry plants fill in and begin to produce fruit.
2 Pack Black and Green Upside Down Tomato & Herb Planter, Hanging Durable Aeration Fabric Strawberry Planter Bags
Packgae includes: It comes with 2 pcs of fabric hanging planter bags in black and green, each bag measures 8.8 * 15 inches. 2 mental hooks are included for easy hanging. One nice feature is that they can easily be turned for more or less sunlight for both sun and shade loving plants.
Heavy-duty: Made of Nonwoven Fabric, material is heavy-duty felt, good permeability let roots breathe freely and make the plants grows well and increase yield. Keeps plant warmer in winter and cooler in the summer, decreased risk of transplant shock, creates improved overall root structure.
Upside down design: These tomato planters haning are great solution if you have deer or other that come and munch on your plants when you're not looking, and most importantly no more sore back and knees. The upside down design will save space and utilize gravity to maximize water and nutrient supply to roots.
Openings on side: the upgraded design planter bags will allow you to grow so many plants in one bucket. Grow the juicy tomatoes or cucumber on the bottom and the side openings (12 holes in total) are great for herbs, strawberries, peppers, etc.
Easy to use: The grow bag is suitable for patios, lawn, gardens, any outdoor and indoor space. Load the plant root side first pushing them through the openings, and then fill the bag with dirt, pick a suitable height and sunny area to hang the bag. These bags can easily be used for several seasons and not take up much space when storing.
If you use an upside-down planter, opt for a fabric bag rather than plastic. Heavy-duty felt bags breathe better than plastic, minimizing mold and disease problems. They also regulate temperature better than plastic planters so your strawberry plants will grow and produce right on schedule. Be careful to water each plant in the bag individually until they become fully established.
Hugelkultur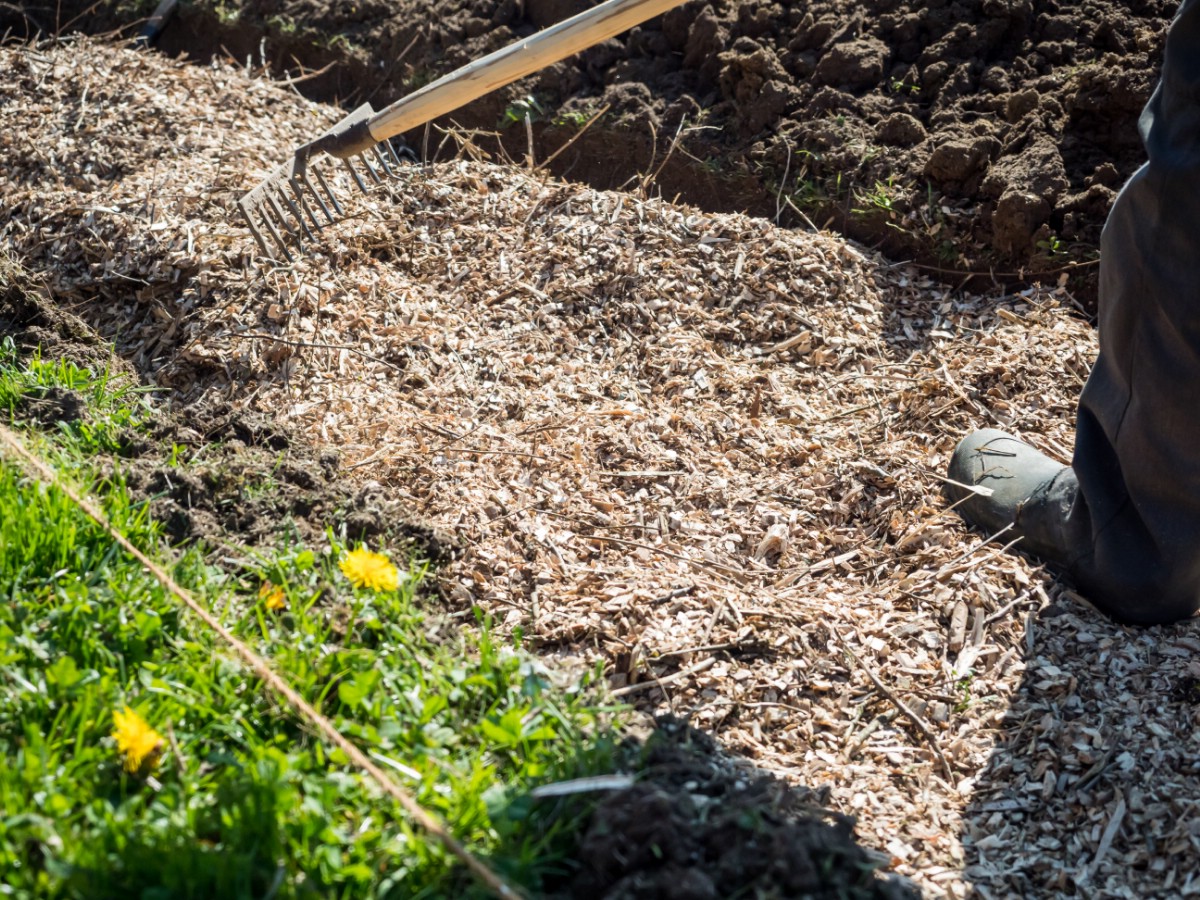 Strawberries are well suited to grow in a hugelkultur garden. This permaculture technique involves stacking branches, leaves, and other compostable debris in a small, steep mound and covering it with soil and perennial plants. As the debris decomposes, the mound shrinks, leaving behind rich healthy soil.
Strawberry runners will take root easily to keep your hugelkultur well covered as it slowly decomposes and to continue producing loads of delicious strawberries. The steep angles of a hugelkultur bed make strawberry plants easier to care for, easier to harvest from, and safer from pests.
Hydroponics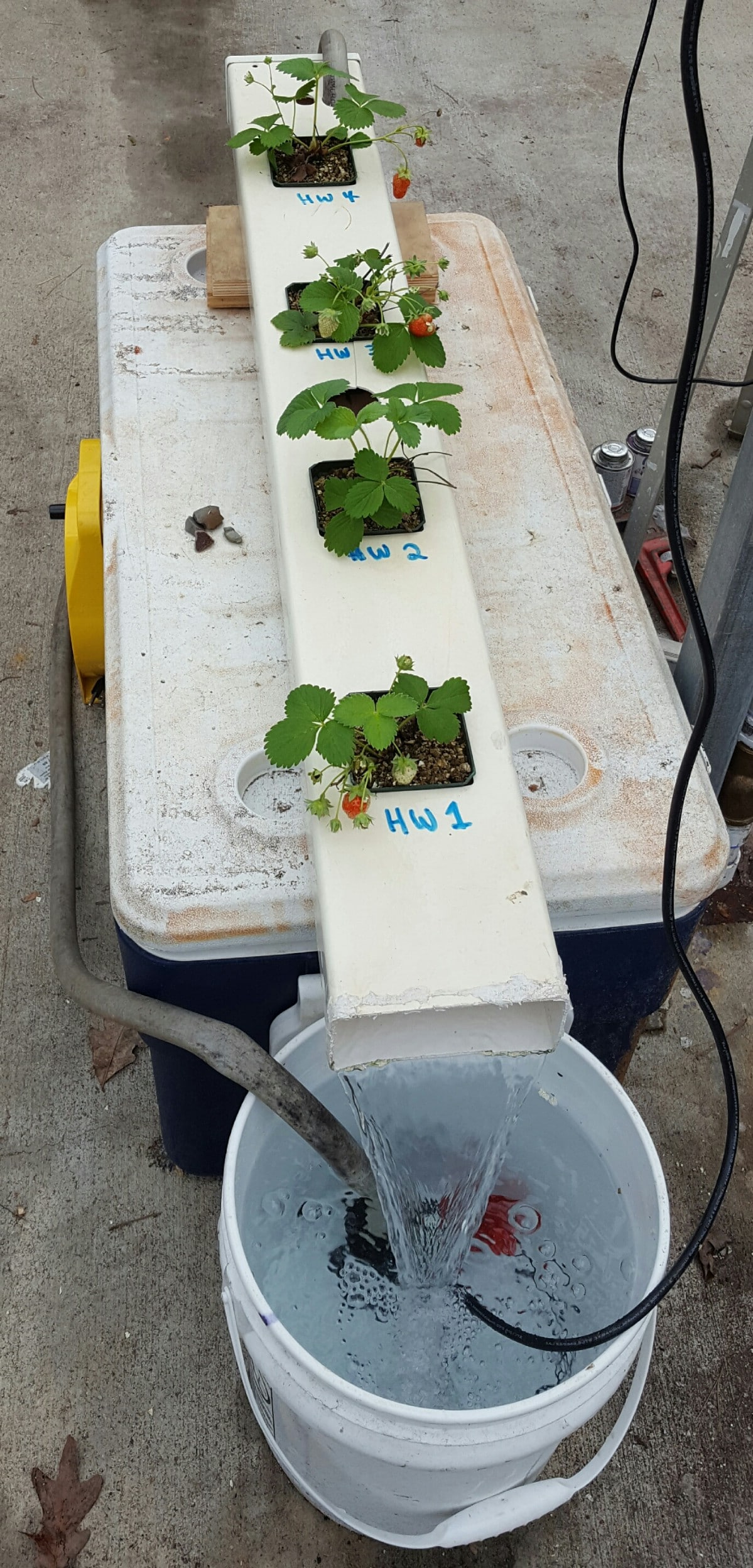 Our final genius alternative way to grow strawberries is with a hydroponic system. This high-tech method makes great use of space and is a terrific topic for conversation. Strawberries grow very well hydroponically and have better flavor because it's possible to control more variables.
A popular choice for commercial growers is Dutch-bucket hydroponics but it is easy to grow hydroponic strawberries on a smaller scale at home, either indoors or outdoors. Try this simple DIY hydroponic system for starters or buy this ready-made hydroponic system with instructions for indoor use.
Conclusion
There is no right or wrong way to grow strawberries as long as your plants are healthy. Why not try one of these unusual strawberry growing methods this season?
Metadata