Everyone who grows strawberries wants as many of the sweet fruit as they can get! We don't want to waste our time, money, or garden space on plants that only produce a small number of berries. What varieties produce the most strawberries?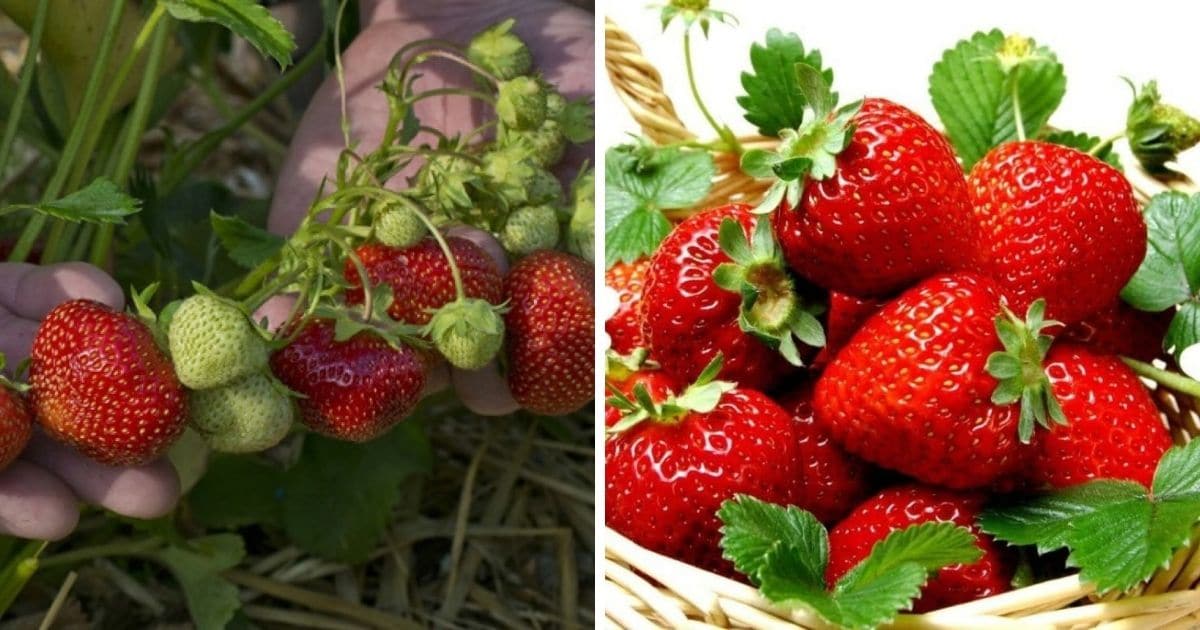 Jump to:
Honeoye
Honeoye is a midseason June-bearing variety that is extremely cold hardy and extremely productive. It grows best in Zones3-8 and is an especially good choice for midwest strawberry gardeners since the flavor of the berries is enhanced by ripening in moderate conditions.
The fruit is large and very flavorful but will not appear until the second season of growth. After that, your Honeoye strawberry plant will produce consistently for the next 4-5 years.
Buy bare roots here.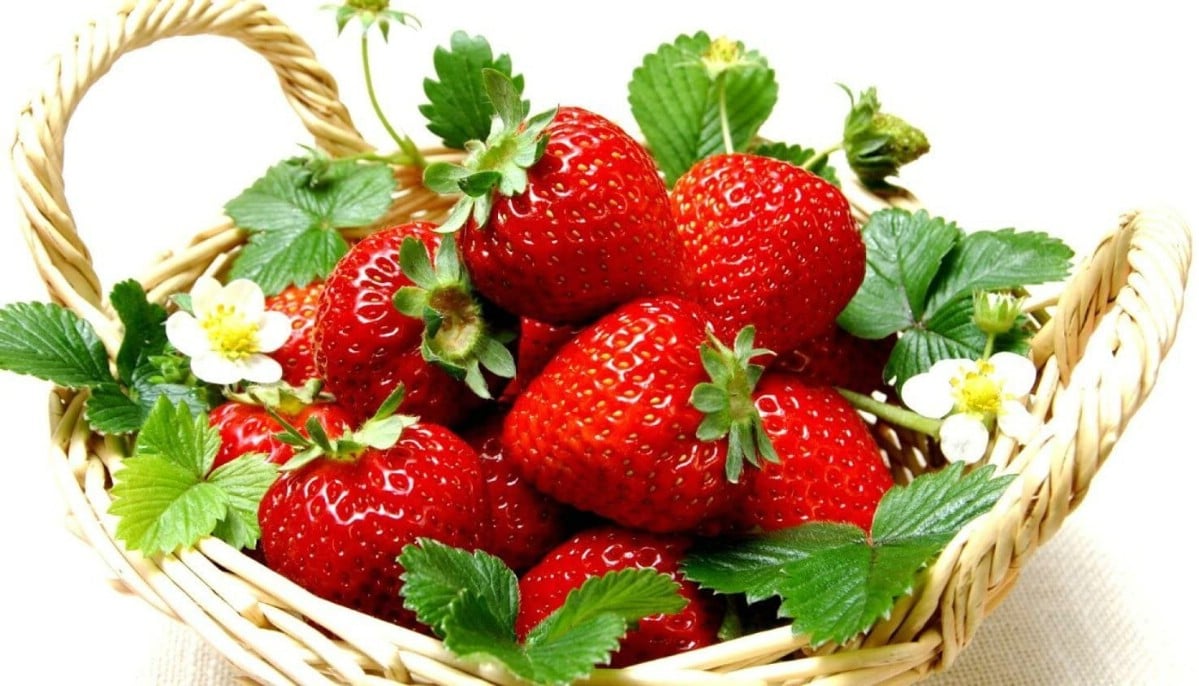 Ozark Beauty is an everbearing variety that is a truly vigorous producer. It grows extremely well in Zones 4-8 but can be grown successfully in Zones 3-9 with a little extra care.
The initial harvest each season consists of very large, irregular, sweet berries with more uniform berries in the following harvests throughout the season. Many gardeners consider Ozark Beauty to be the overall best of all everbearing strawberry varieties.
Buy bare roots here.
AC Wendy
AC Wendy is an early season June-bearing variety that produces a very high yield of high-quality fruit. Like most June-bearing varieties, expect fruit in the second year. Be ready to offer protection against unexpected frost during their early flowering period.
It grows best in Zones 3-8 and is moderately resistant to powdery mildew. It also produces many runners so you can start more and more plants each season.
Alpine Alexandria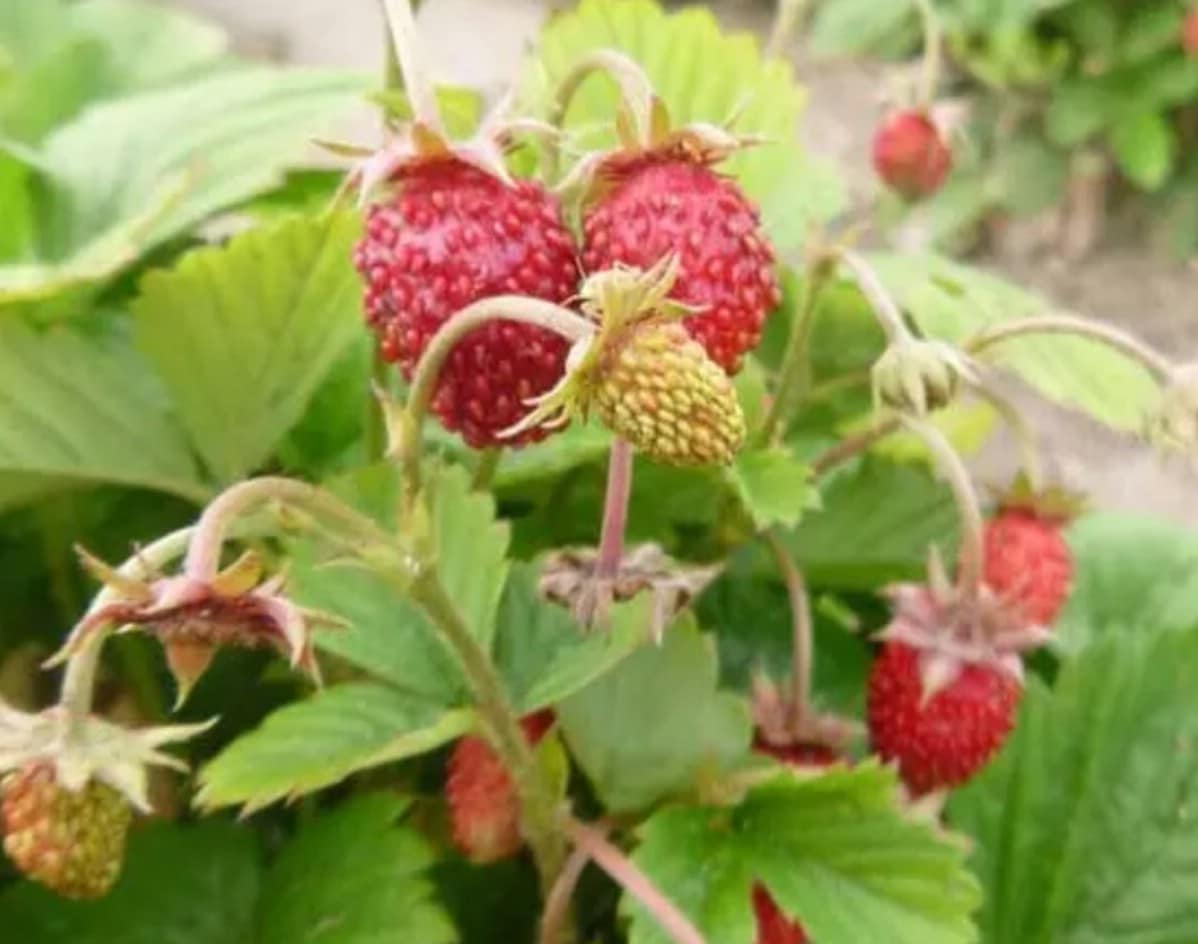 Alpine Alexandria is an everbearing variety of wild strawberries that produces loads of small berries. This strawberry plant produces no runners and makes an excellent ground cover. The more space you provide these plants, the more plentifully they will produce fruit.
Alpine Alexandria bears very small berries- less than half an inch long- but each fruit is packed with flavor. Alpine strawberry varieties produce the sweetest fruit of all. They will produce all summer long in Zones 5-9.
Buy seeds here.
Buy live plants here.
Alpine Yellow Wonder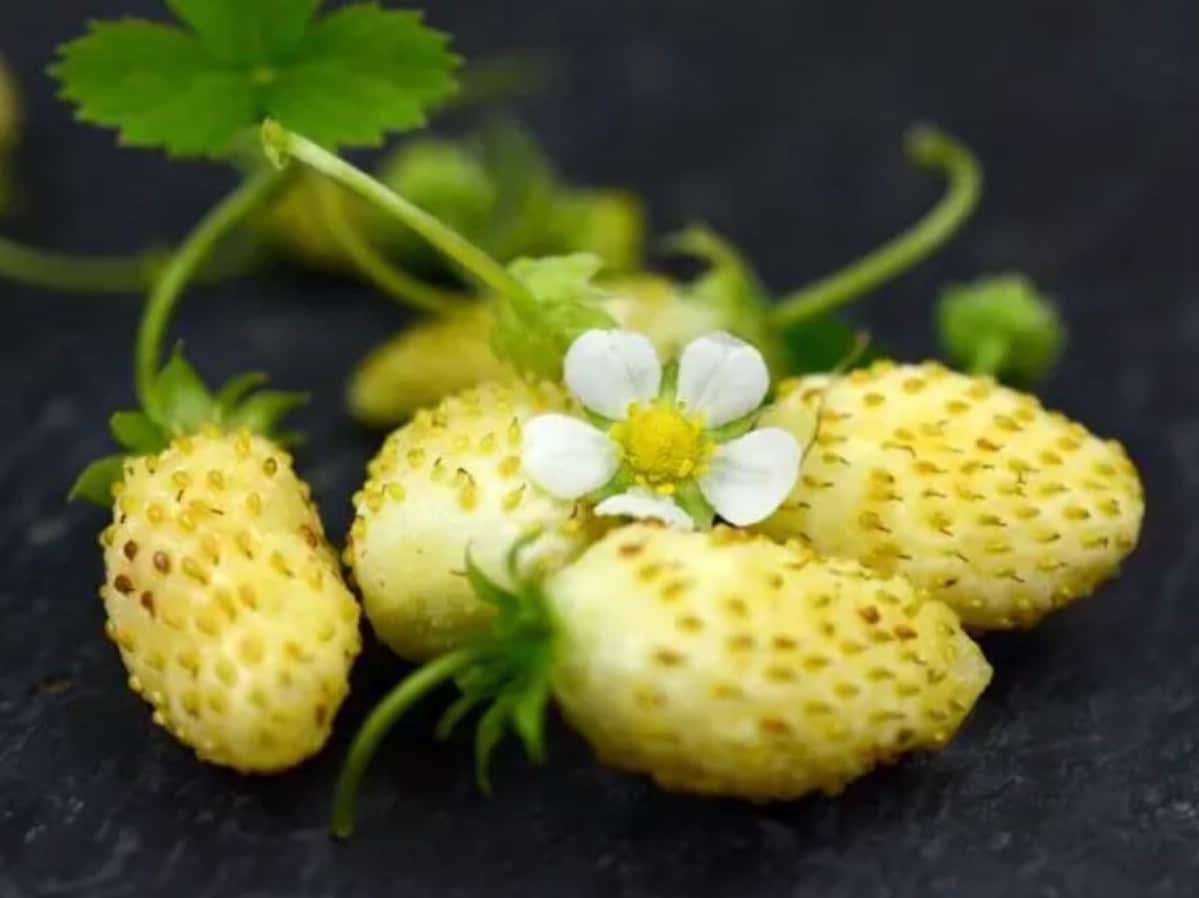 Alpine Yellow Wonder is another everbearing variety of wild strawberries. These plants produce small, pale yellow berries don't attract as many birds as their red counterparts.
Alpine strawberry varieties produce fruit in the first year of planting. They will produce well in partial shade and don't do as well in hot areas of the garden. These small berries grow well in containers, rock gardens, full beds, and flower bed edges.
Buy seeds here.
Buy a live plant here.
Sweet Charlie is an early season June-bearing variety developed in Florida. It grows best in Zones 3-8.
The plentiful fruit is super sweet and firm-fleshed. Large berries as produced toward the beginning of the season but in some ideal years, a second crop of very large fruit is produced at the very end of the growing season.
Buy bare roots here.
Earliglow
Earliglow is the earliest of early season June-bearing varieties. It grows best in Zones 4-8 and produces a bounty of runners after fruiting. Earliglow berries are large, juicy, bright red, and flavorful.
The Earliglow variety is uncommonly easy to grow. It will be very happy in rows, a raised bed, or a container. It is resistant to many different diseases including verticillium wilt and red stele.
Buy bare roots here.
Sweet Kiss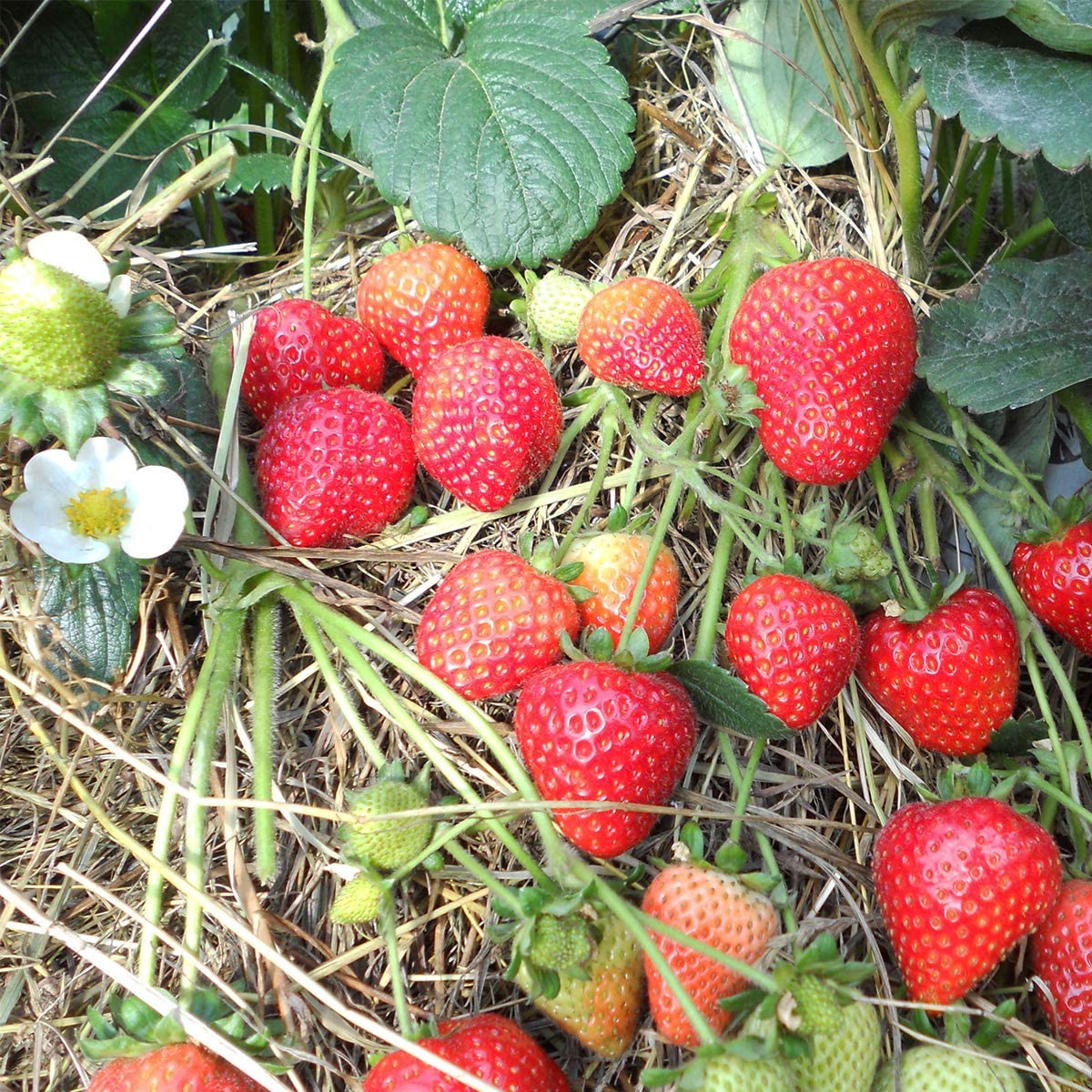 Sweet Kiss strawberry is an everbearing variety best suited to Zones 4-8. It grows well in the ground or in containers.
For the highest yield, pinch off the first flush of flowers in the first year of growth and harvest berries later in the season. Pick the fruit regularly as it ripens to encourage continued vigorous fruiting throughout the season.
The flavor of Sweet Kiss berries is super sweet and full and has won many blind taste tests. The large fruit is attractively firm, wedge-shaped, and dark red.
Buy bare roots here.
Evie-2
Evie-2 offers one of the highest yields of all day-neutral varieties. It is best suited to Zones 4-8 and is less sensitive to warmer summer temperatures that affect day-neutral varieties.
Evie-2 will produce large, firm, sweet, red fruit in its first year of growth. This variety is resistant to many leaf diseases and thrives in full sun.
Buy bare roots here.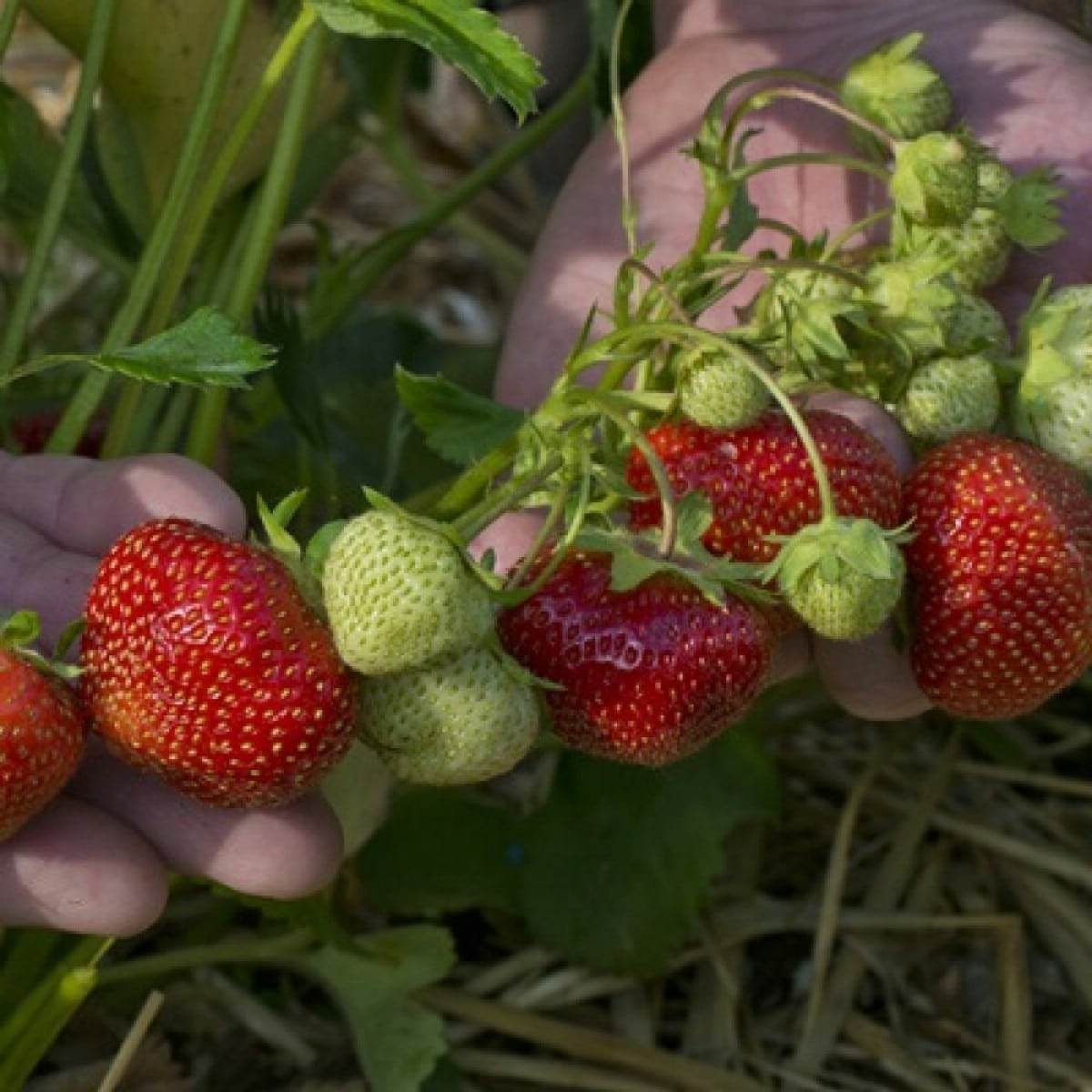 Flavorfest is a midseason June-bearing variety that grows well in Zones 4-7. It is particularly well suited to the mid-Atlantic and Northeastern US.
The Flavorfest strawberry plant is resistant to red stele and most stem and leaf diseases. It has lower susceptibility to Botrytis fruit rot than other midseason varieties so you can count on harvesting more of the plentiful produce.
The flavor of the Flavorfest strawberry is reported to be almost as good as Earliglow with fruit 4 times the size. Berries are bright red, plump, and extremely attractive.
Buy bare roots here.
Seascape
Seascape is a day-neutral variety that grows best in Zones 4-9. It produces plentifully at any time when the temperature is between 35-85 degrees. In addition to its high production rate, Seascape is also heat tolerant and disease resistant.
The large, conical berries of the Seascape variety can weigh up to 2 ounces each and are bright red. The flavor is fruity and delicious. This variety grows particularly well in the Eastern US and is evergreen in frost-free zones.
Buy bare roots here.
Conclusion
Strawberry plants can produce up to 3 pounds of fruit per plant each season depending on the variety. Choose a cultivar that has that capability and grows well in your Zone. Then follow this guide to give your strawberries the best possible care. Happy strawberry gardening!