Make the most of your strawberry harvest with these strawberry harvesting tips. Know when and how to pick, pick up some tips and tricks of the trade, and make the most of your harvest. There's a limited window of time to enjoy the best of the best of the strawberry season, so know how to make the most of it!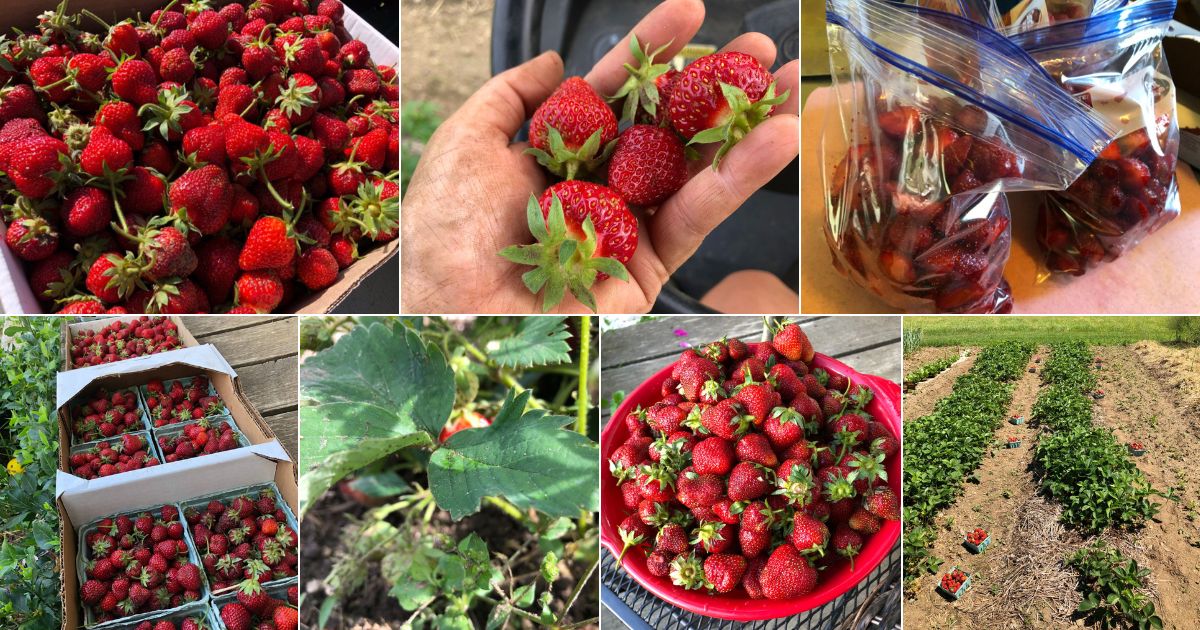 Jump to:
Tips for Better Strawberry Picking and Maximizing the Harvest
The keys to maximizing the strawberry harvest are to pick at the peak of ripeness, pick often and pick well, without doing damage to your berries or your plants. Here are 20 ways to do just that:
1. Pick when ripe.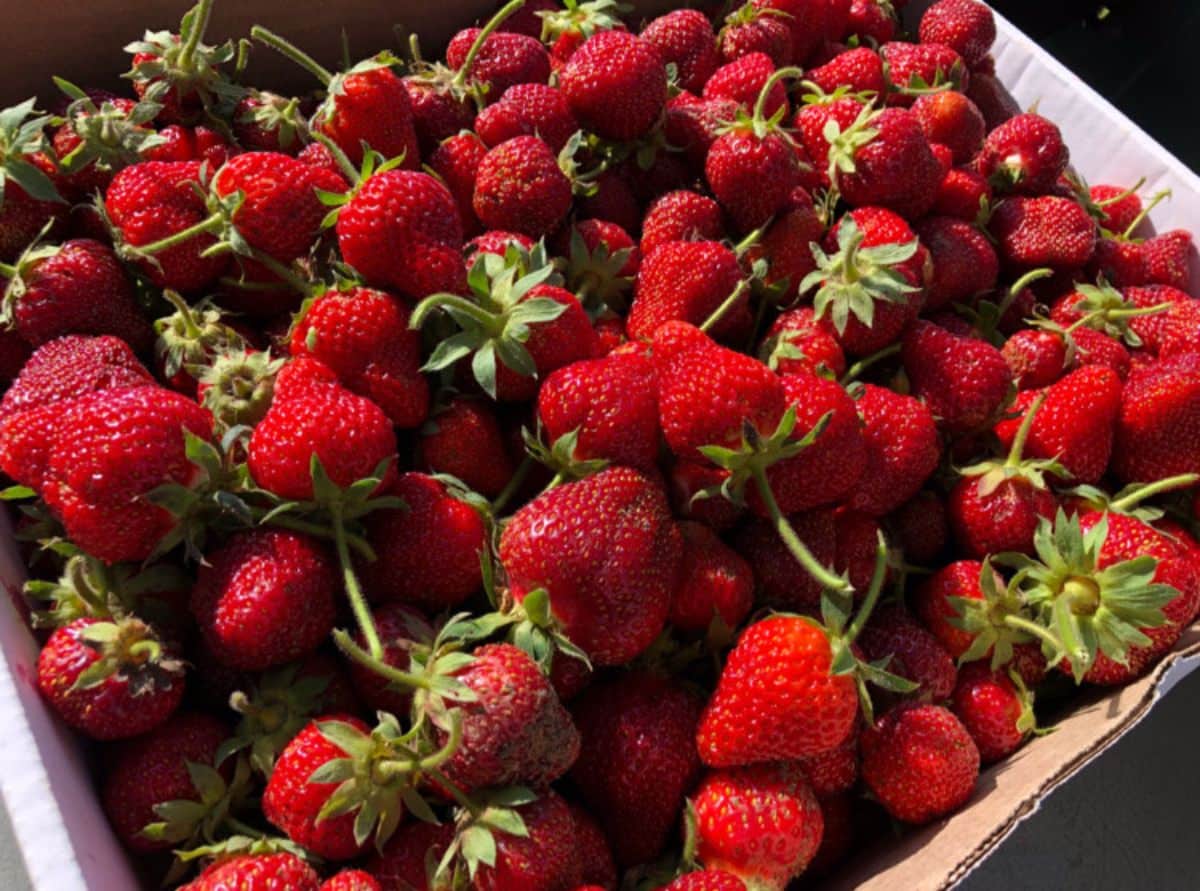 Know what ripe is. Ripe is complete, uniform color throughout with fresh green tops. Know that berries on the same bush and even right next to each other can ripen at different times. These should be picked at different times, and only when ripe. If you pick them too young, you're only wasting your time and your berries.
2. Don't pick unripe or underripe strawberries.
Underripe strawberries won't hurt you, but they won't have very good flavor. Strawberries do not ripen anymore after they are picked. They are non-climeractic fruits, so if you pick them before their peak, they won't be as good as they could be. This is why the light, half-white berries you buy on the grocery store shelf never have great flavor—they're often picked too young. They keep longer, but they don't taste good.
3. Pick regularly.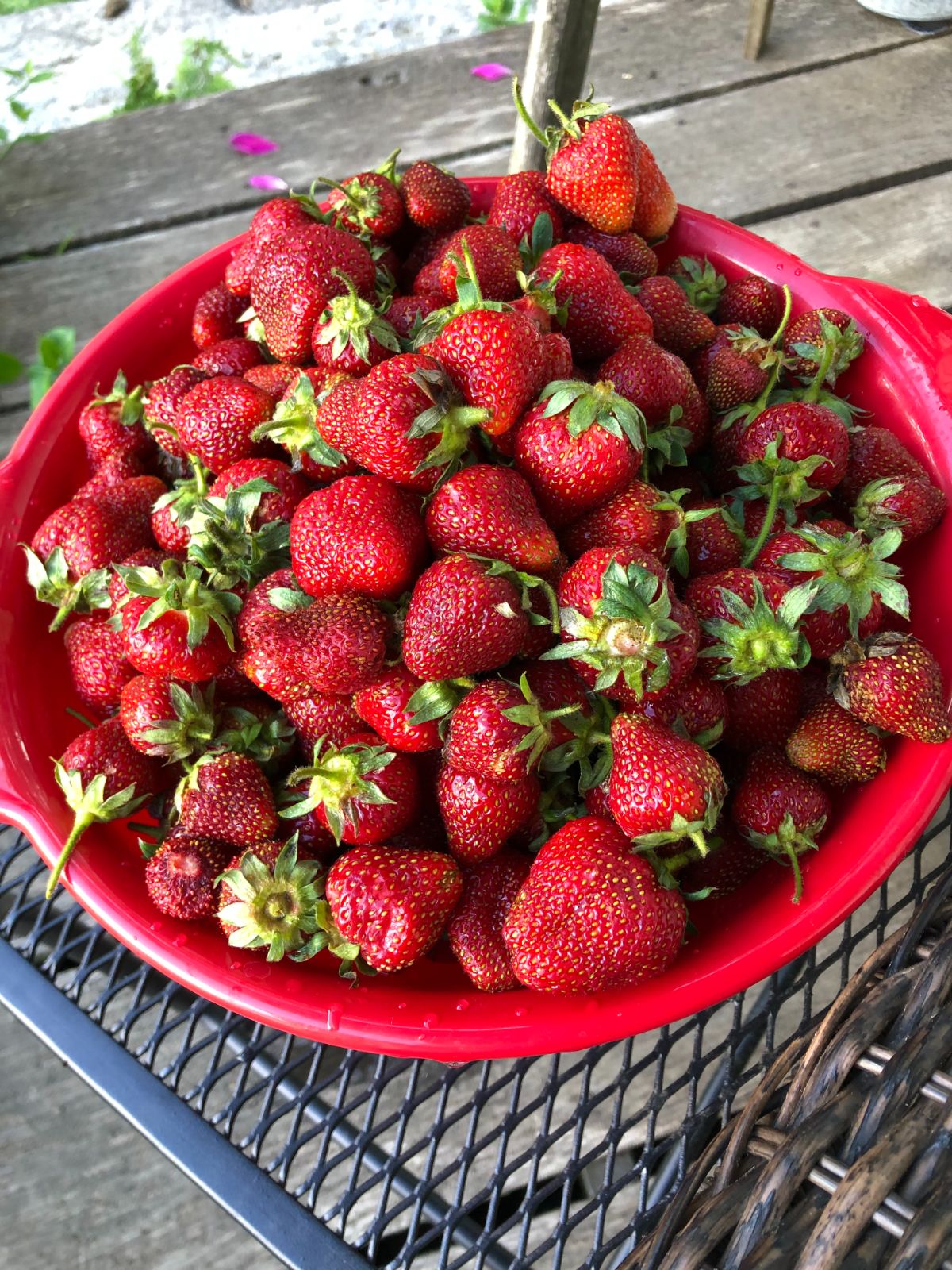 Because berries ripen in stages, you'll want to pick them often. When you pick, take only the berries that are ready. Plan to pick at the very least every three days, though every other day or even every day when the picking is really at peak is a good idea. That way, you get all the best berries at their best, and you can afford to let less-ripe strawberries go another day without them becoming overripe. Keep in mind that strawberries ripen quickly once they start, and today's underripe berry is tomorrow's perfect pick.
4. Pick with the top on.
You want to pick strawberries with the entire green top still on them. Pinch the stem, don't pull the berry off the top, and don't leave the top on the plant. This helps to keep the berries fresher for longer and keeps them from weeping and starting to deteriorate while you're picking.
5. Pick a few into each hand, then empty and go on.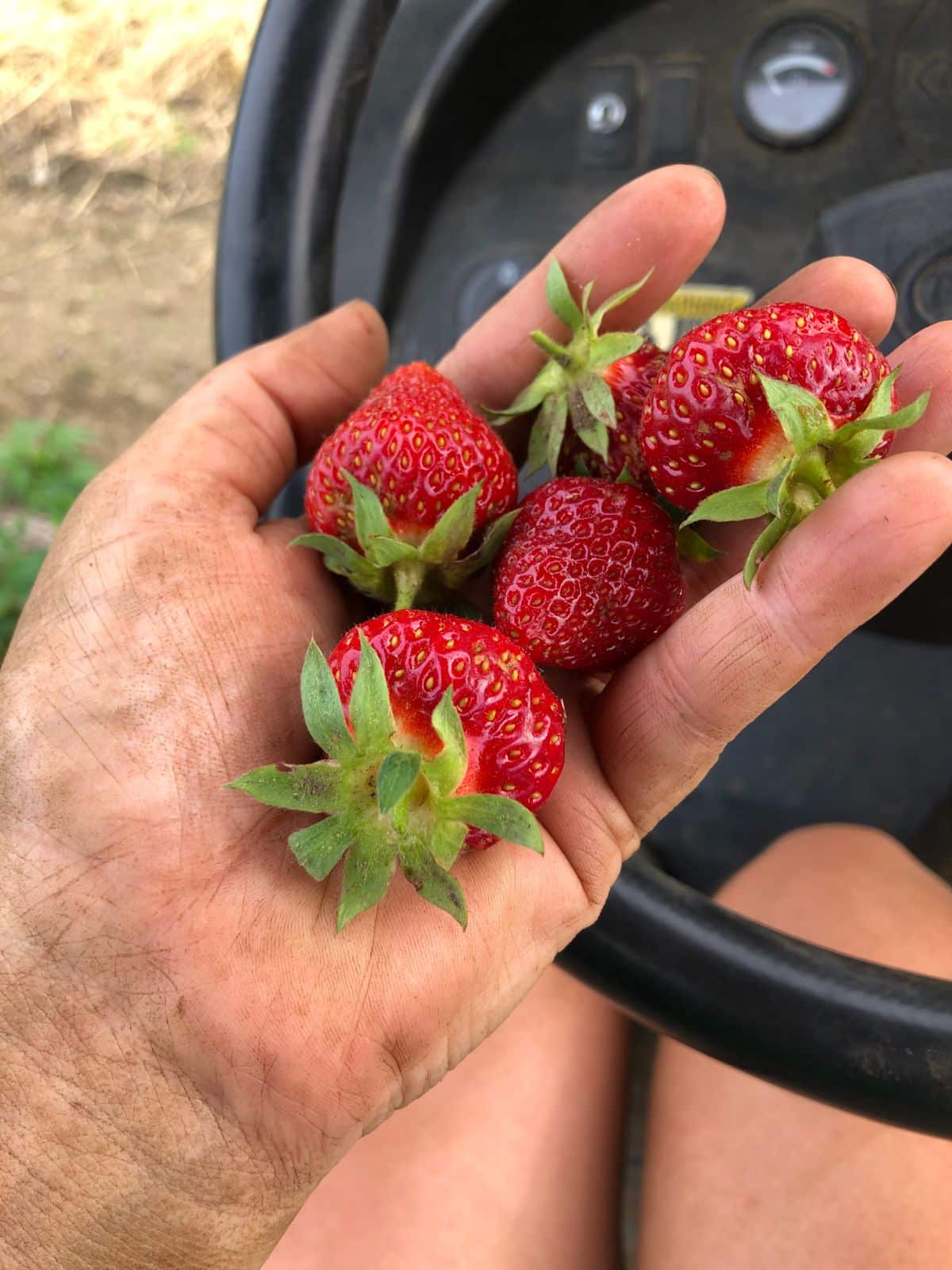 It won't take you long to learn a good rhythm and method for picking your strawberries. Maximize your efficiency by picking a few berries into each hand, unloading them into your container, and going back for a couple more handfuls. It only takes a few seconds to pick a handful when the picking is good. Resist the temptation to pick too large a handful—you'll only drop berries this way, and searching for them will cost you time, and maybe lost berries.
6. Pick, don't squeeze.
Pick by pinching and twisting the stem, about one-half to one inch up from the berry. Don't just pull, or you're likely to pop the berry off the green tops. Your goal is to separate the stem, not the berry. You also don't want to mush the berry by squeezing too hard while you're picking.
7. Pick into shallow flats or containers.
Smaller containers are easier to pick into, and picking into small containers prevents berry damage. While an individual strawberry doesn't weigh much, and good, firm berries can take some weight, a deep container of strawberries can end up weighing a lot. The weight from the top can squish berries on the bottom. Use either a single long, shallow berry flat or take several quart containers along with you. These are easy to carry in a stack and move down the row with you. It doesn't take long to fill a quart berry box when the picking is good, so you don't want to be too far away from your containers.
8. Set filled containers safely in the aisle and go back to collect in a box or flat when done.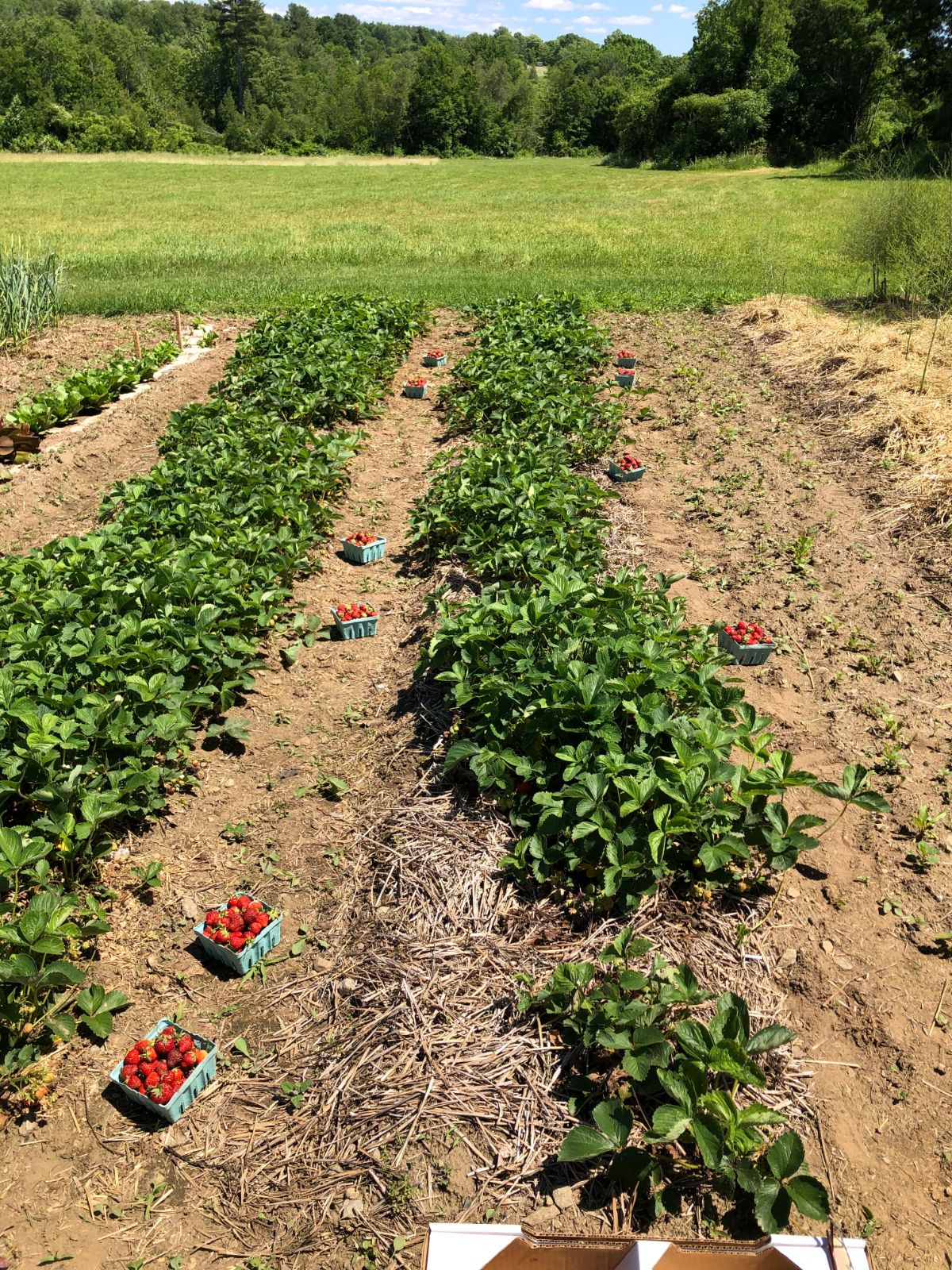 To keep things moving along, leave your filled containers in the row behind you as you move down the row. Keep them in the middle where they will be obvious and visible and easy to spot when it comes time to pick them up. This also serves as a sort of row "marker" that shows you where you stopped picking in case you need to take a break, or you are interrupted.
9. Don't layer filled berry boxes.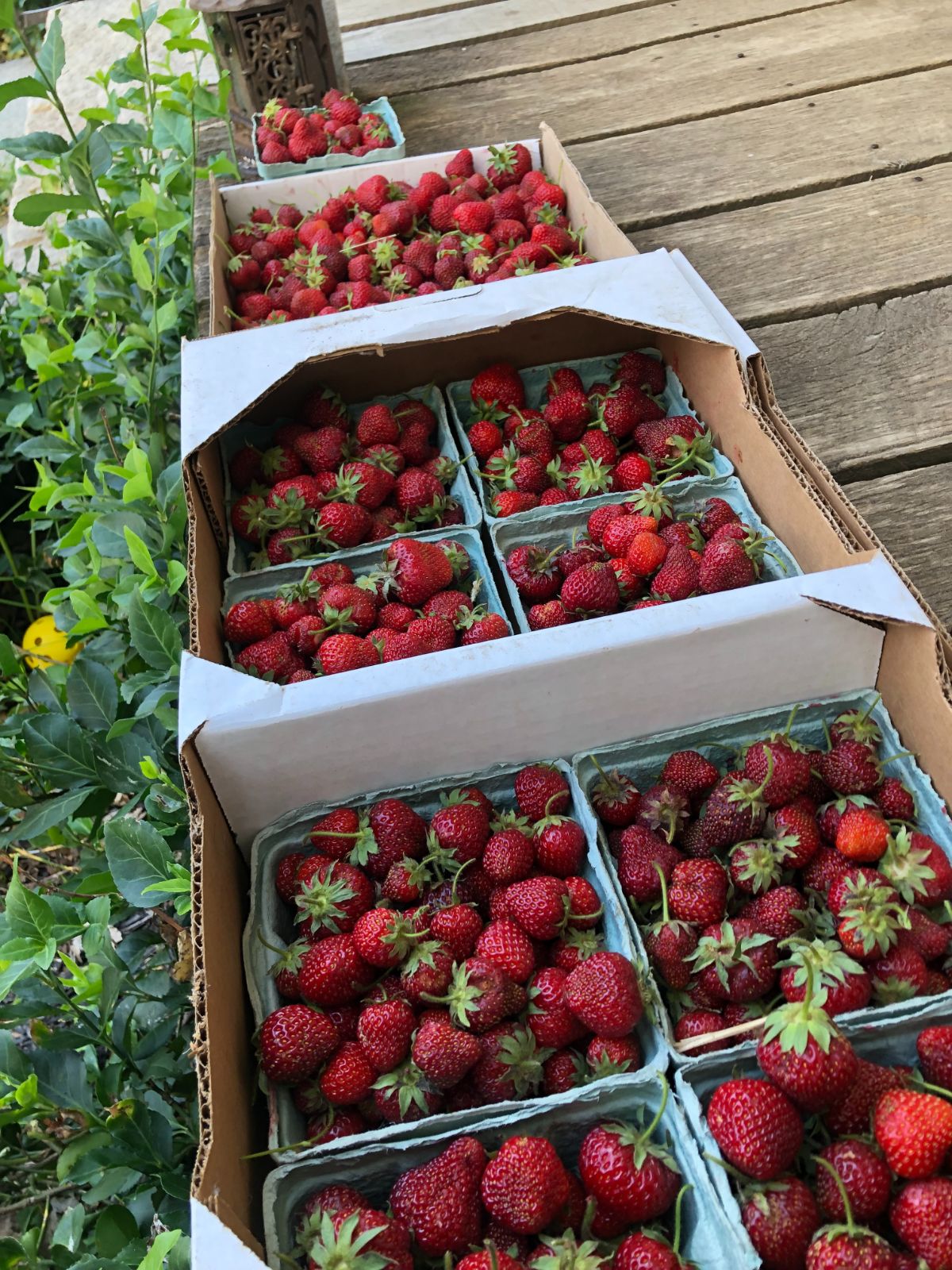 When you do collect berry boxes, set them side by side in a single flat. Don't stack boxes on top of each other. You're likely to crush berries this way. Crushed berries do not keep well and will increase spoilage. If you have stackable flats (like commercial growers use), it's okay to stack them as long as the box is supporting the box, not the berries. Just don't overfill the flats before stacking them.
10. Do look under the leaves.
Beautiful berries like to hide under the plants' foliage. This can be a good thing, because they're hidden from birds there, too. When you're picking, make sure you ruffle the canopy a bit to spot the hidden gems.
11. Don't damage plants while you're picking.
A gentle ruffle and a bit of movement are good, but don't be too rough with your plants. You don't want to break off berries that are still ripening or the stems and stalks that support them. You also need your plants to be in good shape after the harvest so they can recoup and regrow for next year (or the continued season, in the case of everbearing strawberries). Make sure not to trample or step on plants or berries, either. Keep clear aisles for working so you can avoid damaging your plants.
12. DON'T pick the flowers.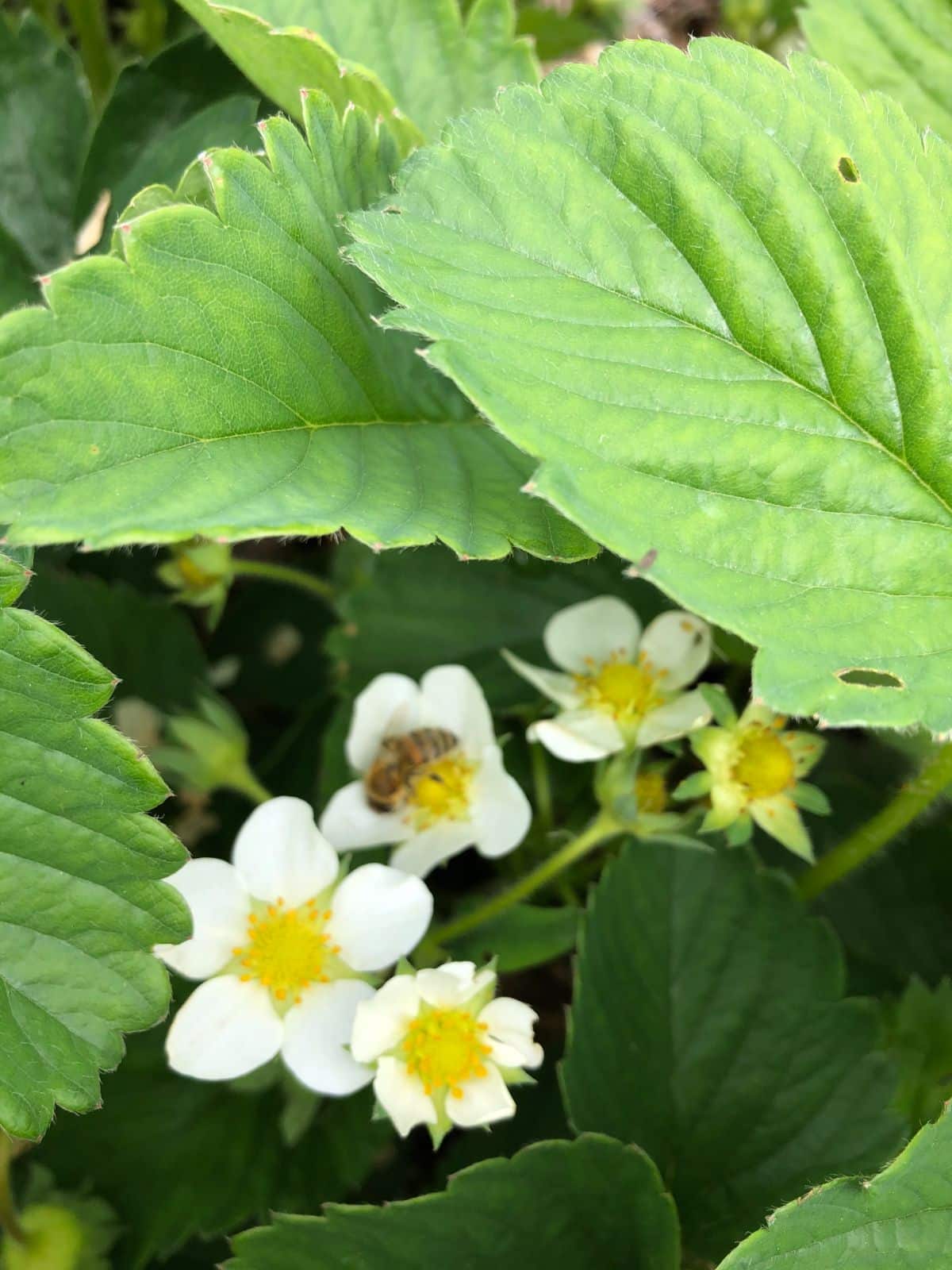 Think of the blossoms and flowers as your future strawberries. That is, in fact, what they are. After pollination, every flower will become a berry. If you pick the flowers, you're picking away the potential of harvesting more berries!
13. Don't overreach the row.
Your rows should be wide enough to so that the middle of the row can be reached from the side. They should not be any wider. This is usually about two feet across. Don't try to pick the whole two-foot span from one side. Use your aisles. Pick from the side to about halfway across the row. Pick the other half of the row from the other side. This will prevent a lot of plant and berry damage.
14. Pick the patch thoroughly at each picking.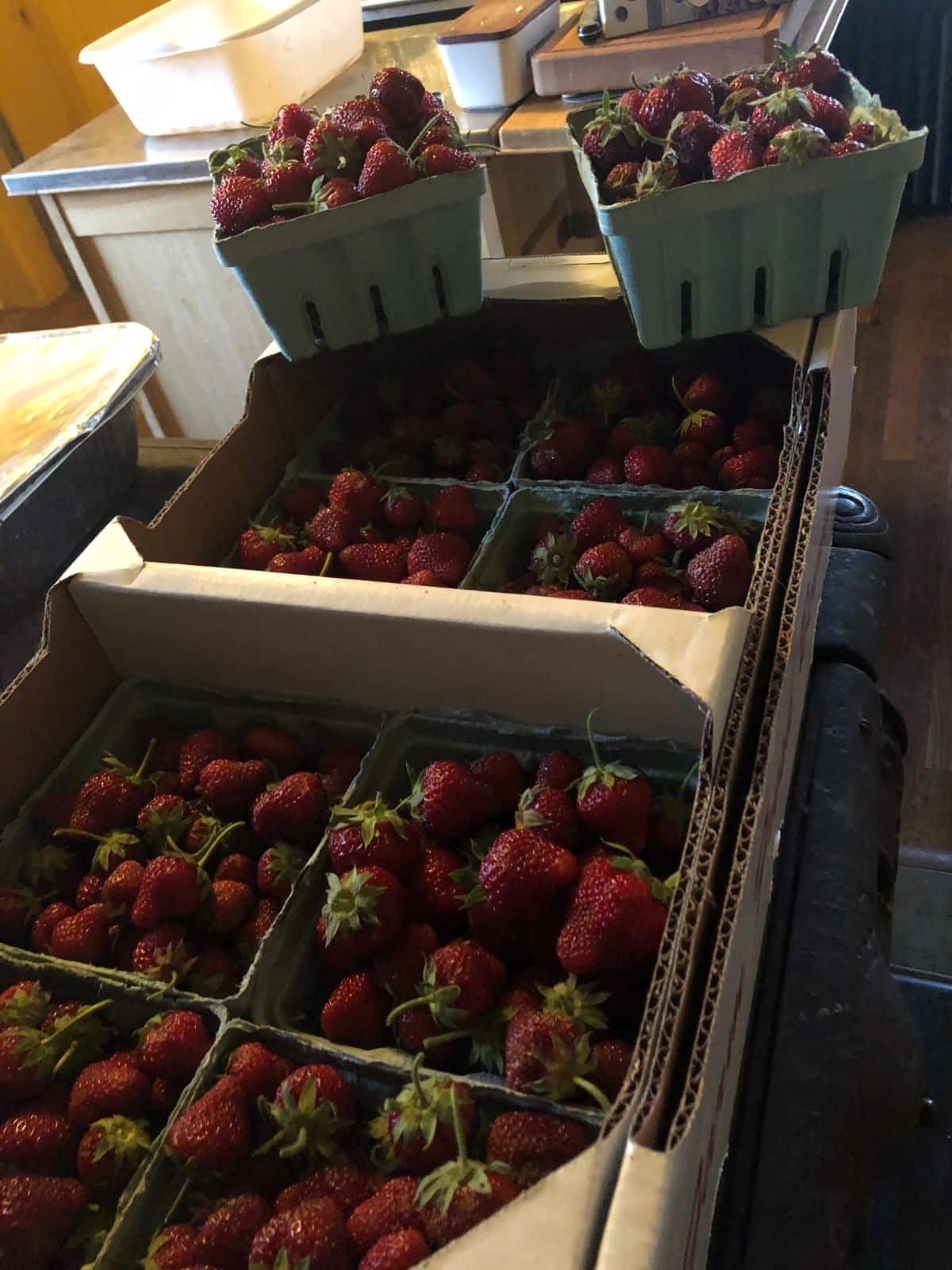 You should pick as much of the patch at each picking session as you can. This will ensure that you get most or all of the ripe berries without having half of them get overripe and going to waste. If you find it to be too much to pick your entire patch all in one session, alternate where you pick, but pick the patch in the same order. That way, you're sure to cover the entire patch regularly and not miss berries that will go to waste. You could pick one row one day, the second row the next, and then go back to row one on day three. Keep picking a row or a section every other day so you get the whole harvest in regularly.
15. Mark where you left off.
Use a small upright flag, thin stake, dowel, or something similar to mark where you stopped picking. When you come back to pick the next day, you'll know exactly where you should start again. This will help you keep the order and alternation of your patch going, will help you maximize harvesting, and will help keep your patch healthier overall. This is especially helpful if you invite other people in to pick your patch. Just tell them to start at the flag and work their way down the row.
16. Remove rotting or molding berries while you pick.
It's sad to find berries that got overripe, rotted, damaged, or are going to waste, but it happens to everyone. As you pick, pick these berries off the bush and discard them. That will keep them from spreading mold, moisture, and rot to other berries in the patch. The few extra seconds it takes to do this will benefit your patch and your harvest immensely.
17. Wait to wash.
Strawberries absorb moisture like a sponge. This can be moisture from the air or from water used for washing. Extra moisture speeds berry breakdown, invites mold and rot, and dilutes the flavor of the berries. Strawberries stay best when they are washed just before using, so wait to wash them until just before you are going to eat them or prep them for preserving.
18. Store properly until ready for eating or preserving.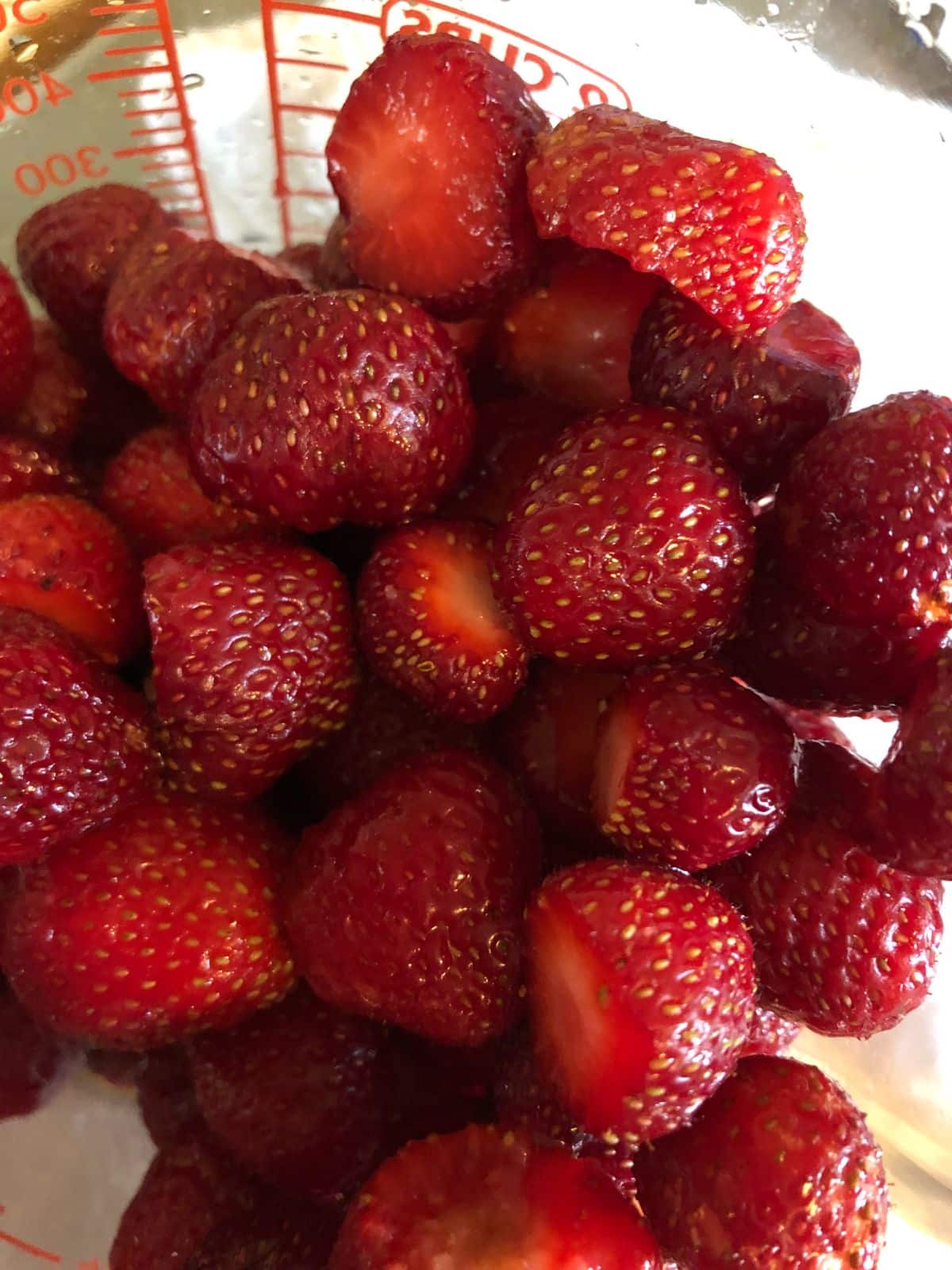 Strawberries will keep well in the refrigerator for at least three days, and up to about a week. If you need to keep your berries in the refrigerator, you should get them in the fridge as soon as possible. If you pick a large haul, such as at a pick your own patch or when your own strawberries are coming in fast and furious, refrigerator room may be at a premium. In this case, you can keep your freshly picked strawberries out on a counter for a day or two, but you should find a more permanent solution as soon as reasonably possible.
19. Use or preserve promptly.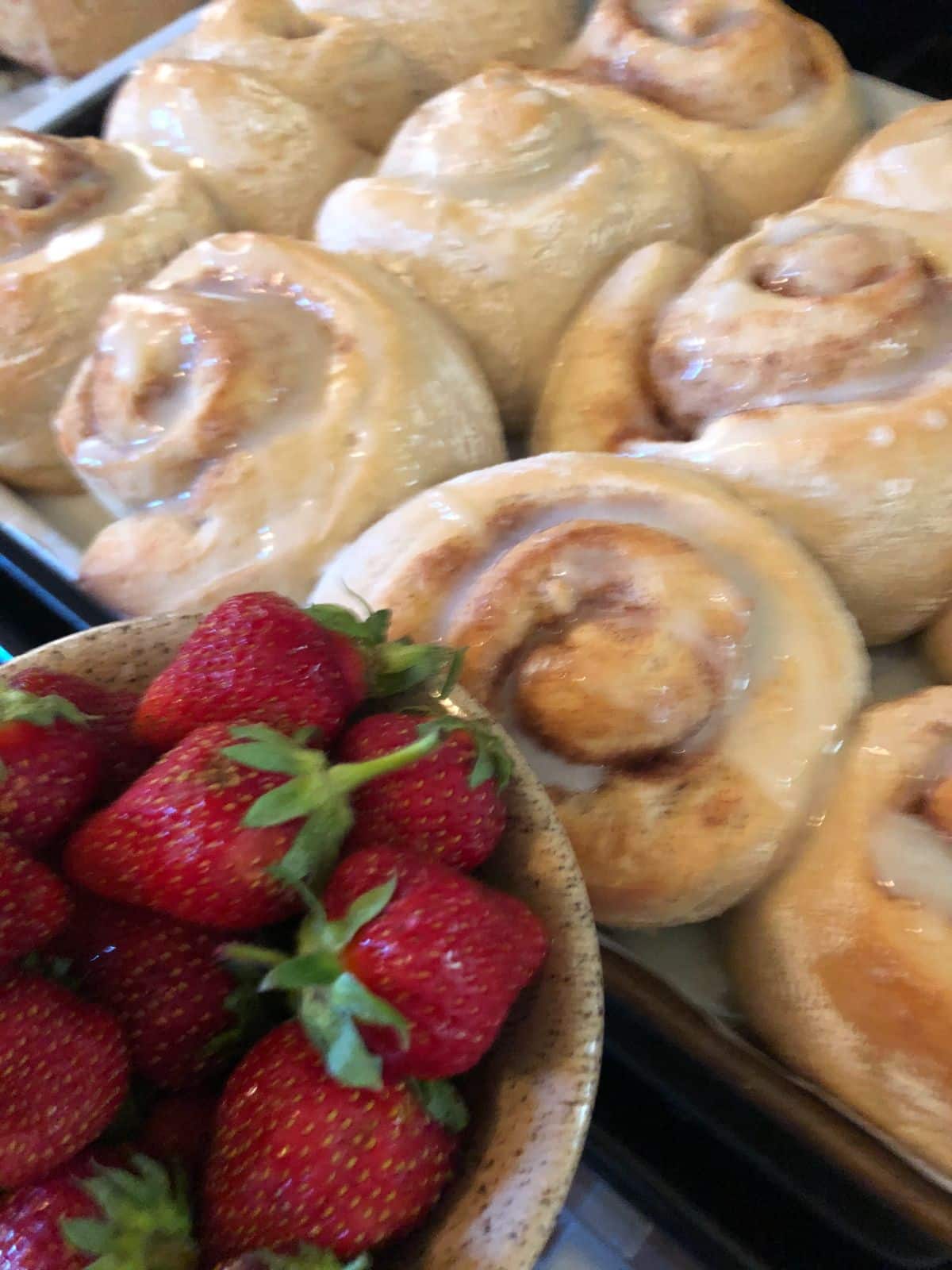 If you've ever wondered why your strawberries taste so good out in the patch and seem to have less flavor the next day, it's because of sugar conversion. After picking, strawberries start to convert their sugars into starch, and that causes them to be blander. Proper storage and faster use will conserve the flavor of your berries. Eat fresh, use in dishes, refrigerate, freeze, dehydrate, or preserve in the form of syrups, jams, or preserves as soon as you can after picking.
20. Be ready for your berries.
It may seem like it takes forever for strawberry season to get here, but once it does, the season—and the berries—come on fast and furiously. Before that day comes, put some thought into what you want to do with your berries. Prepare to preserve. Have your pectins, jars, baggies, equipment, and ingredients ready. If you're planning to dry some or all of your harvest, don't wait until the berries arrive to buy a dehydrator. You can easily waste precious time and strawberry quality by not being prepared to deal with your harvest. Your strawberries are far too precious a resource to waste! Maximize your harvest and enjoy these lovely fruits of your labor!