Most people who raise strawberries do not start them from seed. They buy strawberry plants from a local nursery or a mail-order nursery. They then receive, most often, dormant strawberry crowns that they quickly plant in their prepared beds, water them, and watch as the dormant strawberries spring forth into new life.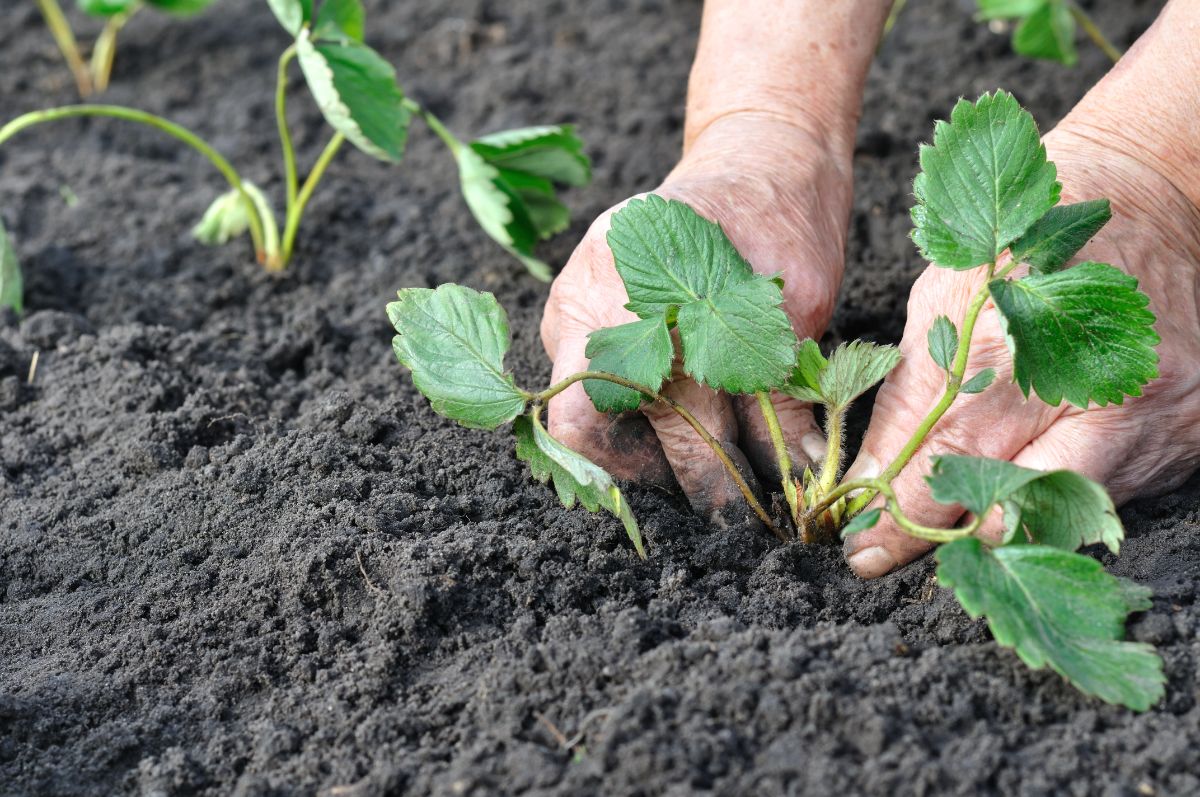 However, there are brave souls out there that want to begin the life cycle of their strawberries by germinating strawberry seeds and then coaxing the tiny seedlings to grow until they are ready to transplant. With all the TLC given to the tiny plants, it would be a shame to make a mortal mistake for them when they are finally sturdy enough to make the transition to the outside.

This post will help you successfully transplant strawberry plants that you have germinated. It is best to know what TO do and what NOT to do before risking potential damage or death to your fledgling shoots!
Jump to:
Handling Strawberry Seedlings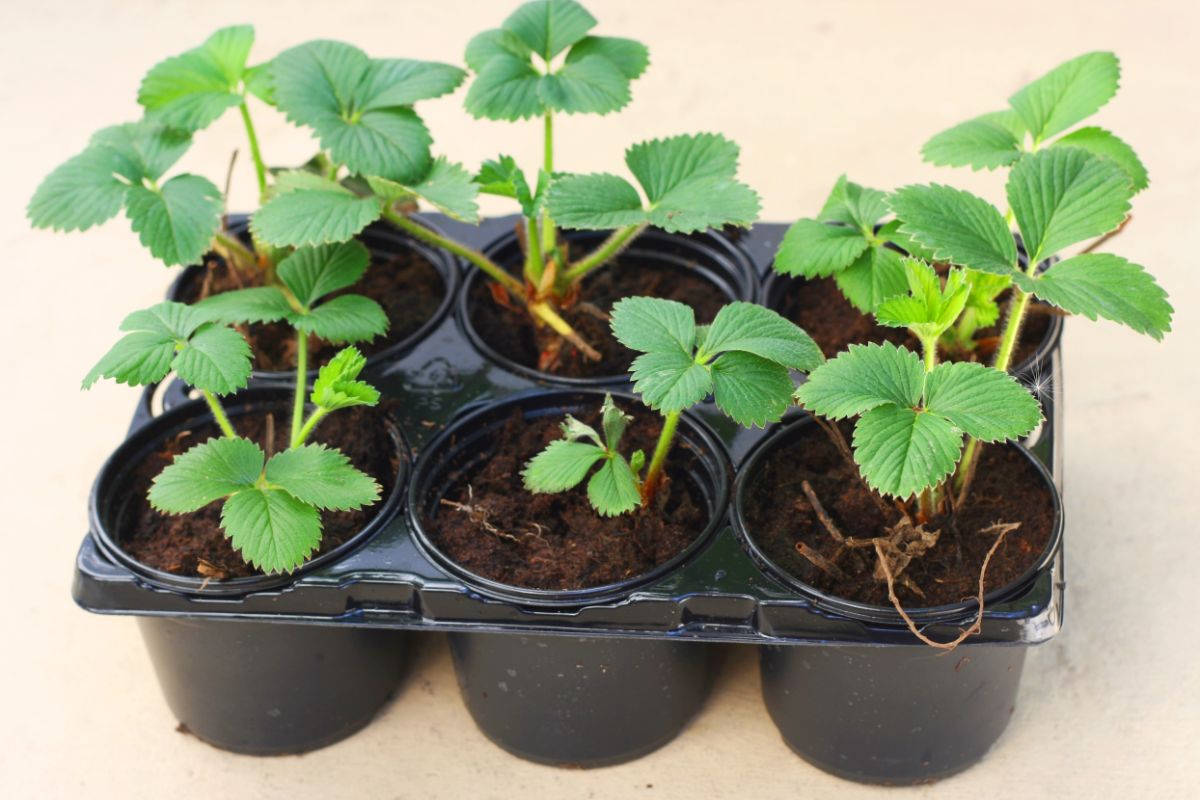 Strawberry seedlings grow from tiny strawberry seeds, and, consequently, begin their lives as very small plants. This makes them vulnerable to damage from the wind and elements, but it also makes rough handling a potentially deadly affair. So, before moving on, it is important to understand how to handle strawberry seedlings.
First, it is best not to handle them at all until they have grown from a sprout into a small plant with multiple leaflets. Then, if the seeds were planted in seed-starting mix or seed-starting trays, it is best to avoid touching the vegetative parts of the plants altogether. Loosen the edges of the root/soil ball and lift the entire plant by the compressed soil/roots or invert and tap the bottom of the container if it isn't fully loosened. If the vegetative matter must be touched, avoid touching the stem, if possible. Strawberry plants are forbs and do not have supportive woody tissue. So, undue pressure on the "stalks" holding the leaflets aloft can cause the entire 3-leaflet photosynthesis factory to be lost. It is better to be very gentle and lift by the actual leaflets, if they must be used. But, with strawberry seedlings, the development of the crown at the soil level (see the Strawberry Plant reference page for anatomy) is the most vital anatomical part, so don't fret too much if your strawberry seedling looses a leaf. What is often much more deadly than clumsy fingers is Mother Nature.
Hardening Strawberry Seedlings
Plants that are grown from seed are often started indoors. Strawberries are usually not an exception. Since they are most commonly started indoors, they must undergo a process called "hardening" or "hardening off" in order to be tough enough to survive the (sometimes brutal) transition from the sheltered life of indoor living to the "real world" outside in the garden or strawberry patch. To make the transition a successful one, follow these tips:
1. Be patient. The hardening process can take up to two weeks, so remember that slow and steady often wins the race.
2. Be considerate. Just like people are wont to do, strawberry seedlings get accustomed to their surroundings. Take the time to understand the conditions the plants enjoy and transition them to their new environment slowly. Strawberry plants are hardy and can adapt to many temperatures and most conditions, just not all at once. Set them out in the sun, wind, and elements gradually. Increase the amount of time your future producers are exposed each day before bringing them back into their comfortable lair. By the end of two weeks, they'll be ready to embrace their new home in the ground.
3. Choose the right conditions. Even if your strawberry seedlings are toughened up perfectly by the hardening off, it is still stressful to transition to a new home. So, pick a day to plant them when it is cloudy and overcast with fog and rain forecasted, if possible. If those ideal conditions aren't going to present themselves, decrease the amount of initial sun exposure by putting them in the ground in the late afternoon or evening.
4. Prepare the seedlings new home! The day before you are to plant, water the soil where they are to be planted well. This will provide appropriate moisture to make the new dirt occupants happy.
Planting Strawberry Seedlings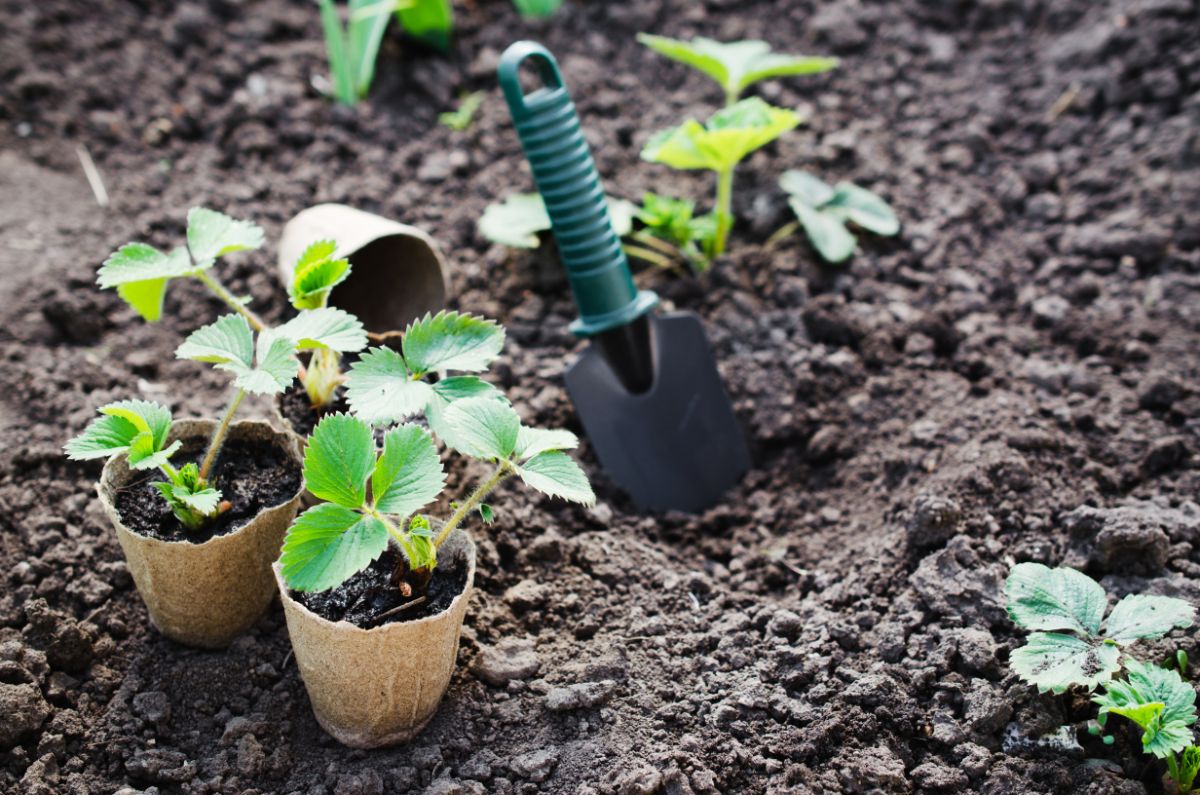 Once you have done the above, your strawberry seedlings are ready to be planted! When planting strawberry seedlings, be sure to keep them all in the shade until you are ready to put each one in the ground. Dig the hole first, remove the plant from its sprouting container, and put it in the ground so that the crown is at dirt-level (see the Growing Strawberries reference page for a diagram). If any roots are damaged, they can be carefully snipped with fine scissors or shears.
If your strawberry seedlings were planted and germinated in peat pots, cut an "X" in the bottom of the mesh with a sharp knife (be careful!) to allow the roots unobstructed passage from the germination medium into the surrounding soil environment. Once planted, remove any visible mesh material as it will serve as a wick to draw water out of the ground and may cause excess evaporative loss and dry soil.
Strawberry Seedlings: Conclusion
If you have never tried growing strawberries from seed, give it a try. It is rewarding to take a tiny seed and provide the needed care, nutrients, and wisdom to bring forth a fully viable strawberry plant that rewards your effort with a harvest of delicious strawberries! If you have decided to take the plunge and don't have a source for strawberry seeds, you can find them here: Strawberry Seeds for Sale.
Good luck!