Thrips and strawberry plants simply don't go well together.  Thrips are one of the devastating strawberry pests that afflict strawberry plantings and enrage gardeners.  If you are having difficulties with "something" damaging your strawberries, it just might be this common pest.
To most clearly communicate the nature of strawberry thrips and information regarding these insects, a question and answer format will be used.  For additional information on both strawberry pests and strawberry diseases, use the search function at the top right of Strawberry Plants .org.
How big are thrips?
Thrips are small.  They can range from 0.5 millimeters to 14 millimeters in length, but the average length is just over one millimeter (1/25 of an inch).  See the picture below for a scanning electron micrograph of a thrip.
What does thrip damage look like on strawberries?
Strawberries that have white discoloration on the berry's surface or golden-brown discoloration often are the result of damage done by thrips.  Strawberries contorted into odd, folded shapes (cat facing) often indicate thrips have been feeding as well.  When thrips feed on the strawberry flowers, poor quality fruit is usually the result.
When do thrips do the most damage?
Thrips can do damage during most of the season.  However, their populations tend to increase rapidly during the mid- to late summer.
What type of strawberry plants are most damaged?
Thrips will do damage to any type of strawberry plant.  However, since everbearing strawberries tend to produce a significant crop later in the season (see the Strawberry Varieties page for more details), and since thrip populations boom during the mid- to late summer, they are more affected than are June-bearers.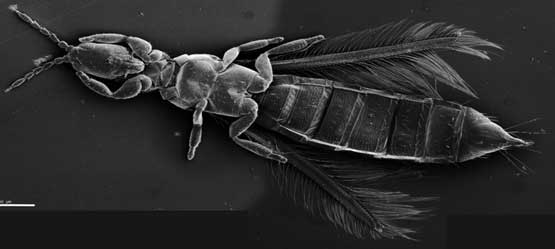 The bottom line is that thrips are bad news.  If you see bugs like the one above, it is likely that your strawberry plants are going to be food for the creepy-crawlies.