Have you ever seen those hideous, misshaped strawberries? If so, you might have wondered what causes deformed strawberries to be that way. Well, Strawberry Plants .org is dedicated to bringing light to all things related to the strawberry plant. And, unfortunately, deformed strawberries are a fact of life.
Hopefully, with the information contained within this post, you will never have to deal with your own mutant strawberries. Who wants to eat hideous fruit when nice, red, symmetrical fruit can be had? But, if you find yourself out in the strawberry bed picking your own deformed strawberries, here is what you need to know:
Jump to:
What Are Deformed Strawberries Called?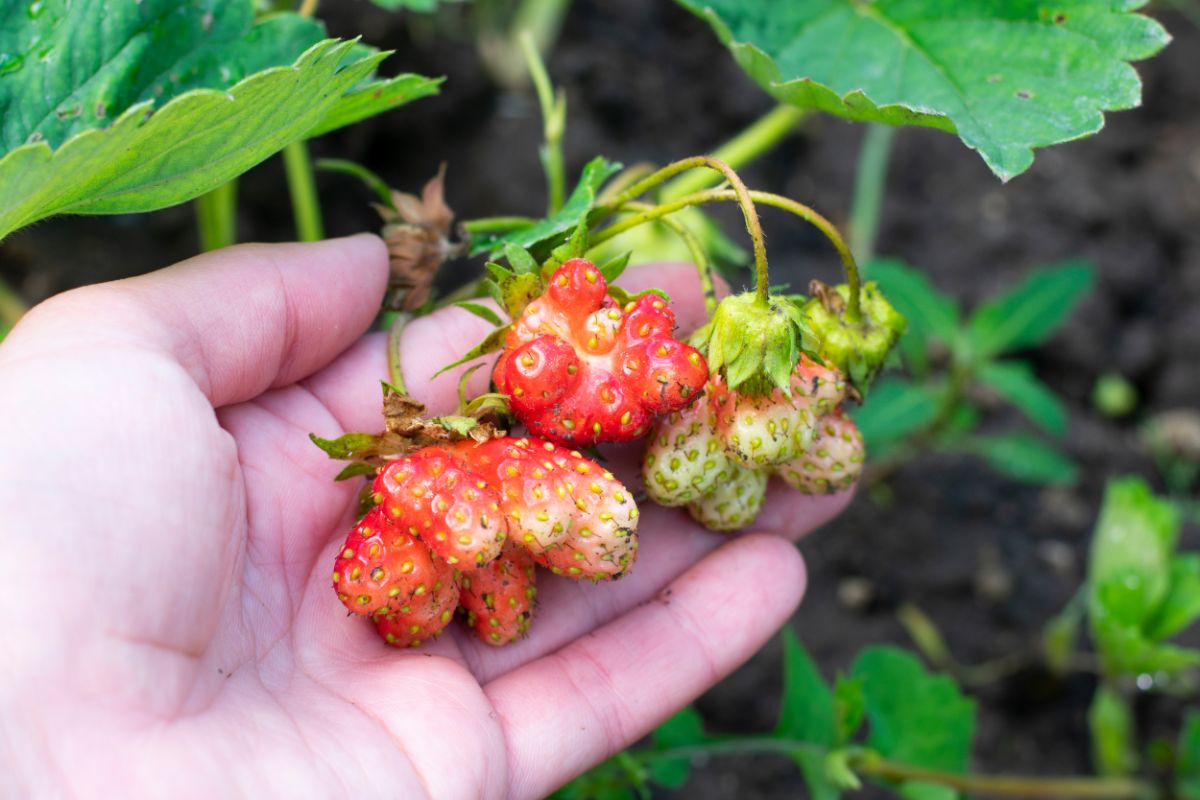 There are different names for a deformed strawberry. The most common two names for such berries are "nubbins" and "button berries." Of course, the more generic adjectives are also often applied: mutant strawberries, deformed strawberries, runt strawberries, monster strawberries, etc.
What Causes Deformed Strawberries?
There are two main types of misshapened strawberries. The nubbins and button berries are the first type. The second type is referred to as cockscomb strawberries or fasciated strawberries. Each type of deformity is caused by different agents and can be lumped together in general groups. The button strawberries or nubbins are caused by external damaging agents, while the other deformities are more benign.
Nubbins and button strawberries are caused by external, usually damaging agents. Feeding by tarnished plant bugs or certain types of mites will cause them. Cold injury (specifically frost damage to the pistillate part of the flower) and nutrient deficiencies (particularly a lack of calcium or boron) will cause deformed strawberries to form. Additionally, inadequate pollination can result in poorly formed strawberries. Another cause for the formation of nubbins is very hot temperatures (the high temperatures damage the pollen viability). And, lastly, the application of the 2,4-D amine formulated weed killer (Amine 4), which is commonly used in the first step of traditional strawberry renovation, can cause deformed berries if sprayed while fruit buds are forming during the months of August and September.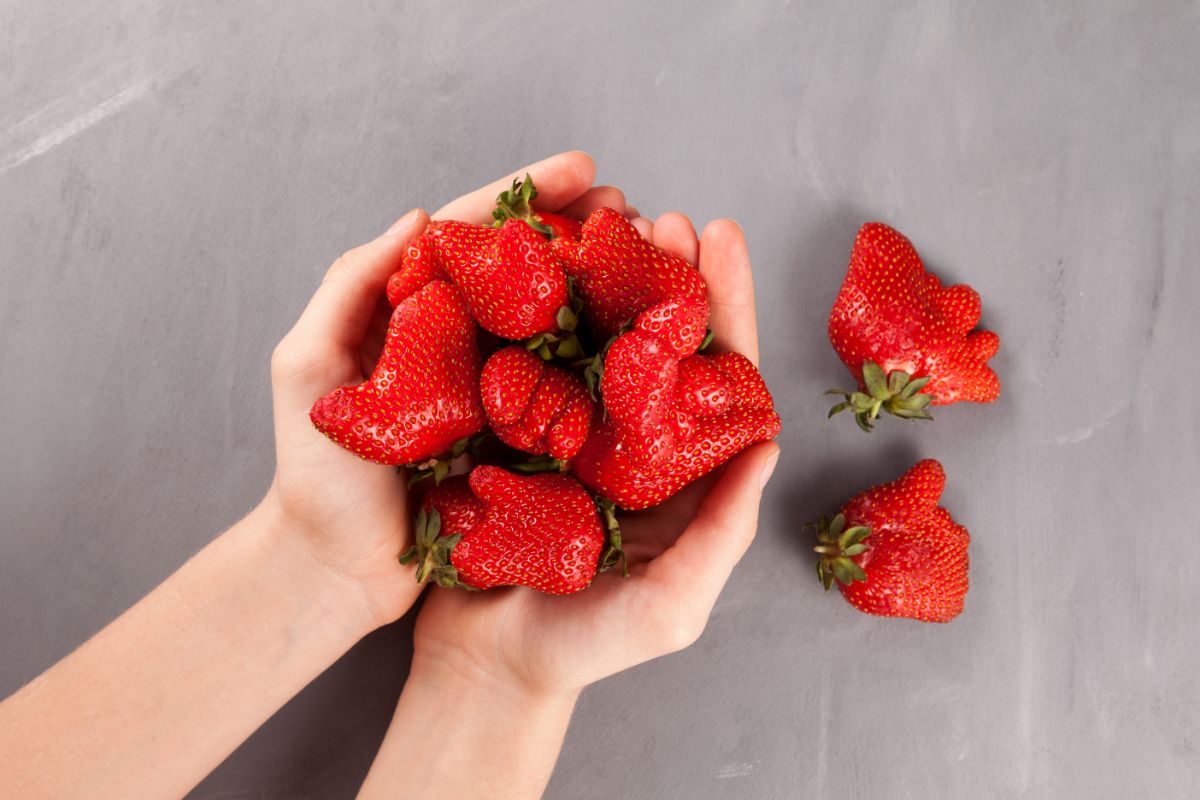 The other type of deformed strawberries have a cockscomb or fasciated appearance, hence their name. Fasciated strawberries and cockscomb strawberries look like several strawberries have fused and grown together as a single fruit with multiple points. This deformity is usually caused by either short daylight intervals or cold, dry weather during the fall. Often, the deformed strawberries are produced on strawberry plants when varieties developed and adapted for northern growing are instead grown in southern regions.
Deformed Strawberries: Conclusion
No one wants to grow deformed strawberries. But, occasionally, the dream of harvesting bushels of bright red, perfectly-shaped strawberries dies a cruel death on the rocks of reality. If you find yourself plucking puny and puckered fruits, evaluate the conditions in which the strawberries are grown. You may have a pest infestation or soil deficiencies. Or, you may have simply planted a cultivar that is ill-suited to your location. For each problem, there are usually steps that can be taken to remedy the problem that is causing your deformed strawberries. A good place to begin for information on successful strawberry cultivation is the Growing Strawberries page.