Strawberry flowers are the means by which strawberry plants ultimately produce fruit. But, they are tremendously intricate. The basics of strawberry flowers will be briefly discussed here, including how they grow from strawberry plants and what to do with them (and when).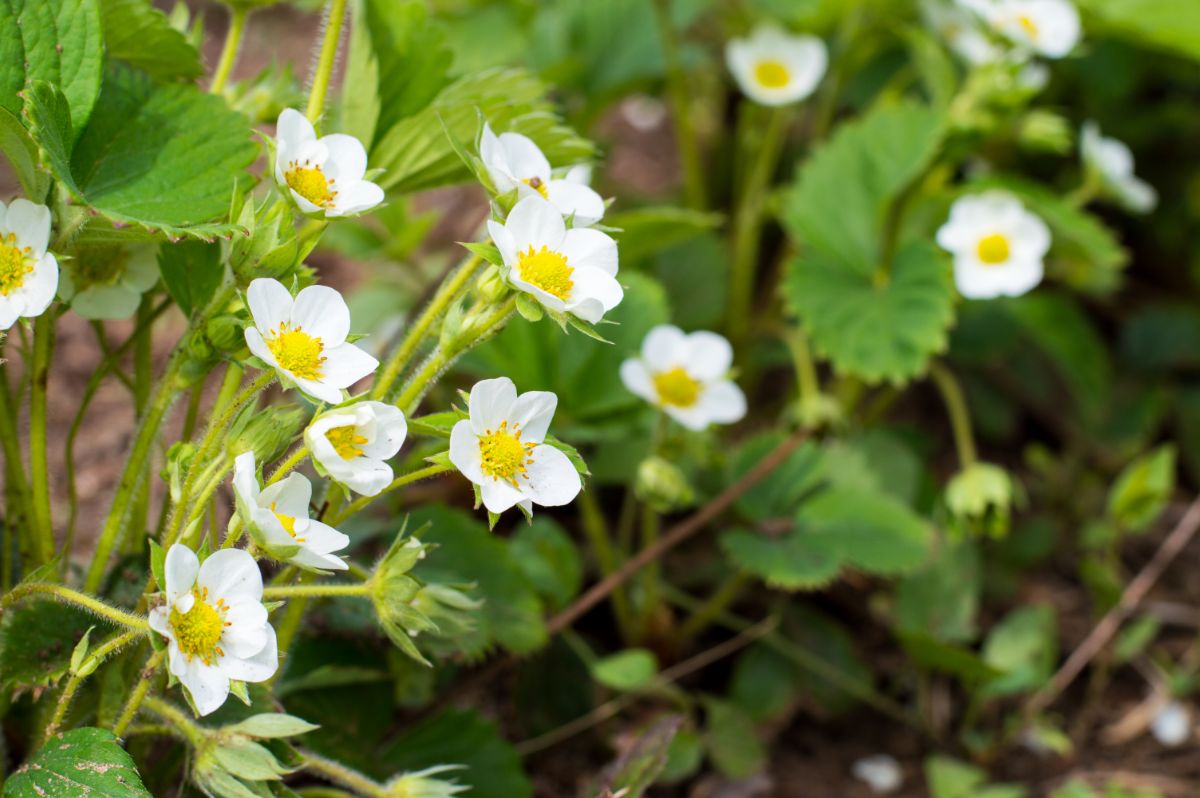 Jump to:
Origins of Strawberry Flowers
Strawberry flowers have an interesting life. Different types of strawberry plants produce them at different times. But, since the June-bearing strawberry has captured the hearts and minds of most gardeners who plant strawberry plants, its flowers will be the focus of this post.
June-bearing strawberries produce a single crop of strawberries over two to three weeks during the late spring or early summer (sometimes earlier), usually around June (see the Strawberry Varieties page for more details). Like most fruit, strawberries come from the delicate flowers that each strawberry plant produces. However, the small strawberry flowers that strut their stuff in the spring begin their life much earlier.
Strawberry flowers originate in the crowns of strawberry plants. Many months before the flowers emerge an grow upward, they begin their life as tiny flower buds within a strawberry plant. This bud formation is critical for next year's crop and occurs after the harvest is completed. After harvest and renovation (see the Growing Strawberries page for more details), the flower buds begin to form toward the end of summer or early fall.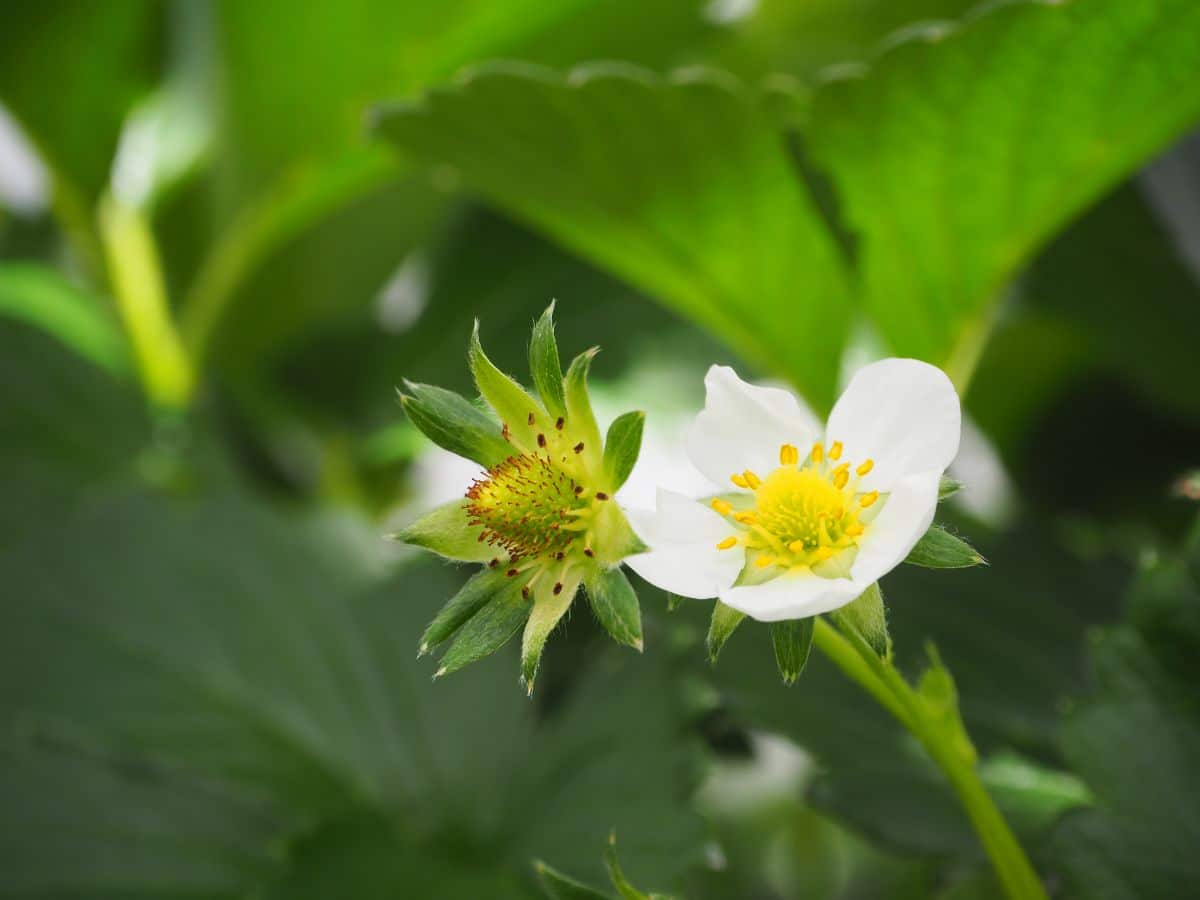 In order for the strawberry flowers to be generated as strawberry flower buds, the plant needs to continue to be well-tended. If water is not adequate during the period of strawberry flower bud formation, fewer buds will form. Consequently, the following spring's harvest will be significantly reduced. If the strawberry plants are well-tended, the strawberry flower buds should form, go dormant during the winter, and then burst forth again in the spring. And, the more flowers there are, the more fruit you can harvest!
What Do You Do with Strawberry Flowers?
For June-bearing strawberries, special attention should be paid to the strawberry plant's flowers. Generally, if you order strawberry plants online, they will be shipped to you in the spring. Once received, they should be planted as soon as possible. But, if they were bare-root strawberry plants or strawberry crowns only, it is going to take them some time to establish themselves.
The plants don't realize this of course, and will try to produce strawberries by sending forth their flowers. This is not good for the plants or the harvest. The already-weakened plants need all the energy they can muster to take root and make a new home. If they expend the energy on berry production, they will not establish themselves well. This can compromise the plant's future production as well. Additionally, since the just-shipped plants are weak anyway, they have less energy to devote to strawberry production. This results in smaller, puny strawberries in the same year you order and plant new strawberry plants.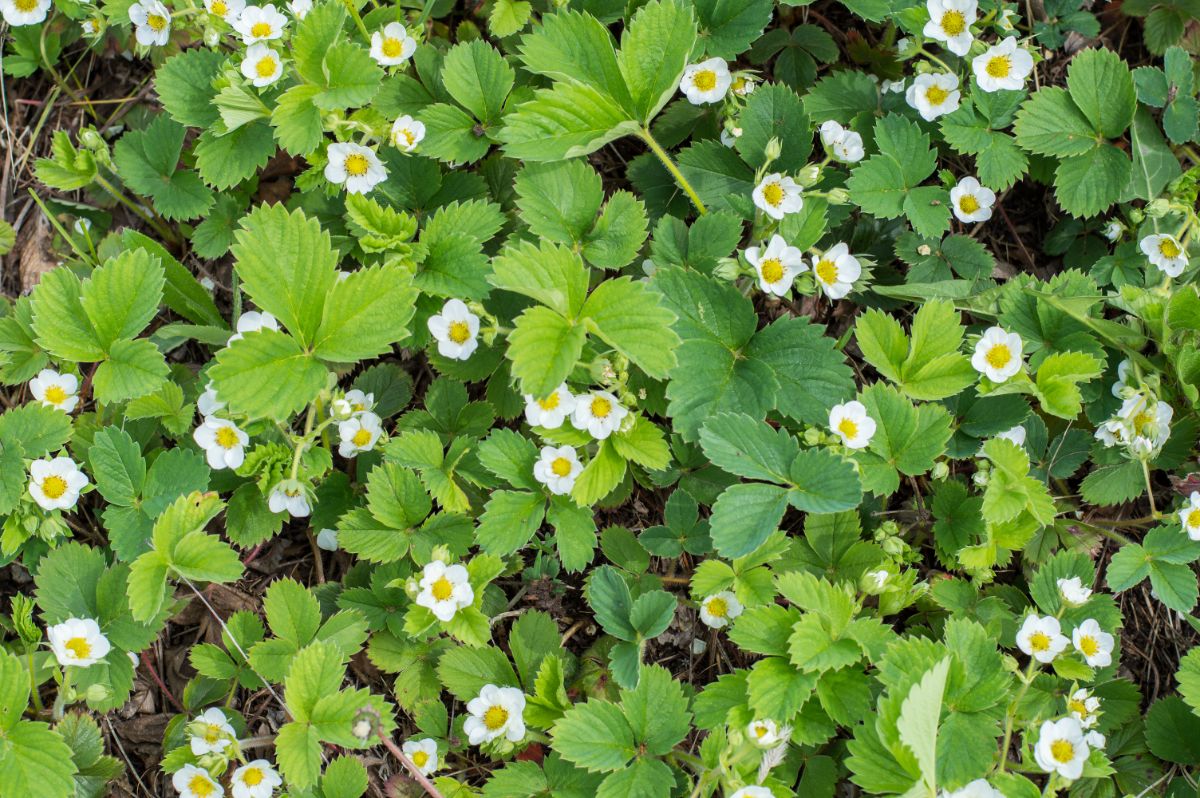 The solution is to pinch off or cut off all flowers from every new strawberry plant for the first growing season, allowing the strawberry plants to root and grow without distraction. Simply check the plants once a week and remove any flowers you find. Most June-bearing strawberries will be completely done producing flowers sometime in July (usually early July). Although not specifically addressing day-neutral or everbearing strawberry varieties here, new plants of each of those types should have their blossoms removed until early July also. However, after July, any strawberry flowers that bloom can be left to develop into strawberries.
Strawberry Flower Variability
Strawberry flowers are not all identical. Different varieties have different numbers of petals and relative positions of their strawberry flowers. Some hybrid strawberry plants even have flowers that are pink or other colors. However, all strawberries have flowers. Most strawberry flowers will have 6 petals, but anywhere from 5 to 8 petals on a strawberry flower is not uncommon.
There is also variability among strawberry plants when it comes to the position of the strawberry flowers in relation to the foliage. It is very common for the level of the strawberry flower to be even with the foliage or exposed by protruding past the foliage. It is relatively uncommon for the flowers to be below leaf level. Of course, once the heavy strawberries begin to form and ripen, their weight pulls them to closer to the ground.
Protecting Strawberry Flowers
The flowers of strawberries need particular attention during two time periods. First, they need extra care during the formation of strawberry flower buds. As mentioned above, the strawberry plants need an attentive gardener to ensure that conditions are optimal for bud formation. Good care during strawberry flower bud formation yields better harvests the next year.
Strawberry flowers also need protection in the spring. Strawberry flowers are rather delicate and can succumb to frosts. So, special attention should be given to the weather forecast so that the strawberry plants and flowers can be protected from the cold.
Strawberry Flowers: Conclusion
The strawberry flower is a small wonder that turns into a wonderful delight by June. Without strawberry flowers, there would be no strawberries, so be sure to care for yours! You'll reap the benefits of your vigilance. For more information on strawberry plants, visit the Strawberry Plant page.