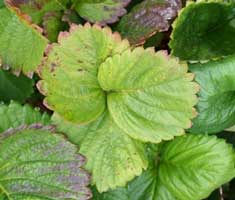 Nitrogen deficiency in strawberry plants can cause rather significant problems for the longevity and vitality of strawberry patch.  If your soil is low in nitrogen, you can expect consequences.  This post will cover the basics of what to look for to determine whether or not your strawberries lack sufficient nitrogen-containing soil for optimal health and vigor.
What Indicates Nitrogen Deficiency in Strawberries?
In order to confirm nitrogen deficiency in strawberry plants, one ultimately must take a few tissue samples from affected leaflets that are "middle aged."  The leaflets that must be sampled cannot be the old ones toward the bottom of the plant or the new, bright green ones emerging from the crown.
Once samples are collected, they must be tested for average composition.  The baseline measurement for nitrogen sufficiency is 2.6% to 2.8%.  Should the measured percent composition of nitrogen be below 2.6% for the tested sample, it is very likely that the soil is nitrogen deficient, resulting in less-than-acceptable levels of nitrogen in the foliage tissue of the strawberry plants.