Winterizing strawberry plants is necessary for gardeners in many areas. As the temperatures drop each year, people write in asking when and how to winterize strawberry plants. This post will cover the basics and help you determine how and when to protect your strawberry plants as the weather cools.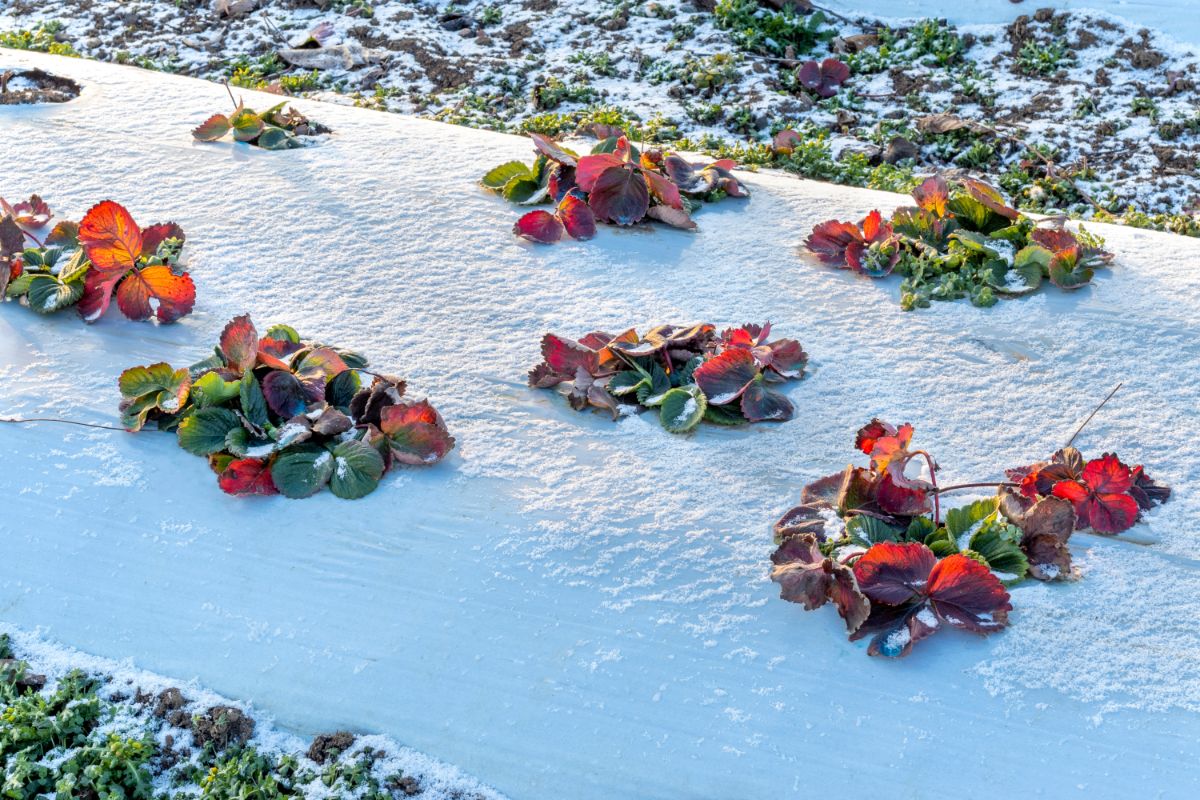 Jump to:
Why Winterize Strawberries?
Strawberry plants are perennial. They produce for many years after the initial planting, and they can thrive for very long periods if a rotation is used to keep plants fresh. But, there is a problem with perennial plants. How do they survive the freezing temperatures of the winter months? Well, strawberries are classified as forbs. Consequently, they don't have the thick bark that protects many other perennials like most trees. If they don't get extra protection (at least in the colder Zones), they will either die or suffer cold injury. Both death and injury can significantly hamper your plants' ability to grow strawberries for you!
Simply put, you need to winterize strawberries to keep them alive and well.
When Is the Right Time to Winterize Strawberry Plants?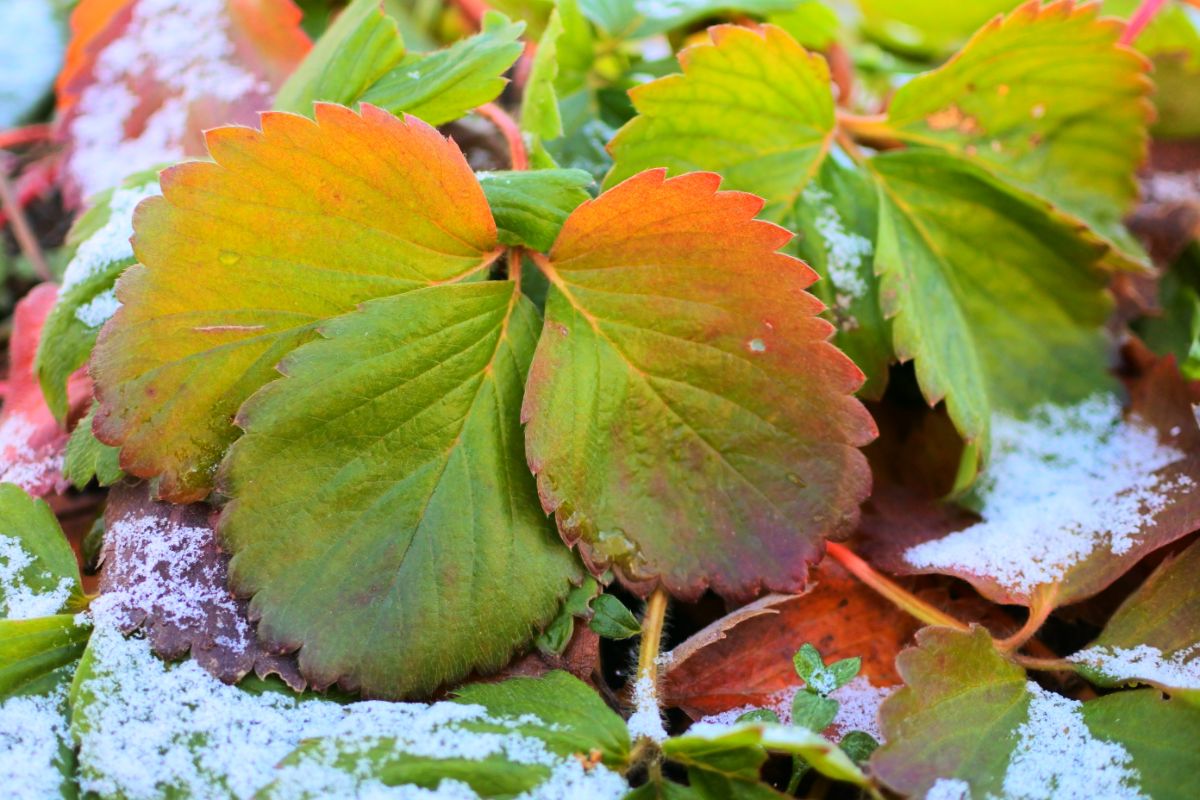 Strawberry plants should be winterized when they have entered dormancy and the temperature threatens to get cold enough to damage them. The time when strawberry plants go dormant varies. It depends upon the temperature and daylight in your location. As the days shorten in the fall, strawberry plants begin to march toward dormancy. Yet, it isn't until the temperatures drop well below freezing for several nights in a row that the plants will actually begin their slumber.
For USDA Hardiness Zones 5 or lower (4, 3, etc.), plants will often enter dormancy by the end of November. For Zones 6 through 8, the plants will usually go dormant in December. You know the plants have gone dormant when you have a combination of cold temperatures and plants with dead-looking, wilted vegetation. If winterizing strawberry plants in mild winters, they will often live without any mulch or special winter care in Zones 7 and higher (8, 9).
How to Winterize Strawberry Plants in the Ground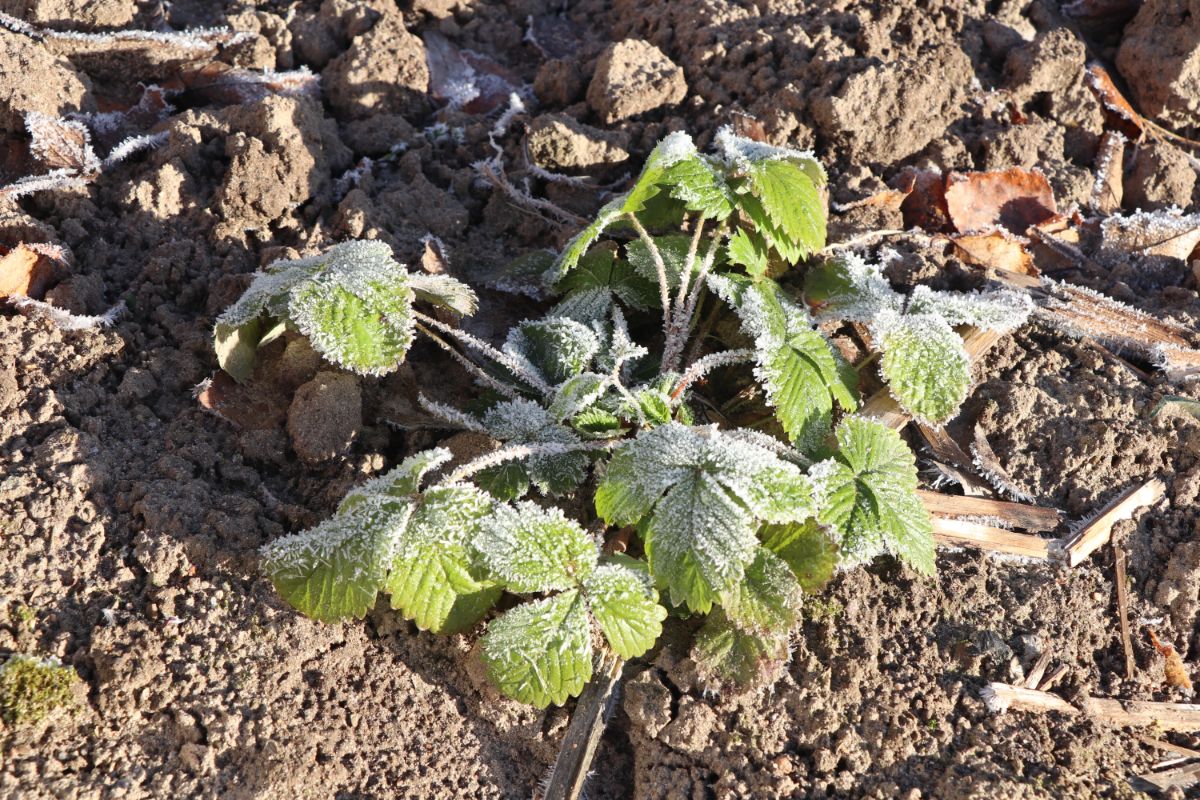 First, ensure that the plants are truly dormant by checking the crowns to make certain there is no active new growth growing. Then, gently remove all the dead and wilted leaflets by carefully raking them out of your strawberry patch. Next, clear any accumulated leaves or debris from the strawberry beds. Finally, place a thick layer of a suitable mulch over the strawberry plants. The lower your USDA Hardiness Zone, the higher you need to pile the mulch. Any material that allows water to drain and air to circulate is an acceptable mulch. The most common, of course, is clean straw. Pine needles is also a good choice. Hay can be used, but it isn't the best option. Hay almost always has loads of grass seeds and other weed seeds that will find a happy home alongside your strawberries making much more work for you when spring comes. Mulches that compact tightly or do not allow airflow are not appropriate for winterizing strawberry plants. Leaves, for example, will trap moisture. Wet, clumpy mulches will harbor pathogenic fungi and bacteria that can damage or kill or your strawberry plants, if they aren't suffocated outright by a compressed mulch mat.
How to Winterize Potted Strawberry Plants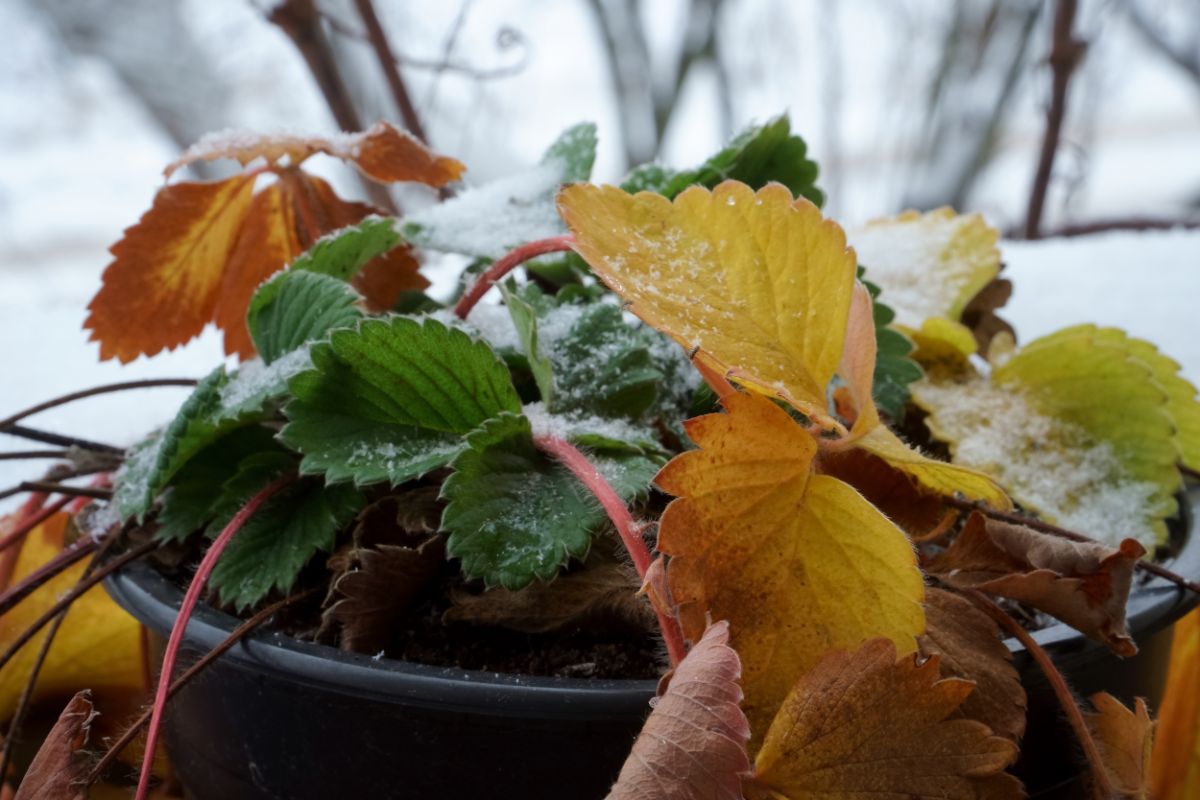 Potted strawberry plants are a little bit more difficult to care for because they are a little bit more vulnerable than in-ground plants. The soil in pots is quicker to freeze than the better-insulated soil of Terra Firma. Winterizing strawberry plants in containers can be done several ways, depending on how much effort you wish to expend.
Winterize Potted Strawberries in the Ground
If the ground isn't already frozen when you decide to prepare your plants for winter (it should not be!), you can overwinter your strawberry plants in the ground. If you have a spare area, simply dig pot-sized holes and place the pots containing your dormant strawberry plants in them. Pack the dirt down around the sides of the pot tightly to simulate a natural planting and provide insulation. Then, mulch them just like you would if they were actually in-ground plantings. In the spring after the danger of cold injury has past, pull the pots up, wipe them off, and re-place or re-hang them in their designated places. If this method is too much work or is impossible…
Use Ambient Heat to Protect Potted Strawberry Plants
If your home is situated so that it has a side sheltered from the harshest winter weather, utilize it to help protect your strawberries. Homes are not perfectly insulated. If you heat your home, a lot of that heat is going to be lost through the walls during the winter. Placing your strawberry plants in containers along the wall of your home on the most sheltered side can keep them happy all winter in milder Zones. It is a good idea to mulch these plants as well. This is one of the easier ways to go about winterizing strawberry plants in pots!
Overwinter Strawberry Plants in the Garage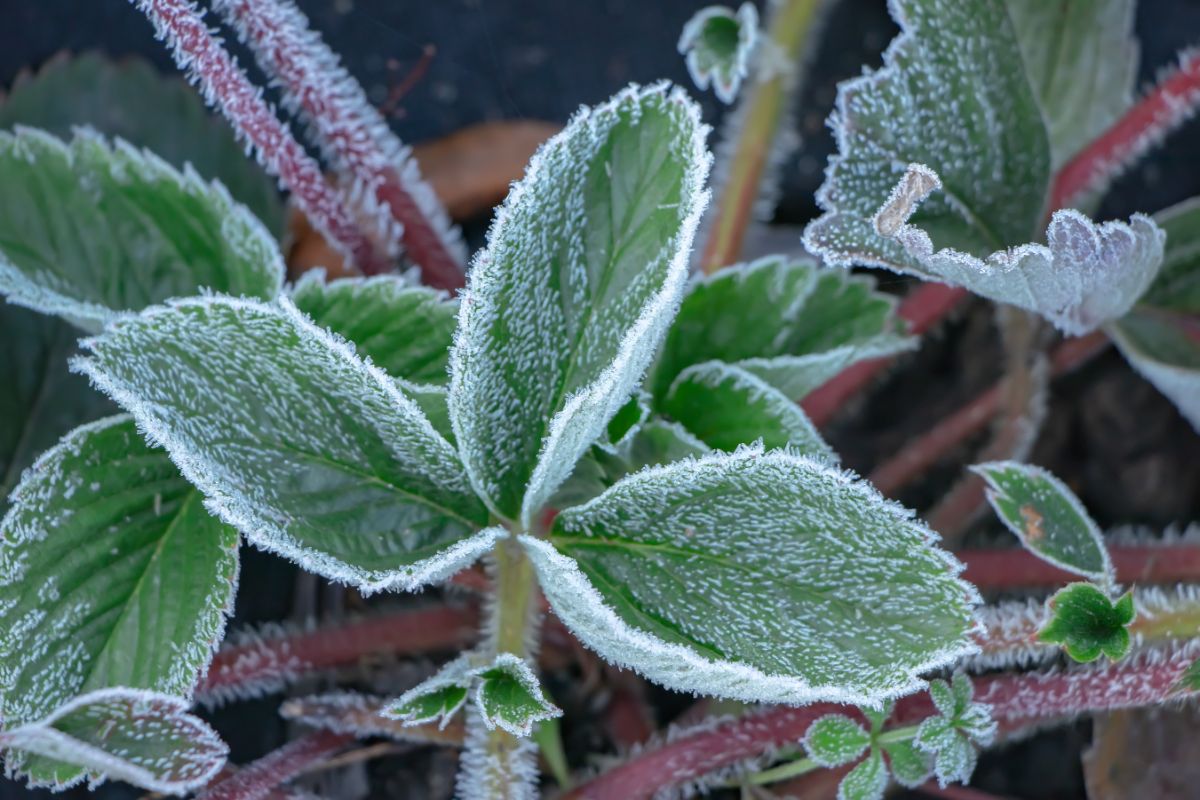 If you have an unheated garage, you can winterize strawberry plants in it as well. You typically don't have to mulch them in a garage, but you do want to have them against an inner wall (to utilize the ambient heat) if you live in very cold locations. If you don't, it can actually be best to keep them by an outer, unheated wall as long as the temperature inside the garage doesn't get much below the upper 20s.
Strawberry plants require water over the winter, however. So, be sure to check the soil moisture levels. If the soil drys completely out, the plants will die. If the soil stays soggy, they will probably die as well. Water just enough each week to keep the soil slightly damp. An easy way to achieve an appropriate level of moisture is to place a handful of snow (if available) on each potted strawberry plant once a week. The snow gradually melts and keeps the soil moist, but not soggy.
Winterizing Strawberry Plants in Non-Standard Containers
Most people plant strawberries in pots. But, lots of people use other methods as well. Strawberry pyramids and tires and cinder block plantings can generally be treated like plants in the ground (just mulch a bit extra due to the greater surface area exposed to wind). Overwintering strawberry towers or winterizing strawberry plants planted in gutters or pipe systems is more difficult. If the strawberry towers or gutters/pipes can be moved into the garage or other similar shelter, they will often do better than if left suspended above the ground and exposed to all the harshest weather winter can throw at them. If that isn't possible, one option is to wrap the containers in an insulating-yet-breathable material (like burlap) after dormancy has arrived. Several layers will need to be applied to offer sufficient protection, so it is also necessary to check the soil to ensure it remains moist. That may involve unwrapping and re-wrapping several times during the winter (which is a frozen pain in the fingers). But, if you live in colder Zones, it has to be done if you want happy and productive plants in the spring.
Winterizing Strawberries: Conclusion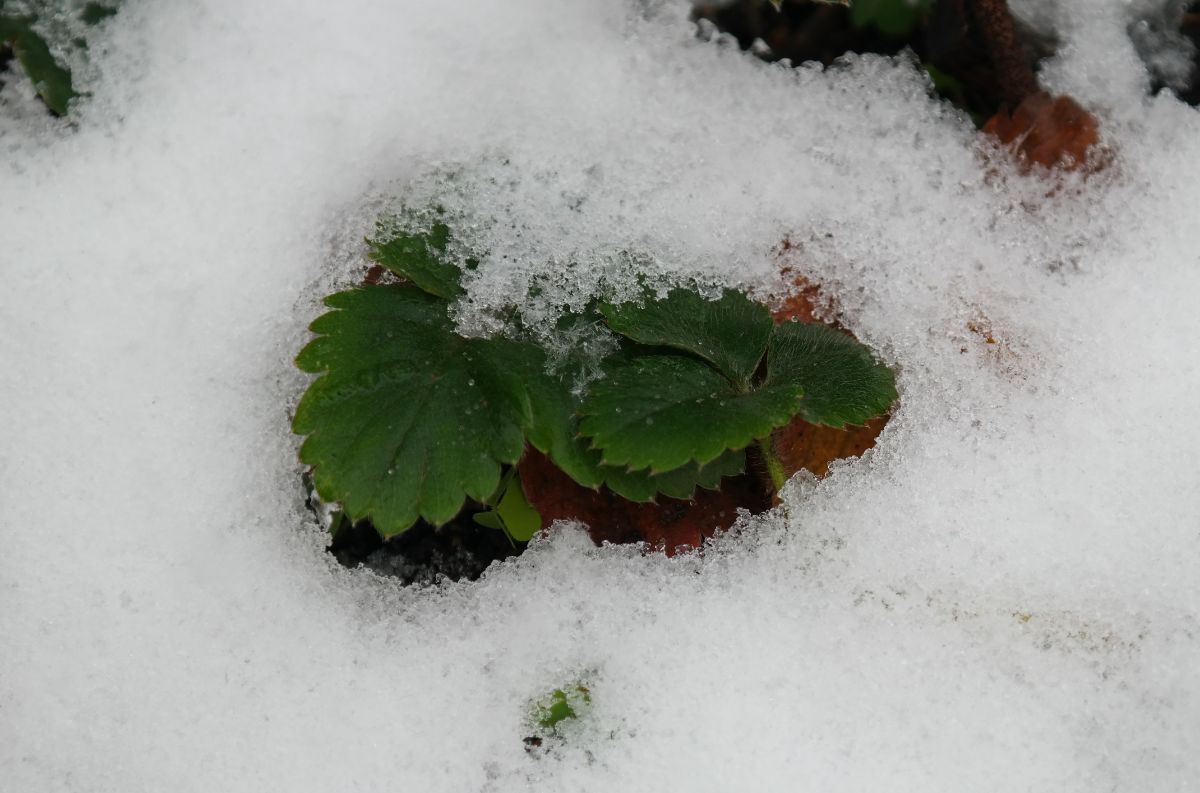 Regardless of how you accomplish the task, most people will have to protect their strawberries in some way over the winter months. Cold injury is particularly problematic for strawberry plants since they produce fruit by means of perennating buds. In short, the flowers that become strawberries aren't formed in the spring. They get their start during the waning warm days of the previous year in the form of flower buds in the crown of the strawberry plant. If strawberry plants have poor care or nutrition during the end of August, September, and October, they won't form many buds. If the plants suffer cold injury, the buds are be damaged. When the buds are damaged by the winter weather, no flowers are produced when spring rolls around. And everyone knows that no flowers means no strawberries.
So, pay attention to your plants in the fall. And, protect them through the winter by appropriately winterizing strawberry plants. Then, when spring arrives, you'll be harvesting heaps of delightful and delicious strawberries! If you want to see more, follow up with: Strawberry Flowers and Overwintering Strawberries. Good luck!
Learn more:
Growing Strawberries in Cold Weather
Fall Strawberry Plants
Strawberry Plants and Cold Injury