A common complaint of new strawberry growers is that their strawberry plants aren't producing strawberries. They have planted them, provided them tender loving care, and waited expectantly for them to return the "love" by setting a harvest of nice, plump, juicy strawberries.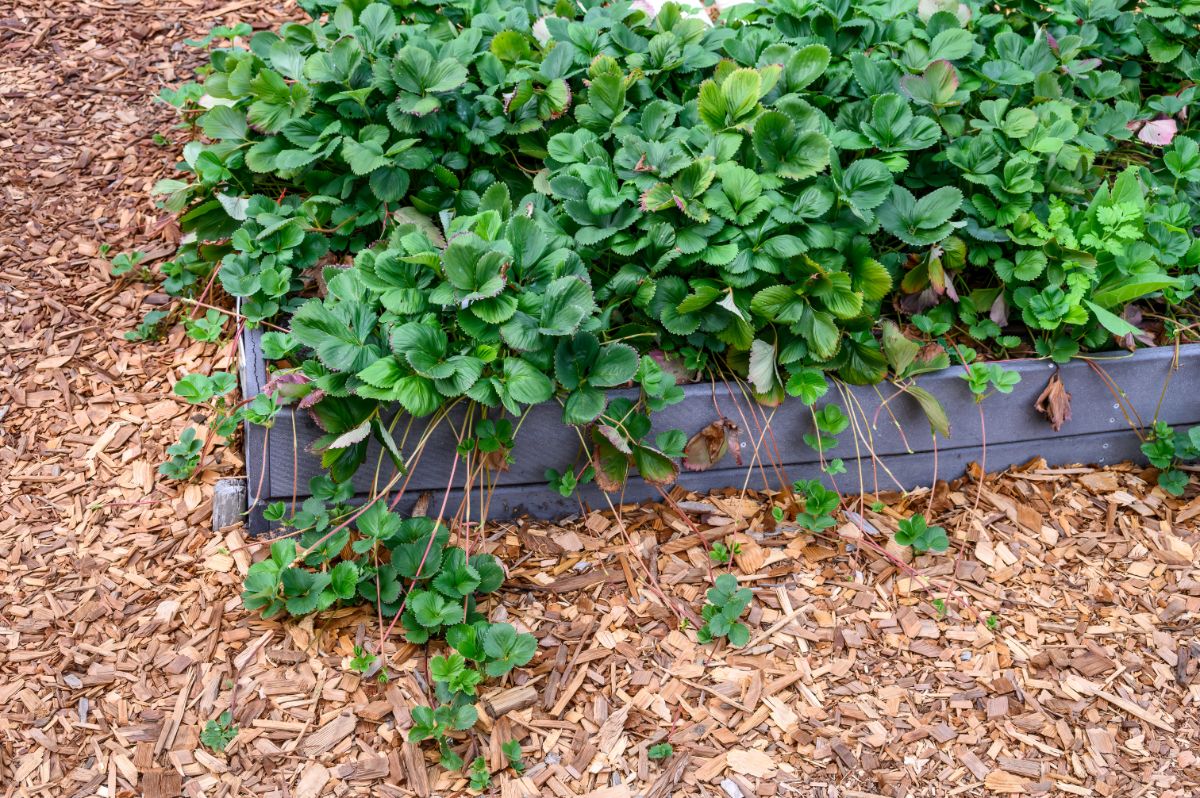 And then no strawberries come. You may have lots of leafy greens and too many strawberry runners shooting out to count, but the strawberries themselves are sadly absent.
Here are the top 10 reasons your strawberry plants aren't producing strawberries. It is likely that your situation will fall into one of these:
Jump to:
10 Reasons Strawberry Plants Don't Produce Strawberries
1. Strawberry plants are too young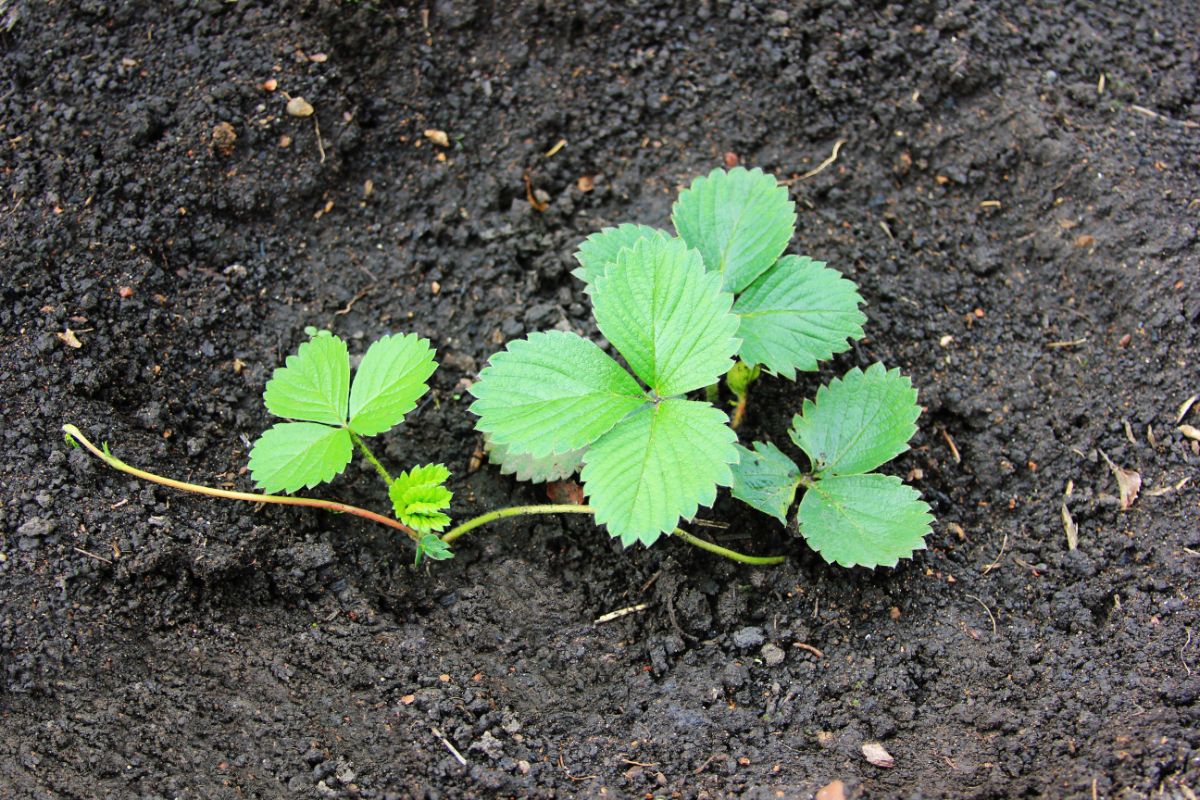 June-bearing strawberry plants will often produce few or no strawberries in the first year they are planted. This is, in fact good for the long-term health of your plants and strawberry bed. The energy that goes into a strawberry is not insignificant for a young strawberry plant. Since strawberries are perennials that will produce a crop year after year, the best use of developmental energy is in establishing a strong, healthy root system and flower buds within the crown. The better root system will exponentially increase the nutrient uptake for the second year. And, those roots will be needed as the flower buds will turn into flowers that will turn into strawberries in year two. This is why it is important to pinch off strawberry flowers in year one as described on the Growing Strawberries page. Doing this in year one allows development of more buds and better roots. This makes the plant healthy. The healthy plant will then set a much larger harvest than it otherwise would without them.
2. Your strawberry plants have diseases or parasites or both
There are a host of strawberry pests and pathogens that literally suck the life out of strawberries. In fact, you can view the most common ones on the Strawberry Plant page. If your strawberries have an infection or infestation, they may simply be too sick to produce strawberries.
3. Your strawberries are thirsty (or drowning)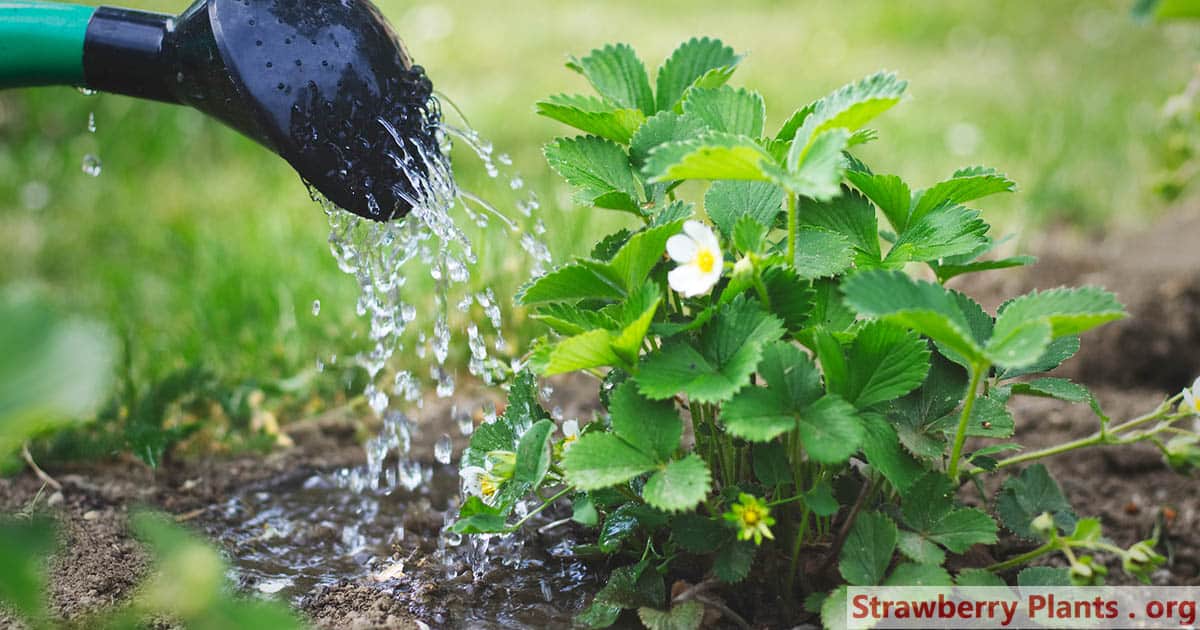 Strawberries can be finicky when it comes to their water requirements. They have relatively shallow root systems. This causes them to absorb the vast majority of their water from the top several inches of soil. This is also the soil that dries out most quickly when the temperatures rise. Since strawberry plants require a significant and steady amount of water (see the Growing Strawberries page, linked above) to produce best, constant drying out of the top layers of soil can cause the plants to go into "survival mode." They don't produce many or good quality strawberries in dry dirt (if they survive). Additionally, too much watering will halt plant growth and strawberry production. In fact, the strawberry crowns will rot, and the plants will die if they remain in standing water for too long. It is important to plant your strawberry plants in well-drained soil to prevent standing water from submerging any part of the strawberry plant.
4. Your strawberries aren't getting pollinated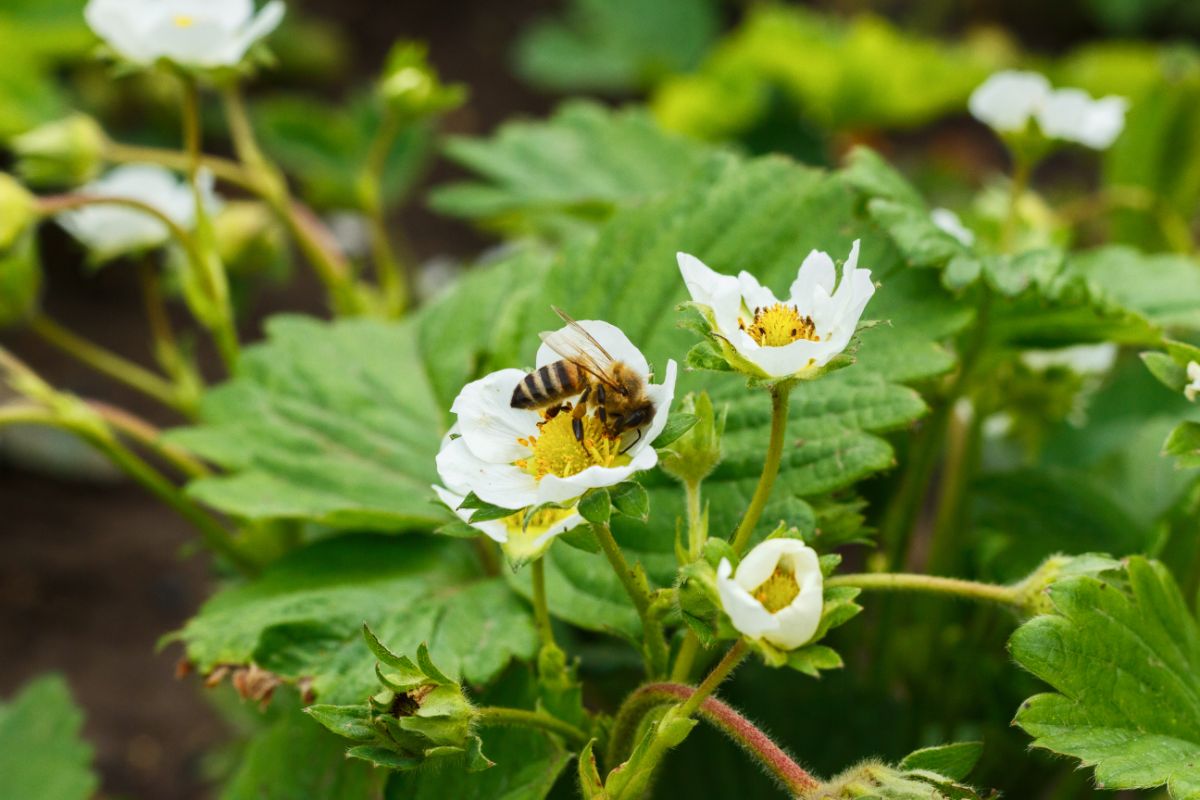 Most of the common varieties of strawberry plants have hermaphroditic flowers, meaning they have both "male" and "female" parts. However, the flowers typically act as either male or female, not both. This means that pollen from one flower has to make to to another flower in order for the strawberry to form. So, if a strawberry plant is kept indoors in a window or outdoors on a screened in porch (or anywhere else where the pollinating insects won't be successfully drawn to your plant, you likely won't have any strawberries.
5. Your strawberry plants are starving
Strawberry plants are amazing. They can manage to eke out their existence in some of the harshest places on earth. In fact, one of my own crazy strawberry runners once rooted itself in the shelf of a cheap, pressboard bookshelf. It had nothing to eat other than wood chips and whatever glue they use to stick those things together. To my amazement, it survived and grew well. It actually was only a inch or so smaller than the other runner plants put out from the same mother plant. But, when the other plants fruited, this one did nothing. In fact, it didn't even produce a flower. All that to say: your strawberry plants need the right nutrients. Without the appropriate organic components, the plant may still grow, but it won't provide you with any strawberries.
6. Your strawberry plants are high on NPK
Giving your strawberries too much food can also hurt strawberry production. The Nitrogen-Phosphorous-Potassium (NPK) fertilizers are generally formulated for specific growing purposes. Using fertilizers that are of the wrong concentrations for strawberry plants, or even using way to much of an appropriate fertilizer can decrease strawberry production. Often, the fertilizers cause excessive vegetative growth at the expense of strawberry production. After all, why should the strawberry plant worry about propagating itself via strawberry seeds if it has so many nutrients tickling its roots that it can't even think straight?
7. Your climate is wrong for strawberries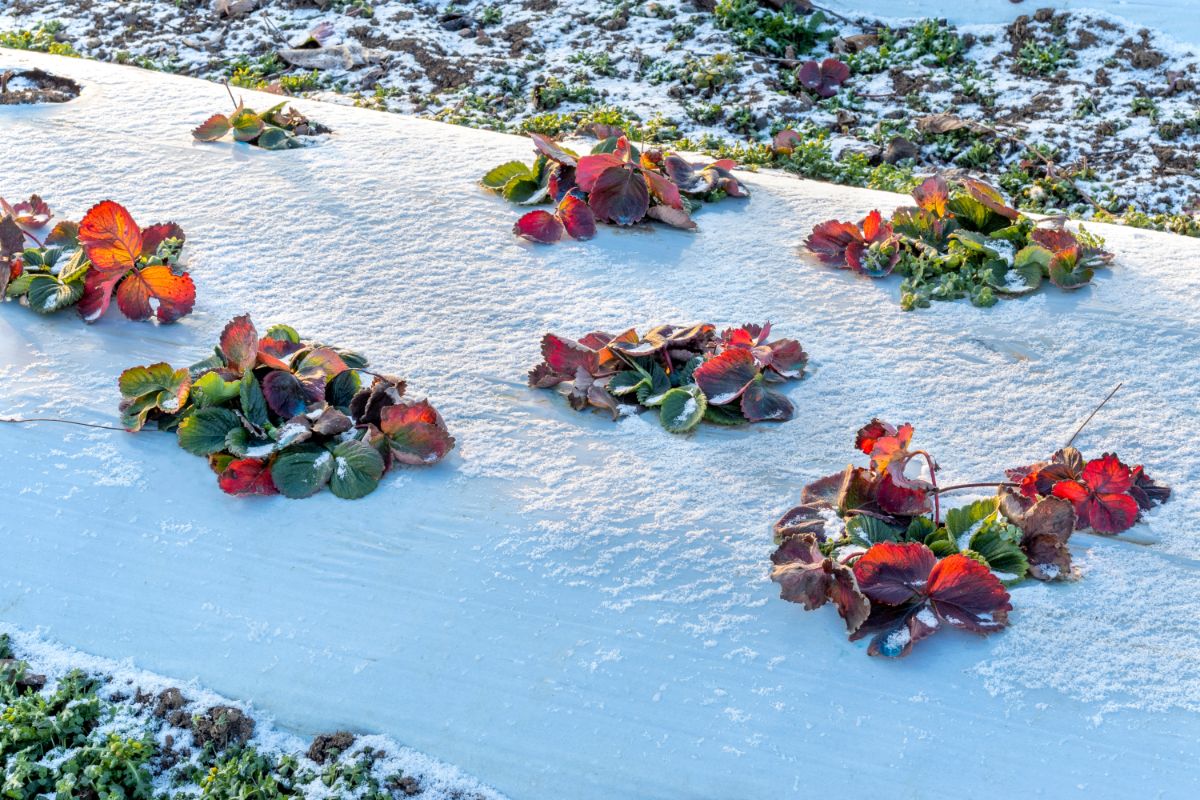 Most strawberries grown at the equator are grown at high elevations where it is cooler. I don't think it is possible for them to grow on Antarctica without serious human interventions. While a few populated places on earth are completely unsuitable for any type of strawberry growth, strawberries will grow just about everywhere else. If, however, the preferred combination of warmth and coolness is not attained, many varieties will not produce strawberries. Most strawberry cultivars do best when the days are warm to hot (but not scorching) and the nights are cool to slightly warm. This combination of warm days and cool nights will almost always result in the maximal strawberry production for almost any strawberry variety. If you live somewhere where it is too hot, the plants may still grow, but the strawberries may be sparse or absent.
8. Your strawberry plant variety is wrong for your climate
Strawberry breeding programs around the world are constantly trying to increase local yields by developing more suitable strawberry plants for specific regions. This goal is often attained. However, in creating specialized strawberry cultivars, some of the overall adaptability of these plants is bred out or lost. When that happens, the new cultivars are sometimes successful only in specific climactic regions. Buying a strawberry developed for Michigan strawberry growers, for example, may not grow well in southern Florida. When the plants don't thrive, they often don't fruit.
9. Your strawberry plants don't like their home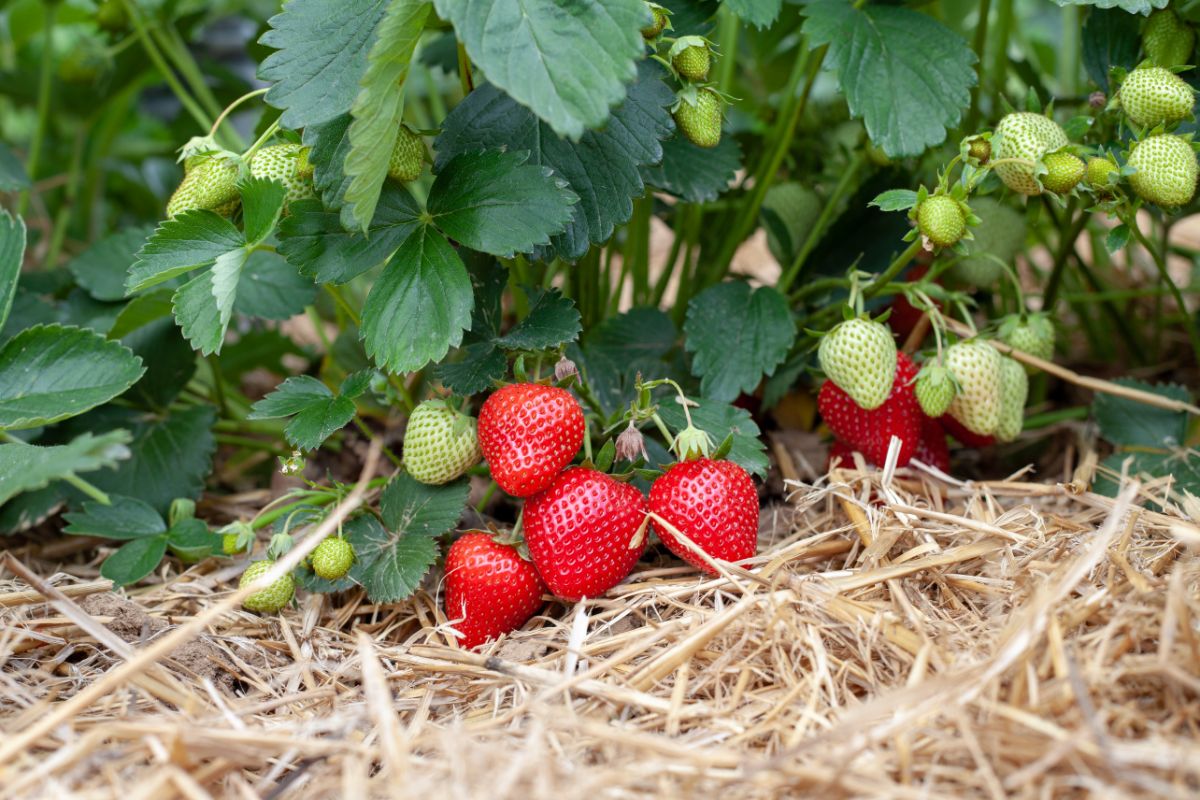 Strawberry plants will grow well in containers. If they are properly cared for, that is. Container strawberries often do not have sufficient soil. Their soil will dry out much more quickly than in-ground strawberry plants. Their roots can get too hot. If planted in nutrient deficient or poor strawberry-quality soil, the plants won't be happy. Regardless of whether a strawberry plant is planted in an inhospitable pot or inhospitable plot, the lack of a suitable home that results in any of the conditions above will diminish or eliminate berry production. Unhappy plants don't readily produce strawberries.
10. You've been duped, lied to, or are misinformed
Occasionally, nurseries that sell strawberry plants get their facts mixed up. If they sell a June-bearing strawberry variety to a customer wanting an everbearing variety so that they can have a decent crop toward the end of the season, the buyer will be frustrated when no strawberries come forth. Be sure to check the characteristics of the cultivar you want to plant to make sure it is what you think it is and that it will perform well in your climate. A great place to start is the Strawberry Varieties page.
So, if there are no strawberries on strawberry plants you have planted, or strawberry plants producing runners but no strawberries, evaluate each of the 10 reasons above and see if they apply to your situation. If they do, remedying the problem will likely result in reaping a harvest!