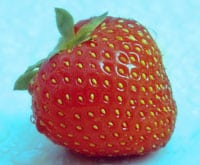 This is a question submitted to Strawberry Plants .org by a reader. The information provided in response to the question may benefit others with the same or similar inquiries. Therefore, it has been added to the archive page of submitted questions. See the Strawberry FAQ for more questions, or use the search box at the top right of this page to search this site for information.
Q: German Strawberry Varieties?
On July 11, 2010, Calvin Messing asked:
We were recently in Germany and picked and ate fresh strawberries.  The berries were similar to what we grow here (Michigan – Sparkle variety) but not the same.  The taste was a little different and the berries were very sweet, much sweeter than anything tasted in the US. They also seemed very soft and fragile – but very sweet. We were in southwestern Germany, near Ludwigshafen.  Can you identify the probable variety?  Can they be grown in Michigan?  The berries looked a little like wild strawberries but were as big as or bigger than the Sparkle variety.
Answer to: German Strawberry Varieties?
Calvin,
Thanks for stopping by!  The strawberries you found in Germany would likely grow here as well, although possibly not optimally.  As many of the commercial varieties have been bred to increase the firmness, my guess is that the softer, sweet strawberries you had may have been everbearers or alpine strawberries.  One of the commonly grown varieties is Baron Solemacher.  Other German strawberries that may be possibilities are Macherauchs Dauerernte, Ada Herzberg, Alpine Riigen, St. Jean, Herzbergs Triumph, or Hummi Trisca.
Interestingly, a lot of the strawberry plants you will find in various countries are somewhat restricted by import/export policies.  As such, it can be difficult getting European strawberry varieties into the U.S.A. (see the Shipping Strawberry Plants page for more details).  But, good luck on your quest!  If you want to see which strawberry varieties are available for online ordering in the U.S.A., you can visit the easy-to-navigate Buy Strawberry Plants directory (or jump straight to the specific variety you mentioned, Sparkle).
[ german strawberry varieties ]
Strawberry Plants .org exists to help spread the passion for growing and eating strawberries. However, manpower is limited. If you have a question related to strawberries, feel free to submit it or post it as a comment. Please be patient, though, as it may take some time before your question is addressed.