If you have any desire to plant a garden this year, you are likely already thinking and dreaming of earthen smells and textures and the warmth of the sun. Spring is synonymous with strawberries for many people, and you may even be planning on including some of the delicious red berries in your harvest this year. Please take a moment and read this before you buy strawberry seeds online.
Jump to:
Question: When Will My Strawberry Plants Start Producing Apple-Sized Strawberries?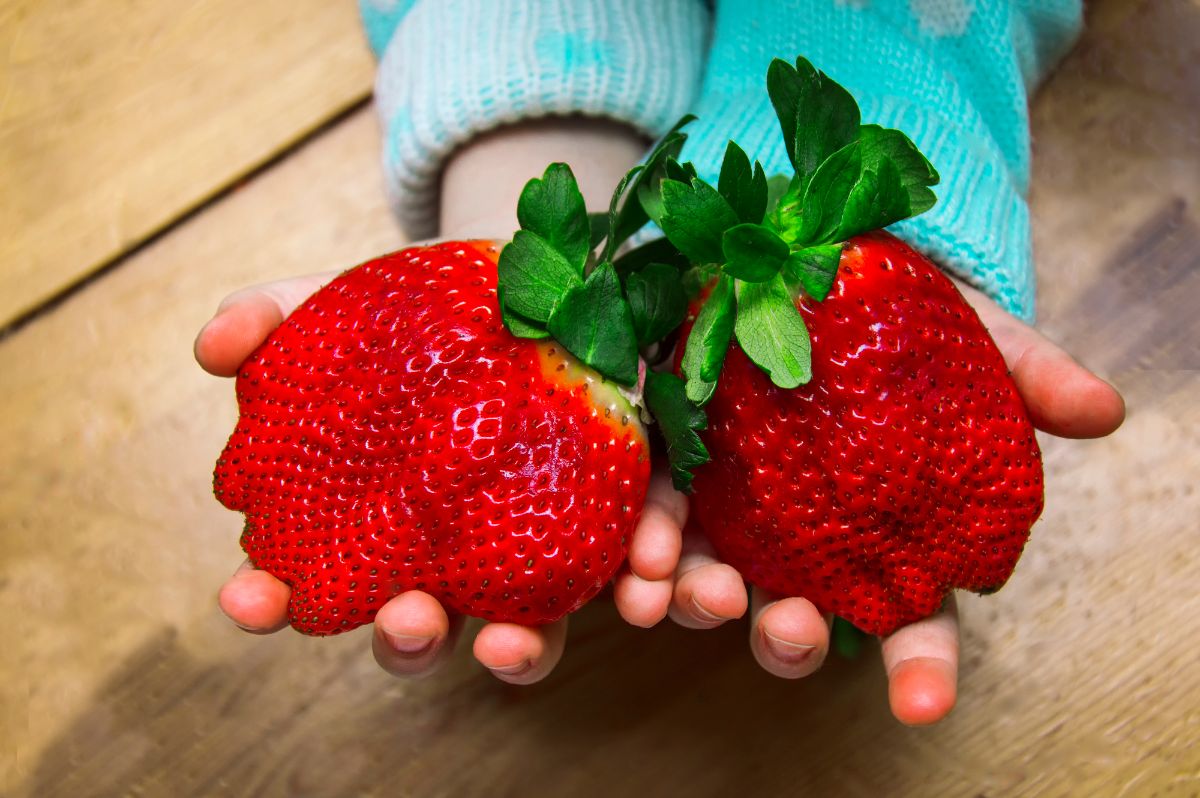 Peter Genovese asked:
Hey there! So I purchased a packet of Fragaria ananassa L. Maximus seeds from a farmer from Tennessee via ebay last year. I didn't see this variety on your list above but I found out that they are of the everbearing variety and are supposed to produce huge berries that are the size of apples! So after cold stratifying them in the freezer for 45 days, I sowed a few seeds and ended up with one bud! Well, it's been probably about 8 or so months now and after changing pots to a bigger size two times, I now have a beautiful healthy looking strawberry plant with big green leaves. The leaves are about twice the size of some smaller "normal" sized strawberry plant leaves that I have growing in a planter next to them so I can already see that these are definitely a larger variety. The plant has not produced any flowers yet so I'm still waiting for the very first ones, though I have no idea when that might happen? They seem to just continue making lots of beautifully large leaves in the meantime. Have you ever had any experience with this large variety? Any idea when I should expect its first flowers to bloom? Thank you for the great info on this website!
Answer to: When Will My Strawberry Plants Start Producing Apple-Sized Strawberries?
Peter Genovese,
No, I have never heard of that variety from any official source. However, when it comes to strawberry seeds and eBay, there is a bit of a sullied reputation in existence. People notoriously sell strawberry seeds for neon pink and bright blue and jet black strawberry varieties on eBay, Amazon, Etsy, and other online shops. And, they sell seeds for plants that produce strawberries the size of apples, supposedly (usually with a picture of a large strawberry cupped magnificently in a toddler's hands so as to appear gigantic, or just enlarged with photoshop, or side-by-side with a small version of something easily recognized to confuse the scale). Unfortunately, it is highly unlikely that what you purchased is as advertised. There are a few problematic factors in play:
The Genetic Lottery Factor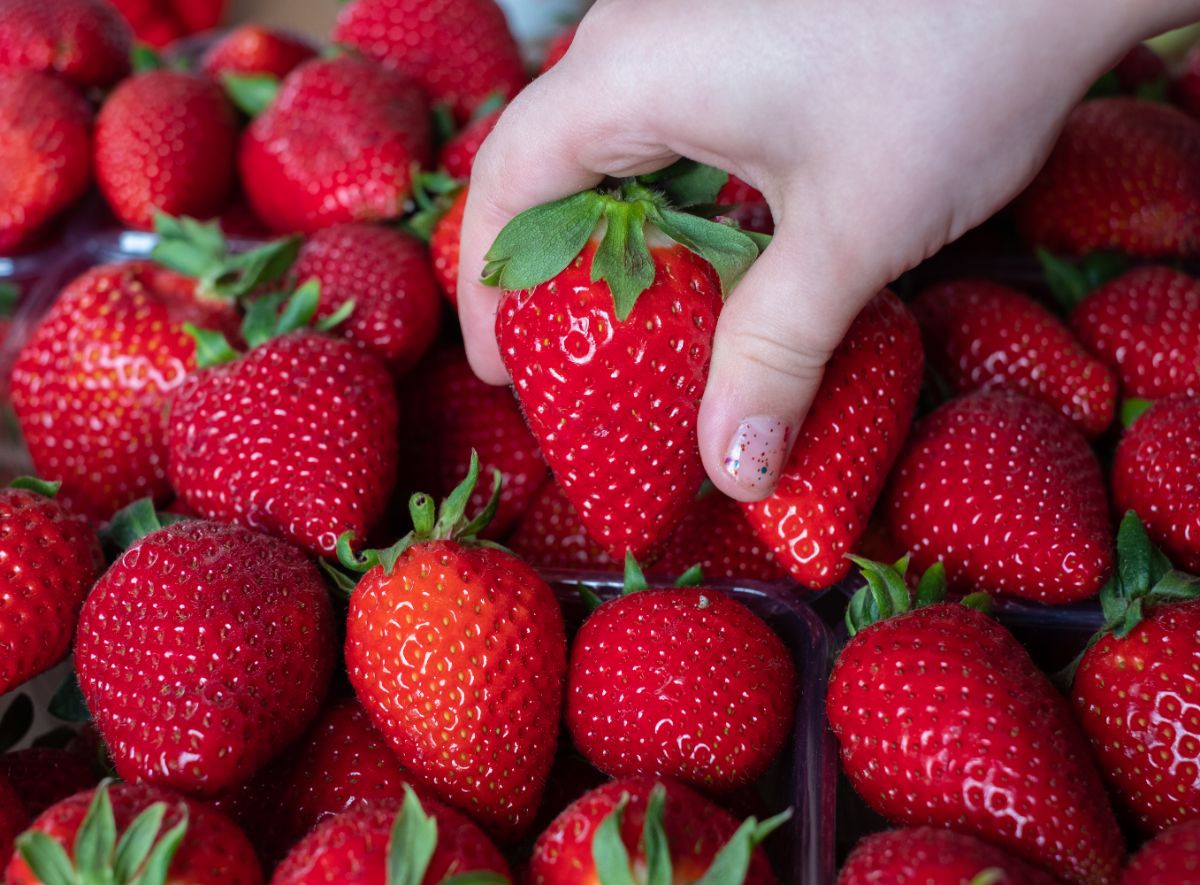 1. Fragaria x ananassa strawberries are hybrids. They typically come in one of three types: June-bearing (which produce the biggest strawberries, but rarely ever apple-sized); everbearing (which produce medium-to-large strawberries with major settings twice a year); and day-neutral (which typically produce small-to-medium strawberries more or less consistently throughout the growing season). Since the variety, supposedly a Fragaria x ananassa, is a hybrid, seeds from such a strawberry have absolutely zero guarantee of producing huge strawberries, even if the parent plant that produced the strawberry from which the seeds were collected did produce abnormally large strawberries. It is a genetic lottery. Many seeds won't even be viable (as you may have encountered with only one germinating). In fact, since plants that produce strawberries as big as claimed by the individual who sold you yours are exceedingly rare, even if the seller was telling the truth, the odds of you getting seeds from a strawberry from the plant that produced them for him that do likewise is essentially nil. All reputable seed sellers know this and, consequently, don't advertise such things. To get genetically consistent plants, it is easiest to buy strawberry plants instead of seeds, so many retailers deal in dormant or potted plants instead of seeds.
The Nomenclature Factor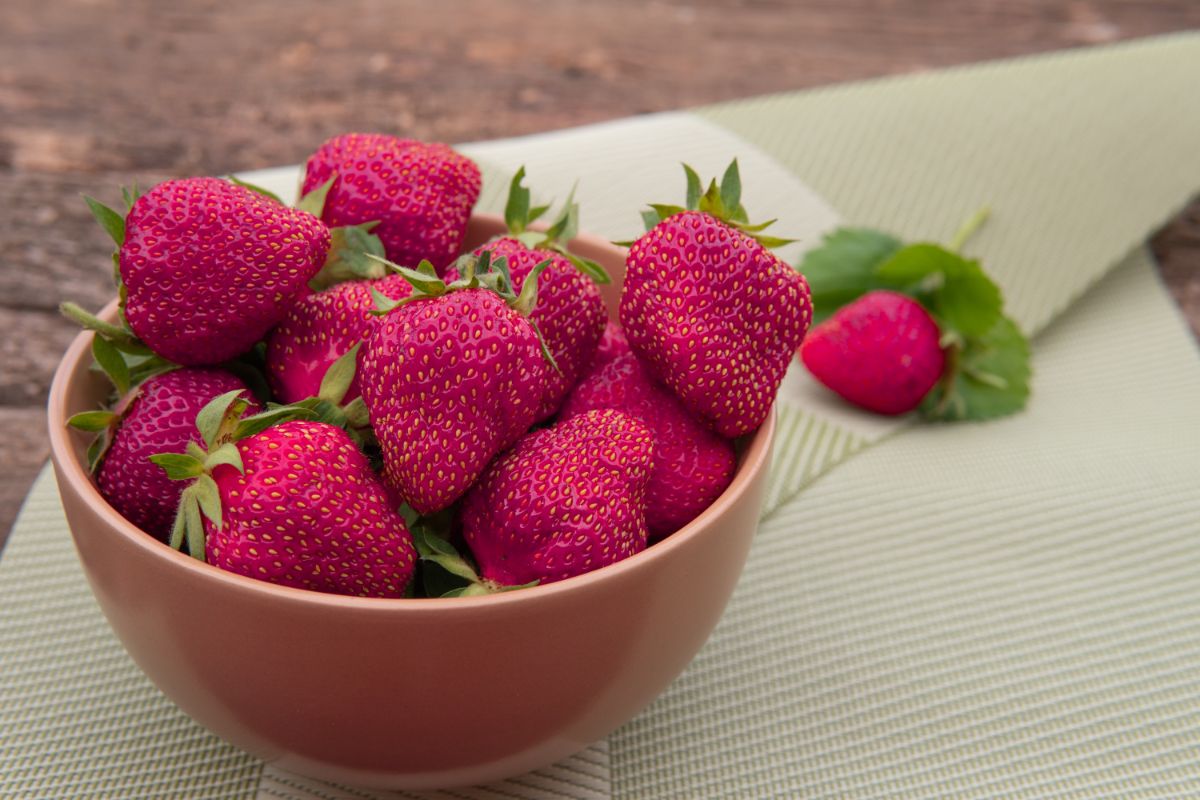 2. Apart from the fact that the seeds were advertised as hybrids as just discussed, they were also advertised as everbearing. It is likely that the seller doesn't even know what that means. He probably just thought, "Hmmm, everbearing must mean it bears forever. People will like that. I'll go with that type for my advertisement copy! And, people like big. I'll go with apple-sized strawberries forever, for the win!" June-bearing strawberries put forth virtually all their berry-producing effort over the course of two to three weeks in the spring to produce a heavy set of very large (relatively) strawberries. June-bearers are what you usually buy in the store and in roadside markets or farmers markets. Everbearing varieties produce, on the whole, both a smaller number and smaller size of strawberries than do June-bearing varieties. However, there are a few varieties that can come close enough to matching the overall production of June-bearers. The point is this: no recognized everbearing variety produces strawberries that are consistenly, or even commonly, apple-sized.
Other Possible Factors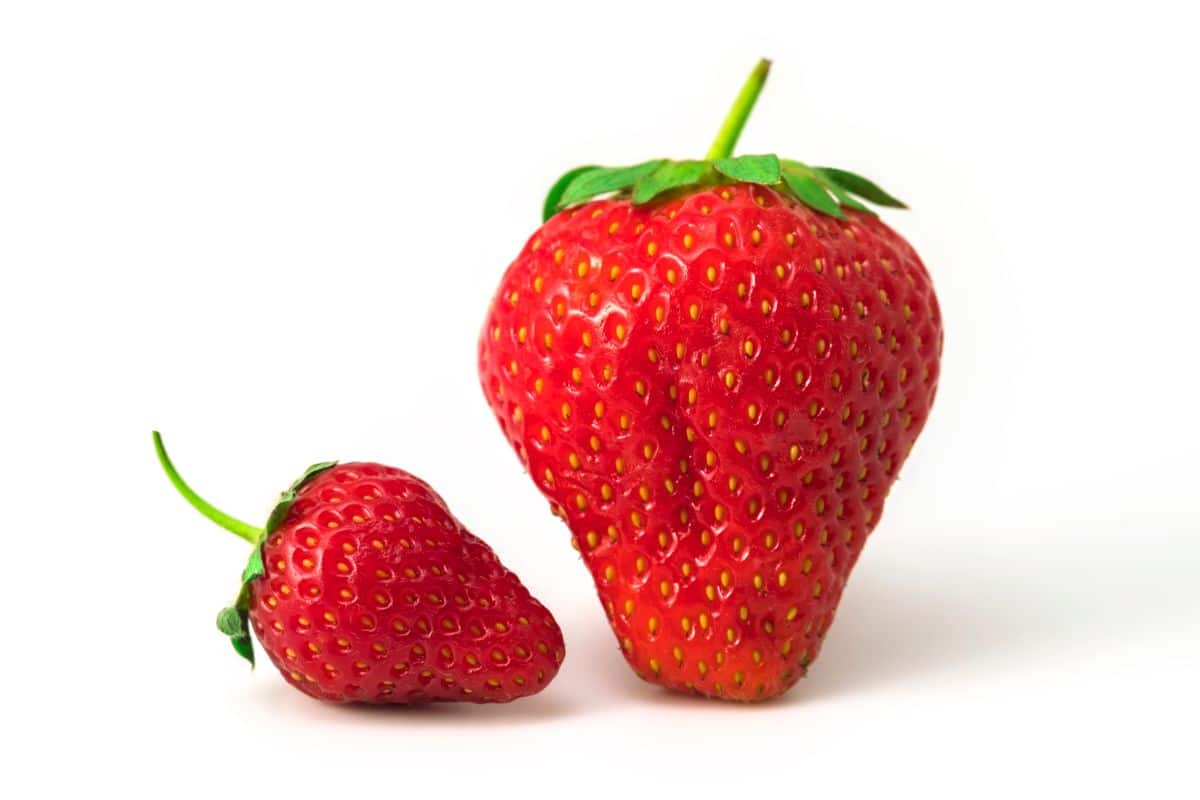 3. Large green leaves don't necessarily mean that the plant will produce large berries. In fact, if there is too much nitrogen, potassium, and phosphorus available to the plant (over-fertilized), the plant can produce an abundance of over-sized vegetative matter and fewer, smaller strawberries. There are other reasons why a strawberry plant won't produce strawberries as well.
It is likely that the individual who sold you strawberries either intentionally misled you, just christened some random strawberry seeds he had with new verbiage to help them sell better, or was taken in by whoever sold him the seeds he then resold to you. While I've been around the strawberry world for a while now, it is also possible that I just missed where the new everbearing variety called 'Maximus' that produced apple-sized strawberries hit the market. If you have more information on it, please do send it my way, and I will stand corrected! There was a 'Maximus' strawberry variety that was commented upon in an 1897 edition of a gardening guide put out by The Gardening Company, but I doubt that is what is being advertised today.
But, Take Heart!
On another note altogether, it sounds as if you are doing a splendid job caring for your strawberry plant! You have germinated the seeds (which can be difficult), grown the seedling successfully, and transplanted it according to increasing space requirements. That takes quite a bit of green-thumbery! Congratulations!
As to your question, you might start seeing flowers and fruit before much longer. Perennating buds in the strawberry plant's crown are formed the autumn prior to the spring's harvest the following year. Typically, those buds are formed in the crown, the plants then go dormant over the cold winter months, and then the perennating buds emerge as flowers the following spring, are pollinated by insects, and will set as strawberries a couple of weeks later. Since your plants have been inside, my guess is that they are probably getting ready to send up flowers from their perennating buds now. So, patience is still likely the best course! Give them some more time, continue your good plant care, and you'll see rewards for your efforts eventually…even if the berries aren't quite the size of apples.
Good luck!
This is a question submitted to StrawberryPlants.org by a reader. See the Strawberry FAQ for more questions and answers.