Many strawberry gardeners have fought and lost their harvest to rodents. How can you win the fight? There isn't 1 catch-all solution, but a combination of efforts can mean the difference between finding a bountiful strawberry harvest or finding bites out of every berry.
These 11 solutions will keep your tasty strawberries safe!
Jump to:
Who is after my strawberries?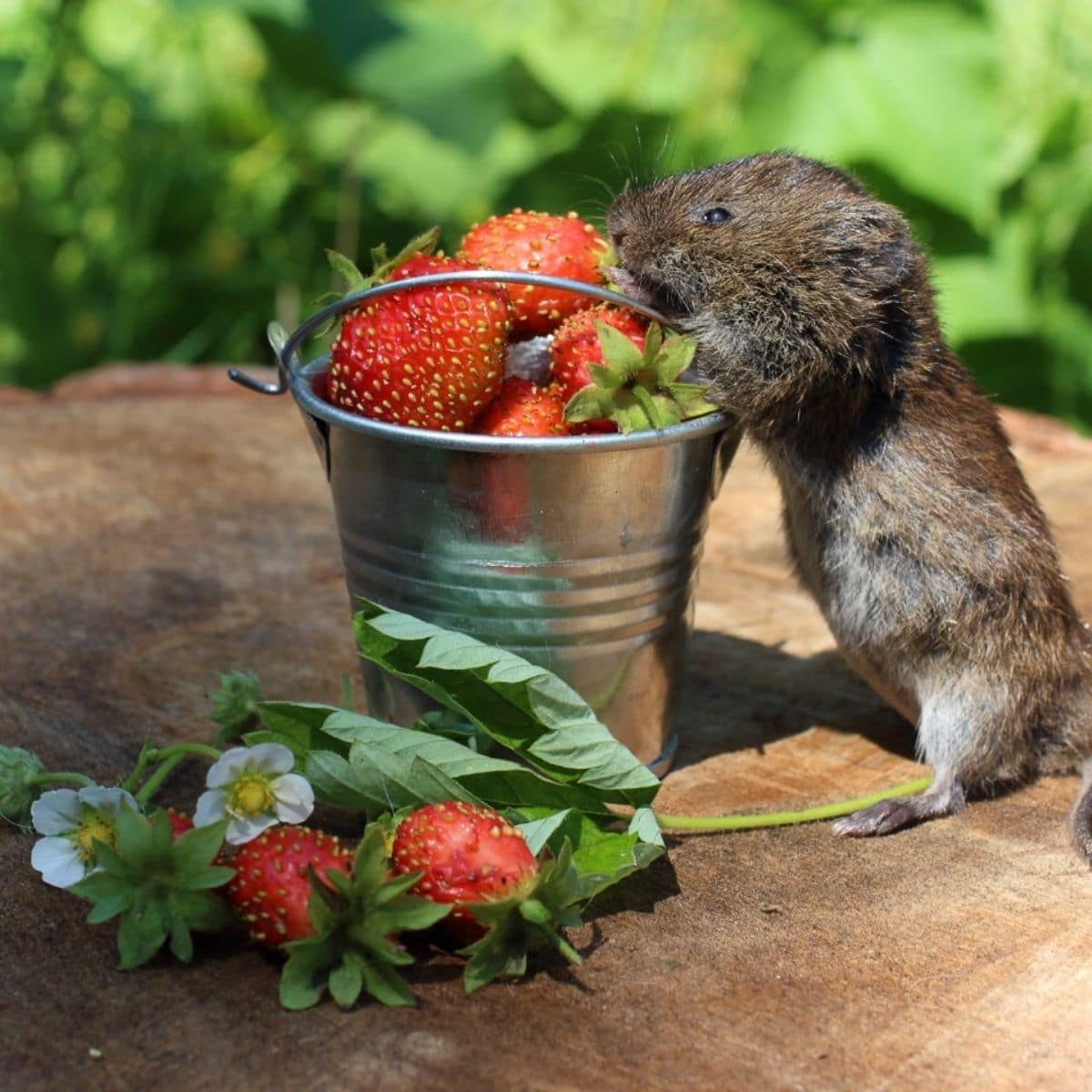 Besides bugs, diseases, and impatient children, a variety of rodents love strawberries as well. Have you noticed signs of any of these rodents near your garden?
Rats
Squirrels
Mice
Chipmunks
Gophers
Groundhogs
Moles
Voles
Rabbits (not rodents but equally destructive mammalian pests)
Physical Barriers
By far the most effective means of keeping rodents out of the garden is to create a physical barrier. Physical barriers can take several forms and work by blocking access to your strawberry plants.
Fence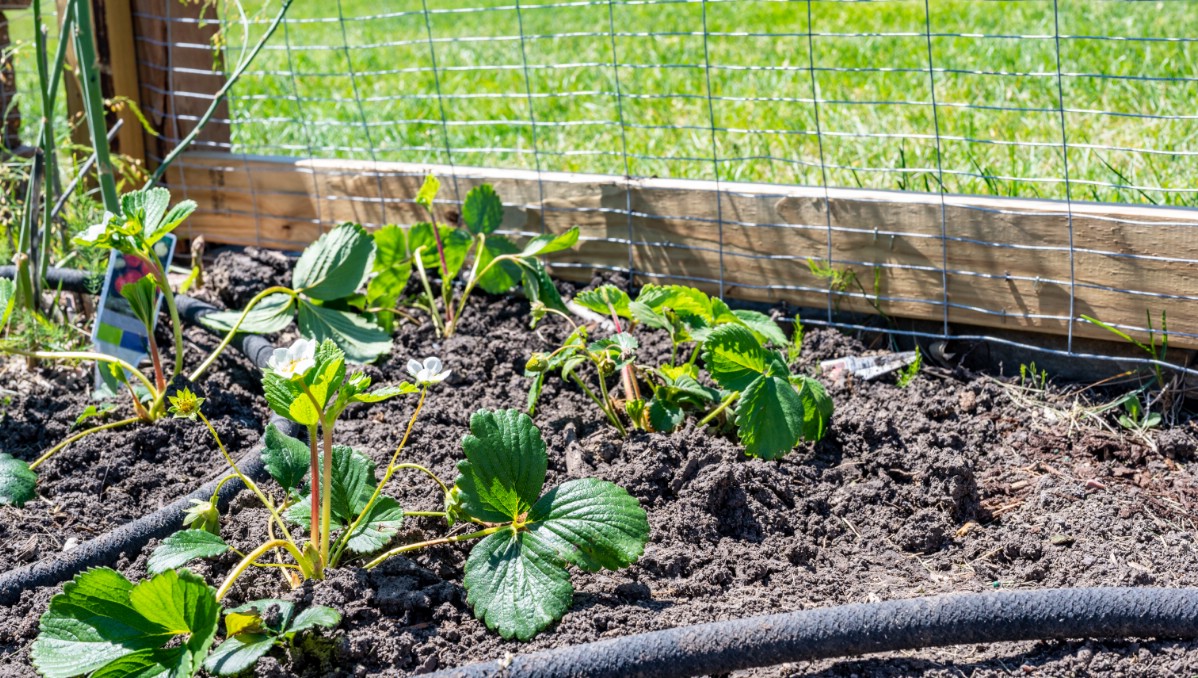 Install a garden fence with holes no larger than 2 inches that extend at least 6 inches underground to keep out burrowing rodents like gophers and groundhogs. You can use hardware cloth, 2-inch chicken wire, or wood to build an effective rodent fence.
Your fence doesn't need to be very tall; 2-3 feet is plenty tall enough to keep out most rodents and rabbits. If you include a gate, reinforce the entryway by burying hardware cloth or chicken wire 6 inches below the gateway to prevent pests from tunneling in.
Cage
A bird net or chicken wire cage makes a terrific defense against not only birds but also rodents. You can easily build a cage that lifts away to allow you to easily access your strawberry plants but prevent access to furry un-friends.
Garden Location
Away from natural rodent habitats
Keep your strawberry garden away from natural rodent habitats if possible. Avoid planting your strawberries around abandoned potting sheds or vehicles. Keep grass around the strawberry patch mowed short and remove any logs or bushes where mice and rats might make a comfy dry home.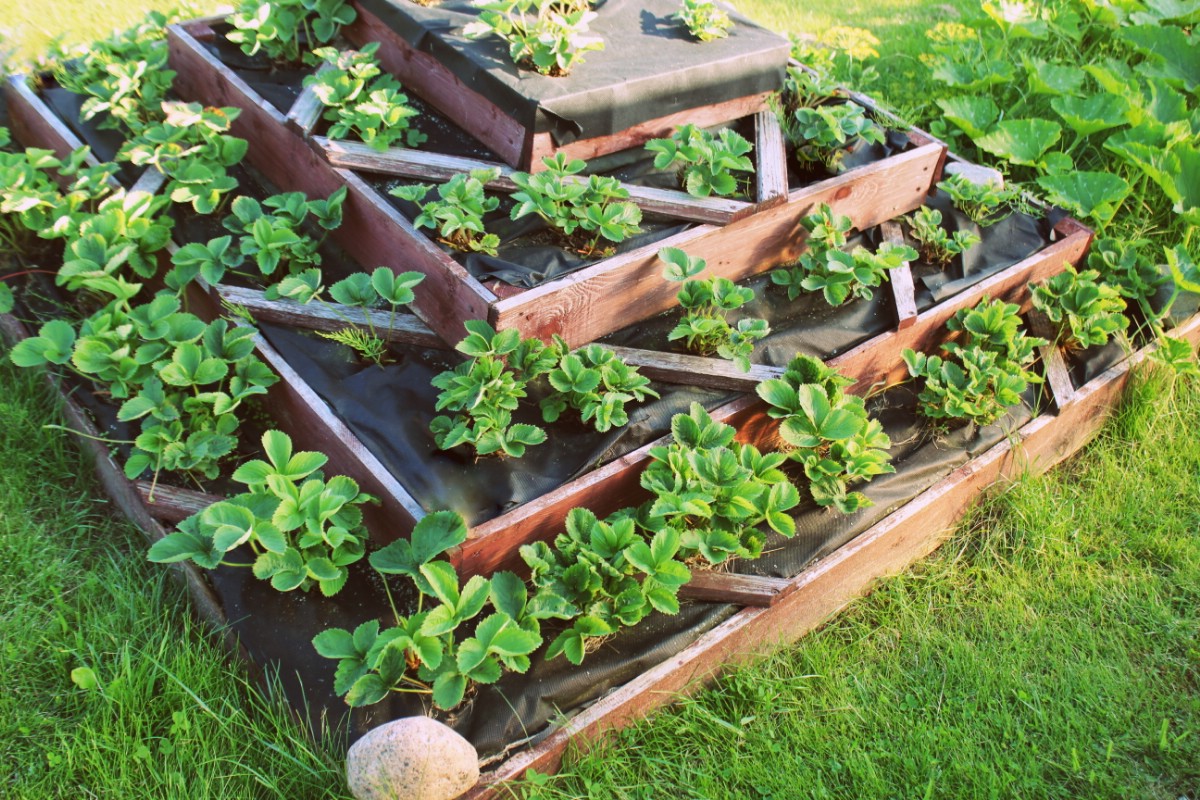 Simply growing your strawberries in a raised bed instead of in the ground can make a big difference in rodent control. Your raised strawberry bed will be at least 6 inches tall
and easy to attach a cage to for additional protection.
If you know your area has a history of rodent problems, bury the chicken wire or hardware cloth around the perimeter of your raised bed or attach it to the bottom of the box before filling it. These measures will prevent animals from burrowing into your strawberry bed and disturbing the roots as well as stealing the fruit.
Vertical garden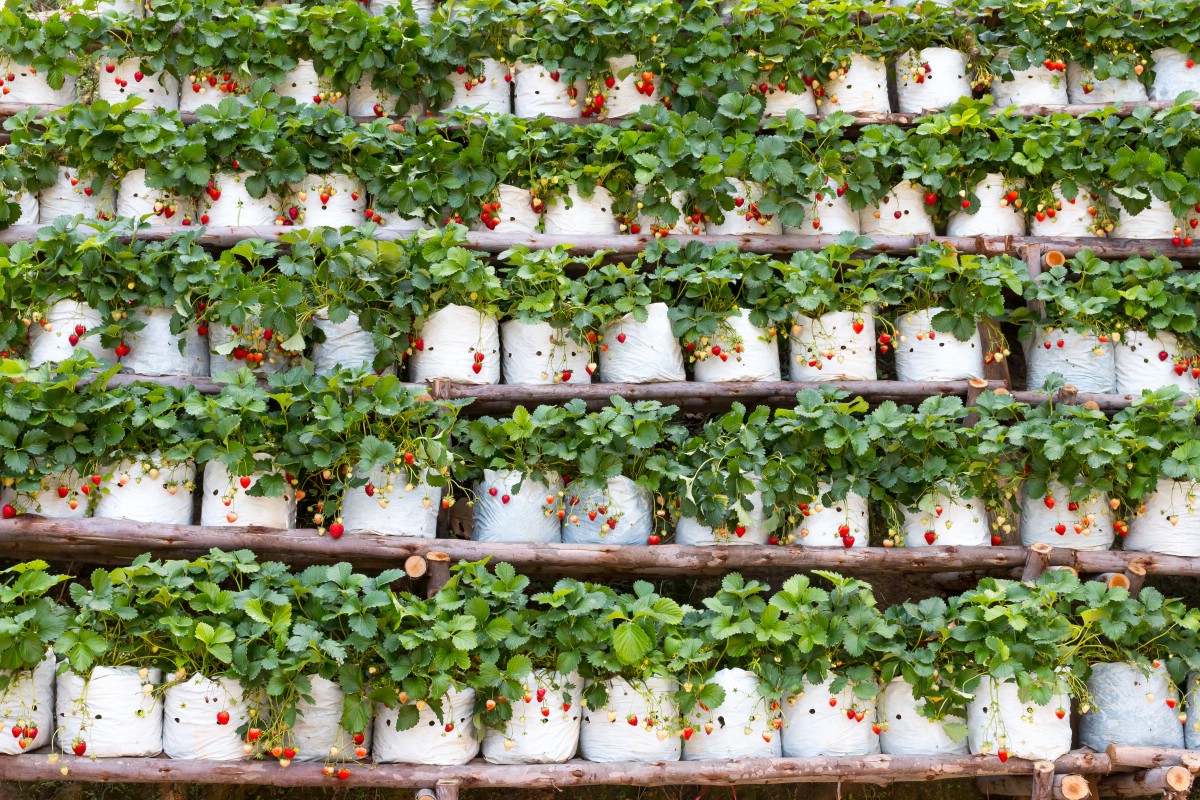 Vertical gardening is a wonderful space-saving technique, but it can also be a berry-saving technique if rodents are stealing your strawberries. Fruits that hang high off the ground are more difficult for most rodents to reach and may discourage thieves even without employing other deterrents.
Try these PVC Strawberry Towers for a slick surface that is difficult to climb but attractive in your garden. Alternatively, try this simple vertical pallet strawberry planter to grow a large volume of berries in a small protected space. For added protection, throw a bird net over the top of the pallet. It will be easy to remove for harvesting, but hard for rodents to navigate.
Did you know certain plants can repel not only bugs but also rodents? Surround your strawberry bed with alliums like garlic, onions, or leeks to repel rabbits, mice, rats, and other furry thieves. You can also plant those alliums or thyme between rows. Thyme repels rodents and creates a living mulch to keep the soil cool and moist.
Mint, basil, and catnip act as wonderful rodent repellants because of their strong scent but it is best to plant these in pots or separate raised beds near your strawberry plants. Do not interplant these because they will crowd out and overtake your strawberries.
Echinacea is useful to deter rodents and attract pollinators. Plant this perennial flower around your strawberry bed but not in it so it doesn't crowd your strawberry plants as it spreads.
Repellant Substances
Used Cat Litter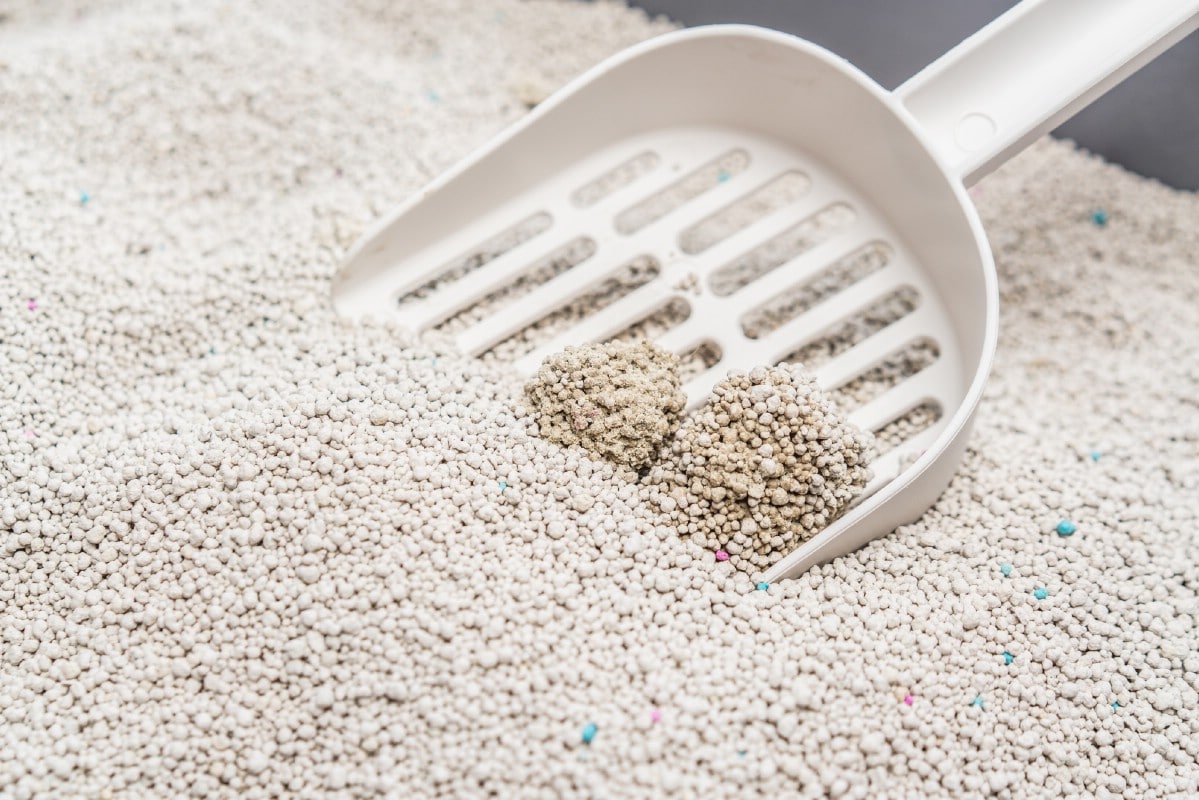 Sometimes the mere smell of a cat is enough to scare away opportunistic rodents like squirrels and mice. Try spreading used cat litter around the perimeter of your strawberry garden if you have it and can stand the odor yourself.
Hot Pepper
Sprinkling or spraying hot pepper on your strawberry plants will leave a terrible taste in any rodent or insect's mouth and discourage them from returning. One method is to sprinkle dried cayenne pepper on damp leaves and fruits so the powder will stick.
To prepare a spray, mix ½ a gallon of water, 2-3 tablespoons of hot sauce, and a few drops of dish soap to help the mixture stick to the fruit and leaves. Spray the mixture on your strawberry plants in the evening before rodents are most active and reapply it after each rain.
Another recipe using fresh or dried spicy peppers is available here. Hot pepper sprays also repel many insects, slugs, and snails effectively.
Other Repellants
Cat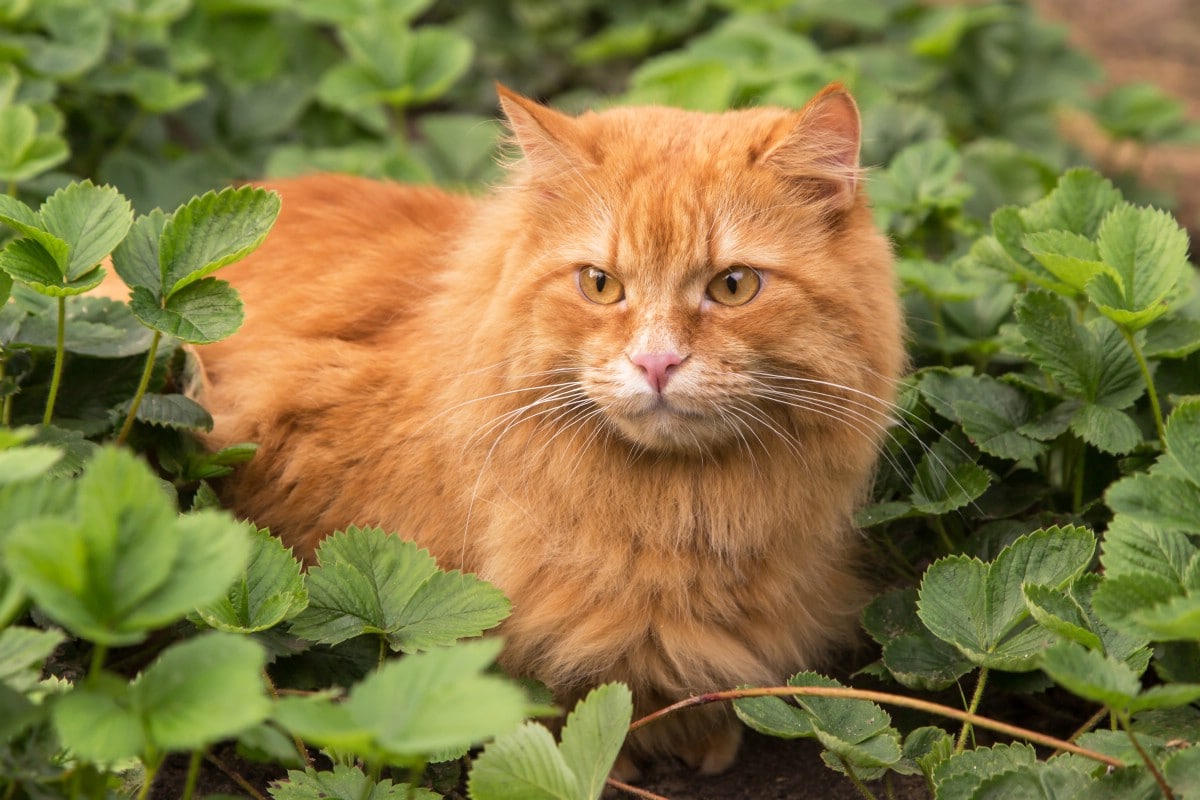 A cat can make an excellent garden companion. Cats can be mildly territorial and will prowl your garden area if you make it clear it belongs to them alone. Usually, a good hunter will clear out a garden very quickly. Even if your cat isn't a great hunter, the mere scent of a feline can be enough to scare away rodents.
Your garden cat may think your strawberry patch makes a good bathroom but that problem is easy to avoid. Mulch well between your strawberry plants so that no soil is visible and make sure your cat has a litterbox or another sandy area away from the garden to do her business.
Solar-powered rat repeller
A solar-powered rodent repeller like this one uses low-frequency vibrations to scare away rats, snakes, and tunneling rodents. It won't disturb you, your pets, or your children because the sound waves are geared for rodents' ears.
Humane traps
Our final suggestion is to use humane rodent traps. If you choose to use a trap, you will need to remove the bodies periodically.
Don't do this!
Mothballs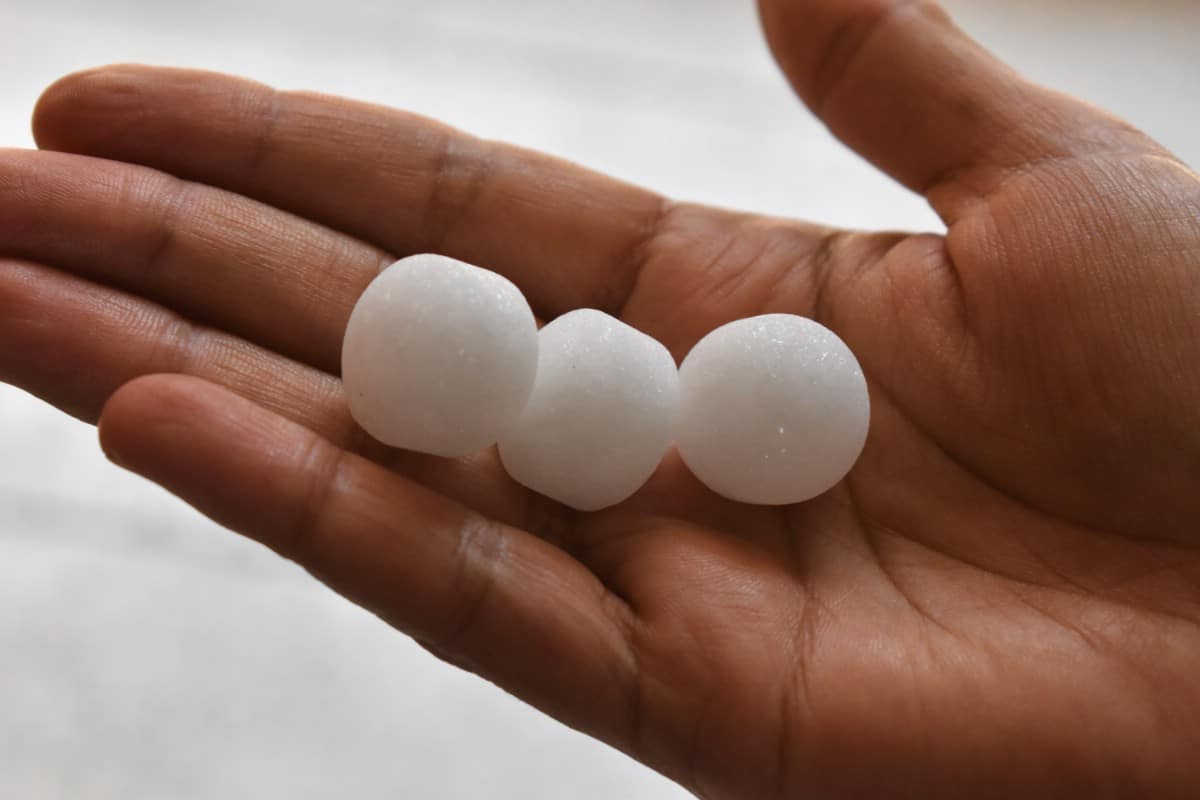 Some gardeners recommend using mothballs in the garden to repel mice, rats, snakes, moths, and other unwanted creatures. While this is effective, it is not a safe choice for any garden.
Mothballs release toxic chemicals into the soil and groundwater. Aside from the long-term environmental damage, these chemicals can cause, they can also negatively impact your strawberry patch and harm your strawberry plants.
Enjoy your strawberries!
Use these 11 methods to rid your strawberry patch of pesky thieving rodents so you can enjoy the fruits of your labor yourself! A combination of solutions will ensure you get to harvest the most berries possible.