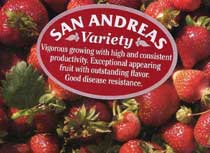 This is a question submitted to Strawberry Plants .org by a reader. The information provided in response to the question may benefit others with the same or similar inquiries. Therefore, it has been added to the archive page of submitted questions. See the Strawberry FAQ for more questions, or use the search box at the top right of this page to search this site for information.
Q: San Andreas Strawberries?
On November 10, 2011, Beatriz Briceno asked:
Hi, I would like to know if you guys have strawberry seeds available.  I'm looking for San Andreas seeds.  My dad is in Venezuela (South America) and he is growing strawberries now.  This variety is very interesting and I'm looking foward to buy some seeds and try them.   I'm living in South Carolina now.  Thanks.
Answer to: San Andreas Strawberries?
Beatriz,
Unfortunately, you cannot obtain true-to-type strawberry seeds for the San Andreas strawberry variety.  Since it is a hybrid like most prominent varieties, there is a low likelihood that seeds removed from a San Andreas strawberry would grow a plant even remotely similar to the parent plant.  So, while no reputable seller will offer you strawberry seeds for this variety, you can purchase the plants.  To see the available retailers of San Andreas strawberry plants, check out the entry on the Buy Strawberry Plants page (or click to go directly there: San Andreas).
[ san andreas strawberries ]
Strawberry Plants .org exists to help spread the passion for growing and eating strawberries. However, manpower is limited. If you have a question related to strawberries, feel free to submit it or post it as a comment. Please be patient, though, as it may take some time before your question is addressed.