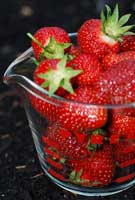 This is a question submitted to Strawberry Plants .org by a reader. See the Strawberry FAQ for more questions, or use the search box to find more information.
Q: How Many Strawberries in a Serving / Strawberry Serving Size?
Sara Allister asked:
I am planning on starting a diet soon, and I would like to know how many strawberries are in a serving. What is the recommended strawberry serving size? Also, any more strawberry nutrition information would be appreciated. Thanks!
Answer to: How Many Strawberries in a Serving / Strawberry Serving Size?
Sara Allister,
Strawberries are a great component of a healthy lifestyle. A serving of strawberries varies depending on the method of strawberry preparation prior to measuring the serving and what is being measured. The following table should help:
In addition to the information contained in the table above, much strawberries serving size information, including conversions, is available here: Strawberry Measures, Conversions, Substitutions, & Equivalents. Vitamins, minerals, amino acids, lipids, and other proximates contained in strawberries are listed on the Strawberry Nutrition Facts page, and a full listing of the Compounds in Strawberry Plants and their Medicinal Uses are also available.
No one questions the fact that strawberries are a healthy addition to any diet. So, good luck incorporating these delightful berries into your cuisine selections! And, to keep up to date with the latest developments and discoveries, check the Strawberries & Health feed regularly.