Are you thinking about growing your strawberries in a raised bed this year? Do you have some questions? Here is everything you need to know about growing strawberries in a raised bed.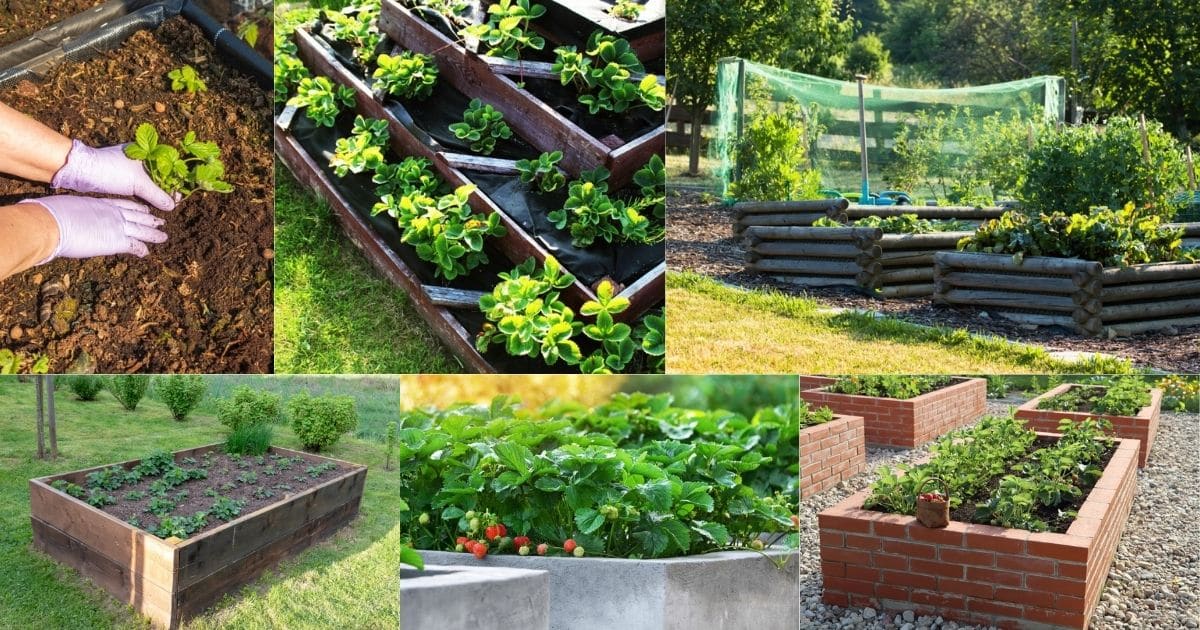 Jump to:
Why should I grow my strawberries in a raised bed?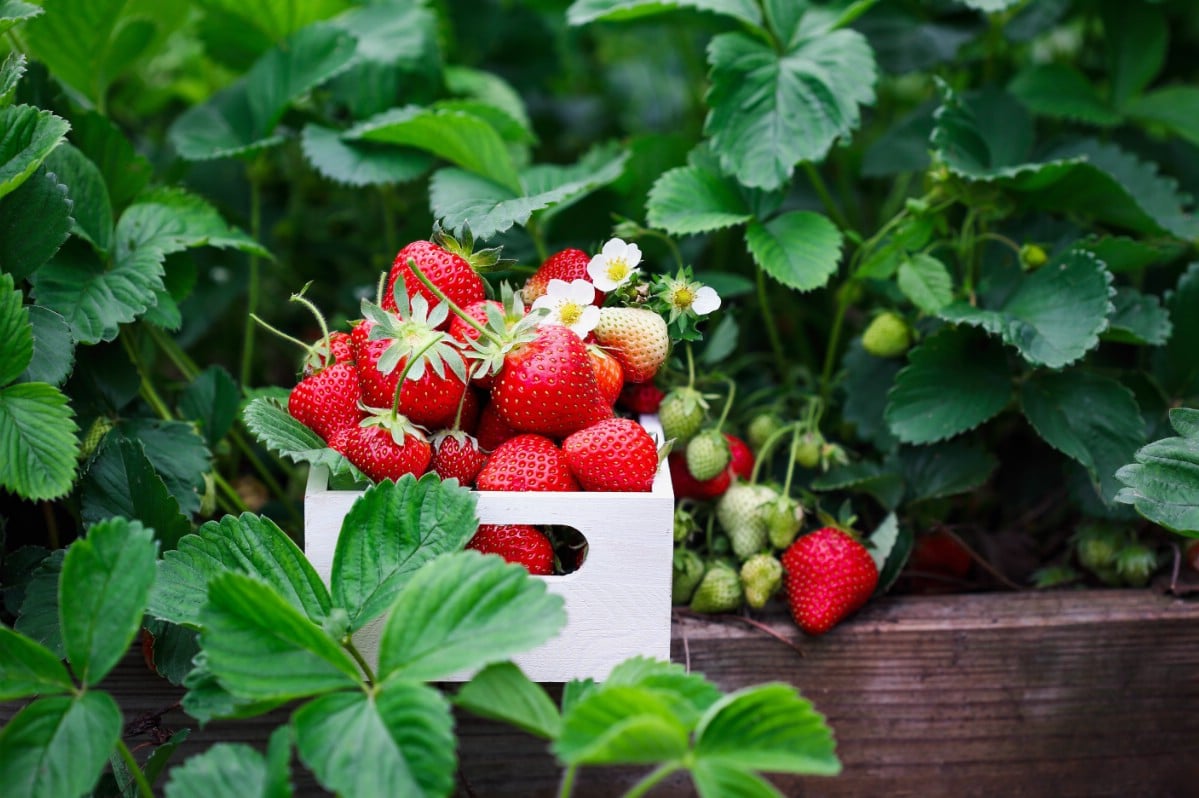 Raised beds are good for many plants, including strawberries, for several reasons. One reason is weed control. Normally a raised bed has a liner of some sort to keep existing grass and weeds below the growing space until they eventually die. The body of the raised bed is filled with clean, nutrient-dense soil.
The second reason raised beds are so beneficial has to do with the soil. Raised beds are typically filled with balanced, nutrient-dense soil that is optimal for plant growth. It is easy to amend the soil each year and fewer nutrients are washed out of the garden by rain and regular watering.
Gardeners avoid walking through raised beds at all costs so the soil remains light and airy. Compacted soil that has been walked on by people and animals causes problems that a raised bed fixes easily. Fluffy soil makes it easier for water to penetrate and drain, roots to spread, and beneficial insects and worms to navigate.
Strawberries do particularly well in a raised bed because it will contain the spread. Strawberry plants produce runners and will spread like weeds in the right conditions. That may sound like a good thing if you love strawberries, but you can wind up with fewer strawberries if you let them get away.
When your strawberry plants are contained, it is easier to protect them from pests and to remove diseased or weak plants. Your fruits will be easier to harvest and will not be trampled because they've spilled into your walkways if you have them safely tucked into a comfy raised bed.
What can I use as a raised bed for strawberries?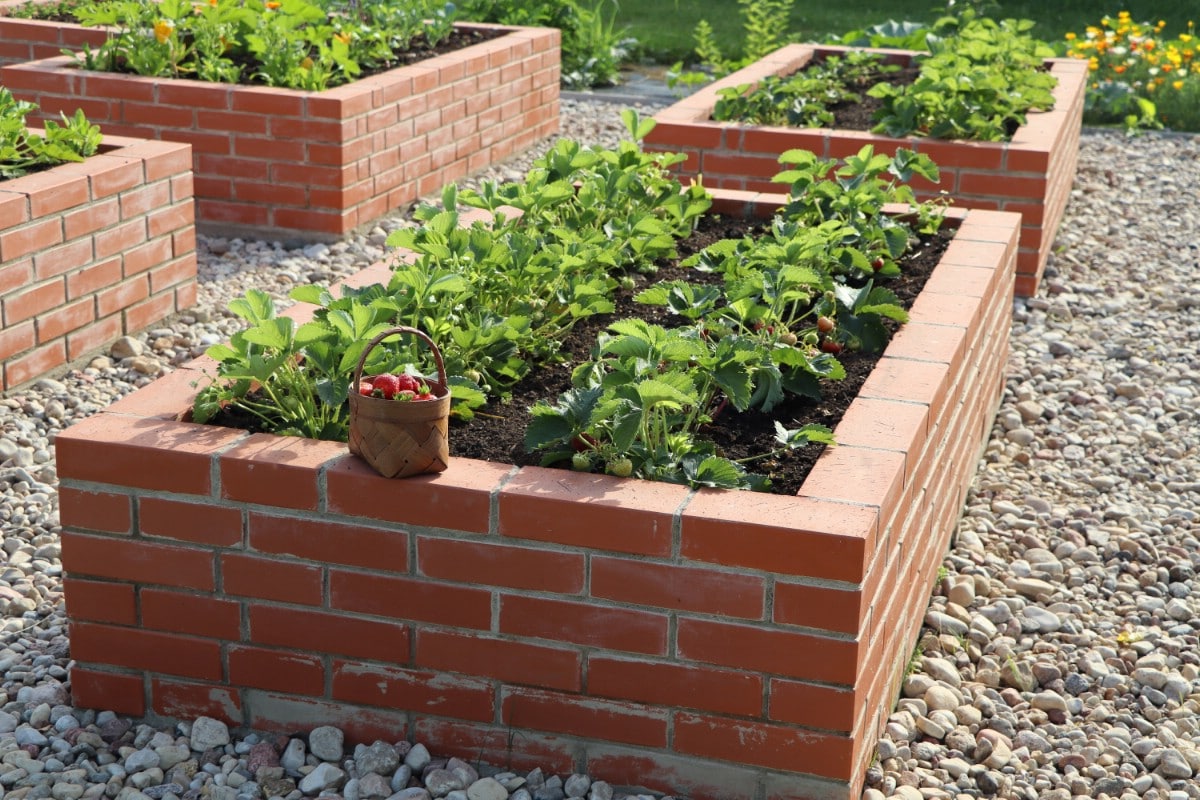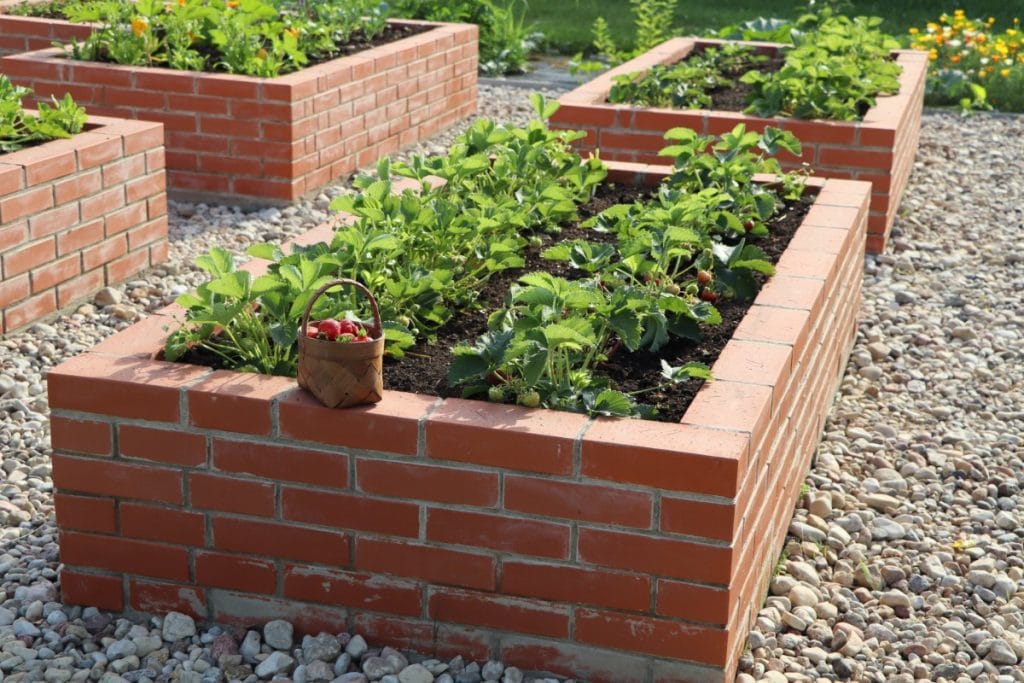 You can build your raised strawberry bed from wood or buy a unit or a kit. You may choose to use other common items as a raised bed or as materials to make one instead.
Concrete Blocks
Try using concrete blocks to make a raised bed for strawberries. Be careful not to use cinderblocks which are made with lime and can harm your gardening soil. Create a simple perimeter of blocks to fill with nutrient-rich soil.
For extra height to make your raised bed more comfortable to work in, stack layers of concrete blocks sideways to create pockets to plant more strawberries vertically around your garden bed. Strawberry plants have shallow roots that can grow in the small opening of a concrete block happily.
Stump
Use an old tree stump as a natural raised bed. You can leave the stump in place if it is hollow and in a sunny location or slice it into disks at least 6 inches deep. Hollow out the log slices if they aren't naturally hollow and lay them on the ground where you'd like to grow your strawberries.
Fill the slices with rich, slightly acidic soil and plant your strawberries! As the wood ages and decays, it will continue to feed the soil, which in turn feeds your strawberry plants.
Bathtub
An old bathtub can easily make an interesting raised bed for your strawberries. Place a screen over the drain hole and fill it with a layer of gravel first to encourage good drainage. Next, add a layer of mulch or small branches, and finally, top off your raised bathtub bed with at least 8 inches of soil to account for shrinkage.
How do I fill my raised strawberry bed?
The roots of your strawberry plants will only grow about 6-12 inches down so we will begin by filling the bottom part of your raised bed up to 12 inches below the top edge. If your raised bed is 12 inches deep or shallower, lay down a barrier layer of newspaper and skip to the next subheading.
The first step to filling a raised strawberry bed is to lay down a layer of newspaper, cardboard, or landscaping fabric. This bottom layer will help kill any grass and weeds at the bottom of the raised bed so they don't find their way to the growing level of soil and interfere with the health of your strawberry plants.
Next, pile dead branches or logs into the empty raised bed. Add grass clippings, twigs, flower stalks, and similar materials to this layer. This layer will fill the bulk of the space in your raised strawberry bed where plants are not growing without breaking the bank. Over time all of this organic matter will break down and enrich the soil in the raised bed.
Finally, fill the top 12 inches of your raised strawberry bed with rich soil mixed with slightly acidic compost.
Watch a detailed video on how to fill any raised bed from Gardener Scott here.
How much soil do I need in my raised strawberry bed?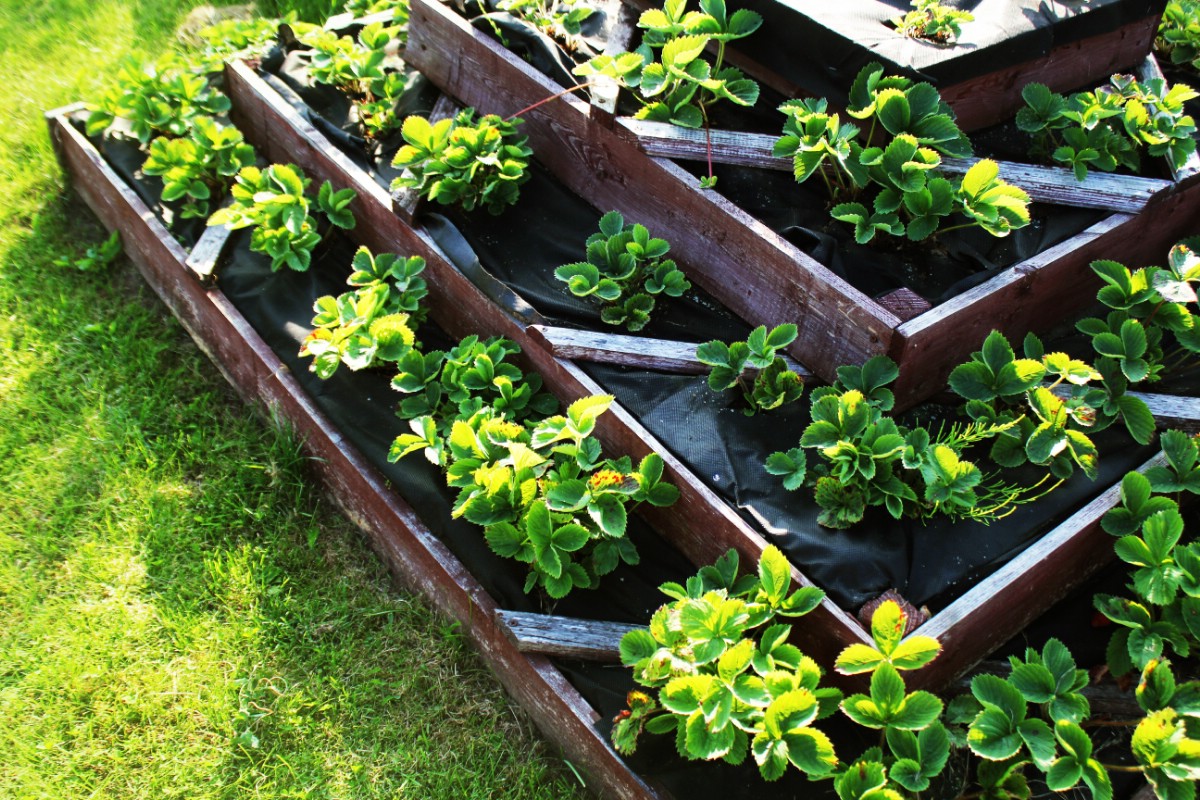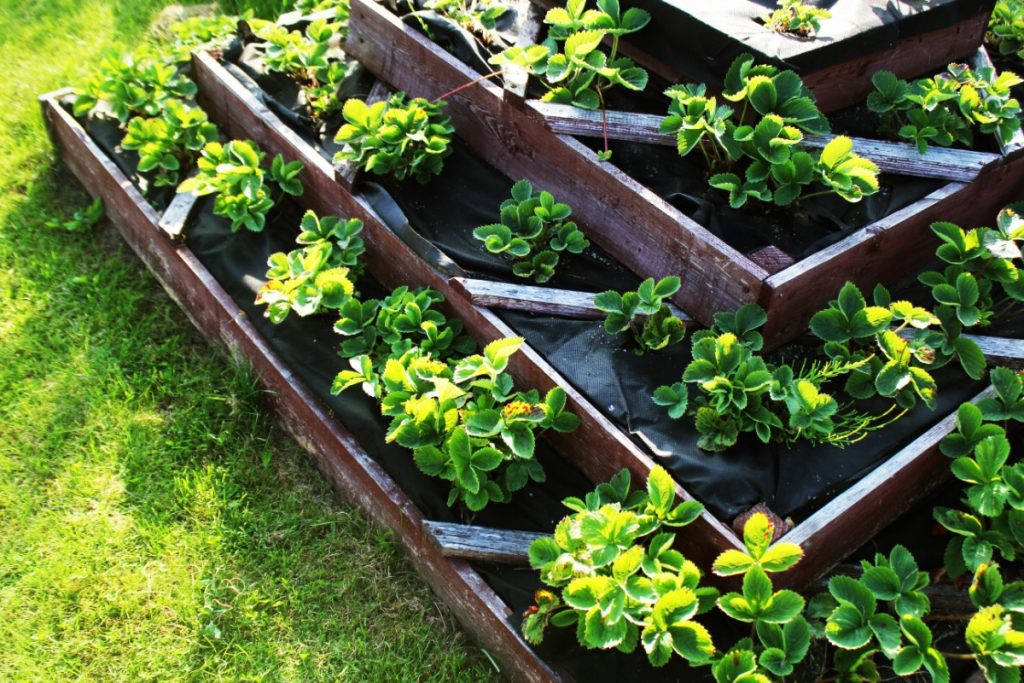 Strawberry plants require 6-12 inches of growing room for their roots. For a typically-sized 4×8 foot bed that is 6 inches deep, you'll need 16 cubic feet of soil.
Use this simple equation to calculate the amount of soil you'll need for any size strawberry bed.
6-inch deep bed: Length x Width x .5 = cubic feet of soil needed
8-inch deep bed: Length x Width x .667 = cubic feet of soil needed
10-inch deep bed: Length x Width x .833 = cubic feet of soil needed
12-inch deep bed: Length x Width = cubic feet of soil needed
Even if you build your raised bed taller than 12 inches, I recommend you fill any depth beyond 12 inches with compostable material such as dead branches or dried grass. Remember to mix compost into your soil for healthy productive strawberry plants!
What is the best soil for growing strawberries in a raised bed?
The best soil for strawberries is sandy loam soil which is rich in organic materials and drains well. Clay soil that is improved by mixing in compost and manure is the second-best choice.
The easiest way for beginners to fill your raised strawberry bed is with 2 parts topsoil: 2 parts potting soil: 1 part compost. Exact measurements will vary based on the size of your raised bed. Just remember: the goal is rich, light, nutrient-rich soil.
The soil should be slightly acidic– between 5.5 and 6.5 on the pH scale. Most potting mixes fall into this range and compost is naturally acidic. It is always a good idea to check your pH before you start gardening anyway. You can buy inexpensive soil testing kits or request a test from your local extension office.
How many strawberry plants can I fit in my raised bed?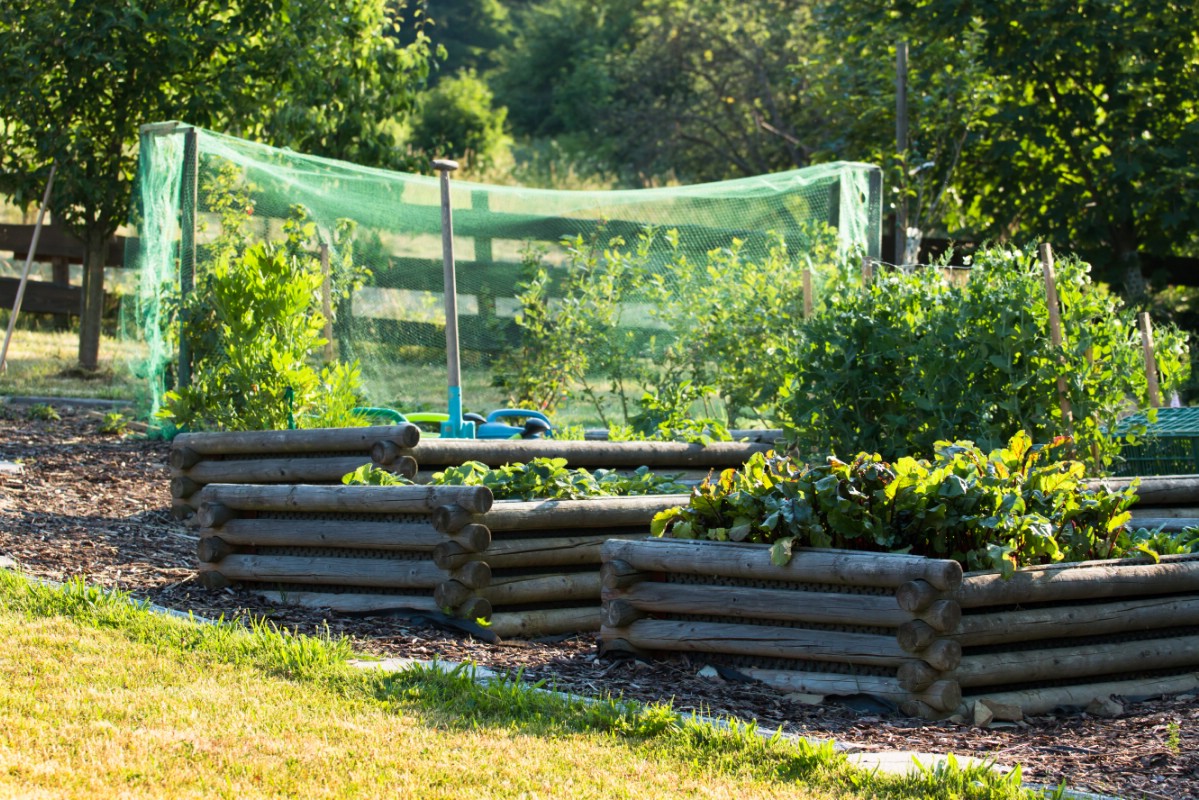 Since all raised beds are not the same, this answer will require a just little math and planning. If you are growing a strawberry variety that produces a lot of runners, plant one strawberry per square foot in your raised bed and allow the runners to take root as they are formed. This will ensure that you will have productive strawberry plants year after year.
Ex. You can plant 16 strawberry plants that produce runners in a 4×4 raised bed.
If you are growing a runnerless strawberry variety or one that produces fewer runners, plant 4 strawberries per square foot. This will ensure you have a large harvest as soon as possible. As your strawberry plants show signs of age and slowed production, remove them to make room for younger plants that will produce more strawberries in future seasons.
Ex. You can plant 64 runnerless strawberry plants in a 4×4 raised bed.
How do I plant strawberry plants in a raised bed?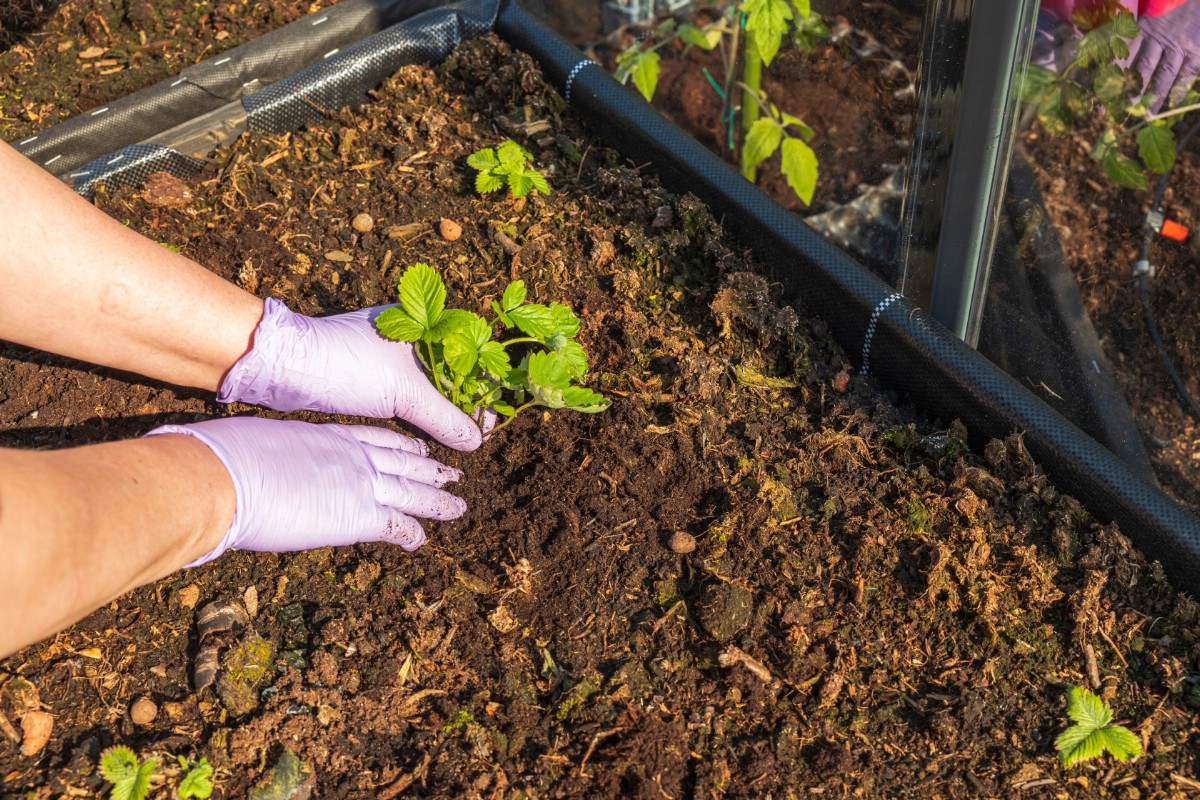 The process of planting strawberries in a raised bed is just like planting them in the ground.
About 2 weeks before planting your strawberries, fertilize the soil with a slow-release fertilizer, even if you are using purchased soil. Your strawberry plants will grow here for several years and will need all the help you can give them if you want a big, sweet harvest.
If you are planting strawberry crowns, first trim the bare roots to 4 inches long. This will promote stronger root growth as your plants establish themselves. Next, soak them in water or compost tea for 1-2 hours to rehydrate them.
Whether you are planting crowns or live plants from your local nursery, make sure the whole crown is above the soil and all the roots are below the soil. Burying your strawberry plant too deep will impact berry and runner production and burying it too shallow will affect root development (which also messes up berry production). The soil level should be right at the bottom of the crown for the best harvest you can get.
Water your strawberry plants deeply each time and allow the top 2 inches of soil to dry out between watering.
Add a mulch of straw or pine needles when you have finished planting your strawberry plants. A light mulch will suppress weeds, regulate the soil temperature, retain moisture, keep your berries clean and away from soil-dwelling pests, and add necessary organic matter over time.
When should I fertilize strawberry plants in a raised bed?
Fertilize the soil in your raised bed 2 weeks before planting your strawberries. Fertilize the plants again 4-6 weeks after planting and when blooms appear. Compost tea is a great choice of fertilizer during the growing season because it is easy for the roots to quickly access a nutrient boost without getting fertilizer burns.
Do not fertilize your raised strawberry bed at the end of the season before the plants go dormant for winter. Fertilizing at that point will encourage new growth which will die off in the first frost and stress your plants. Stressed plants don't grow back well, if at all. Wait to fertilize them again in spring as soon as they start to wake up.
How do I winterize a raised strawberry bed?
Good news! It is super easy to winterize a raised strawberry bed. Make sure to pull out weeds and any spent annual companion plants. When the strawberry plants have gone dormant, apply a layer of mulch 3-6 inches deep.
Straw, pine needles, or shredded leaves all make great mulch for strawberry beds. Avoid using whole leaves as they can compact over the winter and hold in too much moisture in spring which can cause diseases and mold.
If you choose to use straw, be careful not to accidentally purchase hay. Hay contains weed and grass seeds that are nutritious for livestock but will steal nutrients from your raised strawberry bed soil as temperatures rise in spring. A lack of nutrients will lower strawberry production.
Continue to water your strawberry plants in the raised bed as long as the ground is not frozen.
What can I do about a buggy raised strawberry bed?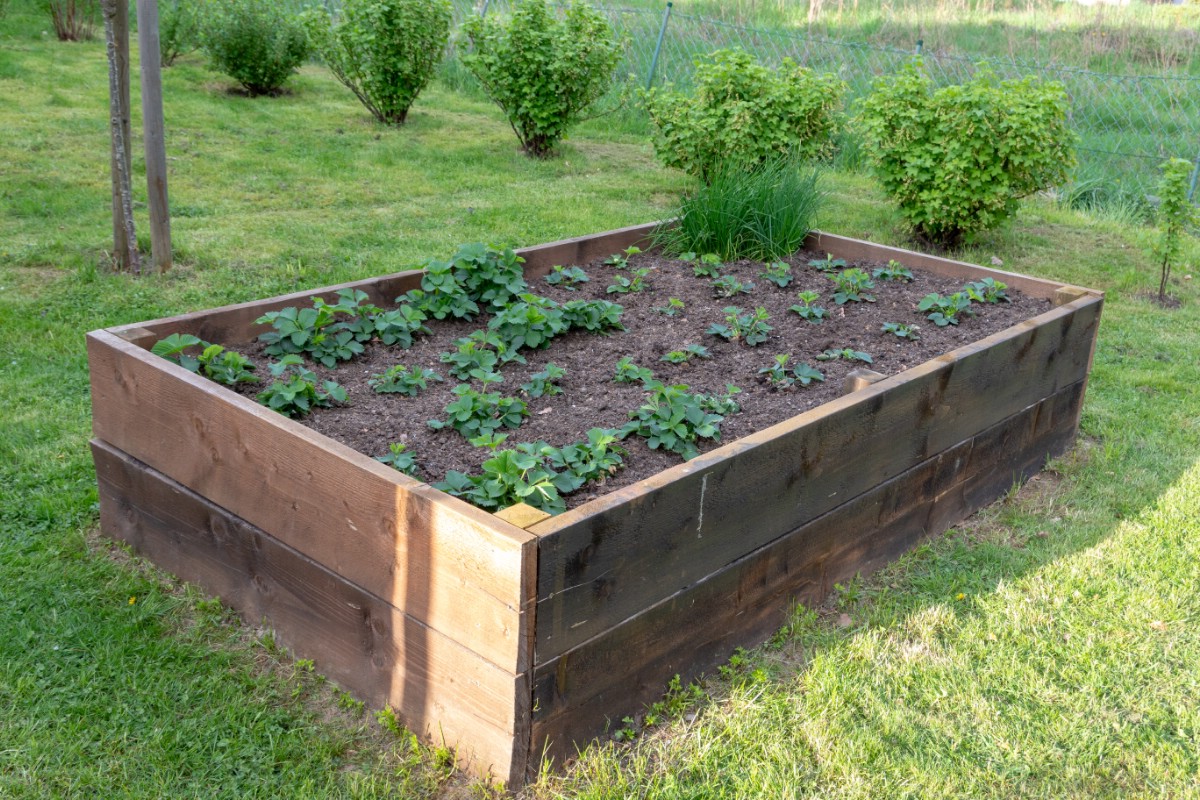 Treat a raised strawberry bed with pests just as you would a grounded garden plot. A raised bed reduces problems with soil-dwelling pests just because of its height, but you may have problems with other insects.
Insecticidal soap, garlic or hot pepper spray, white sticky traps, or handpicking will solve most insect problems but you may find it necessary to use neem oil or a pesticide if the infestation is really out of hand.
In the worst-case scenario, save whatever strawberry runners you can and empty the whole bed. Treat the area with a mixture of 1 part hydrogen peroxide to 5 parts water to kill any remaining insect eggs and larvae. You could treat the area with neem oil instead, but neem oil also affects beneficial insects and may end up perpetuating your pest problems so exercise care.
Refill the box with clean compost and soil and replant your strawberry runners after rooting them in separate pots to make sure they aren't hiding any leftover pests. Implement preventative measures such as row covers and companion plants to protect your strawberry plants from future infestations.
If you notice an increased number of pests early on or if you know your garden is prone to certain insects, try introducing these beneficial bugs to your raised strawberry bed. Of course, the best course of action is always to prevent an infestation if possible.
Now You Know It All
Congratulations! Now you know everything you need to get started with raising your strawberry plants in a raised bed. Did we miss anything? Ask your questions in our Strawberry Garden Facebook Group.