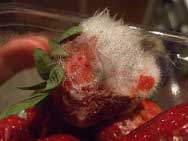 This is a question submitted to Strawberry Plants .org by a reader. The information provided in response to the question may benefit others with the same or similar inquiries. Therefore, it has been added to the archive page of submitted questions. See the Strawberry FAQ for more questions, or use the search box at the top right of this page to search this site for information.
Q: How Fast Do Strawberries Mold?
On August 24, 2010, Corye asked:
Which strawberry will mold the fastest, the one the porch or the one on the kitchen counter?
Answer to: How Fast Do Strawberries Mold?
Corye,
If you are talking about an actual strawberry, one left on the porch will likely be eaten by a feathered friend or other critters long before it has a chance to mold.  Mold/fungi spores are virtually ubiquitous, so both will mold rapidly if not eaten by animals.  The one on the kitchen counter will likely begin becoming moldy in a day or two if it isn't refrigerated. For more related information, see the "Care After Picking" section on the Strawberry Picking page or the Strawberry Buying Guide.
[ how fast do strawberries mold ]
Strawberry Plants .org exists to help spread the passion for growing and eating strawberries. However, manpower is limited. If you have a question related to strawberries, feel free to submit it or post it as a comment. Please be patient, though, as it may take some time before your question is addressed.