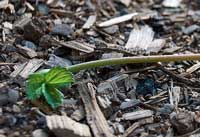 This is a question submitted to Strawberry Plants .org by a reader. The information provided in response to the question may benefit others with the same or similar inquiries. Therefore, it has been added to the archive page of submitted questions. See the Strawberry FAQ for more questions, or use the search box at the top right of this page to search this site for information.
Q: Strawberry Plants Have No Runners?
On November 30, 2010, Adrian asked:
I have 2 strawberry plants which are doing very well! I grow them in a length of PVC pipe which keeps the strawberries off the ground and works really well. My question is when i take the strawberry off the plant do i just leave the stork on the plant or do i trim it back? also, i don't seem to be getting any runners? Thanks, Adrian.
Answer to: Strawberry Plants Have No Runners?
Adrian,
When you harvest your strawberries, you do not need to trim back the stalk to which the strawberry used to be attached. It will turn brown and eventually die back. As for strawberry runners, it depends on which strawberry variety you are growing. June-bearers will often produce lots of runners, while varieties of everbearing and day-neutral strawberries will often produce fewer. A few strawberry species produce no runners and have to be propagated by seed (but it is unlikely that yours is of this type). If you keep the plants alive for a full year, at some point you will likely see it produce runners depending on where you live, your climate, etc.  If you let them or help them root, you can take advantage of the perennial nature of the plants and grow them indefinitely.  To do that, implement the method described on this page: Transplanting Strawberries.  And, good luck!
[ strawberry plants have no runners ]
Strawberry Plants .org exists to help spread the passion for growing and eating strawberries. However, manpower is limited. If you have a question related to strawberries, feel free to submit it or post it as a comment. Please be patient, though, as it may take some time before your question is addressed.