Few things are more exciting to a green thumb than strolling about outside and discovering a native fruit-producing plant growing wild. I've had several such occurrences in just the last few years. I was as giddy as a kid in a candy shop a while back when I noticed a mulberry tree laden with dark, almost black fruit tempting me with its heavy branch hanging over my head and almost brushing my hair on a sidewalk in the middle of a suburban setting. I guess no one ever thought to cut down the tree growing near the runoff drain, but I harvested as many fresh mulberries as I could before I had to leave the area. I've often stumbled into wild blackberry thickets in my wanderings, and just last year I discovered four wild American persimmon trees not a mile from my dwelling place.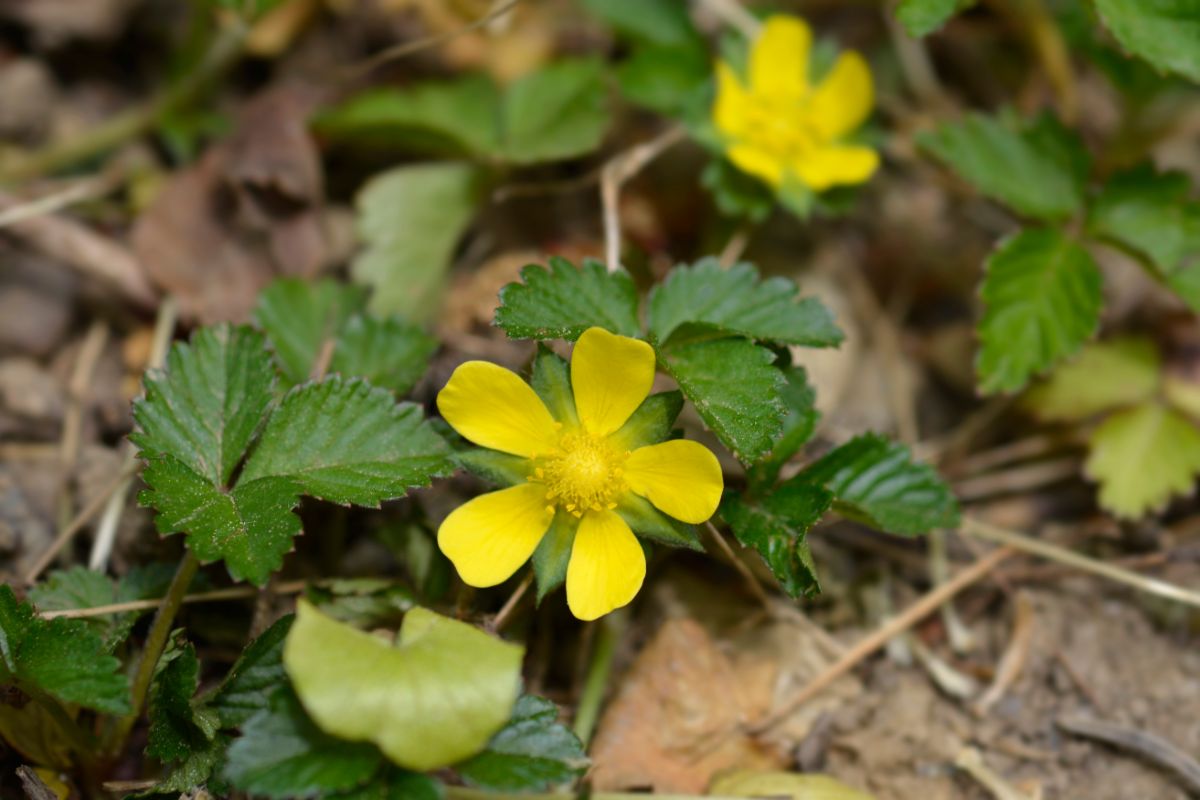 While blackberries are generally loved and known by everyone, mulberries are less known, and knowledge of persimmons is confined to a fairly small group within the general population. Strawberries, however, are the A-List celebrities of the fruit world. Virtually everyone loves them. So, many people who find what they believe to be wild strawberries in their yard often ask me, "Why aren't my wild strawberries with yellow flowers producing any strawberries?!" Well, here's why:
Jump to:
Strawberries with Yellow Flowers … Aren't.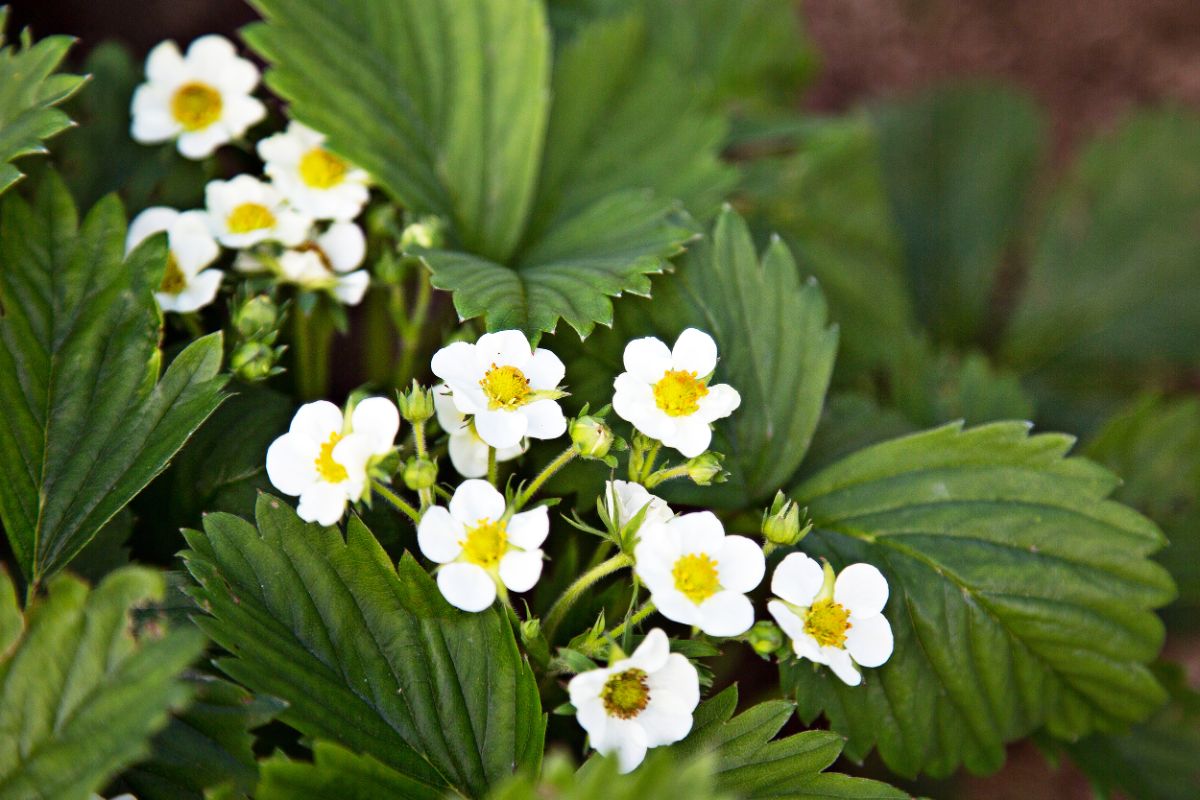 Strawberries simply do not have yellow flowers. Wild strawberries and most of the strawberry varieties available from nurseries all have white flowers. A few of the F1 hybrids have pink or reddish blossoms, but none have yellow flowers. Maybe genetic engineering will see some purpose in turning a strawberry plant into a strawberry-like variant with yellow petals, but nature signifies something else by putting the canary color on its buds. Namely, that you aren't looking at a strawberry at all. Rather, you are beholding a somewhat invasive weed that is native to eastern and southern Asia.
So, What Are "Strawberry Plants" with Yellow Flowers?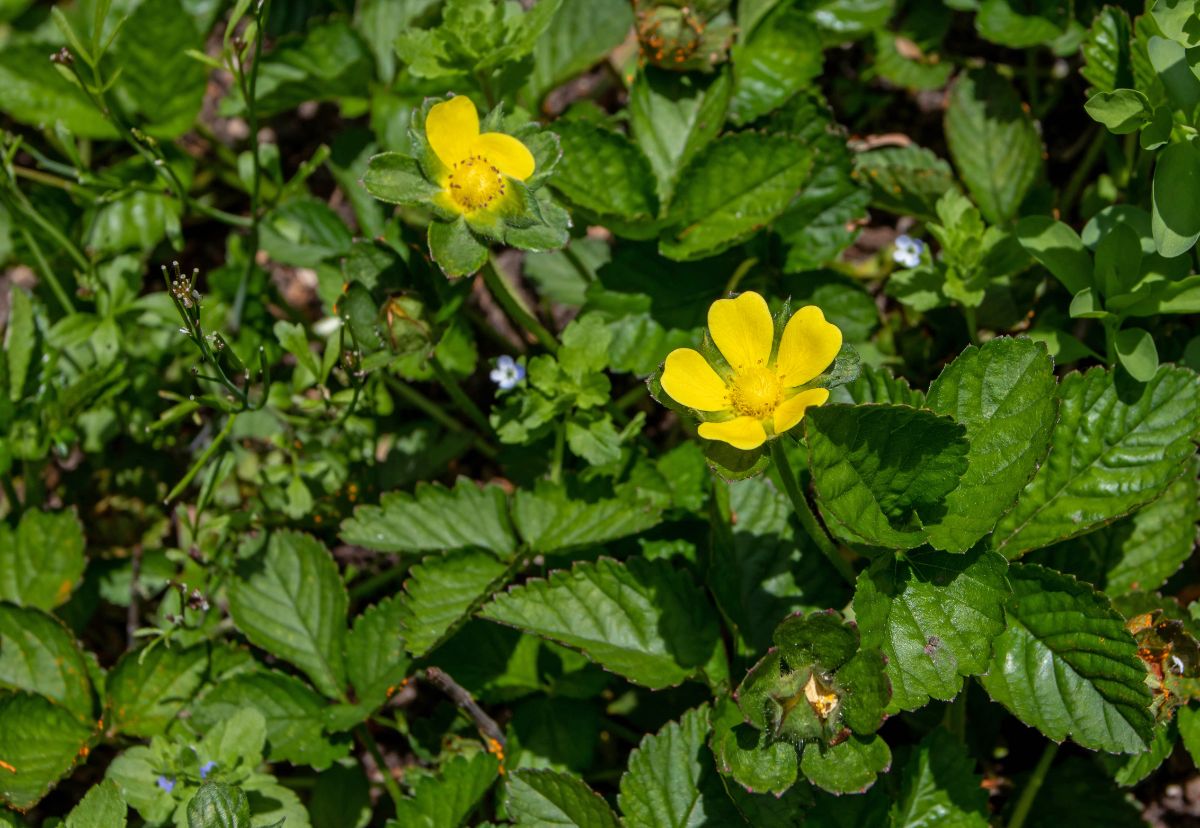 The weeds that appear to be strawberries with yellow flowers are a close cousin of the strawberry. Coming from the same family, Rosacae, it is of a different Genus: Potentilla. The most commonly encountered trickster in the United States is Potentilla indica. Its appearance is very similar to the familiar garden strawberry with dark green trifoliate leaves, and crowns that produce runner plants (stolons) similar in appearance to those of the Fragaria genus. They often survive winter and invade their territory on a perennial basis as well. Due to these traits, they can easily be mistaken for true strawberries, and often are. The resemblances have given rise to a number of names for the weed. They are most commonly called mock strawberries or false strawberries, Gubir or Indian strawberries, or, as I called them as a child, snake berries.
The Yellow Flower Strawberries Are Edible
The fruit from Potentilla indica are actually edible. They aren't poisonous, but they aren't exactly enjoyable to eat either. They are gritty, mealy, and either bland or bitter. The achenes (they contain the seeds) that cover the outer surface of the fruit also detract from the consumption experience, if the taste itself wasn't enough. So, unless curiosity gets the better of you, there is no need to ever bite into the unpleasant fruits. They are edible, but who would want to eat them?!
Strawberry Plants with Yellow Flowers: Conclusion
If you stumble across some plants in your back yard that appear similar to strawberry plants this spring, watch them carefully. While strawberry plants do grow wild in the United States and most of the rest of the temperate world, they are typically much harder to find than the non-native false strawberry weed. If you think you have some delightful wild strawberries growing near you, just observe them until their flowers bloom. If they are white, you are in for a treat! If they are yellow, feel no remorse in introducing the plants to an untimely demise…