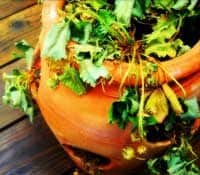 This is a question submitted to Strawberry Plants .org by a reader. The information provided in response to the question may benefit others with the same or similar inquiries. Therefore, it has been added to the archive page of submitted questions. See the Strawberry FAQ for more questions, or use the search box at the top right of this page to search this site for information.
Q: What Causes Strawberry Plants to Wilt?
On April 18, 2011, maurice verschell asked:
Just bought a strawberry plant in St Augustine last week. It was doing fine for a week, gorgeous green large leaves and some fruit. Today most of the leaves just wilted (drouped). I gave it adequate water. What are the problems?
Answer to: What Causes Strawberry Plants to Wilt?
maurice,
It is hard to say for certain. If the plant was started and grown indoors and just recently placed outdoors without "hardening" the plants by exposing them to direct sunlight incrementally, the exposed leaves could have been killed. If this is the case, more should grow from the crown to replace the dead leaves. This taxes the plant somewhat, but it should survive. If your plant is afflicted by one of the many strawberry diseases or pests (see the Strawberry Plant page for more details), it might be on its way to meet the plant grim reaper. A good many nurseries and stores that sell live plants have a guarantee that the plants they sell will live for at least a certain period of time. If your plant does indeed die, see if you can get a refund or exchange from the nursery from which it was purchased.  And, for more potential causes of your plant's malady, be sure to see the much more in-depth article on wilting strawberry plants.  Good luck!
[ what causes strawberry plants to wilt ]
Strawberry Plants .org exists to help spread the passion for growing and eating strawberries. However, manpower is limited. If you have a question related to strawberries, feel free to submit it or post it as a comment. Please be patient, though, as it may take some time before your question is addressed.