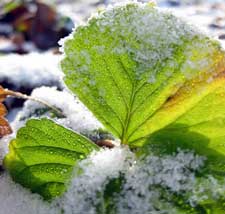 Strawberries are a delightful treat for thousands of home gardeners every year. The sweet rush of flavor that comes after sampling the distinctive aromatic profile makes for a truly rewarding experience early in the growing season. Strawberries are one of the first fruits to be harvested in virtually every temperate region of the world, and the life cycle of the strawberry plant is uniquely suited to bearing an early crop.
Usually before spring even arrives, the strawberry plants are coaxed from their long winter's slumber by rising temperatures and burst forth from dormancy in a fevered rush of vegetative production on their journey to setting a nice harvest of berries for the gardener who lavished care on them. But, in most areas, winter poses a real threat to the life of the little forbs.
This post will help you successfully overwinter strawberries so that YOU can enjoy that first burst of juicy strawberry fruits each and every spring.
How to Overwinter Strawberry Plants in the Ground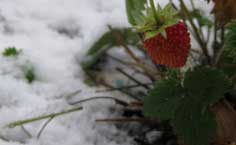 Strawberries are relatively small plants, but they have a big productive capability. Due to their small size and easy adaptability, they make great ground plants and container plants. How to overwinter strawberries in containers will be discussed in the next section. Here the basics of overwintering strawberry plants in the ground will be briefly discussed. Extensive details on caring for strawberry plants can be found on the comprehensive Growing Strawberries reference page.
Overwintering strawberries in the ground is relatively simple. Strawberries are cold hardy, for the most part, and will survive mildly freezing temperatures without much problems. So, in areas with mild winters, little to no care may be required. However, in more northern (or southern for the Southern Hemisphere) regions, extra care will be required. That care takes the form of mulching.
Strawberry plants must have protection when the temperature drops into the low twenties. Once that temperature has been reached (usually in December), the plants should be in their dormant stage. At that point, it is time to overwinter them by mulching. For most regions, a mulch of straw or pine needles two or three inches thick is sufficient, but in colder regions more insulating mulch should be added. Again, more specifics about in-ground overwintering strawberries is available on the reference page mentioned above and on this page: How to Mulch Strawberry Plants for the Winter.
How to Overwinter Strawberries in Containers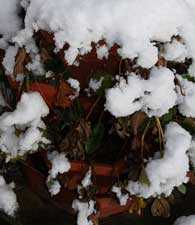 Overwintering container strawberries takes a bit more effort than overwintering in the ground, but it is still easily accomplished. Added difficulty comes from the susceptibility of containers to heat transmission. Terracotta pots and strawberry planters (as well as plastic ones and Topsy Turvy planters) do not have the added protection of extensive amounts of insulating soil surrounding the potting soil and potted strawberry. Because of this, container strawberries are much more at risk of freezing to death outside and must be further sheltered from the elements during the biting cold of winter.
The easiest way to do this is to simply put the pot or container in an unheated garage near an internal wall. This will allow the dormant plant the protection it needs to survive. And, the prolonged darkness in the garage will actually help maintain dormancy. Covering with a towel or other opaque material can also help in that respect.
When the temperatures start to warm, simply take the containers back outside for the next growing season. The rising temperatures will revive the plants from dormancy, and production will commence again.
Watering Overwintered Strawberries
Just as with storing bare-root strawberry plants, your overwintered strawberries still have to have appropriate water. Totally dry soil means dead plants. Too much moisture can also be fatal. During the cold temperatures and while the plant is dormant, only minimal water is needed.
For outdoor, in-ground, and mulched overwintering strawberry plants, the natural precipitation should appropriately maintain sufficient soil moisture. For the container plants, however, water will have to be provided. The easiest way to provide appropriate water is to collect snow from outside and throw a handful or two on top of the soil. The slightly warmer temperatures in the garage should slowly melt the snow allowing a more natural seepage into the container soil. Doing this periodically (about once a month) should sufficiently moisten the soil and allow the plants to thrive again come spring.
Benefits of Overwintering Strawberries
There are numerous benefits to be had by overwintering strawberries. Here are some of them:
Overwintering Strawberry Plants Is Natural
Strawberry plants have a dormant phase for a reason. It increases their life span! Strawberry plants can be kept inside at warmer temperatures all year round, but this essentially causes the plants to never "sleep" and drastically reduces the overall life span of the plant.
Overwintering Strawberries Maximizes Production
Strawberry plants are perennial by nature. Letting them go dormant during the winter as nature would have it allows for maximal production from each plant. Since strawberry flowers should be pinched during year one for spring plantings, the second, third, fourth, and even sometimes fifth years are where production really comes on strong. Protecting dormant plants during the winter yields much more production following.
Overwinter Strawberries to Save Money
If you overwinter strawberry plants successfully, you don't have to buy them again the following year. And, since they'll live longer, you don't have to replenish them as often either. Plus, since overwintered strawberry plants are more productive than plants that are never allowed to go dormant, you get to eat more of your own strawberries; and that means you'll be saving money by not buying strawberries at the grocery store or farmers market.
It Is Fun to Overwinter Strawberry Plants
And, lastly, it is just plain fun to overwinter strawberries! They don't suffer cold injury, and it brings a true green thumb at least a modicum of satisfaction knowing that his plants are kindly looked after. So, save yourself the work of replanting new plants each year and overwinter strawberries henceforth.
Overwintering Strawberries: Conclusion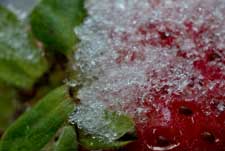 Hopefully, you are now equipped whether you needed to know how to overwinter strawberries in containers or how to overwinter strawberry plants in the ground. Following the advice on this page and elsewhere on this site will help keep your plants productive year after year. So, have fun, save money, and maximize your harvest! And, if you have any strawberry-related questions, feel free to leave a comment. Good luck!